Members are at the heart of the BMA. Our elected members, supported by expert staff, play an important part in all our work.
As an elected representative you will have a vital role in representing doctors' interests and ensuring their voices are heard, nationally, locally and in the workplace.
Our governance structure is designed to make our decision-making processes democratic and representative of our entire membership.
Thinking of joining a committee
As an elected member, you could be involved:
in contract negotiations
influencing BMA policy-making
representing your specialty
helping to make doctors' voices heard and working lives better
developing your own medico-political and leadership skills.
Reflecting the views of your colleagues, raising the profile of your specialty and influencing the direction of the profession are hugely rewarding, which is why many members seek office.
If you'd like to see what it's like before standing for election, the BMA runs a committee visitor scheme – you can attend meetings and take part in discussions as if you were a committee member.
What to expect as a committee member
There's a lot to learn when you join a committee, and some of it can seem daunting and formal at first. You will be expected to:
abide by the BMA principles and code of conduct
prepare for meetings so you can contribute to debates. Depending on the committee and your expertise, you may be invited to lead or give your views on a particular issue
report back to those you represent, and feed their views through to the committee
help the committee prioritise and plan its work
influence the development of BMA policy and negotiating strategies
be familiar with committee standing orders and the rules on debating and points of order.
How to stand for election
There are a few routes to becoming an elected member:
through regional elections
elections at branch of practice conferences
As other routes might also apply, make sure you check how to join your committee of interest. 
Read about how to vote, nominate yourself, and see current elections.
Committee role profiles
There is a variety of key positions that may be open to you when you join a committee.
| | |
| --- | --- |
| Committee member (PDF) | The wide-ranging responsibilities of a member of a committee require the ability to maintain a broad overview while responding quickly to changing situations. |
| Committee chair (PDF) | Demonstrating a high level of ability to build, develop and motivate effective teams, the chair needs to empower individuals while ensuring the whole committee follows objectives and strategic business plans – it's a complex but satisfying challenge. |
| Deputy chair (PDF) | Influencing, leading, communicating and working collaboratively are key in this role. You will work alongside and support the chair to ensure the committee functions effectively. |
| Honorary secretary (PDF) | This role on BMA regional committees assists the chair or deputy chair to have a strategic role in representing the vision and purpose of the BMA. By providing support you'll help the committee to function properly and ensure records are kept of all decisions and actions. |
| Executive member (PDF) | Strong leadership qualities and mentoring skills are required. You should lead by example and support less experienced members through medico-politics. |
| Visitors (PDF) | This role is not representative of the committee, and does not have voting rights, but it is not passive. |
| Observer (PDF) | This role enables you to participate in the work of a committee and to have the same confidentiality obligations as its members without having voting rights. |
| Co-optee (PDF) | While co-optees are not elected representatives, they can offer a unique viewpoint. Co-optees are invited to become committee members because of their particular skills and expertise. |
New and current committee members
If you have just been elected to your committee, congratulations and thank you - representing the views of your colleagues and making a difference to doctors' working lives is one of the most important roles you can take on. 
Likewise, if you are already a member of our committees we value your commitment and recognise your important role in representing your colleagues.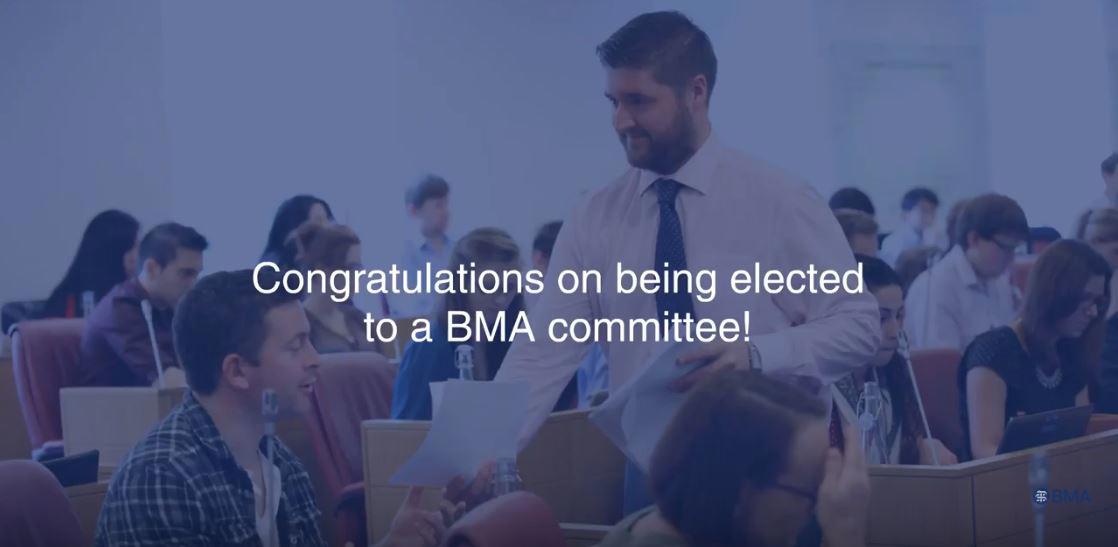 When you first join a committee
Our committee secretariat will contact you to give you the dates of meetings.
We'll ask for contact information to make sure our records are up to date, and we'll ask you to complete a declaration form about any conflicts of interest.

There will be an induction session at your first meeting, and you will be sent a comprehensive range of information.
We are happy to help if you have any questions or haven't received your welcome pack – please contact the relevant committee team.
Learning and development opportunities
Whether you have recently joined a committee or are an existing committee member, we offer training and programmes that will equip you with the right knowledge and skills:
a mentoring programme for new committee members as well as for more confident members who want to develop their coaching skills and support new colleagues
culture and inclusion courses, which cover a wide range of topics such as BMA's behaviour principles and code of conduct, challenging poor behaviour and working together to create a diverse culture
leadership courses, which you are required to attend, depending on your role.
Building a stronger BMA together
We are always committed to addressing your concerns and challenge poor behaviour. To this end, we have established free and anonymous support services:
Bringing members together
We are committed to equality, diversity and inclusion and listening to the voices of our underrepresented members. We have established networks for our elected members to highlight relevant issues, experiences and champion diverse leadership within the Association:
BMA policies
As a BMA committee member, you are expected to follow the guidelines and policies in place to protect you and the organisation. 
We have created a dedicated area with all you need to know about our expenses - from expenses, honoraria and childcare to the BMA code of conduct.
Committee expenses and policies 
Committee meetings
Committee meetings can be formal events with protocol, unfamiliar terminology and etiquette. 
If this is your first time as a member of a committee, some parts of the role may seem overwhelming. We have prepared some guides to guide you through your first meetings. 
Order BMA materials
As a committee representative you may have the opportunity, such as at local events, to share promotional materials about joining the BMA and our services for members:
Booklets and service flyers
BMA rep business cards: branded business cards for BMA representatives
BMA Library and archive: library business card for all branches of practice
BMA rep lanyard: 3-point break or retractable lanyards for BMA representatives
BMA pens and other freebies: ballpoint pens and freebies for all branches of practice.
If you have any questions, please email the field events team.
To order any materials, submit the order form online.