COVID has posed serious challenges to global health advances made over recent decades.
WHO (World Health Organization) Director-General Dr Tedros Adhanom Ghebreyesus has said the world 'is way off track' to meet the aspirational SDG (Sustainable Development Goal) target on universal health coverage by 2030, and progress has stagnated on other goals such as eradicating poverty and hunger, improving health and education, and reducing health inequalities.
The global response to the pandemic meant unprecedented finances, attention and global cooperation. While that was needed to overcome a challenge of this magnitude, diverting resources to COVID-19 and safeguarding populations from its reach has hampered the management of many other diseases in low- and middle-income countries.
In regions where communicable diseases such as tuberculosis or hepatitis remain in circulation, COVID is not the biggest threat. Yet we are all too aware of how resources from Western donors can govern and shape health priorities in countries that are partially reliant on foreign aid.
We must focus on local population needs as the driver if we're to equitably reach SDG targets. Experts in recipient countries have argued that funds would be more efficiently and appropriately spent on a holistic approach to diseases, ensuring countries are well-equipped to respond to local health challenges, priorities and needs.


Funding for healthcare projects
We know more must be done to improve global health outcomes equitably. For over 15 years, the BMA Humanitarian Fund has supported NHS staff to deliver innovative projects that make a sustainable impact on the health of people in low-income countries.
The fund will be giving a total of £25,000 to individuals and organisations to carry out healthcare projects overseas. Past projects are wide-ranging and have included dermatology care in refugee camps in Bangladesh and the development of training programmes in obstetric and newborn care in South Sudan and Liberia, as featured in the examples below.
Applications to the BMA Humanitarian Fund are open now, following a two-year hiatus due to COVID-19. We therefore encourage early applications. Find out how to apply.


Teaching newborn care in Liberia
In 2019 NICHE (Newborn, Infant and Child Health Education) International received a £3,000 grant from the Humanitarian Fund for a project in Liberia.
The third Sustainable Development Goal is to ensure 'healthy lives and promote wellbeing for all at all ages', with a target to end preventable deaths of newborns and children aged under five; it calls for all countries to reduce neonatal mortality to at most 12 per 1,000 live births. As of 2019, neonatal mortality in Liberia stood at 25 per 1,000 live births. The leading causes of death were ascribed to prematurity, infection and intrapartum-related conditions.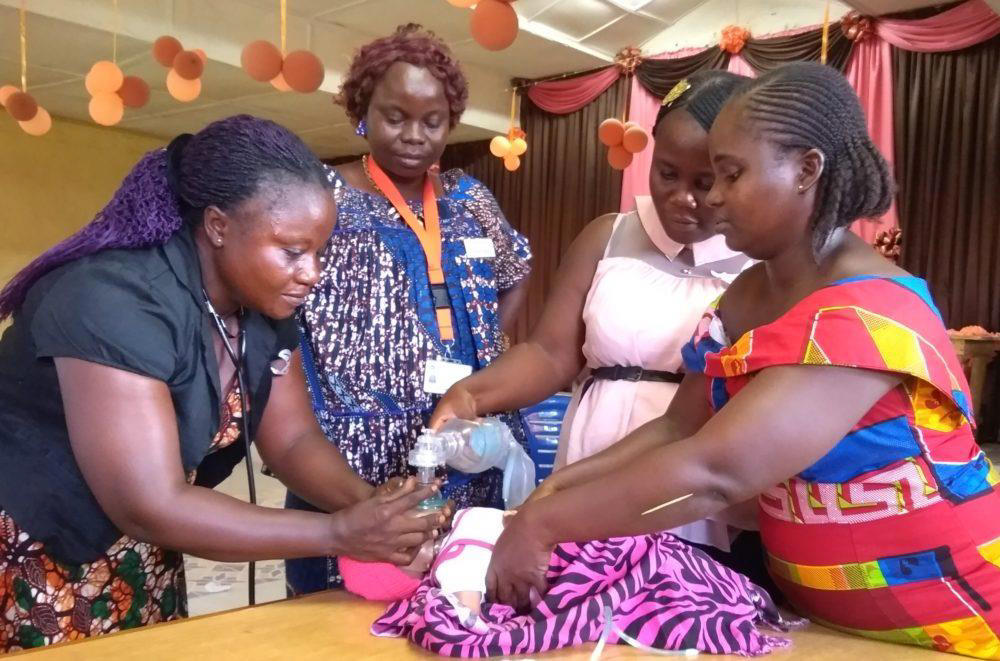 The UK team of health professionals, all trained and experienced life support instructors, led an education programme developed by NICHE International. 'The Newborn Care Course' trained local midwives and nurses to use simple equipment and offer care that focused on resuscitation at birth, early breastfeeding, skin-to-skin mother care to keep babies warm, and recognition and management of seizures, infections and respiratory problems in early postnatal life.
Thanks to this work, 44 healthcare professionals were trained to develop these competencies and nine trained to become instructors. Eight went on to teach further Newborn Care Courses, and the ninth is an obstetrician who works with Maternal and Childhealth Advocacy International to train midwives with extended roles to perform C-sections.
This is indeed an indication that the project developed into a self-sustained and scalable peer-based programme.


Dermatology care in a Bangladesh refugee camp
The universal values of the SDGs and the rhetoric of leaving no one behind are futile if migrant and refugee populations do not receive the care they rightly deserve and urgently need. 
A group of four international dermatologists and three Bangladeshi dermatologists set out to deliver dermatology care in clinics within primary care facilities in the Kutupalong refugee camp, to provide dermatology teaching for local staff and carry out a skin disease-based needs assessment of this population.
The team provided the first dedicated dermatology clinics in the camp, seeing and treating almost 400 patients over three days. Their training improved the knowledge and skills of medical and non-medical staff in the camps, so they could continue to diagnose and treat commonly seen dermatoses. A tele-dermatology service was piloted between camp doctors and local Bangladeshi doctors, to ensure images will be shared and doctors will continue to provide this care in the longer term.

Kitty Mohan is chair of the BMA international committee