PCNs are groups of GP practices working closely together - along with other healthcare staff and organisations - providing integrated services to the local population.
Since April 2019, individual GP practices have been establishing and joining PCNs covering populations of between 30,000 to 50,000 (with some flexibility).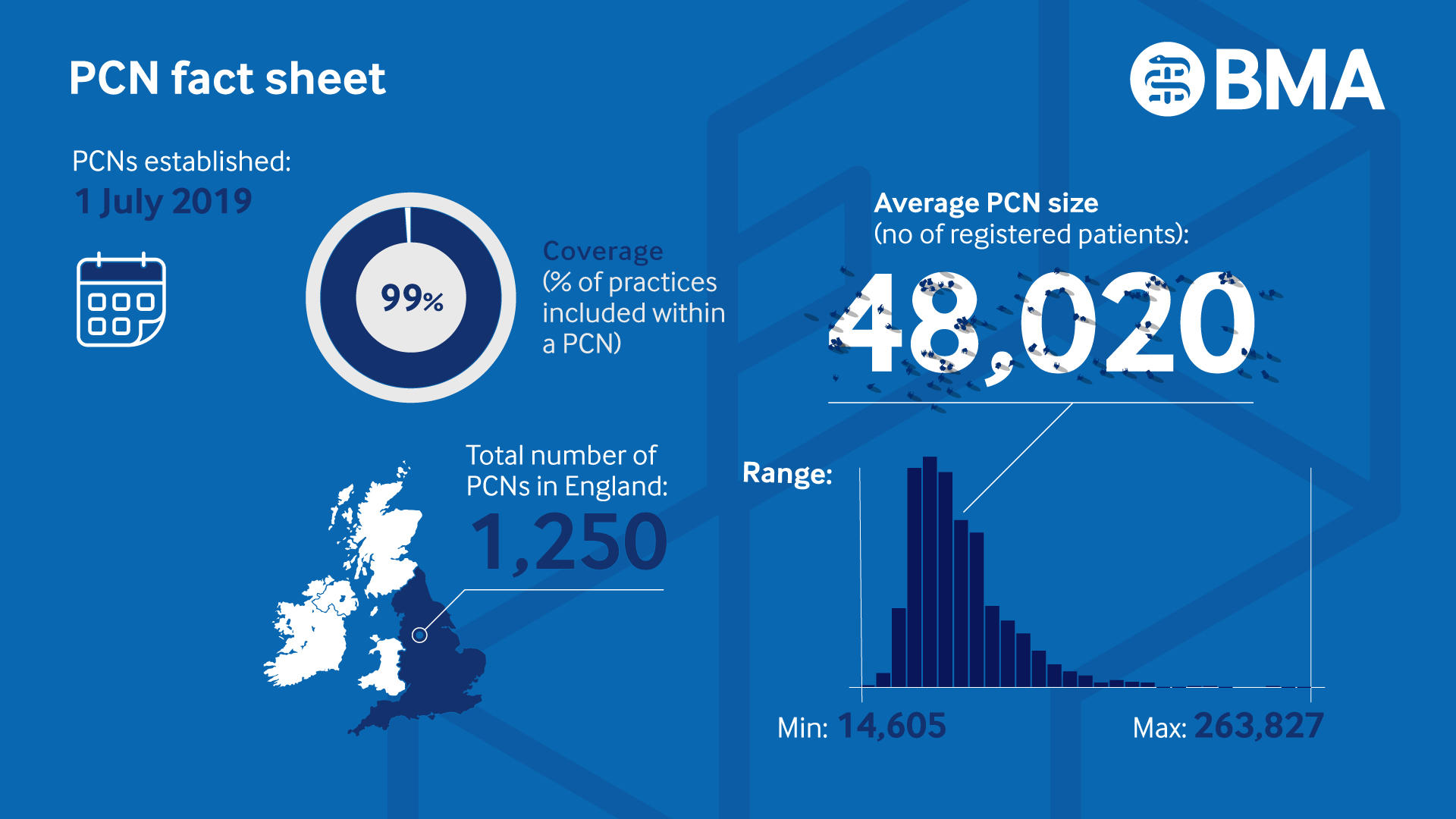 How PCNs fit into the NHS structure
ICS (integrated care systems) are a way of planning and organising the delivery of health and care services in England at a larger scale than PCNs.
Every ICS will have a critical role in ensuring that PCNs work with other community staff and use multi-disciplinary teams across primary and community care.
Guidance on running a PCN
The BMA PCN handbook provides advice to practices on establishing and running their PCN.
This has been updated to include information from the 2021/22 contract agreement, including:
updated PCN service specifications and funding streams
new ARRS rules and PCN workforce guidance
additional operational guidance for PCNs.
Other considerations
Additional service specifications
There were four additional service specifications due to be introduced in April 2021:
personalised care
anticipatory care
tackling neighbourhood inequalities
cardiovascular disease diagnosis.
It's been agreed between the BMA and NHS England that they will be delayed, as practices and PCNs prioritise their response to the pandemic and the vaccination programme.
Practices will be informed once the service specifications and their date of introduction have been agreed.
The four PCN services introduced as part of the DES in 2020 will continue unchanged. These are:
extended hours
early cancer diagnosis
enhanced health in care homes
structured medication reviews.
View the full service specifications from NHS England.
View more on PCN funding.
BMA services for PCNs
As sole negotiators of the GP contract, the BMA is in a unique position to understand the challenges clinical directors face.
We provide a range of expert PCN services and knowledge to support you with running a successful PCN.
If you're a clinical director or are involved with the running of your PCN, register your interest to sign up for any of the services or resources below and any in future.
Legal services
BMA Law's team of specialist solicitors are on hand to help you navigate the legal process of running a successful PCN. Their solicitors understand that every PCN set-up is unique and all face different legal challenges.
To ensure you receive the support you need, they offer a variety of flexible, cost effective service options that are tailored to you; from network agreements to practice premise contracts.
Register your interest for more information.
Insurance services
The formation of your PCN brings new challenges to ensure you are properly protected.
With Lloyd & Whyte, you'll have the cover you need, tailored to your PCN. No two PCNS are the same and the issues you face will vary, which is why Lloyd & Whyte make sure your cover is bespoke to your circumstances.
The PCN insurance package can cover:
directors and officers insurance (particularly covering clinical directors)
employment practice liability (eg claims of unfair dismissal)
professional indemnity
employer's liability and public liability insurance – to cover any gaps for those working on behalf of the PCN, across practices.
Register your interest for more information.
HR and employment law advice
PCN community app
We have developed a PCN community app. Register your interest to get access.
The latest PCN news, information and guidance at your fingertips.
Connect and engage with fellow clinical directors.
Leverage the experience of the BMA and PCN community to guide you to PCN success.
Start conversations, ask questions and share your experience all in one place.
Be the first to know about the latest information and updates from the PCN experts who negotiated the contracts.
Conference
In early June 2019, we held the first PCN clinical directors conference.
The day was attended by over 250 newly appointed clinical directors who received talks from GPC and NHSE negotiators, and workshops from experts covering a variety of topics.
Join the BMA
We're here to stand up for your rights, support you in the workplace and champion the medical profession. 
Join us