Current priority – individual duty of candour with criminal sanctions
BMA NI will respond to the consultation but it is important that the views of individual doctors are also put forward. Use our campaigning tool to submit your response.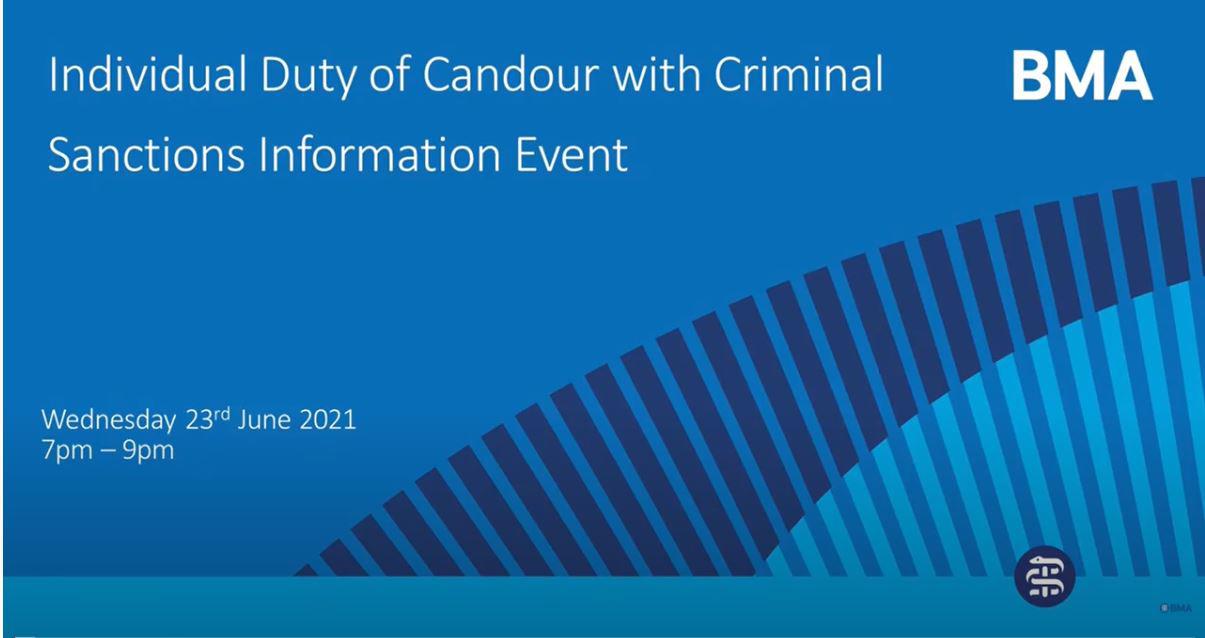 The individual duty of candour with criminal sanctions is a recommendation from the report into hyponatraemia related deaths, also known as the O'Hara report. 
The Department of Health is currently consulting on implementing this recommendation. 
The same report also recommended a statutory organisational duty of candour, also with criminal sanctions, which the BMA supports - it will bring Northern Ireland in line with patient safety developments in the rest of the UK. However, we oppose the introduction of an individual duty of candour with criminal sanctions. ​
The consultation outlines three options on how an individual duty of candour could be implemented, and we are now seeking member's views on which option they feel is best: 
the original recommendation from the IHRD report - a statutory duty of candour with criminal sanctions for breaches

a statutory individual duty of candour without criminal sanction attached for breach

a statutory individual duty of candour without criminal sanctions for breach, and separate criminal offences for withholding information, destroying information, or providing false or misleading information.
The consultation explained
What is candour?
Candour means that you must be open and honest with patients when something goes wrong, that causes or has the potential to cause harm and distress.
This means offering an apology, putting matters right if possible, and explaining fully and promptly what has happened and the likely effects of your actions.
This is detailed in the GMCs Good Medical Practice which you are bound by.
What are criminal sanctions?
Sanctions, in law and legal definition, are penalties or other means of enforcement used to provide incentives for obedience with the law, or with rules and regulations.
Criminal sanctions can take the form of serious punishment, such as corporal or capital punishment, incarceration, or severe fines.
The criminal sanctions outlined in the consultation refer to breaches of the duty of candour as punishable by fines, but it has not determined what these should be.
What would it mean if there was a statutory individual duty of candour with criminal sanctions?
This would mean that as well as your current duty of candour – to be open and honest under Good Medical Practice, criminal sanctions would apply to you if you breached this duty.
Who would this apply to?
The proposals for an individual duty of candour with criminal sanctions would apply to all staff including, but not limited to, doctors - regardless of their grade.
How would it affect me personally?
For you personally, you would be under a threat of criminal sanctions if you made mistake and did not report it or tried to cover it up. This would also apply if you witnessed a colleague making a mistake and did not report it.
How would it affect me professionally?
You could be fined, face sanctions such as temporary suspension from the GMC register, be placed on restricted duties, or face disciplinary action from your employer under Maintaining High Professional Standards. You may also have increased indemnity charges going forwards.
Depending on the seriousness of the breach, you could also be struck off from the GMC register.
How would it affect my patients?
We have heard from our members that, if criminal sanctions are introduced, that they are likely to have to make more referrals for patients and put them through more procedures. This would be to protect themselves from potential threats of being accused of a misdiagnosis or incorrect treatment.
How would it affect my workplace?
This has the potential to create a negative working environment and culture as all staff would be more aware that their work was being analysed and monitored in a negative way, and be afraid that they would be reported if they made a simple mistake.
Have your say
The Department of Health is holding engagement events on the following dates. You will need to register to attend.
This is your chance to let them know that you are opposed to the introduction of an individual duty of candour with criminal sanctions, and the reasons why.
Other lobbying activities
Current priorities for the BMA in Northern Ireland include:
Brexit – we want to make sure that Northern Ireland's unique position is considered
workforce planning – we need the workforce plan implemented as a matter of urgency. Doctors' terms and conditions must reflect the high level of training, skills and expertise they have. We need to make Northern Ireland an attractive place for doctors to work and live
transformation – properly funded transition arrangements for the transformation programme that will address pressures currently preventing the delivery of timely, high-quality and safe care
general practice – the service needs stabilising and there needs to be adequate long-term funding
public health – investment must be made to tackle health issues such as obesity and the misuse of alcohol, including a minimum unit price for alcohol. The funds generated through the sugar tax need to be ring-fenced for health initiatives
organ donation – we want to see a soft opt-out system introduced in Northern Ireland.
Healthcare transformation
'Health and Wellbeing 2026: Delivering Together' is an ambitious programme launched in October 2016 to transform the way health and social care is delivered in Northern Ireland. It outlined what changes needed to happen to improve health and social care services in Northern Ireland.
The programme was informed by the report of an expert panel led by Professor Rafael Bengoa. This report and those that preceded it came to the same conclusions and recommendations, particularly around the delivery of acute care and the need for services and – crucially – resources, to shift to primary/community care in order to best meet patients' needs.
Reviews are ongoing to ascertain how services need to change and the programme is developing an elective care plan to modernise and transform the delivery of elective care services by addressing the root causes of excessive waiting times – rather than through temporary, short-term approaches.
A workforce plan has also been written and it aims to ensure there are enough staff in the service, that staff feel valued and supported, and that there are systems to monitor workforce trends and address any issues quickly.
As the transformation programme progresses, we are responding and commenting on behalf of members to consultations and departmental announcements.