Manifesto
The Northern Ireland Assembly elections were held on Thursday 5 May 2022.
Throughout the current mandate we will lobby on the prominent issues currently facing doctors and medical students in Northern Ireland.
Support for the medical workforce
COVID-19 has intensified the pressures that already existed on health service delivery and the workforce before the pandemic. 
We are calling for sustainable and timely access to support, such as psychological support services for doctors, as they continue to work through the most difficult period of their working lives.
Pay and conditions
The medical profession in Northern Ireland has suffered from years of sub-inflationary pay rises which has eroded their earnings.
Unlike the rest of the UK, doctors In Northern Ireland are currently subject to a more punitive tax regime.
We are therefore calling for:
the introduction of pension mitigations
an end to sub-inflationary pay awards
a guarantee that pay awards are awarded in a timely way to avoid tax consequences that we have recently seen as a consequence of two pay uplifts being made in a single tax year
the reintroduction of Clinical Excellence Awards.
BMA is working for members across the UK to challenge the punitive pension regulations and to introduce regional mitigations.
Healthcare transformation
We are disappointed in how little progress has been achieved since the launch of the "Health and Wellbeing 2026: Delivering Together" programme in October 2016.
We continue to ask for:
the commitment to proper medical workforce planning. This will ensure there are enough doctors to cover rotas to reduce burn out and the correct number of doctors are being trained in the correct specialties - this should be informed by population data and future proofed
the commitment for the permanent funding of the second medical school in Magee
a review into the costs associated with studying medicine and junior doctor training to continue working towards our goal of widening participation to prospective doctors
the prioritising of a SAS associate dean appointment.
Patient safety
Our asks:
the introduction of safe staffing legislation
transparency around vacancies and how these are defined
the introduction of an organisational duty of candour
General practice
GPs are suffering from the damaging narrative that they are closed and are not seeing patients face to face.
We are calling for:
an urgent increase in training numbers
funding and full roll out of multi disciplinary teams with investment in premises to facilitate this
state backed indemnity as Northern Ireland is currently the only part of the UK where GPs have to pay for their own indemnity. We are asking for parity with GP colleagues across the UK.
Population health
Persistent inequalities remain entrenched in certain communities in Northern Ireland. 
People living in more deprived areas five times are more likely to suffer drug related deaths. Smoking during pregnancy, alcoholism and teenage births are also significantly higher in poorer communities.
We want these inequalities to be addressed through the proper resourcing of the planning model to deliver population health.
We are also calling for:
health impact assessment to be part of the normal process for all new legislation across all Government departments
introduction of minimum unit pricing of alcohol
properly resourced and sustainable mental health services
climate change to be addressed to prevent further health inequalities.
We will continue to lobby tirelessly to achieve these asks. We will use every opportunity to lobby political parties ahead of the election and hold them to account in delivering their manifesto commitments after the election.
What has happened so far
During the last mandate (2017 – 2022), progress was hampered as the Assembly did not sit for three of those years (2017 – 2020).
Since the Assembly reconvened in January 2020, the majority of resources have been put into dealing with the COVID-19 pandemic.
We did have some successes such as:
enforcing the law to prohibit smoking in cars where children are present
the soft opt-out organ donation bill that was recently passed - this will achieve Royal Assent soon and will come into force in the spring of 2023
we have secured a commitment from the Health Minister to introduce minimum unit pricing of alcohol and this is currently out for consultation
the opening of a second medical school in the Magee campus of Ulster University after many years of lobbying.
Individual duty of candour with criminal sanctions
BMA NI engaged with doctors in August and submitted a response to the consultation based on evidence from key patient safety experts, the themes from our Better Culture Better Care conference and, most importantly, direct engagement with our wider membership.
In general practice, medical uncertainty, safety netting and good communication are core to our everyday practice. When the fear of criminal prosecution is hanging over every decision made, it can only erode this relationship.

BMA survey response from a GP member
Our views
The statutory organisational duty of candour to embed a culture of openness and honesty will be a welcome addition to the long-established existing professional duties. But we do not agree with the addition of criminal sanctions to this duty.
We do not support the additional individual statutory duty of candour as doctors are already subject to a duty of candour, criminal and civil sanctions and other regulatory and employment sanctions.
International evidence suggests that criminalising healthcare and staff will not enable the creation of the culture needed for openness and honesty.
Implementing this in isolation of the current processes, procedures and the lack of understanding of clinical practice will cause irreparable damage.
There is now a need in Northern Ireland to position this within a wider patient safety framework that reflects BMA NI model of cultural change to include:
freedom to speak up guardians

extending the work of the HSSIB to Northern Ireland

fit and proper person tests

regulation of medical managers.
It will discourage staff from working in the health service in Northern Ireland when there are other options in the UK and beyond. It will encourage early retirement and promote a worse blame culture, less of a learning environment and increase defensive medicine and fear culture which is already bad enough in trusts.

BMA survey response from a SAS doctor member
The consultation explained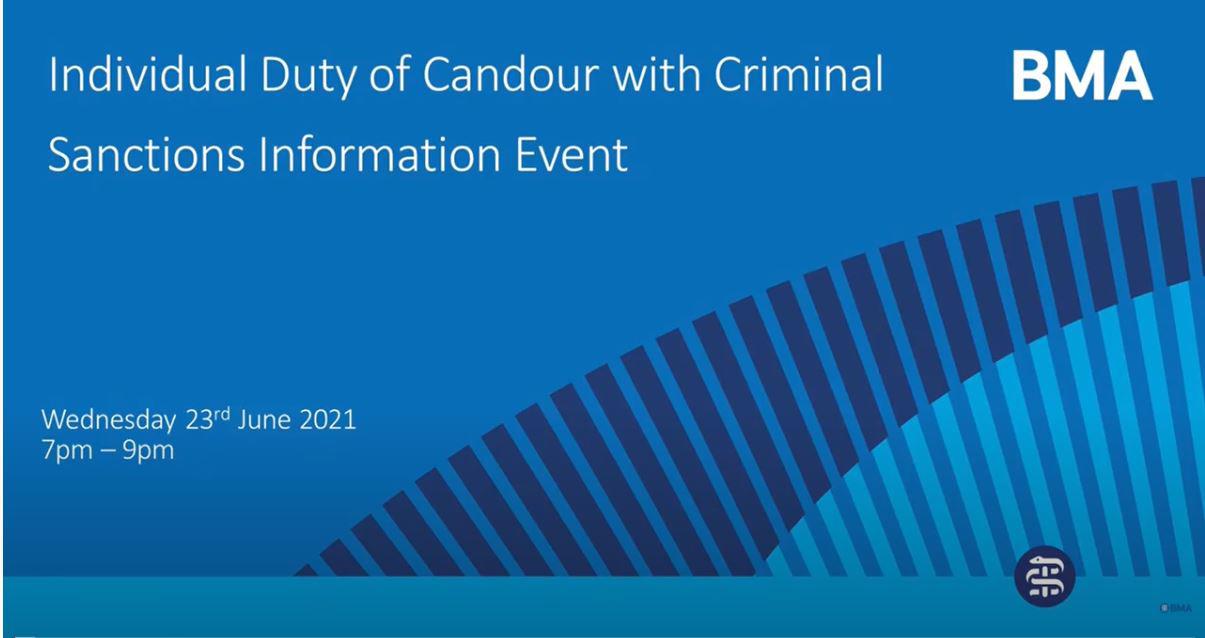 What is candour?
Candour means that you must be open and honest with patients when something goes wrong, that causes or has the potential to cause harm and distress.
This means offering an apology, putting matters right if possible, and explaining fully and promptly what has happened and the likely effects of your actions.
This is detailed in the GMCs Good Medical Practice which you are bound by.
What are criminal sanctions?
Sanctions, in law and legal definition, are penalties or other means of enforcement used to provide incentives for obedience with the law, or with rules and regulations.
Criminal sanctions can take the form of serious punishment, such as corporal or capital punishment, incarceration, or severe fines.
The criminal sanctions outlined in the consultation refer to breaches of the duty of candour as punishable by fines, but it has not determined what these should be.
What would it mean if there was a statutory individual duty of candour with criminal sanctions?
This would mean that as well as your current duty of candour – to be open and honest under Good Medical Practice, criminal sanctions would apply to you if you breached this duty.
Who would this apply to?
The proposals for an individual duty of candour with criminal sanctions would apply to all staff including, but not limited to, doctors - regardless of their grade.
How would it affect me personally?
For you personally, you would be under a threat of criminal sanctions if you made mistake and did not report it or tried to cover it up. This would also apply if you witnessed a colleague making a mistake and did not report it.
How would it affect me professionally?
You could be fined, face sanctions such as temporary suspension from the GMC register, be placed on restricted duties, or face disciplinary action from your employer under Maintaining High Professional Standards. You may also have increased indemnity charges going forwards.
Depending on the seriousness of the breach, you could also be struck off from the GMC register.
How would it affect my patients?
We have heard from our members that, if criminal sanctions are introduced, that they are likely to have to make more referrals for patients and put them through more procedures. This would be to protect themselves from potential threats of being accused of a misdiagnosis or incorrect treatment.
How would it affect my workplace?
This has the potential to create a negative working environment and culture as all staff would be more aware that their work was being analysed and monitored in a negative way, and be afraid that they would be reported if they made a simple mistake.
I feel like I will begin to practice 'defensive medicine' whereby I am so worried about the consequences of potentially making the wrong decision that I will end up being overly cautious and over investigating or over-treating patients. I also feel that learning from serious adverse incidents will be less of a fact-finding mission and feel more like a blaming exercise.

BMA survey response from a junior doctor member