Gauri Sankhe, an anaesthetist at the University Hospitals of Derby and Burton, said that she hoped she could use her knowledge and experience to further raise the profile of staff, associate specialist and specialty doctors in her workplace.
Dr Sankhe, who was appointed to the role of advocate at her trust last month, said she felt the role of SAS advocate, a position that is the first of its kind, would also serve to enable SAS doctors at other trusts to make a difference to the working lives of their colleagues.
The role of advocate has been introduced as part of the 2021 contract talks which have seen improved terms and conditions enacted for specialty doctors as well as a new senior SAS contract called the specialist grade.
Both contracts, which were drawn up following extensive negotiations between the BMA, the Department of Health and NHS Employers, were overwhelmingly backed in a referendum by SAS doctors in England and Wales earlier this year.
Demand in place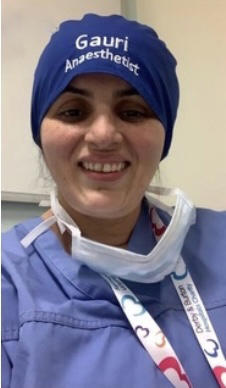 Dr Sankhe, who has worked at the UHDB trust since 2016, said she had felt compelled to apply for the role after witnessing the effect of the pandemic on her colleagues and the wider workforce, and realising that staff advocate roles were more needed than ever.
She said: 'I was [already] wellbeing champion for my department. When this role came in, I read about it and became very interested in what it entailed.
'Having first-hand knowledge of the challenges being faced by SAS colleagues, I thought that if I get selected for this role at the trust level, I could help raise the profile of the grade by working closely with other committee members, such as SAS tutors and representatives, the local negotiating committee and trust board.'
Inspirational move
BMA SAS doctors committee chair Rajesh Kumar said he hoped SAS doctors across England and Wales would take inspiration from Dr Sankhe's appointment and consider putting themselves forward to serve as advocates in their own workplaces.
He said: 'The SAS advocate will be the champion for workplace-related issues of individual SAS doctors including bullying and harassment and will take it up with the trust management, thereby making their workplace safer and attractive for our SAS colleagues.'
Crediting her appointment in part to the support she had received from others at the trust, Dr Sankhe expressed thanks to a number of individuals including UHDB trust chair Kathy McLean, director of postgraduate medical education Tracy Tinklin and chief executive Gavin Boyle.
Dr Sankhe also highlighted medical director Magnus Harrison as well as thanking all SAS doctors and colleagues in the trust's anaesthesia department for her appointment.
She also paid tribute to the health and wellbeing team at UHDB who she said had already done much to promote health and well-being among SAS doctors.