When COVID-19 arrived in Nigeria late February, it had just about four public testing labs for 200 million people and even fewer isolation centres.
'Preparation was a bit poor,' says Osahon Enabulele, a chief consultant family physician at the University of Benin Teaching Hospital, a past president of the NMA (Nigerian Medical Association) and president of the Commonwealth Medical Association.
'It was close to two months before we started to see the necessary level of political commitment, national and healthcare mobilisation to contain this COVID-19 pandemic,' he adds. 'The response by Nigeria, like many countries in Africa, was very slow.'
Dr Enabulele puts it down to its over-confidence after it quelled Ebola with few deaths six years ago, and the multiple myths which emerged about COVID-19: that it was a disease of the poor, of the 'white man'.
'There was this disbelief. It was a major challenge,' he adds.
PPE problems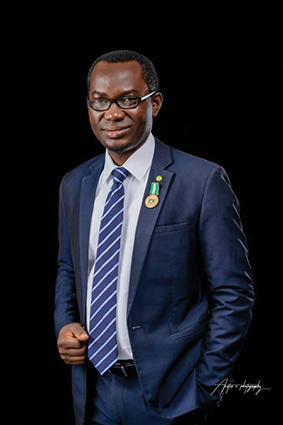 Dr Enabulele called for doctors in all commonwealth countries to inspect their facilities themselves, as he inspected his country's own.
'You need evidence, not just from books, but from seeing what is happening on the ground to advise Government,' he says. 'I compiled a report for my Government and advised them to build more support facilities. Still they didn't think it was going to affect them. Our biggest initial challenge was poor political commitment.'
As with many countries, its doctors cared for patients with COVID-19 without adequate PPE (personal protective equipment). It took a strike by junior doctors to be properly paid for putting their lives at risk.
Access to PPE was particularly poor in the private sector, often the first point of contact with health services for patients.
The Nigerian Government did finally act. 'It eventually became very clear that this disease was a leveller, and blind to age, gender, race, socio-economic and political status,' Dr Enabulele adds.
'Measures were eventually put in place after very serious demands from professional bodies, including the NMA.'
It threw even more people deeper into poverty

Dr Enabulele
The lockdown brought a spate of intimidation, violence and even imprisonment of doctors and other healthcare workers by officers of Nigeria's security services.
'It is starting to get better with a bit of education,' Dr Enabulele says.
The country's lockdown also had an obvious effect on the over 80 million impoverished Nigerians. 'It threw even more people, deeper into poverty,' he says. 'People starved because of a loss of household income.'
These socio-cultural and economic effects of lockdown will be the evidence that informs Nigeria's approach. He hopes too that the pandemic will finally force Africa's political leaders to address staff shortages across the continent.
'If you don't have your "soldiers" (ie, physicians and other healthcare workers) on the front line, you are going to have an exposed citizenry.'