Consultants in England have begun 48 hours of industrial action, and announced more strike dates for October if the government continues to ignore their calls to fix consultant pay.
The two-day walkout is the second round of strikes by senior hospital doctors in England who have seen their take-home pay fall by more than a third since 2008/09.
Consultants are asking for the Government to present a 'credible' offer that puts an end to real-terms pay cuts and a commits to reforming the pay review body process so that it can be 'truly independent' and begin addressing historic losses in pay.
Shortly before the first round of consultant strikes last month, prime minister Rishi Sunak announced a 'final' offer of a 6 per cent pay uplift for consultants – which equates to another real-terms pay cut against inflation – saying it was recommended by the Review Body on Doctors' and Dentists' Remuneration.
Following the announcement, a Tory backbencher admitted to the i newspaper that the government 'basically rig' the so-called independent pay review body.
Escalation possible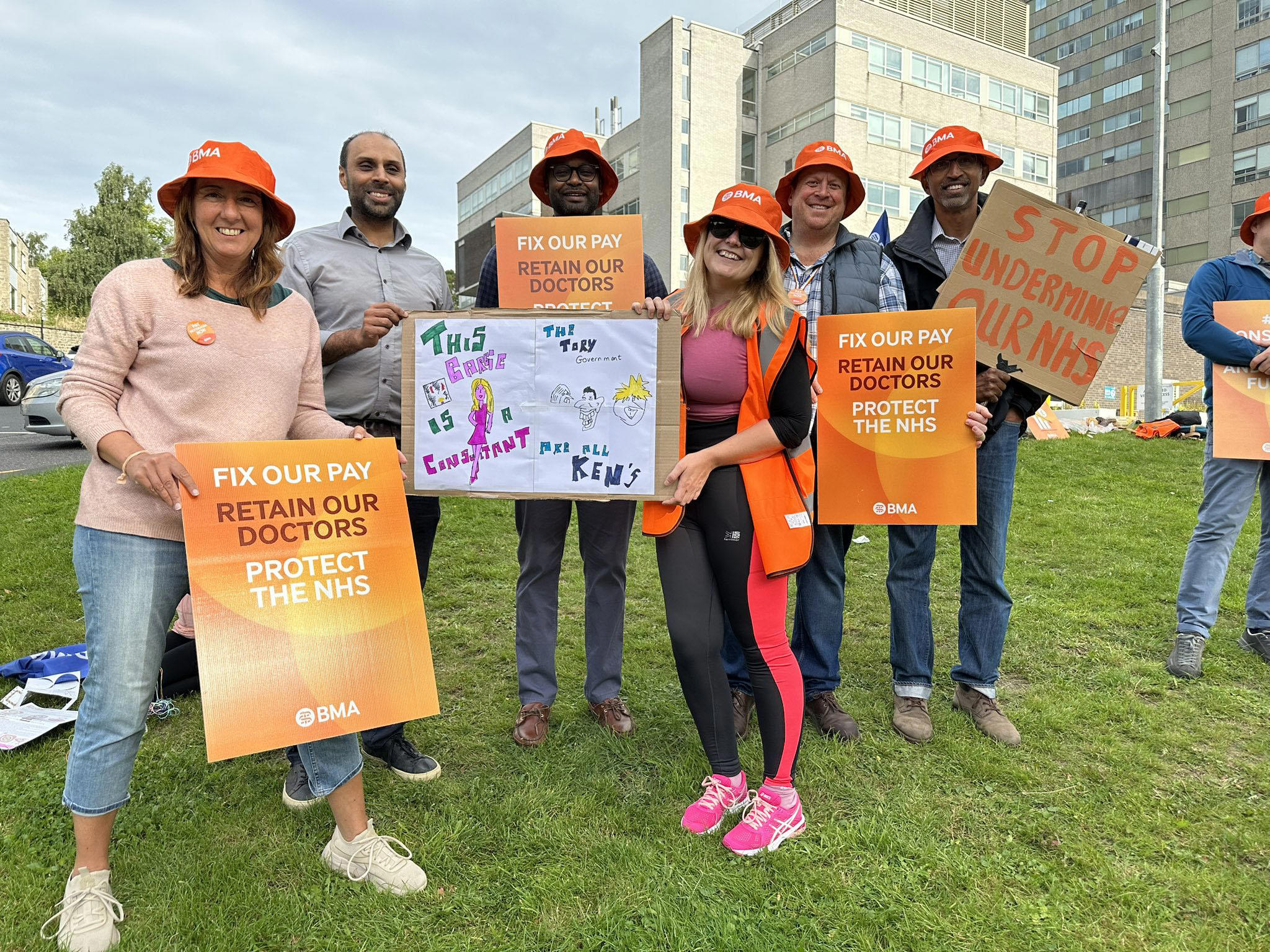 Among the 50 or more doctors on the picket line outside Royal Hallamshire Hospital in Sheffield on Thursday morning was consultant uroradiologist Rachel Hubbard. She did not take lightly the decision to strike.
'I love my job and I love the NHS,' said Dr Hubbard. 'I can see what the chronic underfunding from the current government is doing to the NHS. Ultimately, they want to privatise it. And I want to be able to say that I did my best to try and stop that. 
'It upsets me that I have to strike. It upsets me that we don't get paid according to our skill set or in line of inflation. I don't think I'm worth 30% less than a consultant 15 years ago.
'It upsets me that the Government don't value the work and sacrifice that we've made to get to this level of training. And it upsets me that the Government don't value the NHS or those really affected by inflation and the cost-of-living crisis. That's why I became a doctor and that's what I'm fighting for.'
If no credible offer is made, consultants will strike for another two days in September (19 and 20 September). Today, they announced an escalation to three strike days in October if the government continues to refuse negotiations.
On strike days, consultants provide Christmas Day cover, meaning emergency services will continue to run, but elective surgery continues to be impacted.
Vishal Sharma, chair of the BMA consultants committee, said: 'No consultant wants to be striking and we head out to picket lines today with heavy hearts. We would much rather be inside the hospital seeing our patients. But we cannot sit by and watch passively as we are persistently devalued, undermined and forced to watch colleagues leave – much to the detriment of the NHS and patients.'
The NHS Confederation warned the 'grim milestone' of one million cancelled operations as a result of nine months of strikes by NHS workers is approaching.
Doctors used
There are now more than 7.5 million people on NHS waiting lists, which had hit record levels of more than 7 million before any NHS strikes had begun. 
Dr Sharma added: 'First the Prime Minister blamed COVID and now he attempts to scapegoat doctors for his failure to bring down waiting lists. The reality however is that we had record waiting lists before the pandemic and before any periods of industrial action, and they were due to the Government's failure to properly invest in the NHS and its staff. The waiting lists can only be brought down by recruiting and retaining doctors. This starts with valuing them properly – not by subjecting them to further real-terms pay cuts, as the Government did last month.'
'By refusing to talk to us – and it's now been 150 days since the Health Secretary met with us – it just shows that the Government is not serious about the NHS, its workforce or patients.
'Our message to the Prime Minister is that we are serious about protecting the consultant workforce and thereby the NHS and patients. We are striking today, and will do so again in September and October, but the Prime Minister has the power to avert any further action at all, by getting around the table and presenting us with a credible offer.
The strike dates announced today, 2, 3 and 4, October, are scheduled to take place during the Conservative party conference in Manchester.
Dr Sharma said: 'Wouldn't Mr Sunak rather be telling his colleagues and the public that he has resolved this dispute by offering consultants a deal that truly values the work we do, rather than apologising and making excuses for why he's forced us out on strike once more?
'Consultants are clear that they're prepared to take regular action and politicians must be left in no doubt that our dispute will not go away simply because they refuse to negotiate. We will not be ignored.'