'We're doing this for the survival of the NHS.'
The message from the consultants' picket line at London's University College Hospital was clear as consultants walked out in their first strike for almost 50 years.
And while the mood was somewhat different to that at recent junior doctors' strikes, without the emphasis on chants and with less pronounced anger, there was a defiance and determination from senior doctors taking action for the good of their patients, both now and in the future.
Consultants are aware that they earn higher than average salaries, and that this could be weaponised by a Conservative government which refuses to negotiate but lets the dispute play out in the media. But they know their value.
BMA analysis of NHS and government data, released today, shows how consultants' pay has 'flatlined' in the 14 years to 2022/23, growing by just 14 per cent, while average UK pay went up by about 48 per cent and those in professions such as law, accountancy and engineering saw wage growth of nearly 80 per cent – almost six times that of senior doctors.


No choice
The Government made a 'final' below-inflation pay offer of six per cent last week, meaning another real-terms pay cut after a 35 per cent drop in the value of consultant pay since 2008/9. It has not spoken with the BMA consultants committee since industrial action was called following a ballot that saw 86 per cent vote in favour from a turnout of 71 per cent.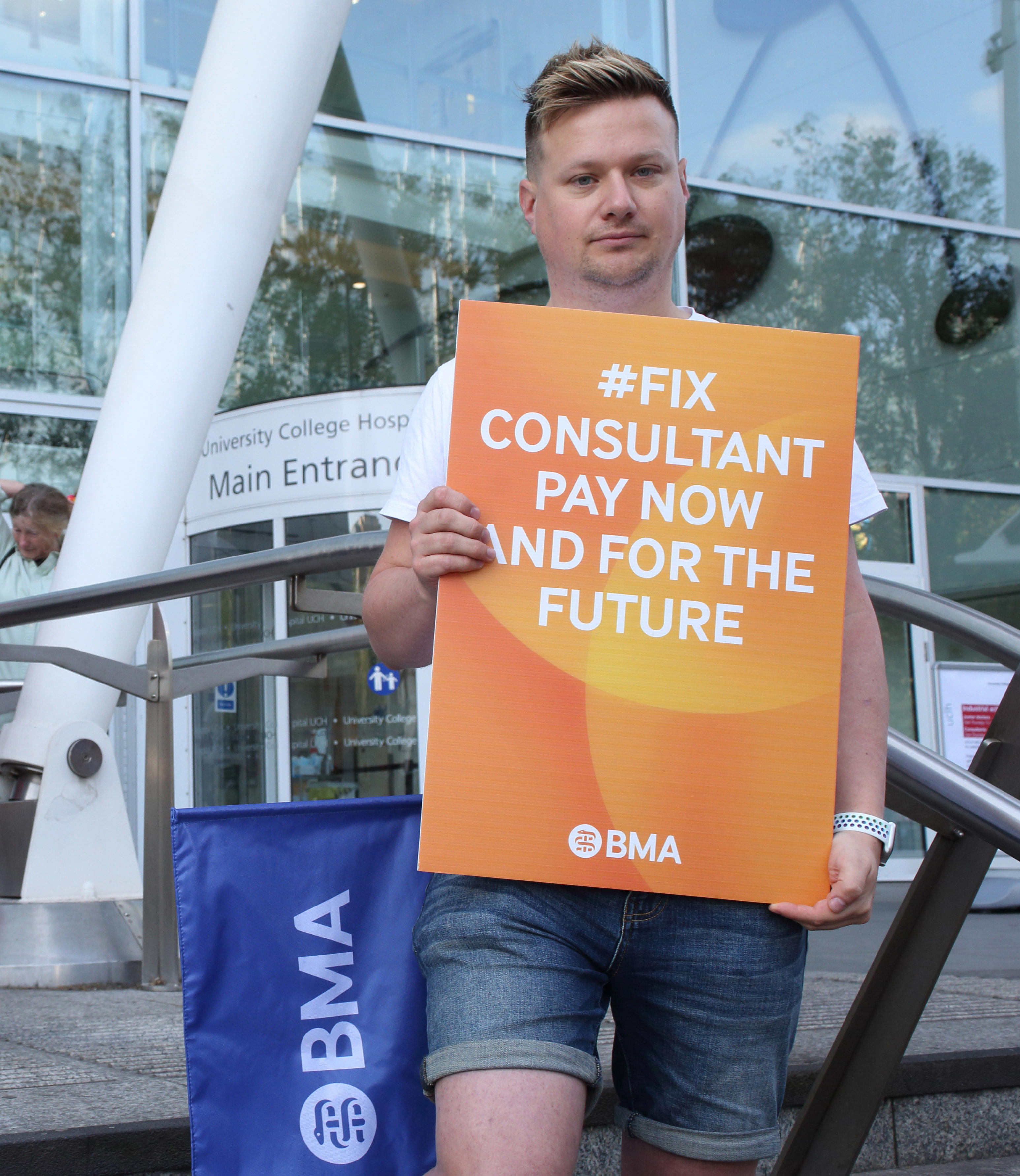 Ben Hockenhull, a consultant anaesthetist at UCH, said: 'Nobody here wants to be on strike. We all realise it's going to have a significant impact. Everybody is feeling frustrated that we have got to this point.'
'Why have [the Government] stopped negotiating? Surely that's the time to start negotiating in earnest,' added Dr Hockenhull, who said the Government's painting of consultants' earnings as 'six-figure' is untrue for many, including himself.
He said his £88,000 salary represents a 44-hour working week as well as on-call work and overtime, which is leading to many consultants burning out or 'voting with their feet' and moving overseas or to the private sector.
'They use figures that include overtime, which we're getting because we are working to fill in gaps because there aren't enough of us on a regular basis,' added Dr Hockenhull.
'I've been a consultant since February and since then I've had four job offers for Australia – which would pay $450,000 a year (£238,000). Financially, it is tempting. But I want to work in the NHS.'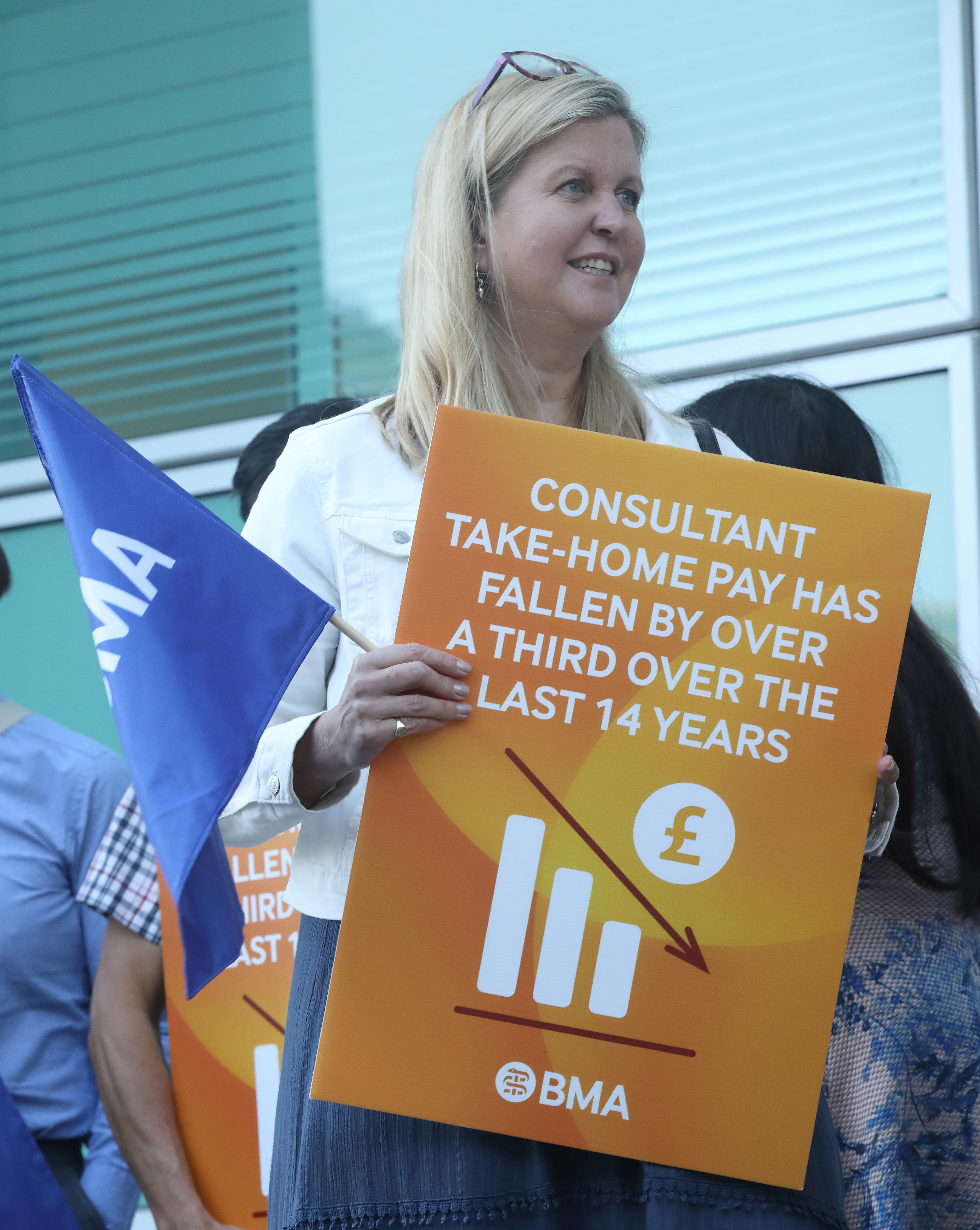 Sophie Pattison, a consultant radiologist at UCH, agrees 'consultants don't want to strike'.
'But we feel that we've got to the point where there's no other option after another below-inflation pay offer, which was sadly expected,' she said.
Dr Pattison says consultants are striking as much for their junior doctor colleagues as they are for themselves, highlighting the importance of reforming the DDRB pay review body so it is genuinely independent of government – last week a Conservative backbencher told the i newspaper that the Conservatives 'basically rig' the system.
'It's important for the future,' said Dr Pattison. 'Junior colleagues are moving overseas, or not taking training places, because of the work-life balance. If we continue on this trajectory there might not be an NHS when these juniors become consultants.'


Exodus
Georgina Wood, a recently-qualified oncology consultant, made a similar point.
'For a junior doctor looking forward, it's massively demoralising,' she said. 'A haemorrhaging of staff is already happening.
'Newly qualified consultants are facing a crossroads. The working conditions are devastatingly bad and are getting worse. We are facing the same issues as healthcare staff in general.
'This is about the survival of the NHS. If you don't value your staff, they will leave.
'On a day-to-day level, caring for our patients and our individual medical achievements are rewarding, and keep us going, but when you work in a system that's really struggling, basically falling apart, it takes a toll. The environment isn't sustainable and the Government isn't showing us any support. Eventually, the service will grind to a halt.'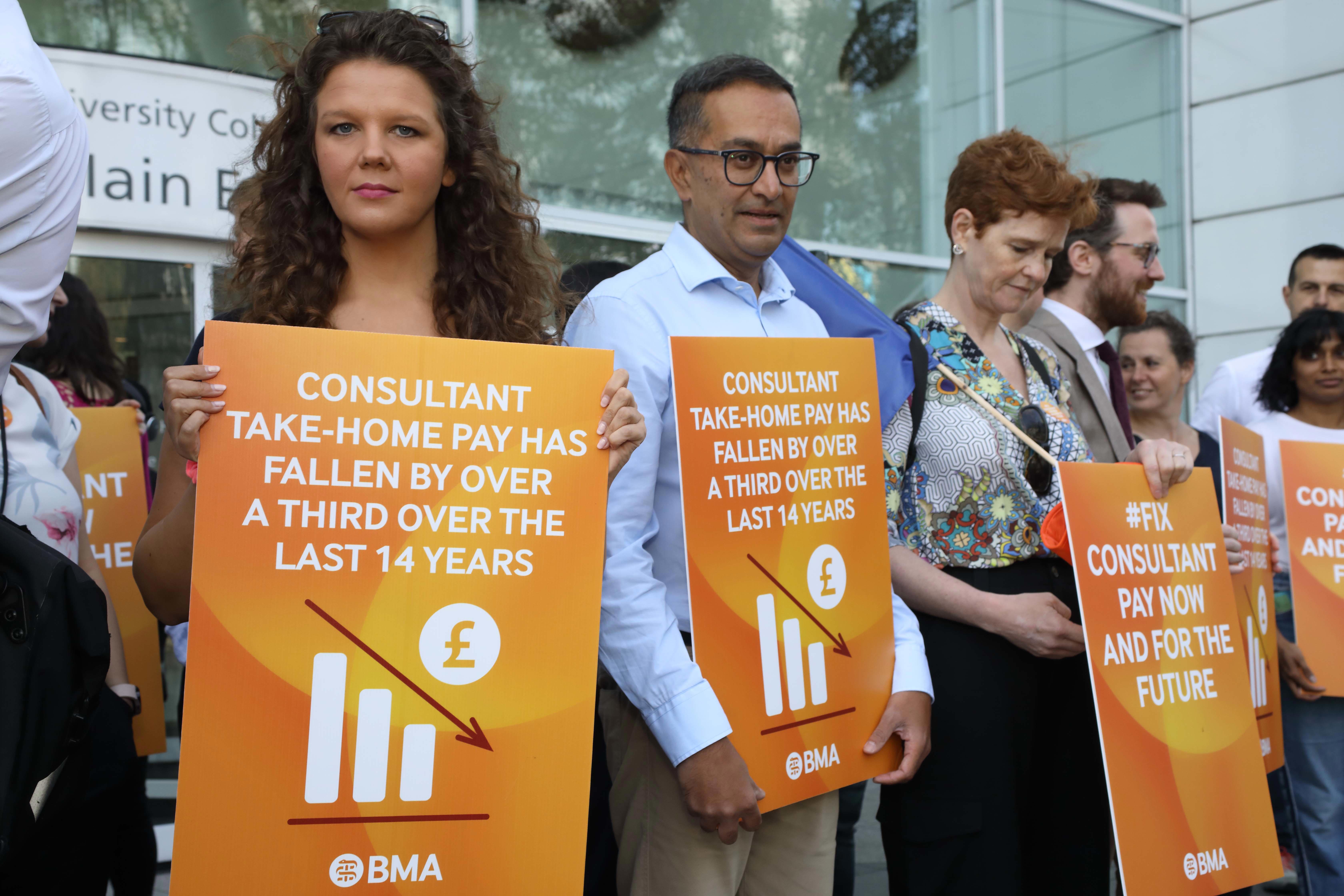 Kalpesh Patel, a dental consultant, said: 'This is about the preservation of the NHS, for my children and their children. We need the NHS to be there. And it's not going to be there if junior doctors don't want to stay, or don't want to become consultants, because they can go abroad and have a better quality of life.
'We are here not just for consultants' pay but for juniors as well.'
Tracey Masters, a consultant in sexual reproductive health, said she was worried about the impact of pay and conditions on future-proofing the NHS, including the training process, and fears a 'lost generation'.
'People are delaying getting on training programmes because of the wages and the experiences,' she said. 'A lot of juniors are starting to wonder what's right for them. We need to fix the workforce issue.'
Referring to the Government's recently released long-term NHS workforce plan, Dr Masters said: 'There's no point in doubling medical school places but not thinking about retention and training the next generation of consultants.'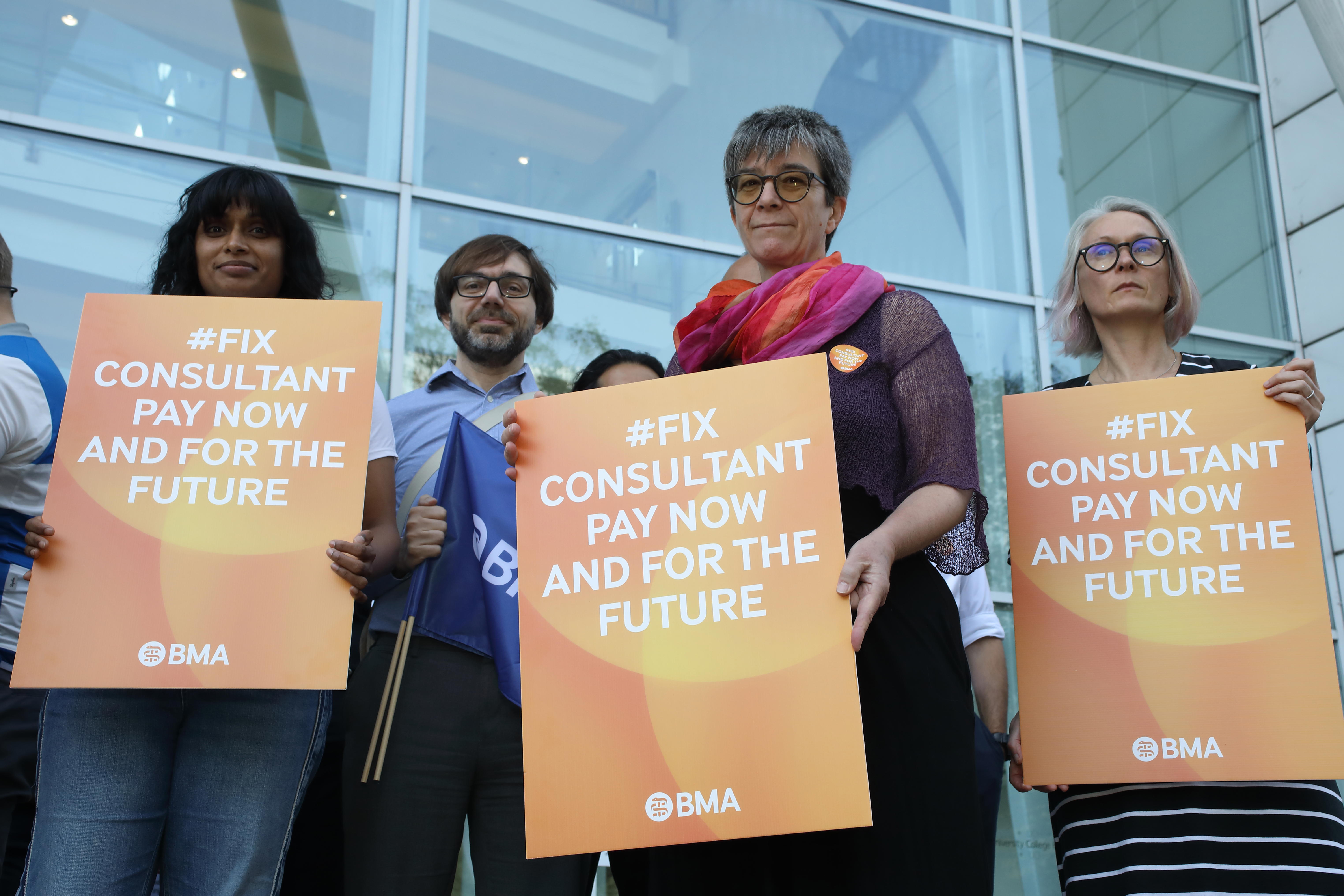 Stuart Flanagan, a sexual health consultant, said recruiting junior doctors for training places is a 'big concern' in his area of expertise – and if it's not fixed, it could result in wider public health concerns 'in the near future'.
'A big part of that recruitment [to speciality training] is how we retain junior doctors,' said Dr Flanagan. 'We are struggling with that at the moment. There are not enough junior doctors coming forward to fill the spaces.'
Fixing the pay review body and ensuring its independence would help give current and future consultants security that their pay will be fair, and thus help recruitment, added Dr Masters.
She said securing the DDRB's independence was 'more important' to most consultants than any specific percentage pay increase in the negotiations.
She said: 'It isn't just about this year. We want something that makes our profession sustainable – and we don't want to be back on strike next year. We want to ensure the survival of the NHS.'