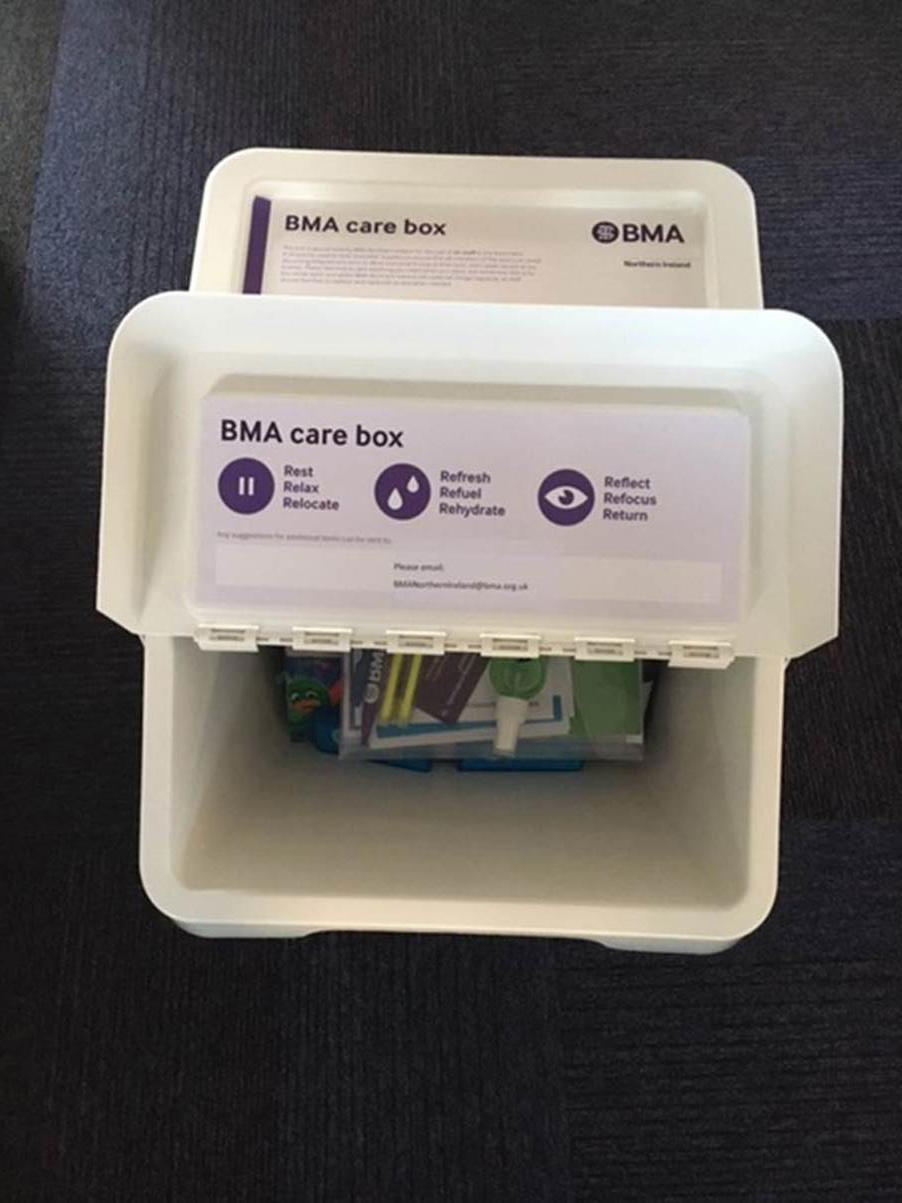 BMA Scotland and Northern Ireland have sought to reach out to doctors working around the clock to battle the coronavirus pandemic, through the roll out of care packages.
Crates containing basic essentials, such as hand-sanitiser gel, toiletries, spare clothing and tea bags and snacks are being made available to hospital sites in both countries, with the BMA examining plans to expand the service to England and Wales.
The boxes were originally devised by BMA Scotland late last year as a means of supporting new doctors many of whom said they struggled to take breaks away from their work areas.
BMA Scottish junior doctors committee co-chair Lewis Hughes said the personal items included in the crate were an important contribution to improving morale at an incredibly difficult and challenging time.
He said: 'I was working in University Hospital Monklands when the BMA Scotland care boxes arrived and to say they went down a storm would be an understatement.
'It's extremely important that our NHS staff are recognised for the work they do, and these care boxes absolutely do that. It's fantastic our counterparts in Northern Ireland are also benefiting from these now too.'
He added: 'The BMA will continue to support doctors and, as we fight this pandemic, little gestures like this go a very long way. I hope it is something that employers will recognise too.'

Access for staff
The BMA has also given its thanks to supermarkets across the country for taking steps to ensure NHS staff remain able to access essential goods.
BMA council chair Chaand Nagpaul said: 'In recent days we have all seen images of panic buying across the country and read the stories in the newspapers and on social media of doctors, nurses and other NHS staff, working on the front line against COVID-19, fearful at the prospect of not being able to buy even the essential items they need.
'How supermarket staff have responded to the situation and the gratitude they have shown to NHS staff is immeasurable.
'The measures put in place by supermarkets to ensure NHS staff can get access to groceries and essential items without having to worry about empty shelves is not only heartening but is a vital step to support health workers in the battle against COVID-19.'

Public gratitude
Meanwhile members of the public have sought to show their thanks to NHS staff in a variety of ways.
A campaign being promoted on social media will aim to see thousands of people around the country give a round of applause at 8pm on 26 March, as a unified show of support and thanks to doctors, nurses and other frontline healthcare professionals.
Similar shows of public supported have taken place in other countries affected by the virus including France, Spain and the Netherlands, with information online found under the #clapforcarers hashtag.
Meanwhile, another group called 'NHS Hero Support', is asking for donations to help purchase desperately needed PPE (personal protective equipment) masks.
The campaign said it has sourced 1,000 masks it wishes to distribute among frontline staff, following complaints from many doctors they lacked adequate protection.
Their website says: 'Doctors and nurses are falling ill with COVID-19 due to serious shortages in effective PPE. The NHS Heroes Support Team has been spurred into action following contact with individual doctors who were looking to buy these masks for themselves and their colleagues.'