When Olamide Dada began medical school in Cardiff, very few of her classmates looked like her. As a Black student from a fairly deprived part of Luton, she was, to say the least, atypical.
Of 270 medical students, only 10 were of African and Caribbean descent – around 4 per cent. Life looked very different from multicultural and diverse Luton, and at first, she didn't know what to make of it.
'Starting medical school was a bit of a culture shock for me. Everyone in Cardiff was very friendly, but other students of Black African and Caribbean heritage were few and far between, and there also weren't many students from other ethnic minority backgrounds.
'I think for a lot of time, particularly in my first year, I questioned whether I deserved to be in that space, or whether I belonged in that space. I'd say it challenged my identity.'
I think people were waiting for something like this'

Dr Dada
When she started to make friends, she found that other Black medical students had faced similar struggles. At her own school, although they were accustomed to sending people to medical school, Olamide still experienced a number of challenges when applying and her father had to fight to get a predicted A-level grade changed to keep her in the running during the application process despite her proven academic capability.
'Many of us had the same experience – whether it was teachers that didn't want to give us the right predicted grades, or finding it difficult to get work experience or find mentors. That got me thinking in terms of setting up Melanin Medics, which stemmed from the desire to see more people like me.'
Blog to behemoth
Today, Melanin Medics is a largely volunteer-led and run charitable organisation that has supported thousands of young people in the UK through outreach, and hundreds of current and future doctors with African and Caribbean heritage.
The organisation provides practical support through a number of programmes, events, engagements, outreach, networking opportunities and mentorship. Even throughout the pandemic the charity continued its work, although most of its activity went online.
Its impact report for 2020 shows that it supported 270 aspiring medics, had 267 doctors and 408 medical students in its networks, and had a combined social media following of 12,030. There were 560 workshop attendees and 664 people attended events.
The charity campaigned to raise awareness of the disproportionate impact that the pandemic was having on Black medical students and doctors.
It also developed the Mind Us Project, initiatives focused on supporting the mental health and wellbeing of Black African and Caribbean medical students and doctors, which was supported by the BMA via BMA Giving.
You have to choose to be anti-racist'

Dr Dada
Dr Dada remains chief executive, having built it up from what was basically an idea for a blog in 2017.
'I spoke to my friends when I got into medical school and said I was going to document the whole journey, and I was going to call it the Melanin Medic, referring to myself. And then I got scared, and I didn't do anything about it for 10 months. And then I mentioned it to one of my friends and she designed a logo – my friends really encouraged me to go for it, and that made it come to life.'
It started with a Tweet, which had 200 retweets (a lot for 2017) and then a blog that had 1,000 views in the first 24 hours.
'I was like, oh wow, maybe people are interested in this,' she says. 'I think people were waiting for something like this. There's just been such a need and it's been great to be able to fill that space.'
Having set up the organisation with the aim of increasing representation of African and Caribbean doctors in the UK, Dr Dada quickly realised it wasn't just about the numbers.
'It wasn't just the lack of Black students – there was a lot more to the issue. You have to look at people's experience of the education system, and of being a medical student, and then going into their careers as well; there are so many different factors they're having to navigate.'
GP dreams
Dr Dada combined running Melanin Medics with life as a medical student and now as a doctor – she is in her first foundation year and works in general surgery in Kent. Sometimes this could be tricky, she concedes.
'It was very challenging – sometimes I'd have to go to London from Cardiff for conferences or meetings and go back the same day, and it's a long journey, so I'd be tired, then there would be lectures the next day, then more meetings. It was a lot, but I've always enjoyed what I've done.'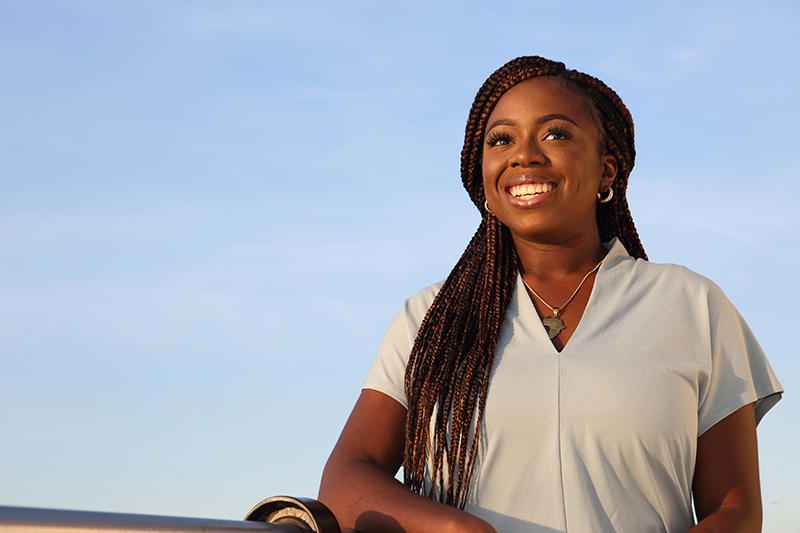 Her parents kept her on track with her studies, she laughs. 'They would say "if you're not a medic, what is Melanin Medics?" to make sure that I was passing my exams and doing my best. But it's good because I also think it taught me fundamental time management skills, and how to prioritise.'
Dr Dada, who hopes to enter general practice, also has an interest in public health, particularly health inequalities and the role of race in health outcomes. She is also keen on leadership and management; she is an alumnus of the Healthcare Leadership Academy and is studying for a postgraduate certificate in leadership.
Dr Dada describes Black History Month, which runs throughout October, as one of her favourite times of year when she was at school. 'It was seeing things from our culture being put on full display for other people to embrace. It's just so beautiful to see.'
Highlight achievements
She also believes it's important to shine a light on the achievements of Black people in healthcare – and cites as her own particular 'sheroes' the GP in Luton who encouraged her to apply for medical school, and the pioneering nurse and academic Professor Dame Elizabeth Anionwu.
'It's very encouraging for people who might not be surrounded by people who look like them all the time to see people who had gone ahead of them and achieved great things,' she says.
Although there is obviously a long way to go, Dr Dada is optimistic that change is happening for the better. 'Last year was a bit of a breakthrough year, particularly with the Black Lives Matter movement following the death of George Floyd.
'I think that was the point where people realised it wasn't enough to be not racist – you have to choose to be anti-racist. It's easy to say "I'm not racist" but you have to consider, what am I doing to make sure that racism doesn't continue to exist in our society, and when I see it, am I actually doing something about it?'