About the pledge
The BMA's Ending Sexism in Medicine Pledge will get us closer to a world where doctors and medical students can work in a safe environment free from discrimination, and where gender plays no role in career progression or how they are treated.
We want medicine to celebrate diversity, making all doctors and medical students feel valued, included and protected by their employers.
This is a joint pledge to unite medical organisations with impact on the working conditions of medical students and doctors so we can work collaboratively to address the cultural and structural factors that cause sexism.
Watch: Ending sexism in medicine pledge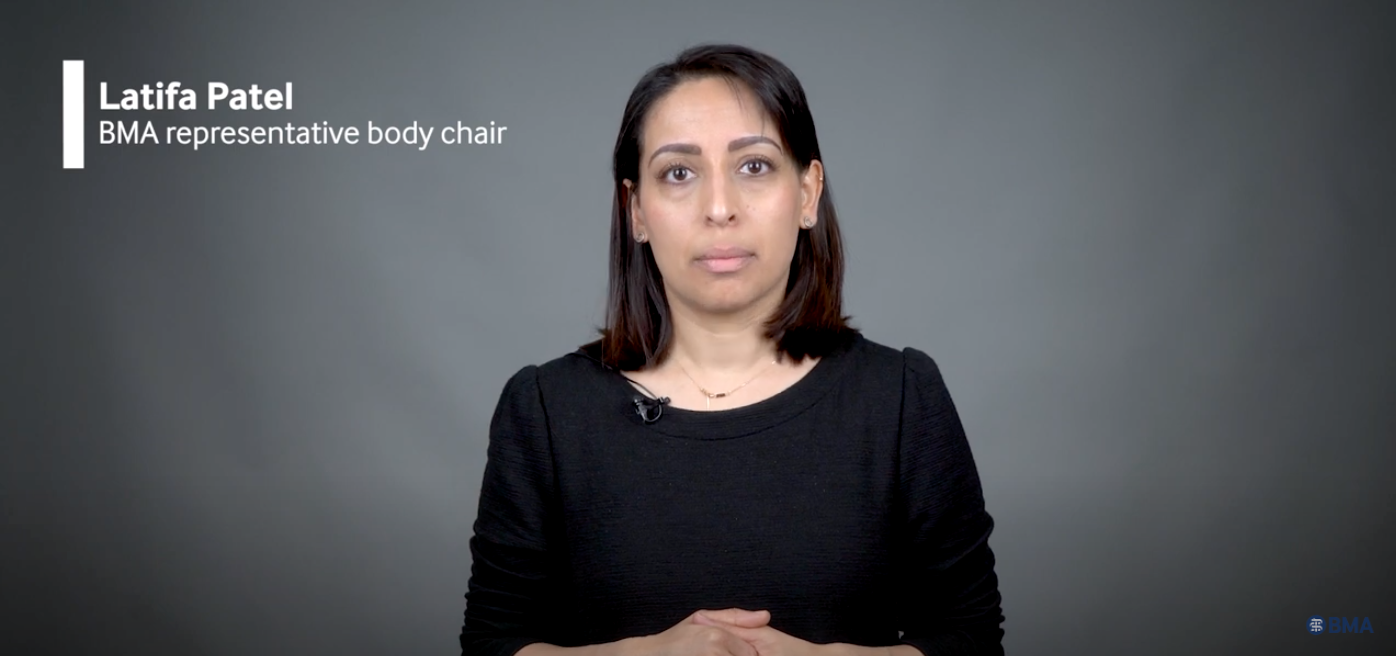 Who it's for
The pledge allows organisations and groups who share our commitments to work in partnership with the BMA to address sexism.
We want those with influence over the medical profession to collaborate and use our varied areas of impact to make meaningful changes.
Joint pledge on ending sexism in medicine
Sexism should never be tolerated, whether from individuals or ingrained in the policies and structures medical students doctors work within. All doctors and medical students should work in an environment free from discrimination where their gender plays no role in their career progression or how they are treated by colleagues and patients. The medical profession should celebrate diversity, making all doctors and medical students feel valued and included. Doctors and medical students must be given a safe environment to work in, where they are protected by their employers.
We want a medical profession that:
promotes a culture of respect for the competency and contribution of all doctors and medical students without assumptions or stereotypes based on gender
addresses the negative impact of gender stereotypes in medical education and career pathways
ensures equal opportunities for doctors and medical students to pursue and thrive in the career path of their choice, without gender stereotypes playing a limiting factor in their career
has systems to raise concerns that are transparent, fair, and accountable, that doctors and medical students have confidence in
takes targeted and evidence based actions when addressing inequality. Recognising that women are more likely to experience sexism – while also acknowledging that other genders can be subject to disadvantage, for example, non-binary people being sexually harassed or men having less support to take parental leave due to gender stereotypes.
All actions we take to progress to a fairer medical profession must be intersectional to ensure we accurately reflect the experiences of all doctors and medical students, recognising that other characteristics such as a person's gender identity, ethnicity, disability, faith or sexual orientation will impact their experiences of sexism.
How to sign up
If your organisation is interested in signing up, please email [email protected]
We will host a roundtable in 2023 with organisations who have signed the pledge, and create a platform to share ideas and progress.
Who has signed up
Thank you to the following organisations who have signed up to the pledge.
List of signatories A-M
Academy of Medical Royal Colleges

Academy of Medical Royal Colleges and Faculties in Scotland (Scottish Academy)

Association of Anaesthetists

British Association of Physicians of Indian Origin

British Association of Physicians of Indian Origin Wales

British Dental Association
British Islamic Medical Association
British Medical Association
British Orthopaedic Association
British Orthopaedic Trainees Association
British Society of Gastroenterology
Bristol Medical School
Department of Health, Northern Ireland
ENT UK
Faculty of Forensic and Legal Medicine (Royal College of Physicians)
Women in Intensive Care Medicine (Faculty of Intensive Care Medicine)
Faculty of Pharmaceutical Medicine
Faculty of Public Health
Faculty of Sexual and Reproductive Health
Faculty of Sports and Exercise Medicine
Hull York Medical School
Keele University Medical School
King's College Hospital NHS Foundation Trust
King's College London GKT School of Medical Education
London School of Hygiene and Tropical Medicine
Medical Schools Council
Medical Women's Federation

Medical Women's Federation Wales

Melanin Medics

Mile Oak Medical Centre

Muslim Doctors Association
List of signatories N-Z
NHS Confederations Women in Leadership Network
NHS Employers
NHS Providers
NHS Tayside
Northern Care Alliance NHS Foundation Trust
Northern Ireland Medical and Dental Training Agency
Queen's University Belfast, School of Medicine, Dentistry and Biomedical Science
Royal College of Anaesthetists
Royal College of Emergency Medicine
Royal College of Nursing Wales
Royal College of Obstetrics and Gynaecology 
Royal College of Paediatrics and Child Health
Royal College of Psychiatrists
Royal College of Radiologists
Royal College of Surgeons England
Women in Surgery Forum (Royal College of Surgeons)
Royal College of Physicians

Royal College of Physicians of Edinburgh

St Andrews University School of Medicine

Surviving in Scrubs
Swansea University
University of Buckingham School of Medicine

University of Edinburgh Medical School

University of Manchester School of Medical Sciences

University of Plymouth, Peninsula Medical School

University of Sheffield, Faculty of Medicine, Dentistry and Health

University of Sunderland Medical School

Western Health and Social Care Trust

West Hertfordshire Teaching Hospitals NHS Trust

Women in Medicine Carers Network 
Our goals
We believe that working in partnership towards these goals will help us in achieving this pledge. Some of these goals are specific to women, who disproportionately experience gender discrimination; this includes all doctors and medical students who identify as women.
1. Eliminate sexism from career progression opportunities
Identify and address the structurally discriminatory policies that cause career progression to be different for men and women.
Maximise transparency and increase access, equality and equity in recruitment processes, training, examinations, and career and pay progression opportunities. This includes ensuring that any panels or decision-making bodies are representative of the workforce and population.
2. End sexual harassment in medicine
Implement robust sexual harassment policies and codes of conduct that protect doctors and medical students from sexual harassment from colleagues and patients.
3. Ensure that there are multiple channels for reporting sexual harassment and sexism
Formal and informal reporting channels must be well-known to doctors and medical students, with confidence that the process will not be detrimental on careers.
4. Promote the benefits of gender diversity in medicine
Implement success measures and metrics to monitor and drive progress. Encourage people and organisations to address sexism and reward those who take action to improve gender diversity, for example, through education on the impact of sexism on recruitment, retention and wellbeing.
5. Guarantee safe and supportive environments for pregnant doctors and medical students
All pregnant and breastfeeding doctors and medical students should have access to high-quality risk assessment and be encouraged to prioritise their health and safety at work. In the unfortunate event of a pregnancy loss, they should receive compassionate support from their workplace or university.
6. Remove the detrimental impact that having children and other caring responsibilities can have on career progression and work-life balance
Equal access to development opportunities, career progression and fair working practices for doctors and medical students with caring responsibilities and those who work flexibly.
7. Actively challenge gender stereotypes in medicine
End the assumption that certain specialties are more suited to certain doctors based on their gender and the wider stereotype that being a doctor is a male role.
8. Increase the visibility and voices of women
Ensure that women are represented and recognised in decision-making, leadership teams and events. Particularly those from communities that are historically underrepresented.
9. Employees in more senior roles to recognise gender bias in the workplace
Senior doctors to call out sexism and be responsible and accountable for addressing their own bias.
10. Support women's health
Workplaces and medical schools should address the historic lack of recognition and support for women's health. Policies should be put in place to ensure that workplaces and medical schools are inclusive of women's health and wellbeing. For example, implementing policies on, menstruation, menopause, and domestic violence.
We pledge to end sexism in medicine
BMA representatives explain the importance of the pledge and voice their own commitments to ending sexism in medicine.