COVID-19 presented the NHS with its greatest crisis, one which consultants have been leading on the frontline since day one. Yet, consultants in England have seen their real term pay cut in some cases by 28.6%.
Despite their sacrifices on top of the significant pay erosion they have faced, last year's pay recommendation from Government was just 1% for consultants in England. This is nothing more than an insult and is in no way fair.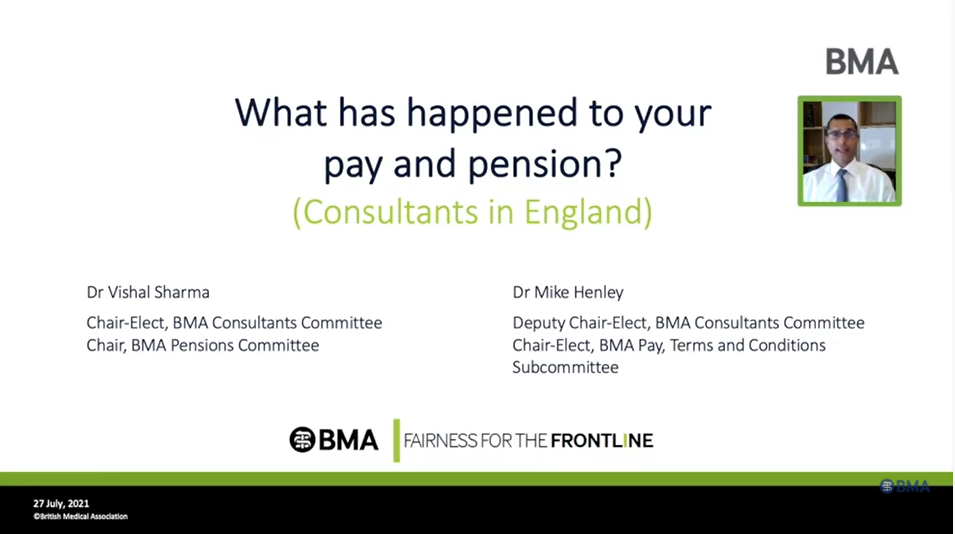 Consultants' pay is continuing to decline
Since 2008/09 consultants have experienced around a 30% fall in real terms (accounting for estimated tax and pensions changes) take-home pay on average.
To put this into context, the estimated take-home pay for the average consultant in England in 2008/09 was £67,752. Taking inflation (RPI) into account, the average real terms value of that figure by 2019/20 was the equivalent of just £48,356.
Between 2008/09 and 2019/20, this represents a 28.6% real decline in the value of take-home pay (accounting for estimated tax and pension contribution changes) for the average consultant.
Independent analysis published by the DDRB (Doctor's and Dentist's Pay Review Body), comparing consultant pay with that of those working in tax and accounting, legal and actuarial groups, found that the median salary of consultants is 'substantially lower'.
Punitive pension tax charges are pushing consultants to leave the NHS