Use the doctor support service
Are you going through a GMC investigation? Do you feel you would benefit from emotional support?
Call us 020 7383 6707
Email [email protected]
Office open Monday to Friday, 9am to 5pm
What is the Doctor support service?
All doctors who have been notified by the GMC about a provisional enquiry, an investigation, or licence withdrawal have access to this confidential, emotional support service from the BMA.
We recognise that being subject to a complaint or learning your licence is at risk can be uniquely and deeply stressful. We also understand that many doctors might not have anyone to confide in while they undergo a GMC investigation.
As a result, the GMC commission us to provide the Doctor support service, which offers emotional help from fellow doctors. It functions independently and confidentially from the GMC.
Who is the service aimed at?
You don't have to be a BMA member to get support.
Emotional support is available from the Doctor support service once you are notified by the GMC that a provisional enquiry or fitness to practise investigation is taking place. The support is available from when the GMC notify you until the outcome of the case. Doctors unable to talk with family or supportive colleagues may find the service particularly useful.
The Doctor support service is also available to doctors who are at risk of having their licence withdrawn. If you receive any communication from the GMC indicating that your licence to practise is at risk, you are welcome to use this service.
What sort of support is available?
6 hours of telephone support from the time you're notified by the GMC about a provisional enquiry or investigation until the matter is concluded. Or from the time you receive notification from the GMC that your licence to practise is at risk.
Calls usually take place during sociable hours, at mutually convenient times agreed between the doctor supporter and the doctor seeking support.
Face to face support, subject to availability of supporters, on the first day of a hearing and one further day if the hearing runs for more than a day.
An orientation visit on the morning of your hearing, if you would find it useful to look around the hearing room before it starts. You can arrange this with your supporter.
Or watch a tour of the hearing centre on the MPTS website.
"This was an excellent service to provide for a doctor in difficulty and I found it very helpful to receive support which helped me through a very difficult and stressful period for me both personally and professionally."
– Testimonial from a Doctor support service user
Will the supporter help me with my case?
The supporter will be able to talk to you about how you feel about the situation and help you to find strategies to cope with the stress of the proceedings.
You can ask the supporter to come with you if you are required to attend a fitness to practise hearing.
The supporter is not able to offer legal advice, advocacy, or any guidance about your case. You should speak to your defence organisation or legal representative in this instance.
If you want help with understanding the GMC's fitness to practise procedures, you can contact the investigation officer who is handling your case.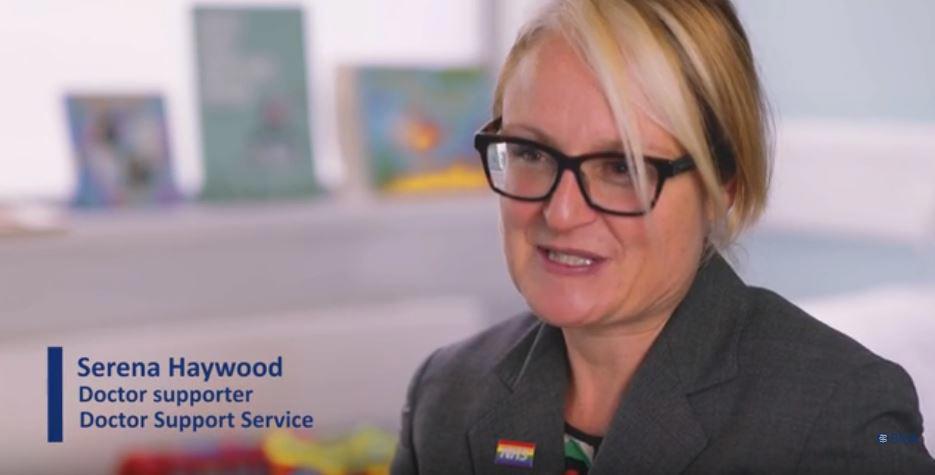 Doctor support service leaflet
Privacy notice
Our Doctor support service only collects data and personal information from you. Categories of data collected will include name, telephone number, email address, ethnicity, specialty, location of work, age, gender. This data will be held for up to 20 years to ensure quality and consistency of service and in line with our legal requirements.
We do not disclose this information to any third parties unless legally obliged to.
In those rare cases where a doctor's health problem appears to pose a risk to their patients, the doctor supporter has a responsibility to prevent harm. The doctor supporter will try to encourage the doctor to obtain appropriate help to change whatever presents a risk to patients. Failure on the doctor's part to comply will mean that the doctor supporter will have to take advice on how to act and this may be by contacting the GMC. However, we anticipate these occasions will be very rare and will only ever be undertaken as a means of last resort.