The most valuable resource the health service has is its staff. Yet the NHS is in the midst of a chronic workforce crisis, driven by years of insufficient investment in training new staff, inadequate workforce planning, and lack of government accountability.
The result is a vicious cycle of mounting pressures, declining staff wellbeing and poor retention.
This page provides analysis on the secondary care workforce and is updated monthly with new data. View more on the general practice workforce.
Note on data methodology
FTE / headcount
NHS Digital publishes workforce data as both headcount and FTE (full time equivalent).
Headcount refers to the number of individual doctors, while FTE is the proportion of full-time contracted hours that the post holder is contracted to work. 1 FTE would indicate they work a full set of hours, 0.5 that they worked half time.
As FTE reflects the true number of clinical hours the NHS has at its disposal, we usually find FTE to be more meaningful than headcount. FTE is used throughout this page.
Full-time here is taken to be 37.5 hours - the FTE definition used by NHS Digital. This calculation is for illustrative purposes only, as we recognise employed doctor contracts can be 40 hours.
OECD (Organisation for Economic Co-operation and Development) comparisons
For international comparisons we use OECD data. However, this should be interpreted with caution due to international differences in how doctors are defined and differences between definitions, such as 'practising' and 'professionally active', that may create variation across countries.
We have calculated the doctor to population ratio for England ourselves (as OECD only supply this figure for the United Kingdom, not its constituent countries) using NHS Digital general practice and secondary care workforce statistics and mid-2020 ONS population estimates.
England has a shortage of doctors
Poor workforce planning
The lack of official, publicly available workforce planning makes it difficult to quantify the full extent of medical shortages.
In absence of this, recent BMA research has used the number of doctors per 1,000 people in OECD EU nations as a baseline to estimate the size of the gap.
In comparison to other nations, England has a very low proportion of doctors relative to the population. The average number of doctors per 1,000 people in OECD EU nations is 3.7, but England has just 2.9. Germany, by comparison, has 4.3.
England would need the equivalent of an additional 46,300 full time doctors simply to put us on an equivalent standard with today's OECD EU average of 3.7 doctors per 1,000 people.
Uneven regional distribution of doctors
Not a single region in the country meets the OECD EU nation average of 3.7 doctors per 1,000 people. Excluding London, regions of the country with a large population also do not have a proportionate number of doctors: 3.5 million more people live in the Midlands than the North West, but they have 4,000 fewer doctors to treat them.
High vacancies
The NHS has long carried a stubbornly high number of unfilled vacancies, a problem that far predates the pandemic.
As of December 2021, more than 110,000 posts in secondary care are vacant, almost 8,200 of which are medical posts.
The greatest proportion of vacancies is in nursing, with almost 39,700 unfilled posts. Care is delivered by multi-disciplinary teams, so nursing shortages directly impact the medical workforce who must take on a greater burden of work as a result.
High vacancies create a vicious cycle: shortages produce environments of chronic stress, which increases pressure on existing staff, and in turn encourages higher turnover and absence.
Insufficient growth in the medical workforce
In primary care, the overall number of GPs has seen little growth since 2015, with the number of GP partners experiencing significant decline over that time. Full detail can be found on our pressures in general practice analysis page.
The secondary care medical workforce has seen some growth. The latest data (January 2022) shows that the equivalent of 4,204 more full-time secondary care doctors are working in NHS hospital and community services now than in January 2020 (an increase of 3.4%).
However, in the absence of official public workforce planning, it is not clear that this rate of growth is sufficient to cope with rising demand and work through backlogs of care.
Staff are suffering rising stress and declining wellbeing
The workforce crisis both causes and worsens rising stress, fatigue and burnout among NHS staff, as well as poor wellbeing and mental health – all of which impact retention.
Mental health issues are the highest reported cause of sickness absence in secondary care. We know that COVID-19 is having lasting effects on the mental health of doctors. BMA surveys have consistently shown that since the start of the pandemic, doctors have been left feeling increasingly depressed, anxious, stressed or burnt out as a result of their work or study. 
Violence and abuse directed at NHS staff is also a growing issue. A BMA survey in July 2021 indicated that more than one in three doctors have experienced verbal abuse and one in six have been threatened in the last month.
The medical workforce is ageing
Like the general population, the workforce is ageing. 13% of secondary care doctors and 18% of GPs will be reaching minimum retirement age in the next one to 10 years. This could mean a loss of over 25,000 doctors through retirement alone.
Doctors are retiring early
In addition, the number of doctors taking early retirement from the NHS has more than trebled over the past 13 years. Early indicators suggest the stress of working in the NHS through a pandemic may cause this to rise even further.
43% of respondents to a BMA survey in September 2021 agreed with the statement 'I plan to retire early', while 50% agreed with the statement 'I plan to work fewer hours after the pandemic'.
Avoiding this cliff edge will require retention initiatives across all grades of doctor and a clear strategy. It will require investment in expansion of medical school places to ensure there are enough teaching spaces, educators, clinical placements, foundation programme and specialty training places to train enough new doctors.
What the BMA is calling for
Amend the Health and Care Bill
The BMA is one of over 60 organisations supporting an amendment to the Health and Care Bill to strengthen workforce planning.
The amendment would place a duty on the secretary of state for health and social care to publish independent assessments of current and future workforce numbers every two years in line with OBR (Office of Budget Responsibility) projections.
These assessments would inform strategic and long-term decisions about the funding, workforce planning, regional shortages, and skill mix needed to match patient demand. Our Health and Care Bill briefing gives more information.
Develop a national workforce strategy
The BMA has long called for a comprehensive national workforce strategy. In September 2021, we submitted evidence to Health Education England to support development of its forthcoming long-term strategic framework for health and social care workforce planning.
The BMA is also calling for increased Treasury investment to expand the medical workforce by:
increasing medical school, foundation programme and specialty training places
expanding physical training centres, educator capacity and teaching and learning spaces.
Measures to retain existing staff
Given the time it takes to train a doctor, it is imperative that the NHS takes immediate action to retain those currently working.
Pensions and pay
The BMA is calling for an end to the punitive pension tax rules that are driving doctors away from medicine.
We are also calling for a significant and early pay award that is much higher than the retail price index and will go some way to closing the real terms pay erosion that doctors have faced over the past decade.
Health and wellbeing initiatives
The BMA is advocating for measures to prevent doctors leaving. This includes flexible working options for all staff, and retention strategies across all grades of doctor as outlined in our rest, recover, restore report.
Reducing abuse
To address the escalation of violence and abuse against healthcare workers the BMA is calling for the maximum sentence for assault against emergency workers to be increased from one year to two years' imprisonment. Read more in our violence against doctors briefing.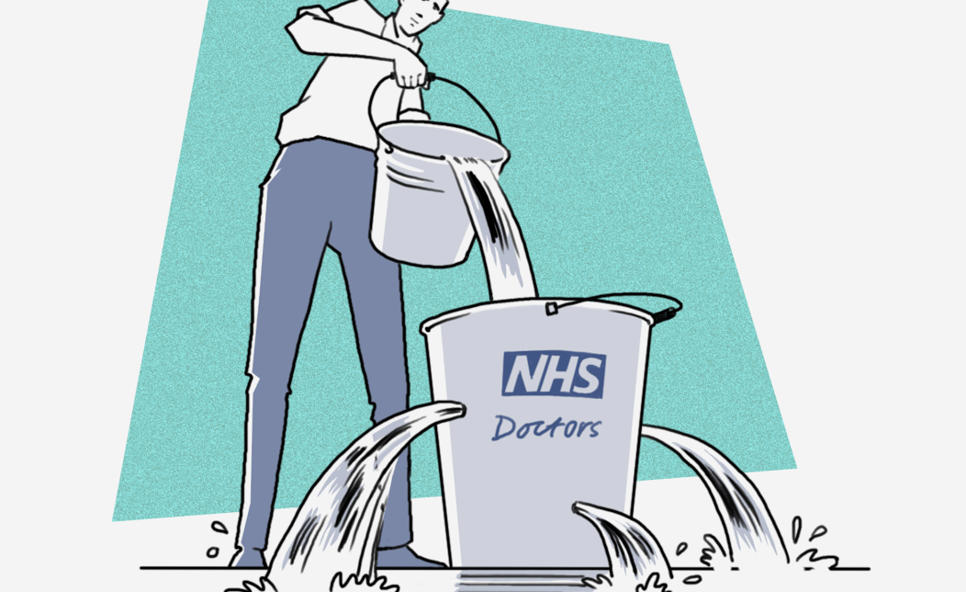 Medical staffing in the NHS report July 2021
Our medical staffing report shows a snapshot of:
how severe medical shortages in England have become
workforce data trends analysis as of July 2021
how the Government can combat the widening gap between medical staff supply and increasing patient need.
Download report
You may also be interested in...