The Government's Bill follows several years of informal changes to NHS structures and a growing consensus that the 2012 Health and Social Care Act is ill-suited to the needs of the health service.
The Bill, if enacted, will remove existing competition rules and formalise ICSs (integrated care systems) as commissioners of local NHS services. It would also grant the health secretary authority over the health service.
However, the BMA has significant concerns about the Bill and believes it is the wrong bill at the wrong time. An overview of the Bill and our key calls is set out in the video below.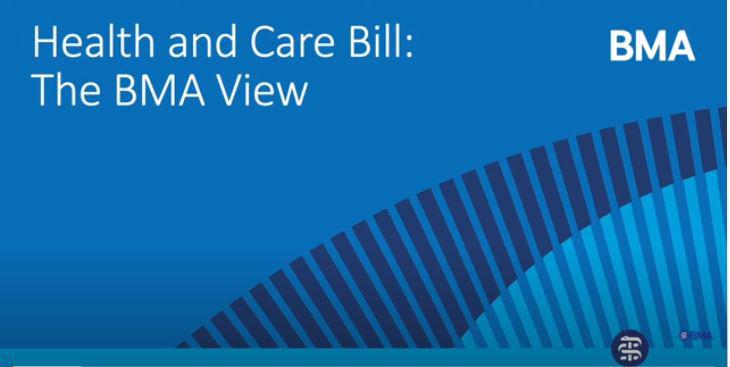 Summary of the Health and Care Bill
Establish
 

ICSs as statutory bodies

This would make their currently informal roles formal, and ensure they can be held accountable – something which the BMA has called for throughout their development.
Transfer duties for commissioning services to ICSs
This means that CCGs will be absorbed into their local ICSs. Their commissioning powers and the majority of their staff will become part of the ICS body.
The BMA has called for clarity on accountability structures and how clinicians will be involved at ICS and local level.
Stop automatic tendering of NHS services
This will stop enforced competition, which has led to disruptive bureaucracy and fragmentation of services. It will repeal Section 75 of the Health and Social Care Act 2012.
Support integration
It will support the development of ICSs and integration by requiring all health bodies to cooperatively pursue:
better care for all patients
better health and wellbeing for everyone
sustainable use of NHS resources.
Expand the powers of the secretary of state for health
They will have increased power to direct NHSE/I, create new NHS trusts, intervene in local service reconfiguration and amend or abolish arms length bodies.
Give the secretary of state workforce reporting duty
There will be a new duty for the secretary of state to publish a report every five years on workforce planning. This would set out who is responsible for workforce supply. 
What the BMA is calling for
Although there are aspects of the Bill which the BMA agrees with, such as the removal of Section 75 and enforced competition, we believe that the Bill is likely to do more harm than good.
Without amendments, the BMA cannot support the Bill.
Workforce
Government must be accountable for ensuring adequate numbers of staff. The Bill's reporting duty must be built upon so that the secretary of state has a responsibility to report transparently on staffing levels - given context by projected demographics changes and other key factors.
This will provide an ongoing, accurate assessment of staffing requirements now and into the future.
Clinical leadership
A truly collaborative and integrated healthcare system must have strong, independent clinical leadership at its heart.
Clinical leadership and patient representation must be embedded at every level of ICSs, including formalised roles for local medical committees, local negotiating committees and public health doctors.
Procurement and outsourcing
The Bill would replace the current competition and procurement rules for the NHS, scrapping Section 75 and automatic competitive tendering. This risks making it easier for private companies to win NHS contracts without proper scrutiny.
However, to truly protect the NHS from costly procurement and fragmentation of services, the default option for NHS contracts must be the NHS.
The threat of private health providers having a formal seat on new decision-making boards, and having influence over commissioning decisions, must be ruled out.
Safeguards to curb political influence over NHS policy setting
The secretary of state's powers must be limited in the Bill to avoid unnecessary political influence in NHS decision-making.
​
BMA briefings, submissions and blogs
The BMA has been actively lobbying policy makers through direct meetings, consultation responses, parliamentary briefings and media work to take action to ensure the Bill addresses our key calls.