Government blueprint for NHS and social care reform
We have summarised the key content from the Government's white paper, published in February 2021 on changes to health legislation governing the NHS in England.
ICSs (integrated care systems) are now seen by NHS leaders as the future of health and care integration in England. The NHS Long Term Plan and now the Government's white paper on health and care reform both place ICSs at the heart of the NHS.
As of April 2021, there are 42 ICSs covering every area in England. All 42 are expected to be fully operational by April 2022. The ongoing development of ICSs presents both challenges and opportunities for doctors.
Alongside ICSs, areas in England can also choose to use the ICP (integrated care provider) contract, a more intensive and controversial model of integration.
What are ICSs?
ICSs bring together NHS, local authority and third sector bodies to take on responsibility for the resources and health of an area or 'system'. Their aim is to deliver better, more integrated care for patients.
ICSs do not require contractual or structural change. They are currently organised via an alliance agreement between member organisations, which overlays regular commissioning processes and contracts.
However, as set out in the Government's white paper, ICSs are now expected to become statutory bodies by April 2022.
Implications for doctors
Opportunities for doctors to lead transformation
NHS England and individual ICSs have stressed that clinical input will be central to their progress and to their leadership. However, clinical engagement remains an area where ICSs, like STPs, have been lacking so far.
A number of LMCs (local medical committees) have, for example, reported only limited, if any, engagement efforts from their local ICSs.
We therefore welcome the commitment in the
NHS Long Term Plan that every ICS should actively engage with a clinical director from
each PCN within its system.
Equally, engagement with secondary care clinicians has been poor, with very few frontline hospital doctors involved in the development of their ICS. 
It is essential that ICSs effectively engage and involve local authorities in their work, particularly in respect of efforts to improve public health and social care. Again, this has been a considerable challenge in several of the existing ICSs to date. 
Lacking accountability
The lack of oversight or guidance for the development of ICSs has meant that there has been no clear sense of what the model should look like or what its responsibilities should be.
This has limited the accountability of ICSs and has made it difficult for clinicians and the public to see how their health and care system is changing.
However, this could be resolved by the Government's upcoming legislation and plans to make ICSs statutory bodies. Though NHS England and the Government do not want to give a strict structure.
There remains significant concern among GPs that the model is often dominated by NHS trusts, an issue made by the proposed merging of CCGs (clinical commissioning groups) into ICSs.
ICSs must make sure there is a strong GP voice within their structures and allow for proper local challenge of their plans from all organisations.
Time and resources
More developed ICSs are already pooling resources and taking a system-wide approach to financial management as well as adopting a shared 'control total', with all expected to do so by April 2022.
However, many trusts already struggle to adhere to their own control totals, placing pressure on ICSs to meet a system-wide total. 
Drastic cuts to local authority funding have stretched budgets in both public health and social care. This makes it harder for services to relieve pressure on the NHS and risks undermining integration.
NHS England must take this into account when system control totals are set and when priorities for integration are agreed.
System-wide working
The co-ordination of care across wider areas is expected to increasingly involve doctors working across multiple sites and as part of MDTs.
This could give doctors the chance to work in different environments and more closely with colleagues across primary and secondary care, something which has been identified as improving patient care by doctors.
Where mergers do take place, contracts may be transferred to other trusts via TUPE (transfer of undertakings (protection of employment)).
All doctors should at the bare minimum be employed on nationally agreed terms and conditions, with their training time fully protected. Any changes must only happen in
consultation and with the agreement of the BMA.
Workplace negotiations
It may be the case that as individual hospitals and staff increasingly operate as part of the wider system, place-based negotiations will need to take place on a wider scale, potentially at 'place' or even 'system' level.
Equally, the pay and conditions of doctors working in different or atypical environments may need to be altered to reflect their new roles and responsibilities. This could, for example, apply to GPs working in emergency departments.
More collaboration less competition
The BMA has been consistently critical
of competition within the NHS, which we believe is bad for patients, staff and integration.
The ICS model's focus on collaboration
over competition could, then, allow integration to flourish. But to ensure that this can happen, costly and burdensome rules on competition should be removed.
The Government's white paper proposes to do this, by removing Section 75 of the 2012 Health and Social Care Act, which forces commissioners to competitively tender for contracts. However, we are clear that any replacement must prioritise the NHS over independent providers and be fully transparent.
Some ICSs not ready?
Many ICSs have faced significant challenges in their development and are still some way from becoming fully operational ICSs.
In contrast, the first ICSs are continuing to progress with their plans, and several are very well established. This disparity presents the risk that a two-tier system could emerge, with levels of integration varying widely.
The NHS Long Term Plan did include a commitment to provide additional assistance for the least advanced systems, though it is unclear how effective this has been to date. 
What you can do
BMA members across all branches of practices have a vital role to play in deciding the future direction of services in your area. We encourage you to engage with local decision-making structures in your area.
Engage with your local CCG - an important means of influencing reform of the system in your area.
Engage through existing structures and influence
your trust's leadership.
Contact your LNC and ask that they raise both ICS/STP engagement, and staff portability with your trust.
Get involved in local bodies such as LMCs, LNCs, and BMA regional councils, so that the profession's collective voice is as strong as possible at a local level.
We've produced a guide for you to get your voice heard locally and get the most from engagement.
How ICSs work
ICSs work on three key levels.
System
Work is focused on partners working together to set strategy, finance, workforce planning, and agree overall levels of integration.
Place
Normally based around towns within a system. Work at 'place' level centres on the planning of localised services and secondary and community care.
Neighbourhood
This level is based around PCNs (primary care networks), groups of GP practices covering populations of 30,000 to 50,000 people. Multi-disciplinary teams are central to PCNs, with clinicians and health professionals from a wide range of services working together.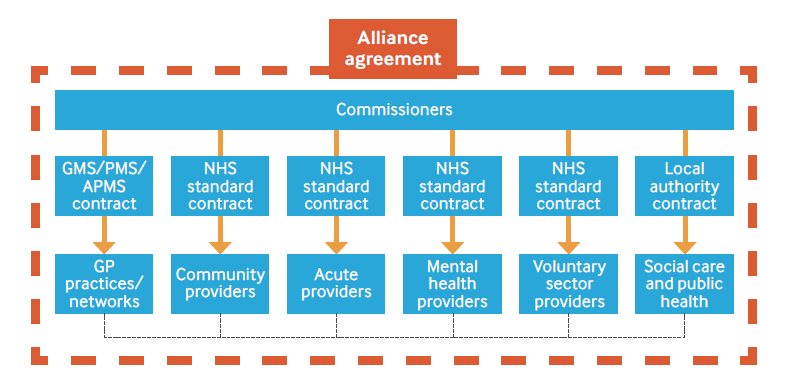 ICS leaders also take on responsibility for the financial and operational performance of the organisations within their system.
Common themes in existing ICSs
Enhancing the scope of primary and community care
This will revolve around the development of PCNs and the use of integrated MDTs (multi-disciplinary teams) across primary and community care.
NHS England see PCNs as central to the provision of integrated, at-scale primary care. They include services beyond core general practice
and work closely with acute, community and mental health trusts, as well as with
pharmacy, voluntary and local authority services.
Improving overall health for prevention
Prevention is a national priority and it is a major element of the NHS Long Term Plan, which also includes increased promotion of self-care and social prescribing.
The wider determinants of health are also an emerging focus for a number of ICSs. Buckinghamshire ICS has, for example, looked at the impact housing, employment and access to green space can have on population health.
Current and future workforce
Workforce planning is set to increasingly take place at ICS level, with a system-wide approach to recruitment and retention.
Some ICSs are prioritising the use of new clinical roles to support their work, including employing physician associates and advanced nurse practitioners. The South Yorkshire and Bassetlaw ICS, for example, views these new roles as a means of tackling workforce challenges and freeing-up clinicians' time in both primary and secondary care.
ICSs are also considering how doctors can work differently and, in some cases, across the system as a whole. This includes the use of 'passporting' and portability systems, to allow staff to move and work between different sites and organisations within the ICS.
Better use of data, tech and innovation
This is centred around improving IT integration and the sharing of patient records. It is perceived that the challenges that have plagued these initiatives previously may, in part, be overcome through system-working.
Data sharing is a core focus, with several areas, including Dorset ICS, working towards establishing shared patient records within their systems.
Dorset ICS is also operating what it calls '360 degrees transparency', with all NHS member organisations expected to share and be transparent with their workforce, finance, and performance data. 
Service reconfiguration
Dorset and South Yorkshire and Bassetlaw ICSs, have, for example, undertaken reviews of their existing services, with a view to potential future reconfiguration of secondary care.
The South Yorkshire and Bassetlaw review recommended that clinical, or 'hosted' networks be established, with different hospitals taking responsibility for different specialist services,
concentrating speciality care at specific sites.
The NHS Long Term Plan includes a call
for legislative change to ease the merger of NHS bodies, including trusts, which may mean that trust mergers become more likely in the future.
The Government white paper includes a proposed new power for the secretary of state to create new trusts at the request of systems. This could ease the creation of new ICP contracts.
We are clear that any service reconfiguration must be led by clinicians, be based on clinical evidence, and must not be driven by financial pressures.
An end to CCGs
The NHS Long Term Plan asked for a single set of commissioning arrangements within individual ICSs, meaning that CCGs would merge to leave one per ICSs.
This process has been ongoing since 2019, but the Government's white paper now proposes to go further and abolish CCGs altogether. 
ICSs would then take responsibility for the core functions currently carried out by CCGs, including:
commissioning
the design of care pathways
patient outcomes
population health
financial governance.
Responsibility for resources and finances
This includes making arrangements for risk sharing and decisions on how services will be paid for. They will also be required to approve a system control total, defined by NHS England as the aggregate required income and expenditure position for trusts and CCGs within the system. Access to sustainability funding will be linked to performance against the totals.
Under the Government's plans, ICSs will also take responsibility for most funding flows within their system.
Principles ICSs must meet
We will judge each new ICS  and their plans against these criteria and expect NHS England's priorities for integration to meet them:
ensure the pay and conditions of all NHS staff are fully protected
protect the partnership model of general practice and GPs' independent contractor status
only be pursued with demonstrable engagement with frontline clinicians and the public, and must allow local stakeholders to challenge plans
be given proper funding and time to develop, with patient care and the integration of services prioritised ahead of financial imperatives and savings
be operated by NHS and publicly accountable bodies, free from competition and privatisation.