​Being a doctor typically involves high-intensity, time-pressured working patterns. These can lead to sleep deprivation and fatigue, effecting doctors' health, well-being and performance, their safety and that of their patients.
Fatigue and sleep deprivation briefing
This BMA briefing highlights why doctors are at risk of fatigue and the acute and long-term impacts this can have. It also presents a framework for how Government, organisations and doctors themselves can manage this risk.
Guidance for doctors and other clinical staff
The BMA has produced guidance for doctors and other clinical staff on how best to manage the risks of fatigue associated with current working patterns.
This includes:
information about the causes and risks of fatigue
ways to maximise rest and recovery
guidance on supporting good quality decision-making
advice on managing night shift working
ways your employer and the BMA can help you.
Managing the nightshift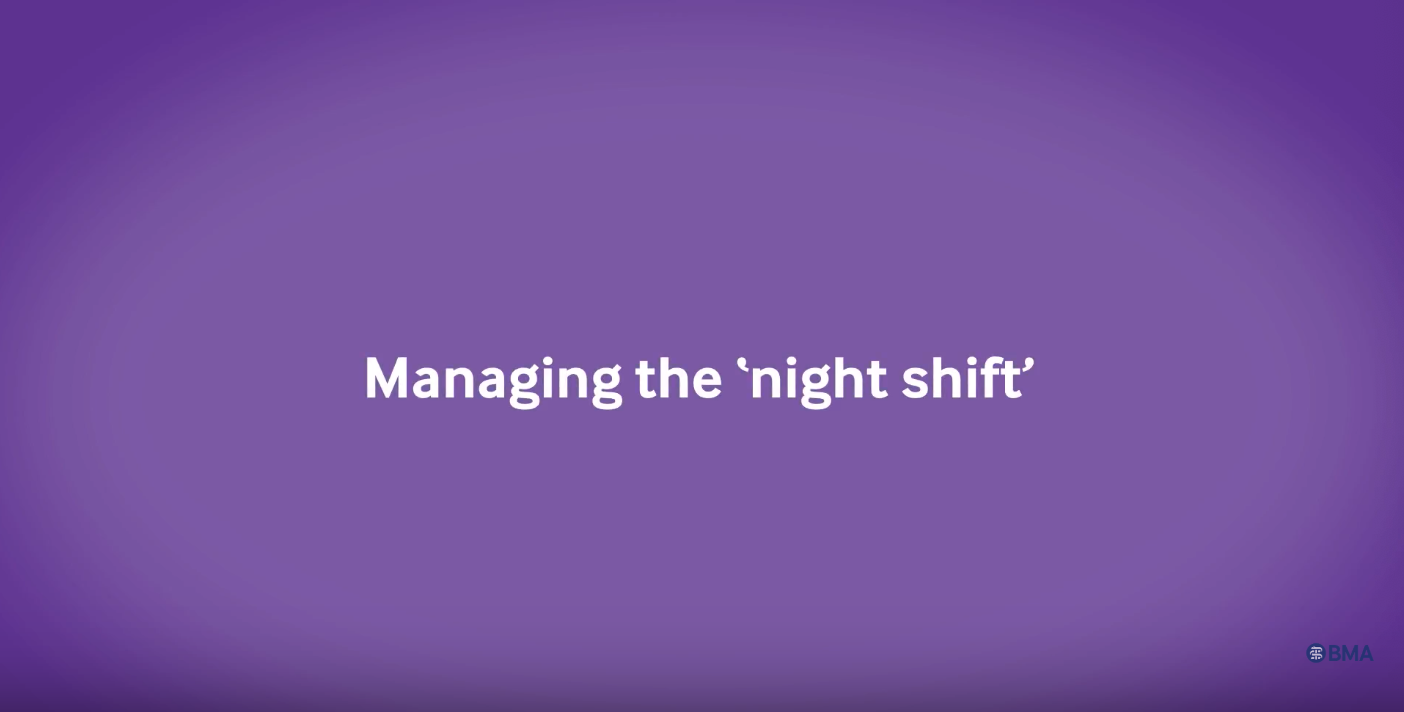 Safety and fatigue contract requirements for junior doctors
Junior doctors, due to the rotational nature of work placements, are especially likely to face long commutes and may be based in areas with poor public transport services.
Fatigue and facilities charters
In recent years, there have been numerous examples of where doctors have driven home when too tired to do so, of substandard hospital accommodation and doctors being unable to take much needed breaks. There is also significant evidence that tiredness impairs good decision making, which in turn can lead to negative patient outcomes.
Our Fatigue and Facilities charters outline simple steps that can be taken by trusts and health boards to improve facilities and reduce fatigue so junior doctors can safely, effectively and efficiently care for patients.
England
It is now a requirement within the 2016 contract for employers to provide junior doctors with either a place to rest or alternative arrangements when you declare you are too tired to drive home.
Every hospital in England to benefit from funding
The Government has announced where it will invest £10 million for upgrading or installing rest areas or other facilities, which improve the working lives of junior doctors.
This investment represents a significant achievement for the BMA and is an early outcome of the 2018 contract review. The money will be spent in accordance with the fatigue and facilities charter and all proposals will be put forward and signed off by the local junior doctor forum.
Wales
BMA Cymru Wales, Welsh Government and NHS Wales Employers launched a fatigue and facilities charter in 2020. All health boards in Wales have signed up to the charter and must now take active steps towards compliance with its stipulations.
The charter contains provisions beyond the 2002 terms and conditions of service for junior doctors in Wales, ensuring fewer long days and consecutive shifts, as well as setting a standard for rest facilities during shifts and for facilities to sleep in if you're too tired to drive home.
It also outlines a robust framework for monitoring the implementation of the charter through LNCs (local negotiating committees) and a defined senior employer representative appointed by each health board.
This charter is the first step in a wider shift in attitudes to fatigue in the workplace and will be actively monitoring implementation of the charter nationally in partnership with Welsh Government and NHS Wales Employers.
Northern Ireland
The Northern Ireland junior doctors committee has developed this fatigue and facilities charter.
The charter outlines simple steps that can be taken to improve facilities within work places and help reduce fatigue in order to support doctors in safely, effectively and efficiently caring for patients.
Effective implementation of the charter will require input from the BGLG (board liaison group) and the Department of Health in Northern Ireland. It will also need action from health trusts to ensure standards are met. Health trusts' local negotiating committees can report any issues to the BLG that have not been resolved.
This charter is an opportunity for employers and junior doctors to work together to help address fatigue in the workplace and ensure the safety of both doctors and patients.
Contact us
We urge LNC representatives to encourage Trusts to adopt as many of the measures contained in the BMA Fatigue and Facilities Charter as possible to improve rest and sleep facilities for doctors and staff.
Need help?
For questions about any aspect of your working life, our advisers are here to help you.
Opening times: 8am - 6pm Monday to Friday (excluding UK bank holidays)
BMA: the specialty trainee's safety net
For almost 200 years, we have been supporting doctors from tuition to physician and beyond. Learn more about being a BMA member today.
Specialty trainees - join us