Doctors come from a broad cross section of backgrounds, experiences, sexual orientations and gender identities. Discrimination, whether from patients or from colleagues, has a detrimental impact on doctors' lives.

The BMA is clear that discrimination on the basis of sexual orientation and/or gender identity has no place in the medical profession. We are committed to promoting equal rights and opportunities, proactively tackling discrimination or disadvantage in all forms, and creating an open and inclusive culture for all our members, staff and stakeholders.
Sexual orientation and gender identity in medicine report
The BMA is working to understand and improve the experiences of LGBTQ+ medics in education, training and the workplace. In 2022 we carried out a survey, working with the Association of LGBTQ+ Doctors and Dentists (GLADD), to find out:
individual experiences of phobia and discrimination and their impact on professional and personal wellbeing
how inclusive of diverse sexual orientations and gender identities people think their work and study environments are
what action is needed to ensure a medical profession free from discrimination on the basis of sexual orientation and gender identity.
Watch now: Our key findings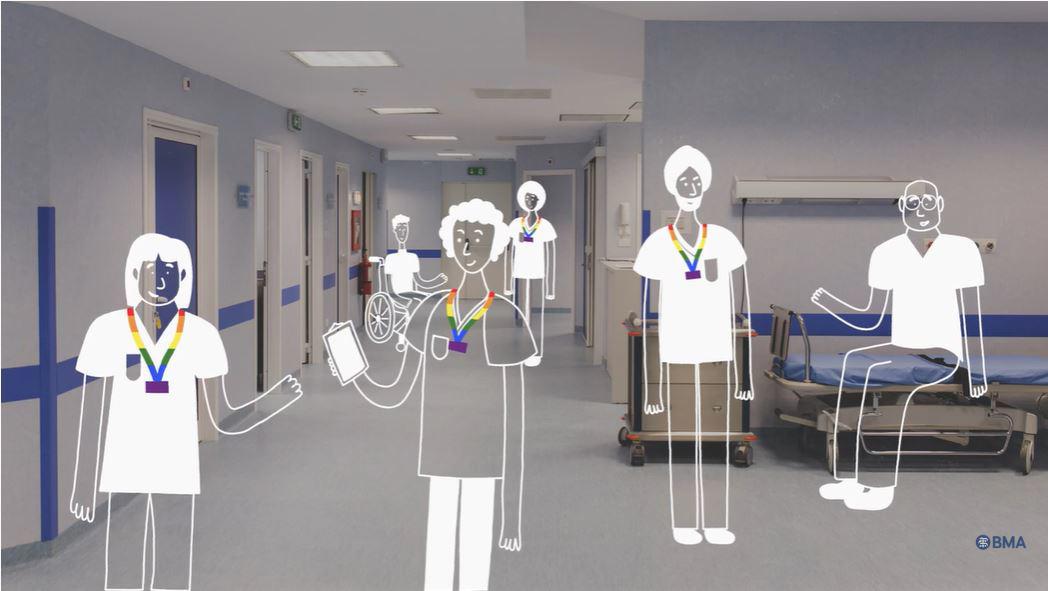 Areas for action
This research identified priority areas for action which informs our ongoing policy and engagement work:
Improving undergraduate and postgraduate medical curricula regarding LGBTQ+ people and their health needs, and the removal of stereotypical representations of LGBTQ+ people in teaching cases, examinations and assessments.
A greater focus on the negative impact of microaggressions and 'low' level behaviours on workplace culture and individual wellbeing, with specific training and CPD resources on LGBTQ+ inclusive leadership targeted at senior doctors and medical managers.
Improving and increasing ways to report incidents of discrimination and workplace culture issues, with greater transparency on how action will be taken to address these issues.
Increasing the visibility of LGBTQ+ role models and positive examples of inclusion in education and the workplace, with clearer commitments from senior leaders across the medical profession to actively champion LGBTQ+ inclusion and challenge discrimination.
Better and more systematic approaches to collecting data on the experiences of LGBTQ+ people.
Enabling dialogue and space to learn, with facilitated and reflective learning spaces where doctors and medical students can ask questions and explore their attitudes, biases and behaviours without fear of recrimination.
Promoting LGBTQ+ equality in education, training and the workplace
Find out more about our wider work to support LGBTQ+ equality
Government proposals to amend the NHS constitution
The BMA disagrees with the position the Government has taken and seek confirmation that the NHS will ensure that transgender patients can continue to access services that align with their identity.
Read our full letter to NHS England
Calling for a ban on so-called 'conversion therapy'
We have called on the UK Government for a total ban on so-called conversion therapy as an unethical and damaging practice.
Read our consultation response
The BMA supports the UK Medical Schools Charter on So-Called LGBTQ+ 'Conversion Therapy'.
Supporting trans and non-binary people
The BMA affirms the rights of transgender and non-binary people to access healthcare and live their lives in dignity, including having their identity respected.
Improving access to healthcare
We have produced guidance for doctors to support trans-inclusive healthcare.
We responded to NHS England's consultation on changes to services for children and young people with gender dysphoria.
Read our consultation response
Read more about The Independent Review of Gender Identity Services for Children and Young People (The Cass Review)
Reform of the Gender Recognition Act
We submitted written and oral evidence to the Women and Equalities Select Committee inquiry on reform of the Gender Recognition Act.
Our voices
The chair of the BMA representative body wrote about why this work is important to us as an organisation.
You may also be interested in these blogs from LGBTQ+ colleagues: