AMR: ambition to action
In January 2019, the government released its new five year action plan for tackling antimicrobial resistance 2019-2024, accompanied by a 20 year vision.
The five year plan advocates an approach to tackling AMR that focuses on the following areas:
reducing the need for and exposure to antimicrobials
optimising their use
investing in innovation.
The plan sets targets to reduce UK antimicrobial use in humans by 15% by 2024 and reduce UK antibiotic use in food-producing animals by 25% between 2016 and 2020.
Our briefing sets out recommendations for the key areas in which the government must take stronger action to ensure that it meets its ambitions.
Background on AMR
Antimicrobial resistance (AMR) is a natural phenomenon, but is accelerated by the overuse and misuse of antimicrobials in medicine. It is also accelerated by use in veterinary practice and modern farming, and can be exacerbated by poor infection control practices.
Doctors have expressed significant concern about the threat of a 'post-antimicrobial age', where current antimicrobials will be ineffective due to increasing levels of resistance.
AMR a major public health issue. Drug resistant infections are already responsible for an estimated 700,000 deaths globally, per year. Without action to stop the spread of resistance it has been estimated this figure could reach 10 million by 2050.
Resistance also has the potential to severely limit the ability to carry out many routine and complex medical treatments, where antimicrobials are necessary to prevent infection, such as in surgery or chemotherapy.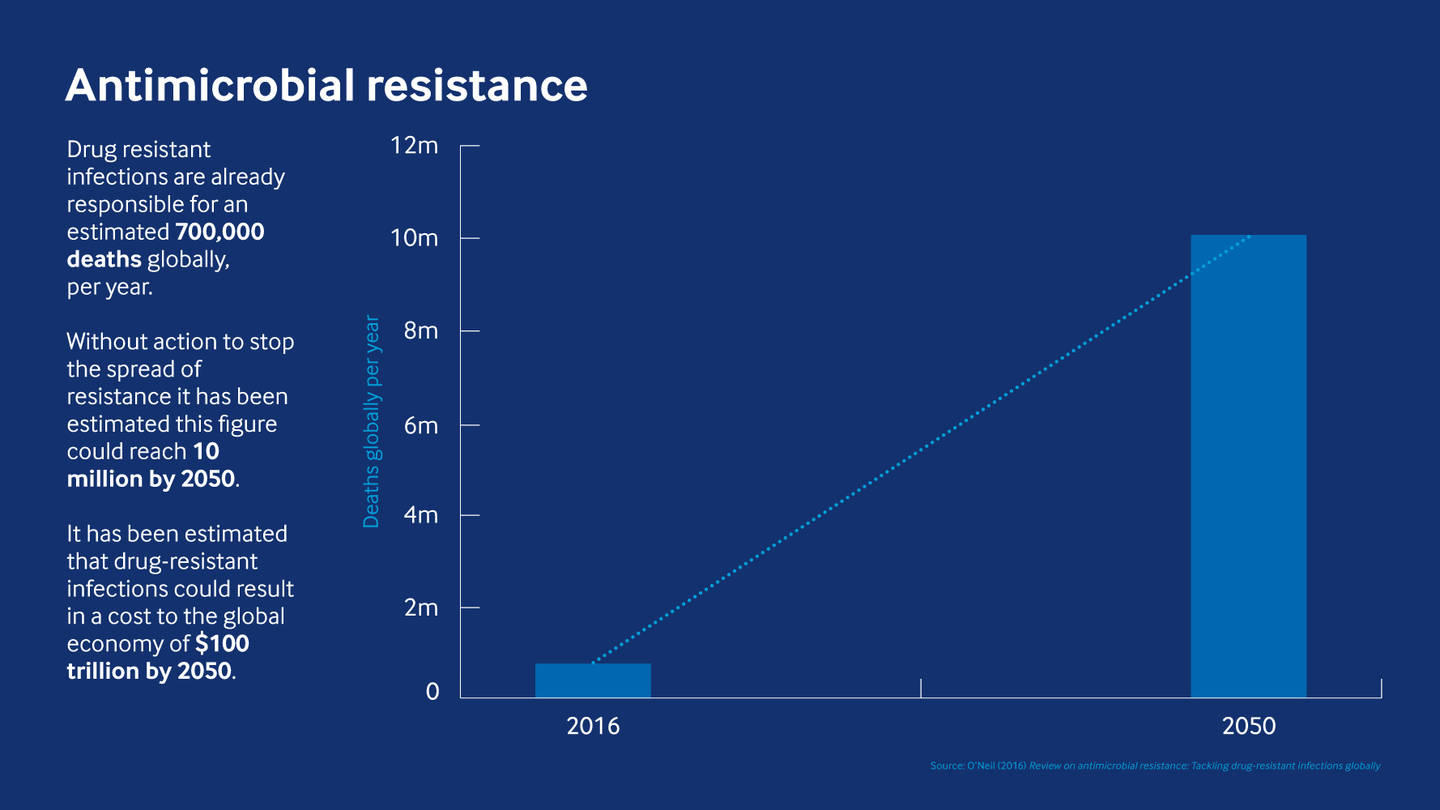 A cross sector issue
The inappropriate use of antimicrobials occurs in both human and veterinary medicine. Antimicrobial usage in human health only accounts for less than half of all antimicrobial usage worldwide.
Doctors have expressed concern about the ways in which antimicrobials are used in animals, particularly in agriculture, and the contribution this has to the development and spread of antimicrobial resistance.
More effective regulations are needed to restrict the use of antimicrobials for animals. In particular, the BMA is calling for restrictions on the use of routine preventive antimicrobials for groups of healthy animals and the use of last-resort and critically important antimicrobials for animals.
The BMA supports a 'one health' approach to tackling AMR, which recognises that action is required across human medicine, veterinary practice and agriculture to minimise unnecessary or inappropriate use of antimicrobials, to ensure they continue to be effective in treating infections.