In negotiations on a new junior doctor contract in 2016, a comprehensive set of new working hour limits and rest requirements were introduced at the request of the BMA.
This guidance provides a comprehensive explanation of how the new contractual rules can be used most effectively to ensure rotas are designed and managed in a way that allows doctors to meet their training needs, avoid fatigue and overwork and maintain work-life balance, while allowing employers to deliver the service.
The guidance has many elements that are specific to the requirements of the new 2016 contract for trainee doctors currently in use in England, but there are many underlying principles throughout that would apply helpfully when rostering all types of doctor.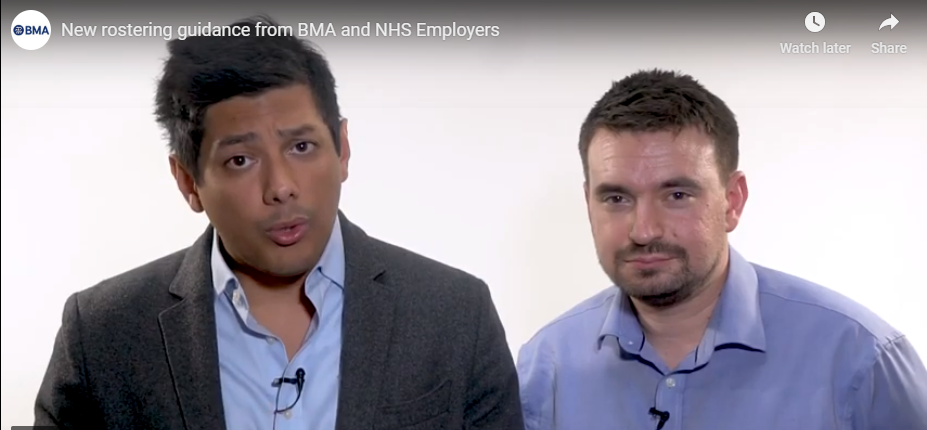 Night duties, shift work and breaks
The BMA has produced a factsheet highlighting your contractual rights around limits on hours, breaks and rest facilities for night duties and shift work. There is also a downloadable poster version which you can print and put up in your workplace. This is for junior doctors on the 2016 contract.
Rota gaps
In addition to the BMA's work in promoting and establishing best practice across the NHS in England, in 2018, the BMA produced a report on medical rota gaps in England which outlined a series of recommendations on how to address the problem.
Rostering checklist
Once you've received your rota, refer to our checklist to ensure it is following the guidelines of the good rostering guidance.
Did you receive this with sufficient notice as defined by the Code of Practice (8 weeks for the rota template and 6 weeks for the duty roster)
Have you been given a copy of your employer's policy or equivalent document stating the requirements of the roster manager and doctors working under the roster that has been agreed by the LNC?
Run it through the BMA's rota checker tool - is it compliant with the rules?
Were you consulted on the design of this rota? If not do you know which doctors were involved, and how to contact them with any questions?
If this is a change to an existing rota, have you been given 6 weeks' notice?
If you're LTFT, has this rota taken into account any set working days you have?
Is the rota as a whole balanced, with different types of shifts (on-calls, nights, long shifts) evenly distributed?
Is there enough time for handover and admin work in the shifts you're rostered for?
If there is non-resident on-call in the rota, does the pattern accurately reflect the intensity of work you'd expect, and is NROC definitely appropriate here rather than a full shift?
Is it possible for you to take annual leave when you need to rather than leave being fixed in the rota?
Are all your training needs able to be met in this rota as it currently stands?
Is there a straightforward process for swapping shifts if you need to?
If the answer to any of these questions is 'no' contact your educational supervisor and refer them to the jointly agreed rostering guidance.