Welsh consultants committee vote to ballot members for industrial action
WCC unanimously voted to ballot members for industrial action; chair Dr Stephen Kelly said;
"The latest offer from the Welsh Government is hugely concerning, we now have a situation where senior doctors are looking to retire early, reduce their hours or move out of the country.
"Our members repeatedly tell us about significant pressure caused by gaps in the workforce. Investing in staff retention should be the Welsh Government's number one priority when looking to improve NHS services.
"With no other offer on the table, we have no option but to ballot our members for industrial action to ensure the future of our profession."
Where we are currently
In February 2023, the Welsh Government committed to the principle of full pay restoration to 2008 levels. However, during our recent pay negotiations the first and final offer made was to uplift our pay by just 5%. This was the worst offer in the UK and below the recommendation of the pay review body for doctors and dentists (DDRB). It is once again a sub-inflationary uplift for consultants in Wales.
We cannot allow our pay to continue to erode. We rejected this offer and, with no other offer on the table, we consider we have no option but to ballot members for industrial action.
We have been clear that we will re-enter negotiations if a credible offer is made which makes good on the Welsh Government's commitment to full pay restoration.
Why we need full pay restoration
Since 2008/09, our basic pay has experienced a real terms (RPI) pay cut of 30.3%, although for those receiving commitment awards (which have been frozen since 2018) the real terms pay cut will be greater.
In 2022/23, despite the Welsh Government providing an additional uplift and making a commitment to the principle of full pay restoration , our pay still continued to erode in real terms. Once again in this pay year (2023/24) the offer to us was a sub-inflationary 5% – an uplift which will only increase our pay erosion.
We know that because of the real terms decline in our pay, more of us are retiring early, moving overseas or reducing our hours. It's also making the role of a consultant less and less appealing to prospective consultants. As a result, we continue to see large gaps appearing in the consultant workforce and more pressure on those who remain. With the number of patients waiting to start treatment in Wales nearly three times higher than it was in 2009*, we need to take a stand now to prevent the further devaluing of our profession and to ensure a strong consultant workforce in the Welsh NHS. That's why we've called for a ballot of consultant members in Wales.
*Number of patients waiting to start treatment in October 31 2009 was 224,717. Number of patients waiting to start treatment in August 2023 was 760,285. Data from StatsWales on Patient pathways waiting to start treatment by month.
Data source
When will I receive a ballot?
Whilst it is important we ballot as soon as we can, we must ensure that we achieve a successful ballot. An emphatic mandate will be crucial in this dispute and failure is simply not an option. To ensure we get this right, we will require a few more weeks before launching the ballot in order to ensure our member data is as accurate as possible.
Following this critical data cleansing, we will be in a strong position to announce specific ballot dates. 
You can play your part in accelerating this timeline by ensuring you are ballot-ready as soon as possible. Please update your details.
If we rejected the pay offer, why did the Welsh Government then announce a pay rise?
Although we rejected the pay offer and are now working towards a ballot of BMA consultant members in Wales, the Welsh Government made the decision to impose the pay uplift upon us.
How have we reached this point?
As shown in the below graph and table, due to sub-inflationary pay uplifts, over the last 15 years our pay has steadily eroded to the point where we have now experienced a 30.3% real-terms pay cut.
Pay negotiations with Welsh Government
January 2023
We wrote to the Minister for health and social services making it clear that we had lost faith in the DDRB process, in a large part due to the sub-inflationary pay recommendations made by the pay review body. This letter notified her of our decision to withdraw from providing evidence to the DDRB.
February 2023
We joined additional last-minute pay talks alongside other health unions, where the Welsh Government offered to increase the 2022/23 pay uplift from 4.5% to 6% and provide a one-off payment of 1.5%. These talks were to avert further strike action from other health unions. At that point, the BMA was not in a trade dispute with Welsh Government. As part of this, the Welsh Government also committed to the principle of full pay restoration to 2008 levels.
Although this pay award did not go anywhere near restoring consultant pay, we made the decision to vote to accept this offer. We did so because we were nearing the end of the 2022/23 pay year and because the Minister agreed as part of the offer to enter immediately into pay talks for 2023/24. We did not feel this would stymie our campaign for consultant pay restoration going forward and felt members could benefit from receiving additional pay in the 2022/23 pay year.
April 2023
We were invited to attend pay talks for the 2023/24 pay year.
May 2023
We made internal preparations to enter pay negotiations with the Welsh Government.
July 2023
Alongside colleagues from the other secondary care branches of practice, we entered pay talks with the Welsh Government. Government officials attended but with no pay envelope in which to negotiate, noting that a cabinet meeting was still required to consider this. We used the opportunity to outline the importance of providing a fair pay offer to doctors and of restoring pay to 2008/09 levels.
August 2023
Pay talks resumed. The Welsh Government provided an opening and final offer of 5% for consultants. This is the worst pay offer for consultants in the UK and is below even the DDRB recommendation for 2023/24. Our negotiation team withdrew from talks on the basis that no credible pay offer was on the table.
The BMA's Welsh consultants committee (WCC) held an extraordinary meeting to consider the pay offer and unanimously decided to ballot members on taking industrial action. 
BMA's UK Council considered and approved the WCC application to ballot for industrial action.
September 2023
We wrote to the Welsh Government confirming BMA UK Council approval for balloting and making clear our willingness to come back to the negotiation table if a credible pay offer was made.
BMA strike fund - donate now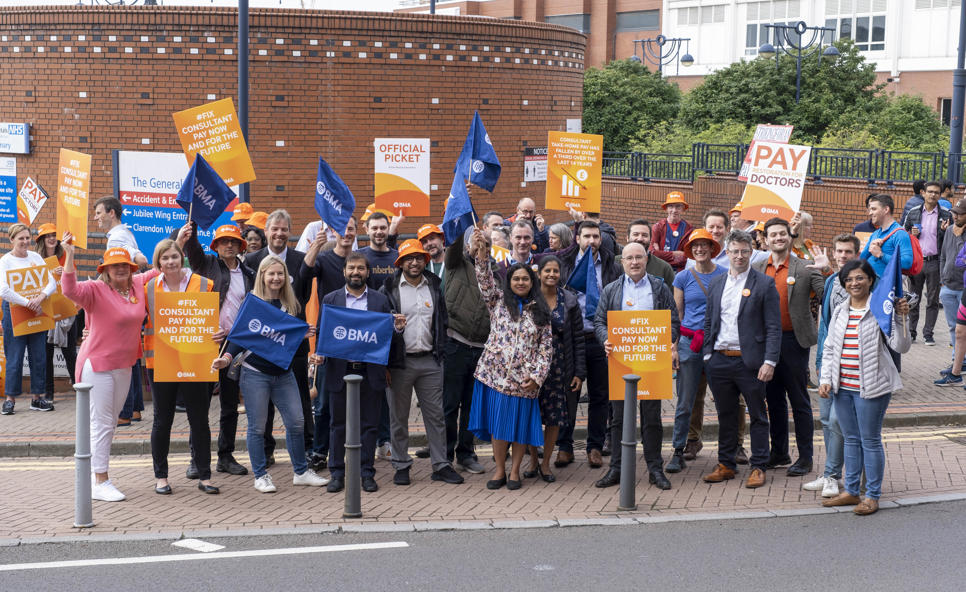 Help us to win this fight
A strike fund is available to subsidise members in serious financial difficulty who otherwise couldn't afford to take part in any future rounds of strike action.
The strike fund is supported through voluntary donations to make available to doctors in need.
Donate now
Follow us on social
Follow us on our social media accounts to help spread the word and encourage more consultants to vote yes for strike action.
Follow us on X (Twitter), Facebook and Instagram.
Pay activists
Why become a pay activist
Help build a team at your workplace that drives our campaign locally.
Share your ideas to help BMA Cymru Wales develop our campaign.
Recruit new BMA members to strengthen our voice calling for full pay restoration.
Join or start local events, meetings and activities in support of the campaign.
Sign up
Join the BMA
We're here to stand up for your rights, support you in the workplace and champion the medical profession. 
Join us