'People have been saying how brave I've been, but I'm trying to downplay how big a deal it is.'
Richard Armitage, a GP in Nottingham, gives a modest assessment of his recent kidney donation, which has prevented the recipient of his organ from going through dialysis three times a week.
While the majority of kidney donations are from concerned loved ones, or the deceased, Dr Armitage volunteered his for no reason other than selflessness. To put his generosity into perspective, there were just 68 non-directed altruistic living kidney donors in 2021-22.
Transplants of living kidneys typically last 20 to 25 years, compared with 15 to 20 years for deceased kidneys.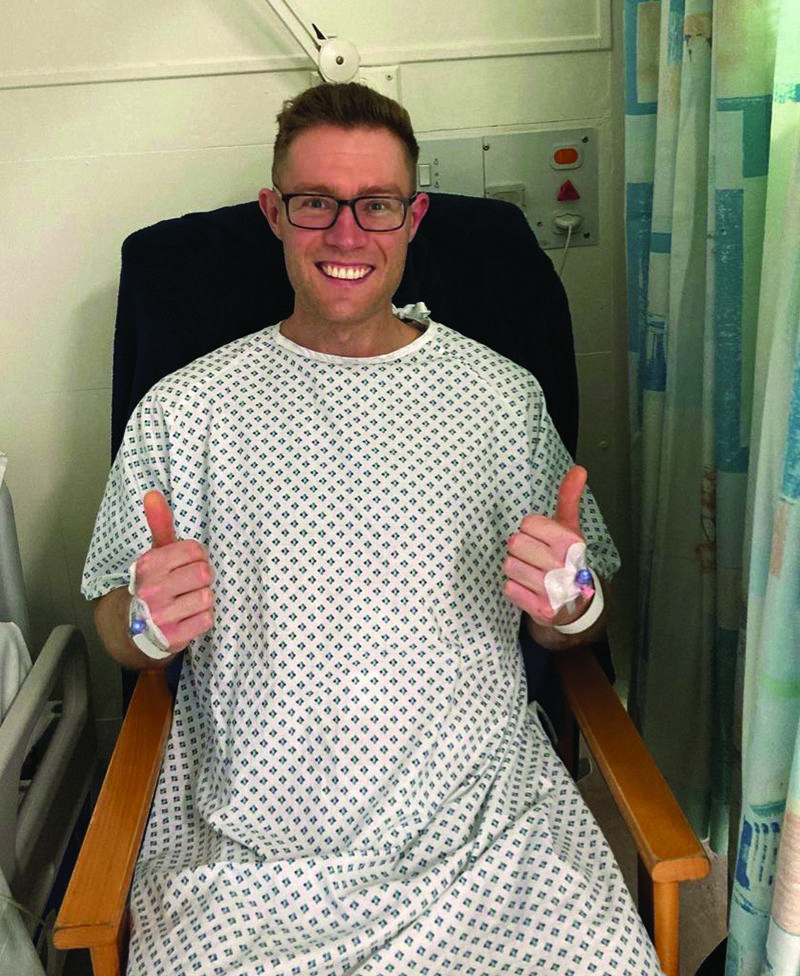 'I don't know who the recipient is,' he explains. 'But I know they're in the UK, have late-stage renal failure and had to have dialysis three times a week. They will benefit from the kidney much more than I would miss it.
'From my point of view the kidney is a gift, without any conditions attached. So I don't mind who gets it; and I hope it works for them.'
In dire need
There were 2,868 adult kidney transplants performed in the UK in 2021/22, and there are about 5,000 people in need of one.
For a donation to work there must be a match of tissue and blood type among donor and recipient. So, when people offer but can't give to their loved ones, it may require an altruistic donor to kick-start the process – a bit like a first-time home buyer triggering a property chain.
NHS Blood and Transplant's UK Living Kidney Sharing Scheme used a computer algorithm to match Dr Armitage with two other donors and three recipients and the hospitals in question embarked on a logistical mission to make it all happen.
Six operations, which take two to four hours, had to be carried out on the same day, with the kidneys transported to their recipients' hospitals while being kept alive.
The complexity of organisation led to some delays. The match was made in July 2022, with an operation due in October postponed to 23 November as someone in the chain caught COVID.
They will benefit from the kidney much more than I would miss it

Dr Armitage
And that came after delays since Dr Armitage decided to go ahead in 2019, owing to the pandemic, because his mother had a palliative diagnosis, and to give himself time to settle into his role after completing his GP training.
Dr Armitage says the operation itself was straightforward. 'On the day, I went into hospital and the anaesthetist made me laugh. That's all I remember.'
After a routine three nights' recovery at Nottingham City Hospital, he was home – and back to work within two weeks because he felt well enough much sooner than the recommended six weeks. 'It was all really smooth.'
He has a 10cm scar that 'looks like I've had a caesarean section' but which is 'quite well-hidden' around the level of his underwear. 
'It's very much concealed, though I did want a memento,' he says.
Being a medical professional made the process easier, he adds, even if his surgical experience is limited to four months on a urology rotation as a foundation year 1, some 10 years ago.
'I've worked in hospitals and am familiar with surgery and anaesthetics – so it was less daunting,' he says. 'There was a lot of preparation work. I had a lot of tests and met a lot of professionals. They could speak to me like a colleague because we use the same [medical] language.'
He would like to encourage more doctors to think about donating a kidney, too. 'I want to show that a normal person who works in the NHS and sees patients all the time can add this into their lives. It's a very personal choice but I suppose I'm just trying to lower the barrier and persuade people to at least consider it.'
Doing good
Having a medical background helped Dr Armitage, 34, understand and weigh-up the 'very small risk' of having high blood pressure or going through dialysis in the future.
'I did a lot of reading up, looked at the journals, checked the long-term survival statistics and was reassured,' he tells The Doctor. 'I'm a relatively young guy in good health and I know a lot of people live with one functioning kidney – and are often unaware of that until an incidental finding on a CT or ultrasound scan.
'On the other side of the equation, the person who gets the kidney will no longer have to have dialysis. Occasionally there were doubts, but I just kept thinking how massively the recipients will benefit.'
Though coming at it from a doctor's point of view, Dr Armitage first learned about altruistic kidney donations and the effective altruism movement 'through an economic lens' by reading American Nobel laureate Professor Alvin E Roth's book Who Gets What and Why back in 2017.
I've got something out of it. I've done something meaningful and have a sense of satisfaction

Dr Armitage
Not only has he donated his kidney, but he gives 10 per cent of his salary to charity and travelled to Ukraine in 2022 to give medical aid to displaced people via the charity UK-Med in the city of Poltava, east of Kyiv.
'When I found out we do altruistic organ donation through the NHS it immediately appealed to me,' he explains. 'It seems like a really easy way to do a lot of good.
'It's kind of a utilitarian calculation. I'm aware of the risks, find them acceptable and am willing to go ahead with it because the benefits to the people in the chain are enormous. At the same time, I feel like I've got something out of it. I've done something meaningful and have a sense of satisfaction.'
It's hard to argue with his logic when he feels in good health, is proud of helping improve someone else's life, and gets a sense of pride from it all.
And while he doesn't know who is benefitting from his kidney, Dr Armitage is safe in the knowledge that they are doing well because of a message from the donor team who have told him the recipient now has 'a new lease of life'. 
Kidney transplants in the UK
The number of patients registered on the kidney transplant list this year increased to 5,023
Kidney transplants from living donors increased by 106% to 884, while transplants from deceased donors increased by 17% to 2,263
100 kidney transplants were made possible by the paired living kidney donation programme (17 two-way and 22 three-way exchanges)
There were 68 non-directed altruistic living kidney donors, leading to 94 patients benefitting from a living donor transplant
Source: NHS Blood and Transplant