They were among the first to take to the streets when the military junta seized power in February. Doctors joined hundreds of thousands of others in peaceful pro-democracy protests, from Dawei to Mandalay.
This time, in contrast to the 1988 uprising, they had witnesses worldwide, thanks to social media. The hashtag #WhiteCoatRevolution went viral.
Inevitably, when Myanmar's military, the Tatmadaw, launched its brutal crackdown with mass arrests and live ammunition, health workers were among the casualties. Doctors were detained for striking: the generals cynically accused them of 'killing people in cold blood' by leaving their posts. When they tended to injured protesters, they were shot at.
One doctor couldn't sleep during her strike, knowing that she and her family could be a target for the military

Dr Lwin
Many saw their names in the Tatmadaw's regular lists of 'traitors' on state media and went into hiding. Perhaps most brutal of all was what happened to those who eventually ended their strike to tend to the long queues of patients snaking around hospitals and clinics.
Then, the CDM (Civil Disobedience Movement) and social media turned on them.
'If you're not engaging in the CDM, some people assume you're pro-military, but life is much more complex than that,' says Su Lwin, a dermatology registrar born in Myanmar, now based in London.
In a country where the military has successfully employed the tactic of 'divide and rule' for decades, medical neutrality, it seems, is dead.
The first of February, the day of the military coup, was the day Aung San Suu Kyi's National League for Democracy was due to be sworn into office, after a landslide electoral victory the previous November.
Between 1 February and 31 August, 26 health workers in Myanmar were killed, 38 injured and 199 arrested, according to the Humanitarian Data Exchange. There were 56 military occupations of hospitals and 87 military raids on hospitals.
Doctors in hiding
Dr Lwin has watched in horror at the tragedy unfolding in her homeland. In February last year, just before the UK's lockdown, she had attended Myanmar's first ever international dermatology meeting which drew 250 doctors and nurses from across the country.
It was the fruit of a close partnership between some of Myanmar's leading doctors, the pre-coup civilian government's Ministry of Health and Sports, and the Burma Skincare Initiative, the charity Dr Lwin founded with Chris Griffiths, professor of dermatology at Manchester University.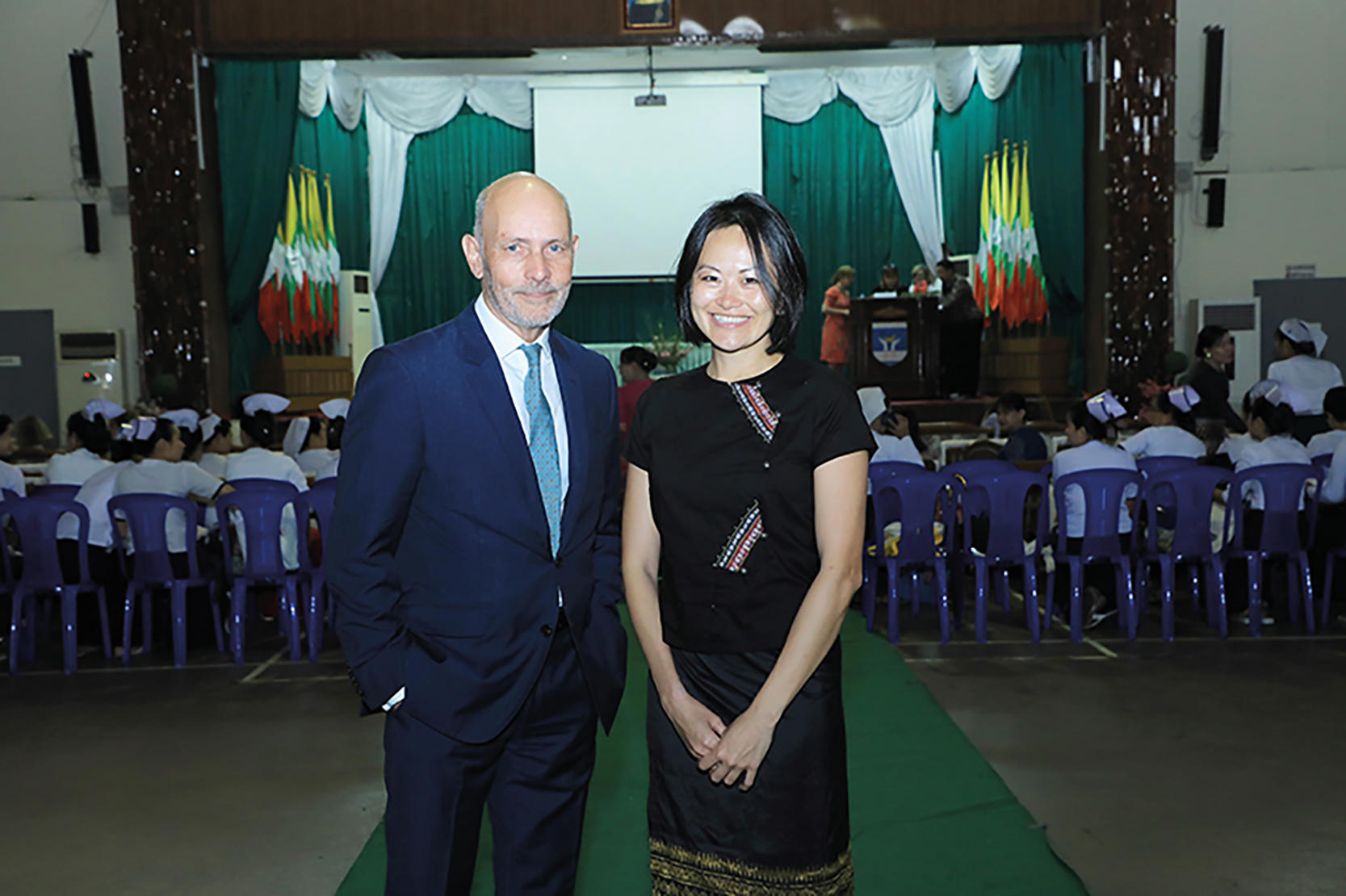 After the coup, every one of those delegates went into hiding.
Dr Lwin has had carefully worded contact with several of them, ever conscious of the security risks. 'One doctor couldn't sleep during her strike, knowing that she and her family could be a target for the military and that a lot of her patients could be in a life-threatening situation without treatment,' says Dr Lwin.
'But she also felt she had a duty to the CDM, otherwise the country would go back into the desolate state it endured [under military rule] for 60 years.
'After several months of deliberation, she decided to go back to work, for her family and for her patients. But she's been socially punished, with people talking about her in abusive terms on social media.'
If she'd taken them to any clinics while she was still a doctor, she would have been arrested

Dr Lwin
On her return to hospital, she found her equipment had been stolen – and years' worth of research materials vandalised.
Another doctor has been forced to resign, for the sake of her ailing, elderly parents.
'If she'd taken them to any clinics while she was still a doctor, she would have been arrested, along with her parents,' says Dr Lwin.
'The military are detaining children, even pets.' Myanmar's healthcare system, already precarious, has all but collapsed since the coup.
Many health workers are operating from makeshift clinics, to avoid more conspicuous military targets such as state hospitals. Medical supplies are confiscated at border checkpoints for military use.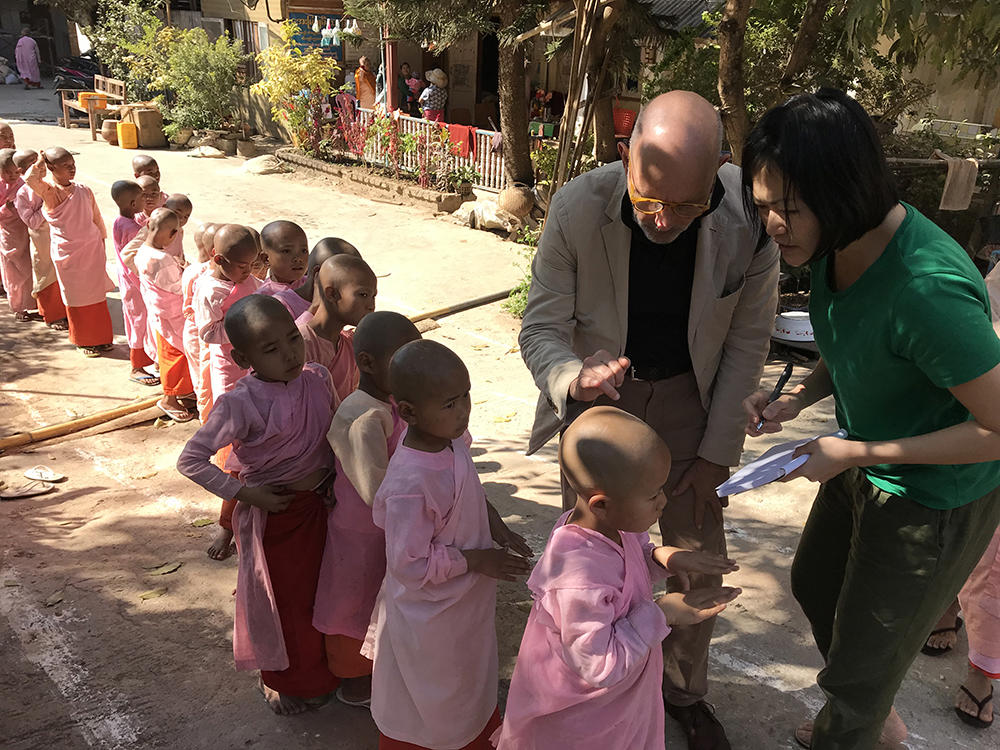 In recent months, the country has been battling a fresh wave of COVID, and most doctors have been redeployed to treat COVID patients.
Officially only 10 per cent of the population have been fully vaccinated – but it is feared most doses have gone to the military.
Testing rates are known to be abysmally low, while vaccine hesitancy is high, especially around junta-controlled hospitals.
The doctor leading Myanmar's COVID vaccine rollout, Htar Htar Lin, was arrested in June and charged with high treason; COVID treatment centres have been shelled. Professor Griffiths says the military has 'weaponised COVID against their own population'.
'They have starved people of oxygen, so people queuing up to refill privately purchased oxygen tanks have been shot at,' he says.
'There is no real support system for management of COVID, neither intensive care nor any proper vaccination programme. General practitioners who have tried to treat COVID patients at home have been arrested. So the military abuse this to suppress and control even more.'
Even before the coup, the UN reported that almost one million people in Myanmar needed humanitarian support, including 336,000 internally displaced people.
Give something back
Despite – and because of – Myanmar's many challenges, Dr Lwin and Professor Griffiths are determined to press on with their plans with the BSI (Burma Skincare Initiative), albeit with some adjustment.
The parlous state of dermatology services in Myanmar, the pressing need and the enthusiasm with which their support so far has been received by colleagues in Myanmar cannot be ignored.
Dr Lwin has strong ties with her homeland despite moving to the UK at the age of 15 to go to school in Wales. She was able to remain in the UK to study medicine at King's College London through the support of a family friend, teachers and local MPs – and now wants to give something back.
Professor Griffiths had developed a keen interest in global skincare, particularly among migrants, through his involvement with international bodies such as the International League for Dermatological Societies, and through visiting Syrian refugee camps in Lebanon's Bekaa Valley.
Visits to Myanmar with Dr Lwin in 2018 and 2020 only deepened that commitment to humanitarian dermatology.
People queuing up to refill oxygen tanks have been shot at

Prof Griffiths
At orphanages, at local hospitals, through Viber consultations connecting them with embattled areas, they were confronted with unmet need: children disfigured by ringworm and scabies, children stigmatised by genetic diseases such as ichthyosis.
At Myanmar's three dermatology centres – two in Yangon, one in Mandalay – staff made the best of basic facilities but had limited access to medicine. Away from these centres, access to skincare was extremely limited or non-existent.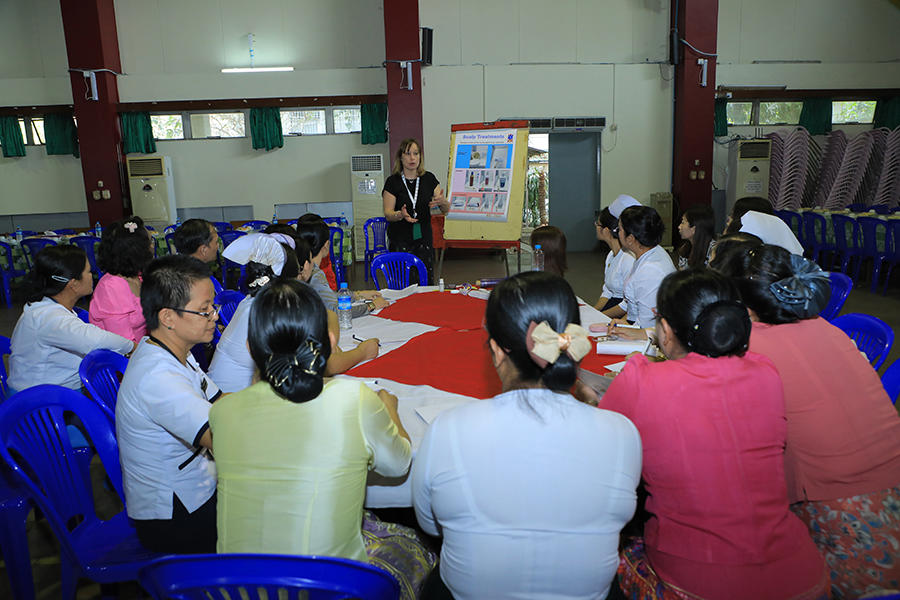 With fewer than 100 dermatologists for a population of 54 million, many in conflict zones inaccessible to humanitarian support, it was clear that community-based solutions were vital.
'Getting the best healthcare to people isn't necessarily about having the best doctors and the best medicines,' says Professor Griffiths.
'Often, you've got to take the care out to people in the poorest parts. Our approach is to train healthcare workers such as community nurses in basic dermatology diagnosis and management, particularly for disadvantaged peoples.'
People are like dry sponges, desperate to learn

Dr Lwin
The first ever international dermatology meeting to be held in Myanmar organised by the BSI in February 2020 was a promising start.
Doctors and nurses from across Myanmar devoured the teaching delivered through lectures and practical workstations.
Some had travelled for two-and-a-half days to attend. Lucy Moorhead and Rebecca Penzer-Hick of the British Dermatological Nursing Group were among the trainers.
'We were overwhelmed at the number who attended our meetings and the lengths they'd gone to, to be there,' says Ms Moorhead.
'We tried to tailor our teaching to the resources they had and showed them how to apply bandages and topical treatments effectively – because that can make all the difference in caring for a dermatology patient. It was the most interested audience I've spoken to in over 20 years.'
Solidarity
Looking ahead, the BSI and colleagues in Myanmar want to create a network of community nurses trained in essential emergency skincare, in response to the coup and the COVID crisis.
Already they have contact with 800 nurses, through THET (Tropical Health Education Trust). They are now working closely with the newly formed National Unity Government in exile, and providing educational and clinical support via online media and tele-dermatology.
Further ahead, they want to help provide vital infrastructure such as a molecular diagnostic laboratory, as well as funding for research and fellowships. The near future is uncertain.
Dr Lwin and Professor Griffiths are heavily involved in advocacy on behalf of Myanmar's health workers, through THET, joining an international outcry to which the BMA has added its voice.
Civil war has now been declared, and many of Myanmar's medics remain trapped in no man's land, reviled on either side.
Dr Lwin believes what her colleagues there need most are opportunity and solidarity. 'We are starved of opportunities in Myanmar and we don't let them go when they're presented to us,' she says.
'People are like dry sponges, desperate to learn. I've had many messages from people saying how much it means to know the outside world is standing with them steadfastly, as colleagues and friends.'