My role as a FitforMe Health Ambassador in my home town of Liverpool is the incentive for me to continue practising self-care for life.
The drive started in 2016 with a campaign focusing on real people from the city sharing their stories about how and why they became more active, as well as the improvement it had on their lives.
We want Liverpool to become one of the most active cities in England so that people who live here can lead long and healthy lives.
I am continuing my role with the support of Sport England, and the launch of We Are Undefeatable, which aims to inspire people living with a long-term health condition to become more physically active.
I realise many people, especially those from ethnic minority communities, need to feel inspired. They need someone they can trust, who can help motivate them to stay healthy both physically and mentally.
I am also a carer for my daughter, who has learning difficulties and has to take a lot of medication. Despite this, I have helped her to become independent and to look after herself.
It's important for my daughter to be able to recognise changes from the norm because I may not always be around for her. She can now take her medication herself without much difficulty.
She is aware of the changes and the impact on her body if she does not take them. It's made her proud and given me peace of mind. For her self-care is about looking after herself independently and knowing when she needs to ask for help.
I have always been interested in health and wellbeing but looking after oneself and being aware of self-care is something I have been extremely passionate about from a young age.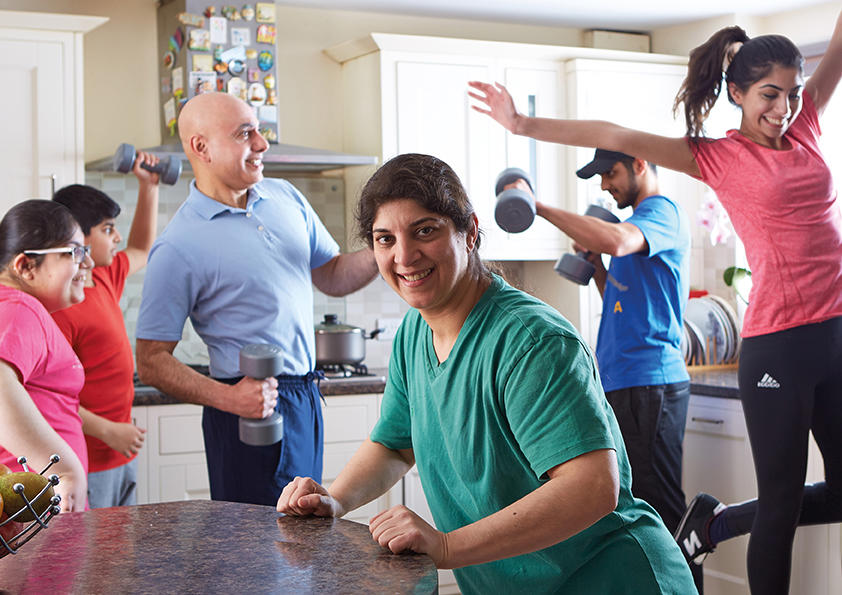 I respect my body and mind and believe I have to take responsibility to do what I can to look after them both. Self-care for me is not just about doing exercise and eating healthily.
It's much more than that. It's about trying to be positive, putting myself first, being aware of changes within myself and having an optimistic outlook that all will be well. Practising self-care for life is empowering because you are the most important person.
When you are looking after yourself, you learn to understand what makes you happy and what makes you feel sad or unwell. It's a learning process that lasts a lifetime.
Self-care can include going for a walk, meditating, having a new haircut, reading a book, gardening, or just having a chat with your neighbours.
Activities which you can do to look after your mind and also your body. It's important to make time for yourself, time to do those things you want to do but also being in a position to do them safely and healthily.
By making time to do things you enjoy, you can also tune into your body and mind which makes it easier to notice changes and act upon these quickly.
A few years ago, I attended a function to mark International Women's Day. I was seated at one of the large round tables with many other ladies, all of us strangers meeting for the first time. The host asked the audience to write down the name of someone who had or did inspire them.
After a few minutes, two or three ladies from each table stood up to speak. It was really interesting to hear about so many different people that were inspiring these diverse women of all ages from different backgrounds and all walks of life.
As they went from table to table, I heard them talk openly about parents, celebrities, teachers and historians. When it came to my table, though, no one got up. I was a little hesitant, but even so, I stood up and began to speak.
The person that I thought had been an inspiration to me was not my mum, not a famous person or even someone from the history books. The person who I had felt inspired by the most... was myself. Why? Because for me, improving oneself through self-care is the greatest way to become the best version of yourself.
Naheed Tahir is a member of the BMA Patient Liaison Group
Self-care week
Find out more about Self-care week which runs from 15 – 21 November. It is the annual UK-wide national awareness week that focuses on embedding support for self-care across communities, families and generations