Self-care is getting its time in the limelight again. We all know it takes various forms and means something different to us all. I'm going to talk about one activity that I do to try and treat my mind and derive the odd fluffy feeling: knitting.  
It is an age-old craft that was very much a cottage industry where women would knit to clothe their families right up until a few decades ago. It's such a shame that it became less popular, considering the benefits that can come from such a useful skill.  
I started knitting some years ago during a very low period in my life. I have two aunts who are human knitting machines and were my inspiration, as was YouTube. My first attempt was… well… better consigned to the bin. It was more hole than wool. Its only saving grace was that it was pink. But that disaster got me hooked. This is why:
It's not too hard to pick up two basic stitches, which are actually the same sort of thing, just at different angles. And that's it 

Instructions are available (and advised). These are called knitting patterns 

 

It's cheap (Hobbycraft do a well-priced set of needles, but there's loads of stockists and don't forget online!) 

 

It's transportable (unless you want to make a large blanky in one go, then you may need a shopping bag/suitcase/assistant) 

 

With a little practice, you can make serviceable and fun items that can have use in your daily life 

 

Handmade custom items make glorious gifts. Last winter, I was gifted a gorgeous emerald coloured hat (see image) 

 

There are many colours and types of materials to knit with and embellishments to incorporate, enabling limitless creativity 

 

Creativity in any form is therapeutic for mental health; knitting is no exception 

It doesn't have any gendered connotations any more  

 

You can get together and knit, making it into a social event. 

 
Many people find solace in art, dance and crafting; knitting is very accessible.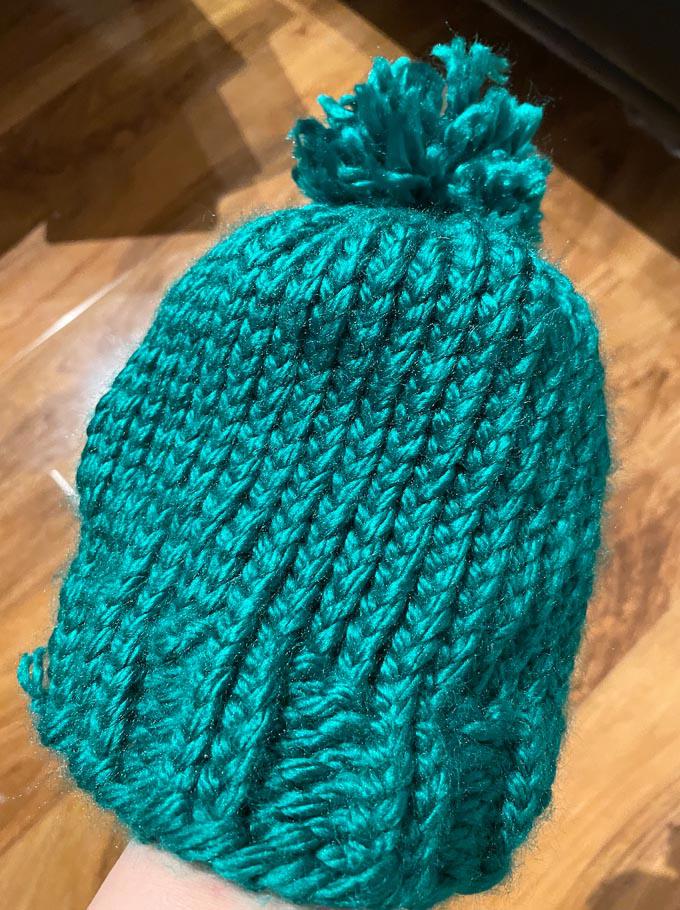 The image of knitting has had a revamp in recent years. I'm sure many saw Tom Daley at the Tokyo Olympics this year as he knitted his anxiety away. His creations are on Instagram #madewithlovebytomdaley for your viewing.
The benefits of knitting have been well documented too. The repetitive movements to build an item step by step is very rewarding. It focuses the mind, slows breathing, distracts from thoughts that may trouble you and encourages creativity by doing something that you have total control over. Knitting is also thought to have the following benefits: 
Lowers blood pressure

 

Reduces anxiety 

 

It's meditative 

 

Increases wellbeing 

 

Reduces loneliness 

 

Improves cognition/concentration/dexterity

 

Provides a digital detox  

 
If you need even more motivation or can't think who would want knitted items, many charities are in need of such items.
Two I like to use are called Knit for Peace (they'll take crochet too!) or the Warm Baby Project which deals with tiny items.
Another place to try is your local maternity/SCBU unit. They often accept knitted items for their little patients- and it gives such a wonderfully fuzzy feeling knowing that the most vulnerable will benefit from your time…. What can be better than that?  
Give it a try…. You may be surprised….  
Julia Shaaban is Swansea Medical School medical students committee representative
Self-care week (15 – 21 November) is the annual UK-wide national awareness week that focuses on embedding support for self-care across communities, families and generations. Find out more about self-care week