Union leader Mick Lynch told junior doctors they are on 'the right side of the argument' with pay restoration and should be confident they have public support for industrial action.
The RMT general secretary, who has become a symbol for the wider trade-union movement in recent months, spoke at a BMA rally attended by more than 250 doctors and medical students in Westminster on 14 December.
His speech urged doctors to encourage their colleagues to vote in the industrial action ballot and warned a failure to stand up could pave the way for the NHS to become a 'gig economy'.
Headline speaker Mr Lynch said: 'Don't be fearful. We've gone beyond that stage. Don't be worried about your careers. They can't keep anyone in the profession, so you don't need to worry about jobs in the future – there will be jobs aplenty for doctors.
'You've got to take courage that your cause is right. It's the same cause as all the other disputes.
'This is the fight of our generation, and the fight of our lives. It's a fight about the future of our health sector, the NHS, a fight for your patients and a fight for the nature of society that we live in. So we cannot lose. And we won't lose – because we've already started to win.'
Pay rise
Mr Lynch noted the level of burnout among medical professionals, saying many have 'nothing more to give' with GPs at a practice his wife works at as a nurse working 12- to 14-hour shifts as well as attending local-area meetings.
'It's impossible for health workers to give any more,' he said. 'What we need on the table is pay restoration. We need an automatic pay rise which addresses the cost-of-living crisis. You can't take a round of applause down to Lidl or Tesco and cash it in. You need cash in your bank account so you can pay your bills.'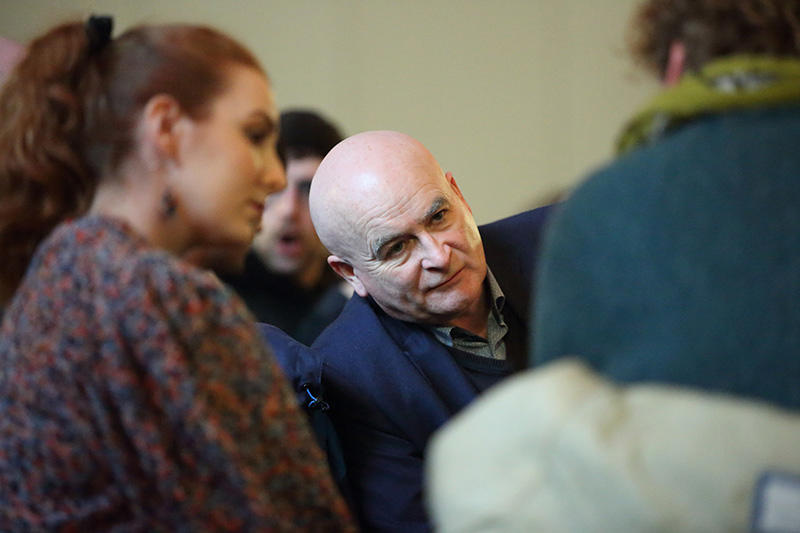 Highlighting the high levels of student debt many junior doctors take on before they begin earning, he said: 'You cannot afford to subsidise the NHS. That's what they're asking you to do by not paying you properly. You are not receiving the full value of your labour, your learning and your qualifications. And if we don't stand up for it now, we will have lost the opportunity for a generation.
'Take courage. You are on the right side of this argument. The public is with you, the country is with you. The country is crying out for change. We have to win it industrially, now. We must commit to winning this struggle for our people, so that we change this country, change our society. Victory to the doctors.'
Highlighting the need to ensure enough members take part, thereby preventing a similar result to that of a recent ballot by teachers' union NASUWT, which fell short of the 50 per cent turnout required despite nine in 10 votes in favour of strikes, he urged doctors in attendance to 'talk to your colleagues back in the workplace, back on the wards' to encourage them to vote.
'It is over the teapot you're going to win this vote,' he added. 'You have to convince those people to vote yes in this ballot. It's the rank and file that ultimately wins the ballots.'
He called on the BMA to integrate into a wider workers' movement to help 'maximise influence' and 'win at the negotiations'.
He praised the BMA's phrase 'pay restoration' as a message, adding: 'While you are losing your pay, the super-rich in this country have never been richer. Oligarchs are running this society, they control the media, the press and will try and control the debate about your dispute going forward. We have to show them we're together.'
Society's future
Addressing junior doctors and medical students as 'the future' as 'some of the brightest, most talented and hopeful people in the country', Mr Lynch said the wider trade union movement was about 'what kind of society do we want to run in this country'.
He asked: 'Is it going to be this degraded, diluted, every-person-for-themselves society, or is it going to be an egalitarian society that strives for equality, strives for a redistribution of wealth?
'It's not just about taxation, and how much you earn. That's obviously important [but] it's about the wealth of our society, that we create as workers and is made by all of us. It should be shared as fairly and compassionately as possible.'
Mr Lynch said the wave of industrial action, across sectors, was being driven by 'the state of our society, our economy and our politics' and said politicians 'do nothing for us unless we kick them, or prod them, into a position'.
He warned that if NHS workers don't take a stand now, they risked being gradually moved into a 'gig economy'.
'They are deliberately driving people to casual work, locum work, agency work, bank work. When they do that, your hourly rate might be slightly higher but you can say goodbye to your conditions, wave goodbye to your pensions. They will do that to make the changes they want to get the cheap workforce and degrade our NHS. Then they will bring through the spectre of privatisation, which is already with us. There are snakes consuming our NHS.'