Junior doctors were urged to show resolve, 'fight for what's right', and 'not back down' at a rally in Leeds to mark the final day of the second round of BMA strike action this week.
Crowds of doctors and supporters from across Yorkshire turned out in force despite wind and rain as they heard speeches from BMA representatives and sang along to Oasis' Don't Look Back in Anger with the lyrics altered to call on health secretary Steve Barclay to restore pay to 2008 levels.
James Barson, BMA deputy chair for East Yorkshire, told the rally: 'We are undervalued and underpaid. The system is broken and is failing us. We can't continue to work in a system that doesn't recognise our work and doesn't compensate us fairly.
'We have spent most of this week in the cold, wind and rain on picket lines across the country. We have delivered a strong message to this government that we will not accept further cuts to our pay.'
Comparable pay
With the lack of a counter offer from health secretary Steve Barclay thus far, and the second week of strike action likely to have led to more cancelled operations than the 175,000 in the first round of strikes, Dr Barson said: 'The government can't continue to ignore us.
'This round will have an even greater impact, putting further pressure on the government to meet our demands. We are worth far more and are simply asking to be paid the same as doctors in 2008.
Noting the Government has wasted billions on useless personal protective equipment, increased MPs' salaries and already forced many doctors to leave the NHS, Dr Barson said the per hour pay restoration ask for foundation year doctors equates to 'a meal deal'.
'The wider community supports us in our fight for pay restoration. The overwhelming majority of patients I've spoken to this week on picket lines support us and want us to succeed.
'We must continue to fight for our future. I urge you to stand strong. We must not back down.'
Won't back down
Tom Sharp, a GP trainee and member of the BMA junior doctors committee, shared his story of becoming a doctor with those in attendance, recalling being told: 'As doctors, you couldn't and shouldn't expect to be rich, but you should be comfortable.
'But I am pretty uncomfortable,' he said. 'I'm uncomfortable that we work so hard in a healthcare system that abuses my and my colleagues every day… led by a Government that simply couldn't care less.
'The value of my pay has decreased every year since I became a doctor. The idea of paying back my student loan is a joke. Doctors are leaving, we have 500 patients needlessly dying each week.
'But there is an answer; it is pay restoration. And it's entirely within this Government's gift to reverse these pay cuts, retain our junior doctors and make our healthcare system safe.
'The very fact that we are gathered here this afternoon give me hope and should send a clear message: We are not going anywhere and we are not backing down until we achieve full pay restoration.'
Stick together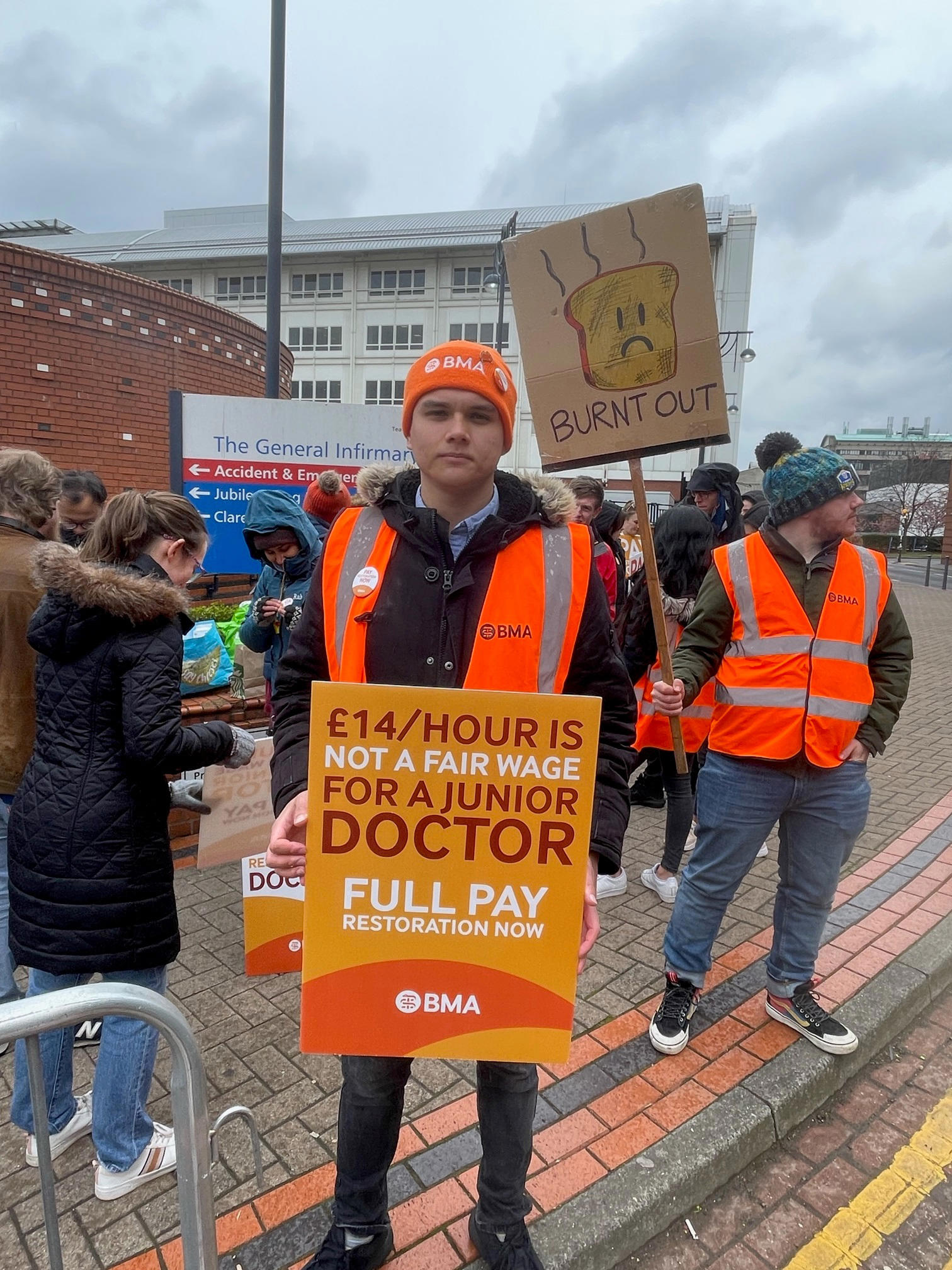 Chris Morris, a foundation year 2 and deputy chair of BMA for north and west Yorkshire, said: 'We are not worth less than our colleagues in 2008.
'This isn't the end. We need to stick together in this fight. If we continue together, and work together, we can – and will – win.
'Our message of pay restoration is cutting through. If we stay as one, we can win our fight for full pay restoration.'
The second round of junior doctors' strikes, a 96-hour walkout, is due to end at 7am on 15 April.
Rallies also took place in Birmingham and Newcastle on 14 April, following an event in London's Trafalgar Square on the opening day of the second round of action on 11 April.
Wind and rain
Ahead of the afternoon rallies, junior doctors continued their pickets at hospitals.
At Leeds General Infirmary, dozens of doctors held firm in the wind and rain as traffic passing the Jubilee Wing consistently honked and waved in support – encouraged by some creative placards.
Dr Morris, who also spoke at the rally, noted that the 'overwhelmingly positive' response from the public at the picket at Leeds General Infirmary over the course of the week had been 'really reassuring'.
'It really strengthens the resolve of everyone here and reinforces why we are doing this,' he said. 'We haven't had a single negative conversation or engagement with the public – which fills us with the sense we are doing the right thing.'
He said the support was also evident within the hospital in the lead-up to the second round of strikes.
'The majority of consultants and other healthcare professionals have been supportive,' he added. 'It's not just junior doctors in this fight. Consultants need us to win this fight for them to have a chance of succeeding in their fight for pay restoration.
'While it has been a difficult week [for consultants] it's reassuring to know they are supportive.'
Good faith
Dr Morris believes the lack of a counter offer so far from health secretary Steve Barclay has also strengthened junior doctors' resolve and helped increase public support for the cause.
'His attitude has demonstrated to the public that the Government isn't dealing with this dispute correctly. We have shown doctors are approaching this in as good faith as possible.
'More and more people are coming out on the pickets – the strength is there to keep going. Everyone is aware we will probably be here again, and we are prepared for that.'
Leading the chants and keeping the energy levels up was Ana Parmar, a specialty trainee 3 in clinical oncology who has been a junior doctor for 11 years.
'We stand in solidarity,' she said. 'We've had a lot of public positivity even though we've been a bit disappointed in some of the media coverage.'
Training costs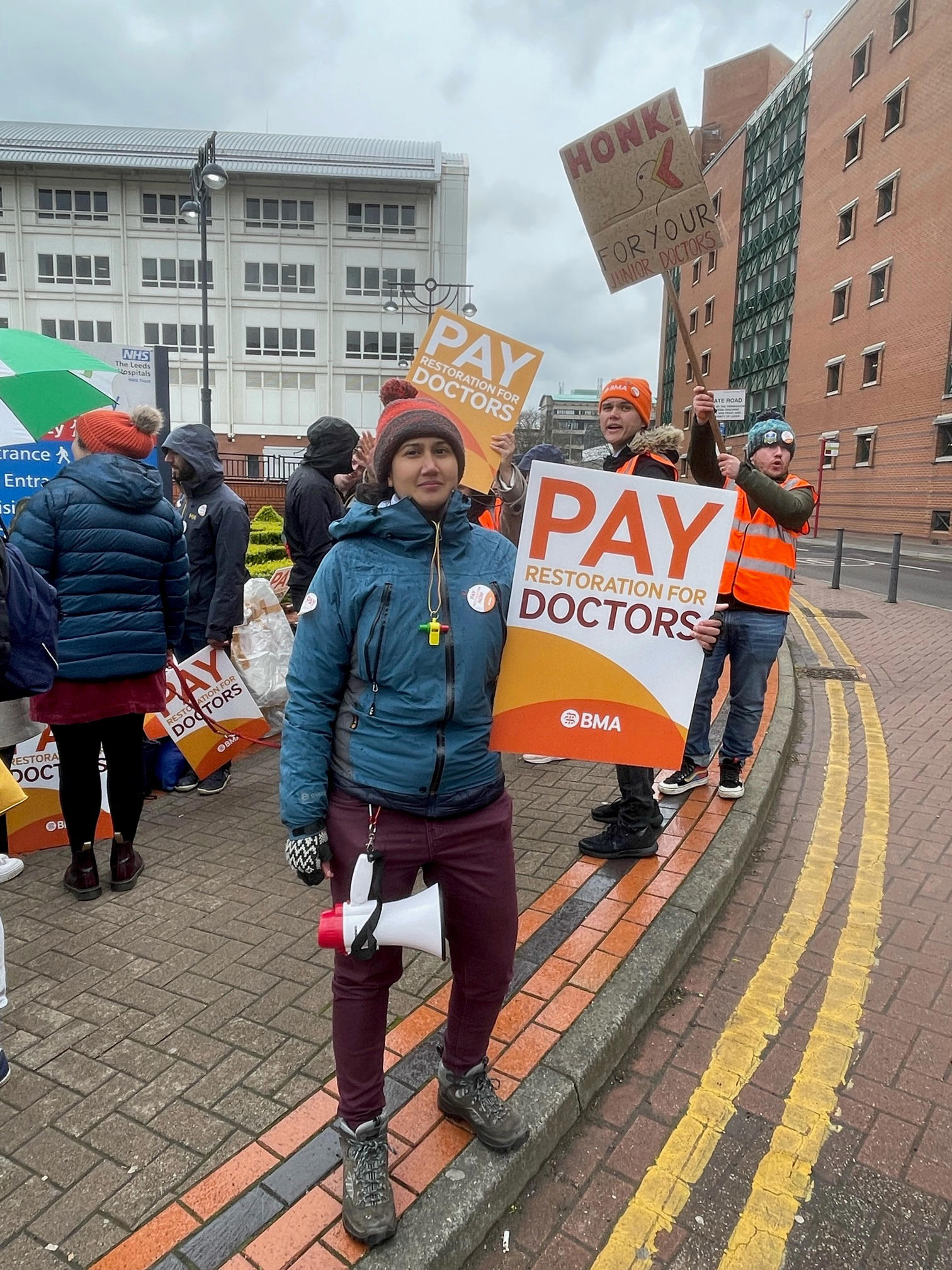 She notes how some graphs and figures used by some media outlets exaggerate doctors' earnings, not least because they are pre-tax figures which do not take into account obligatory costs such as high student loan repayments, GMC registration, professional exam and course fees and accommodation when sleeping on-site at hospitals after night shifts.
Graduating in 2012, Dr Parmar's student loan was about £60,000, and she says she has 'about 75% left to go' to repay it. Colleagues who paid £9,000 a year for medical school are starting with debts of £90,000 and not earning enough to cover the interest.
'If fees were that high when I applied, I wouldn't have done medicine,' she says. 'I'd have been an accountant.'
Dr Parmar believes the public are starting to understand that training towards consultant level can be 'incredibly long' for junior doctors, but says many are still surprised to hear of doctors' ongoing costs such as paying for their own ILS (immediate life support) courses and indemnity.
'I've probably spent about £10,000 over the years on costs related to my job,' she says.
Commute safety
Dr Parmar wants the Government to consider the 'hidden occupational risks' doctors face, too.
She no longer drives home after night shifts as she feels it's unsafe after so many hours of work. She made the decision after 'nearly veering off the road' after one tiring night on the wards.
A colleague who wears heavy protective lead to protect him from exposure to X-rays now suffers from chronic back pain after repeated requests for lighter equipment were unfruitful.
'It's a bigger issue than pay,' explains Dr Parmar. 'Pay is the tip of the iceberg. The issue is the workforce levels; cleaners, nurses, health care assistants, junior doctors and consultants are all leaving. If the Government doesn't ensure the pay is reasonable, the conditions will only get worse and we will end up losing even more people. It's a vicious cycle. We're fighting for the future of the NHS.'
Barclay tweeted his 'utmost respect' for junior doctors on Friday but is yet to make a counter offer to their pay restoration ask, which he calls 'unreasonable'.
The BMA again wrote to the health secretary on Friday, reiterating it has no preconditions to talks and has asked ACAS to mediate in the dispute.