'Members are seeing that this is going to be a longer-term dispute if we are going to see more progress.'
Anirudh Kumar (pictured above), a specialty trainee 4 in geriatric medicine, sums up the mood going into the fourth walkout in the industrial action in which junior doctors are demanding pay restoration to 2008 levels. This time, it is the longest strike in NHS history.
Doctors hope fresh strikes will show the strength of feeling and get the message across to government, which announced a 6 per cent pay rise for junior doctors on the first day of the walkout – equivalent to another real-terms pay cut when compared to current inflation levels of 11.3 per cent (RPI).
BMA council chair Phil Banfield said the offer 'completely ignores' the BMA's calls to value doctors for their expertise and said 'the BMA will continue to fight for the full restoration of pay lost since 2008'.
A re-ballot to extend the strike mandate for BMA junior doctors in England is under way and, despite deductions from previous strikes beginning to bite amid an intensifying staffing crisis, doctors report a sense of renewed energy at the start of the latest round of industrial action.
'Morale and momentum'
Part of that is seeing their colleagues continue to come out in force, arranging to spend restful time with them over the weekend, and knowing that their consultant colleagues are due to strike next week.
Dr Kumar, a BMA rep on the Yorkshire branch of the BMA junior doctors committee who works at Nottingham's Queen's Medical Centre, was on the picket line at Sheffield's Royal Hallamshire Hospital on Thursday morning.
He says: 'Our prerogative has been to try and maintain morale and momentum.
'People have seen their take home pay packets decrease, both as a result of previous strike deductions and inflation reducing real-terms pay further. Our colleagues are struggling more so than before. That's on top of the demands of work over the past months and years significantly increasing – everyone's collective burnout risk is more than ever before.
'So when we take industrial action it's a really careful balance of maintaining picket lines for the outwards presence and that collective solidarity while also encouraging members to take efforts to mitigate that burnout risk.'
Under pressure
His message mirrors that from JDC co-chairs Rob Laurenson and Vivek Trivedi, who have spelt out the importance of rest and recuperation in this protracted dispute.
A BMA survey in April found that more than 40% of junior doctors were experiencing depression, anxiety, stress, or burnout that had been worsened by the pandemic and 60% said their levels of fatigue or exhaustion were higher than normal.
Dr Kumar says doctors continue to come out in strong numbers because they have seen 'movement', though he accepts the government is offering much less than full pay restoration.
'On the face of it, it might look like we've made limited progress,' he says. 'But look at it from another angle. We have gone from no offer on the table, and no effort or attempt being made to negotiate [by government], to us being at the negotiating table and an offer being made. Even if that offer is not full pay restoration, and doing little to combat the pay degradation in the last 12 months, we are seeing movement.
'We are looking at a dispute that we expect to continue for the long term. It's not a sprint, therefore we need to preserve our energy so we can keep that momentum going.'
Public backing
Jenny Brocklebank, an IMT at Sheffield Teaching Hospitals NHS Foundation Trust, notes the continued strength of public support through honking horns and clenched fists from drivers and passer-by on Glossop Road.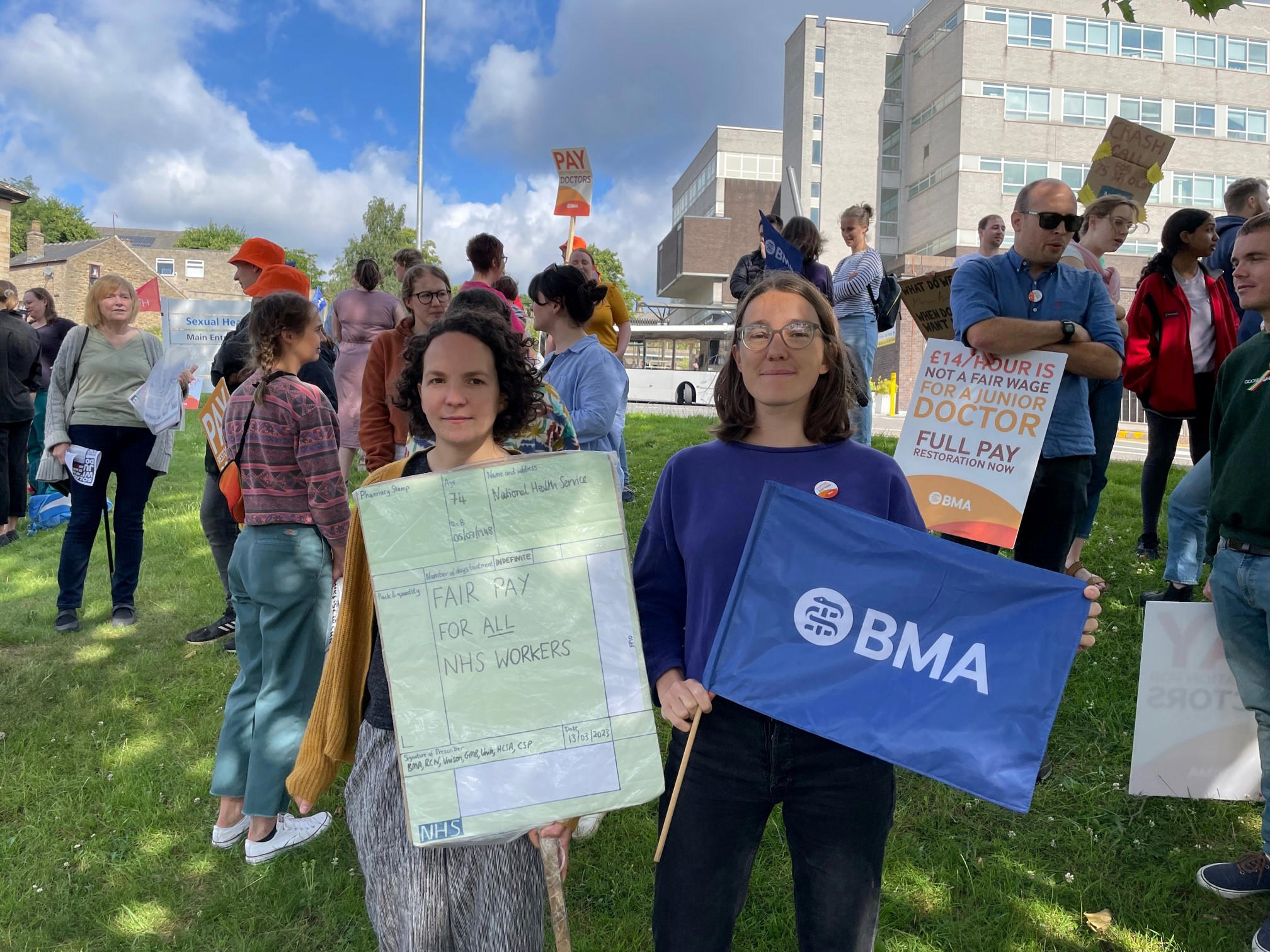 'Coming to the picket lines feels very validating and rewarding,' she says.
Registrar Anna Nicholson-Lailey says the support from colleagues throughout the hospital is more open than before – particularly with consultants due to go out on strike themselves next week.
'We've talked about it more with consultants this time round,' she says. 'There's definitely a growing feeling of "we're all in this together".'
Dr Nicholson-Lailey appreciates the importance of rest and recovery. 'The NHS is exhausted,' she says. 'But once I'm on the picket line it's really energising to stand side-by-side with colleagues.
'The public support helps us keep going. It's reassuring that the public and our colleagues are on our side in this dispute against the government when we're in it for the long-haul.'
'Fed up'
At Sheffield Children's Hospital, paediatrics trainees received plentiful waves, shouts and beeps from the passing public.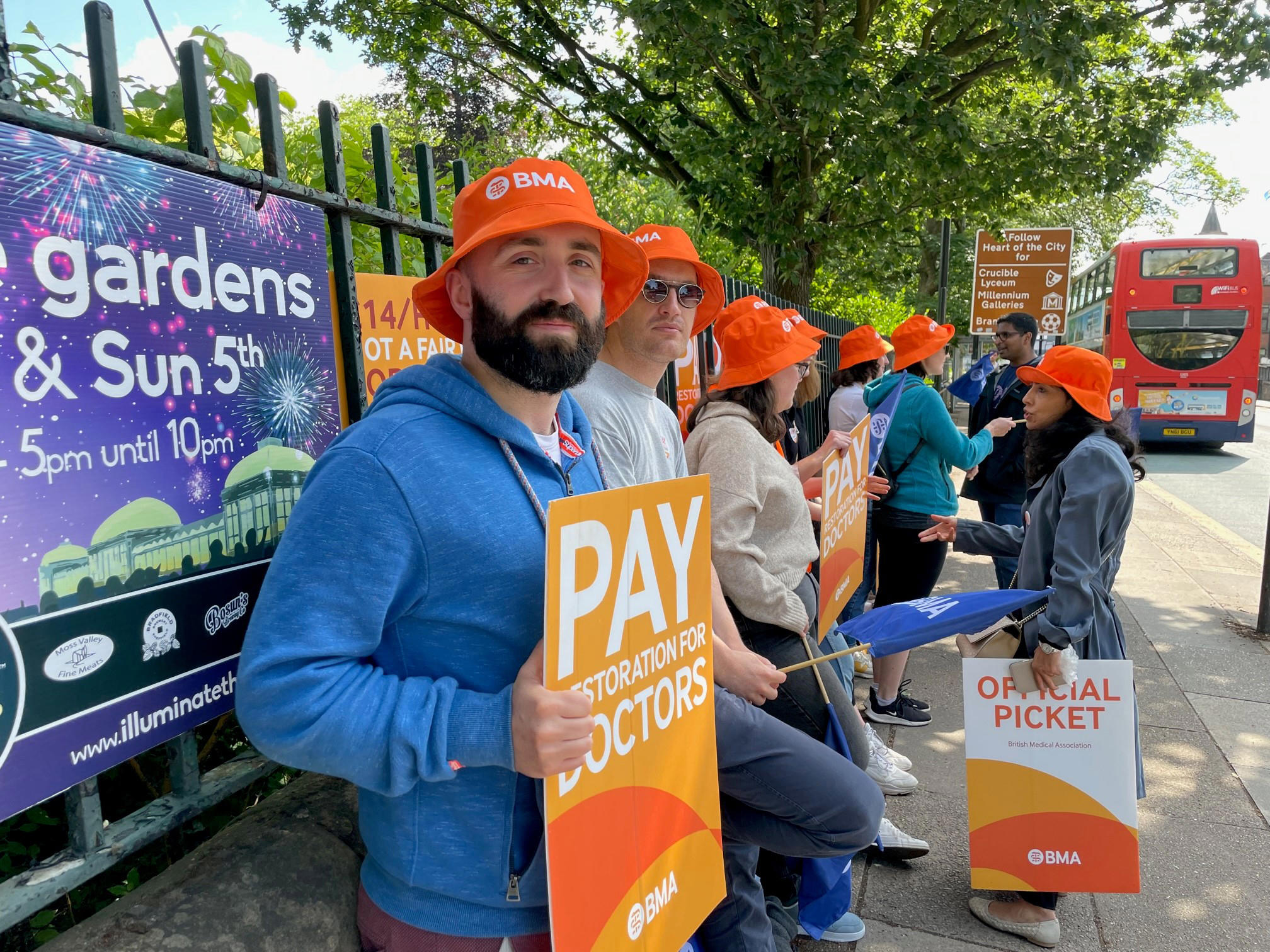 Tim Murray, an ST4 in paediatrics, said he feels 'tired and fed up' at work but that doctors are 'determined to keep going' in the fight for pay restoration. That has been made 'easier' this time round by the support of consultant colleagues preparing to strike.
At Netherthorpe House, part of Sheffield Health and Social Care NHS Foundation Trust, junior doctors had an array of homemade placards as music played from a speaker to keep up momentum.
Camellia Yousefpour, a core trainee 1 in psychiatry, reiterated that the dispute is with the Government, not the trust, at which she said there is a 'very supportive' attitude towards industrial action.
She said colleagues are 'tired' but 'want to keep going' – with pickets planned Thursday, Friday and Monday. 'Coming to the picket line fills us with energy,' adds Dr Yousefpour.
Emboldened doctors
Joe MacDonnell, a CT3 in psychiatry, said 'consistent' support from consultants, before and since they voted to strike themselves, as well as medical educators, has helped maintain momentum.
He says an existing junior doctor committee at the trust has become stronger as a result of industrial action, and expects that sense of camaraderie to continue once the pay dispute is over.
Some members of the group have organised a walk as part of the rest and recovery initiative in the five-day walkout.  
Danny Pennells, an ST6 in geriatric medicine at Sheffield Teaching Hospitals, contrasts the current situation to the 'strike fatigue' he saw in the 2016 junior doctors dispute.
'It's much more organised this time,' he said. 'Part of that is that there is one clear message [pay restoration] instead of contract negotiations with many different aspects. It doesn't feel like an insurmountable challenge.
'That sense that we're all on the same side of this is more palpable than it was before.'
Exit issue
Dr Pennells said the lack of attention given to pay restoration in the government's recently-announced, and long-overdue, NHS workforce plan, will only encourage more doctors to leave despite the plan's pledge of a 'renewed focus on retention'.
'I've got F1s considering if they want to be doctors or not,' he added. 'They look at people like me, and consultants, and can see how exhausted we are.
'It's always been hard, and I love my job, but it's so much harder than it needs to be when we're doing two or three people's jobs.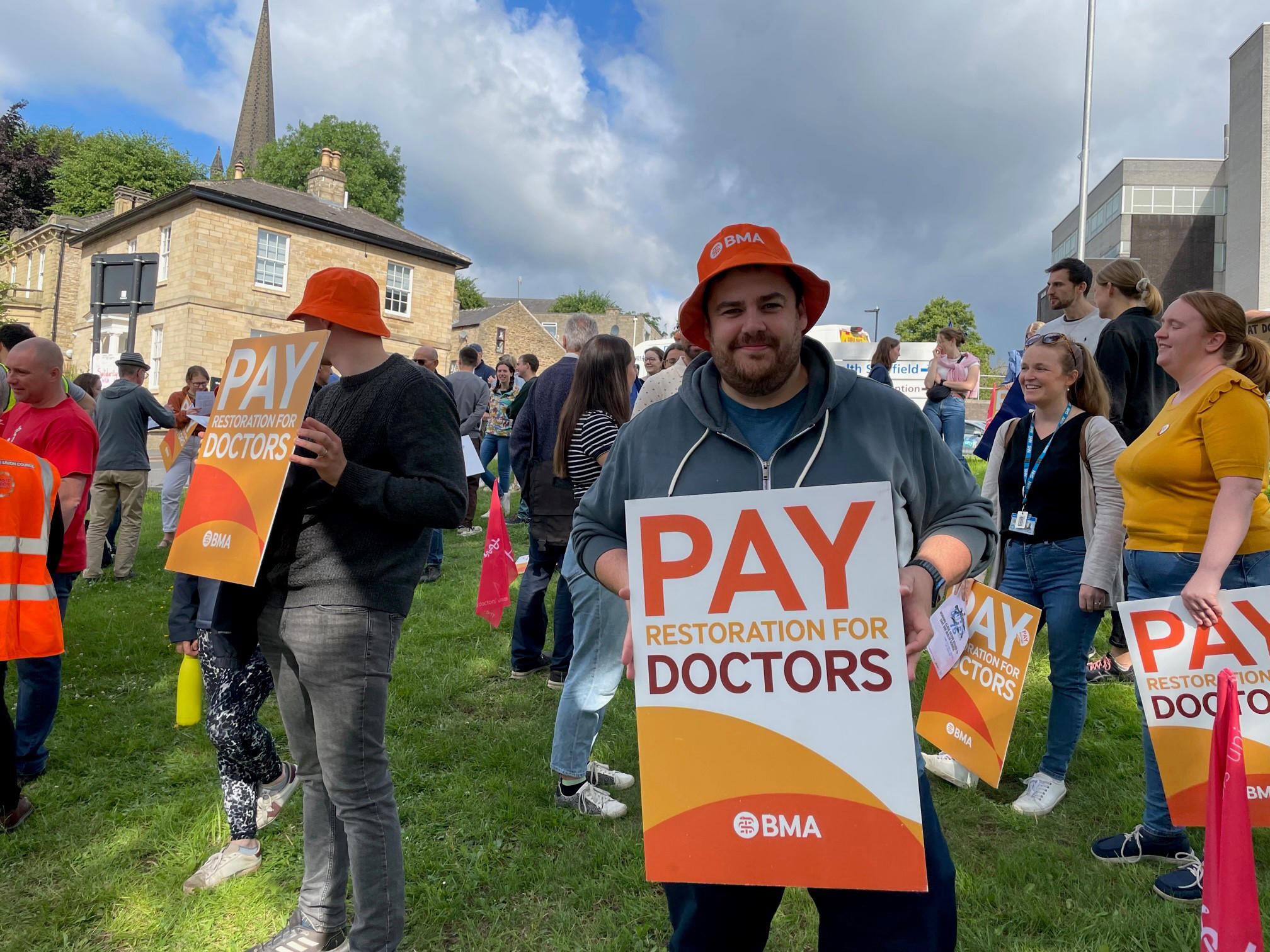 'When you go on strike, the workload doesn't go away, it's just delayed. When you go back you know you have to work even harder.'
Dr Pennells is not far from becoming a consultant, so is unlikely to reap the benefits of any long-term wins in the current dispute – but he does not believe the NHS will survive in its current form if junior doctors continue to leave in their droves.
'That shows how important this is,' he said. 'We're doing this because we see colleagues struggling, and leaving. The only way to solve that is showing that we value our staff.
'So much of the NHS is run on goodwill – that's not new, and we're not saying we're not going to show goodwill anymore – but the reserves we have to draw that extra strain and pressure from have been exhausted from COVID as well as death by a thousand cuts.
'I want people to be inspired and happy to go to work. The public service aspect of working in the NHS is wonderful, but you can't look after other people if you aren't right yourself.'