'Frankly, nobody cares if it's me or my friend who shows up on Monday morning as long as there's someone there.'
Hannah Cagney (pictured above) pleaded with the BMA's representative body to help foundation year doctors like her to have 'humane lives' and a level of autonomy she argues doesn't currently exist.
'If I don't want to do vascular surgery for my first rotation but I want to swap with my friend who's doing general surgery there is no mechanism by which we can agree to swap these things,' she told the BMA annual representative meeting in Brighton this week, pointing out 'there's no cost implication [and] no educational implication'.
She said the inability to switch or change rotations within training programmes, including UK Foundation Priority Programmes, is one of the 'incredible drivers' of dissatisfaction among juniors, especially foundation juniors, because 'we have virtually zero autonomy over our working conditions'.
'We can't hand in a resignation and go and work in a different hospital, we're locked into the programme which – if we want to complete the legal requirement of our medical licence – we must complete.'
Target roles
Dr Cagney, who is based in Scotland, explained the 'relatively hazy set of educational objectives' in the two-year foundation programme made-up of three or four-month rotations between specialties.
She said the process is 'incredibly inflexible' despite the only conditions being that each doctor should undertake a surgical rotation and a medical rotation.
Sarah Hallett, co-chair of the BMA's junior doctors committee, explained how foundation priority programmes were designed to support specific areas of the UK that have historically found it difficult to attract and retain trainees.
Junior doctors 'often choose rotations based on future career intentions' so adherence to specific, advertised programmes is 'an important issue', she said.
But Dr Hallett warned: 'Often we find for the foundation programme that specific rotations do not form part of formal job offers or include a clause that dictates whether these are subject to change and there are currently no robust ways to challenge a change in specific posts.'
Given these programmes are 'specifically designed to recruit and retain', the situation is 'even more frustrating for our members when changes are then made without consultation to the doctors affected', she argued, adding: 'Equity between regions and transparency is simply asking for fair treatment and should never be in doubt, although we know that often this is not the case.'
Job description
Consultant surgeon Rosham Lal, who tabled the motion, said junior doctors in Great Yarmouth and Waveney had raised concerns over the rotations offered.
Many have faced 'difficulties' or had 'concerns' about inaccurate descriptions of rotations 'amounting to overselling', changes being made to placements without consultation and that some trusts allow mutually-agreed swaps while others don't.
He said these issues 'put trainees in difficult situations' and called for 'a consistent and transparent approach across the UK'.
Junior doctor Ciaran Scott, based in the east of England, agreed of the need for a fair and transparent process of how rotation changes should happen, with juniors involved in the process.
But he warned the motion's wording could lead to an 'absolute stop to any changes in rotations' and pointed to 'a large number of potential complex personal training and specific rotational reasons why rotations might need to be changed'.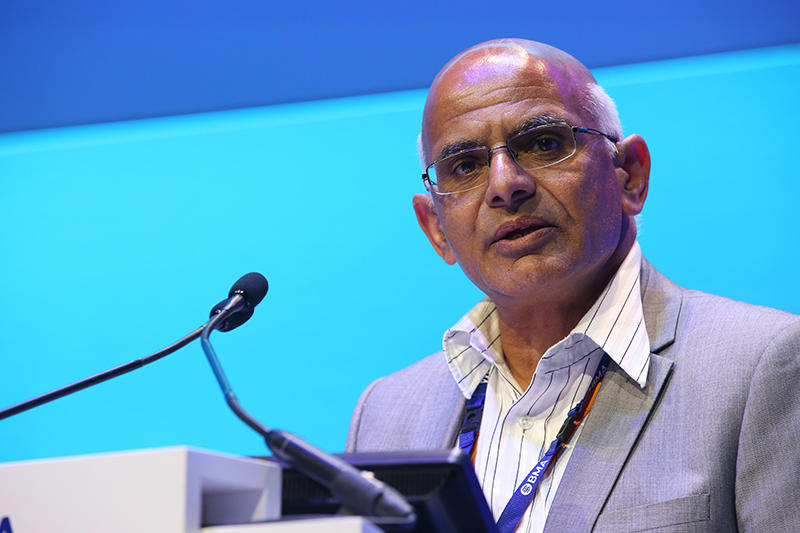 Dr Scott warned the motion could 'stop any doctor being allowed to change out of rotation that is not fit for personal, health, training and professional development matters, both for the better and for the worse'.
Mr Lal accepted the motion 'could be slightly better worded' to address Dr Scott's point and reflect how rotations should only be changed in consultation with the doctor in question, and the motion was voted on in two parts.
The main thrust – calling for flexibility and transparency – went through with 94% of votes in favour, and the point on rotations not being changed once the rotation has been offered and accepted carried with a thin majority of 52%.