Standing, just waiting, in the middle of the emergency department at Charing Cross Hospital, west London, you feel the adrenaline rise.
The snatch of a one-sided phone call, 'the scan's done. I understand … come see her?' This from a nurse in the throes of a hectic shift, 'I've a terrible headache, how can I help?' That human hum.
We're here to see Barbara Cleaver, emergency medicine consultant and mental health lead at Imperial College Healthcare NHS Trust. With a spare minute, we're whisking down corridors to the 'frequent attenders' team she wants us to meet.
She introduces us to Emma Schofield, a staff grade in emergency medicine, in an oblong office lit up by PC screens, and then is off, back into the buzz.
It's from this relative calm that Dr Schofield and Gemma Harper, a mental health support worker, help the trust's most challenging patients, here and at St Mary's emergency department, near Paddington Station.
'"Frequent attenders" is a term likely to go out of fashion, as it's deemed pejorative,' says Dr Schofield.
'Some people refer to them as familiar faces.' Difficult, troublemaker and source of 'collective sighs', are unofficial titles, The Doctor has seen elsewhere.
At Imperial, they're patients who attend the emergency department more than six times in six months, often by ambulance.
Often there is no acute pathology for the emergency department to treat and the result is a very expensive taxi service to a very expensive day-care centre. In many cases the hospital will have to arrange transport home.

Dr Emma Schofield, Staff grade in emergency medicine
For some patients, it's much more often than that. The team's got spreadsheets, graphs and data galore on their PCs to prove it. One arrived 50 times in a month, and 200 times in a year, costing £32,000 in ambulance transfers alone.
Underlying issues
Many patients 'get no medical benefit' from such regular emergency department visits but are drawn here by 'underlying issues', what Dr Schofield calls 'occult drivers'.
'People come in with physical symptoms, such as chest pain, headaches, dizziness, collapse or seizures,' she says. 'On many occasions, we find the underlying cause is not physical,' Dr Schofield adds.
Mental ill health is the most common one, according to her analysis of cases at a previous employer, the West Middlesex University Hospital. It's followed by social issues, such as loneliness, housing problems, or homelessness. Others come in with crisis after crisis because of badly managed chronic conditions, such as diabetes. Many cases are hard to unpick, certainly impossible to resolve within the four hours the NHS expects patients to be in emergency care.
The team works with the trust's psychiatric liaison team and treats with a mix of medicine, compassion, tough love, and action.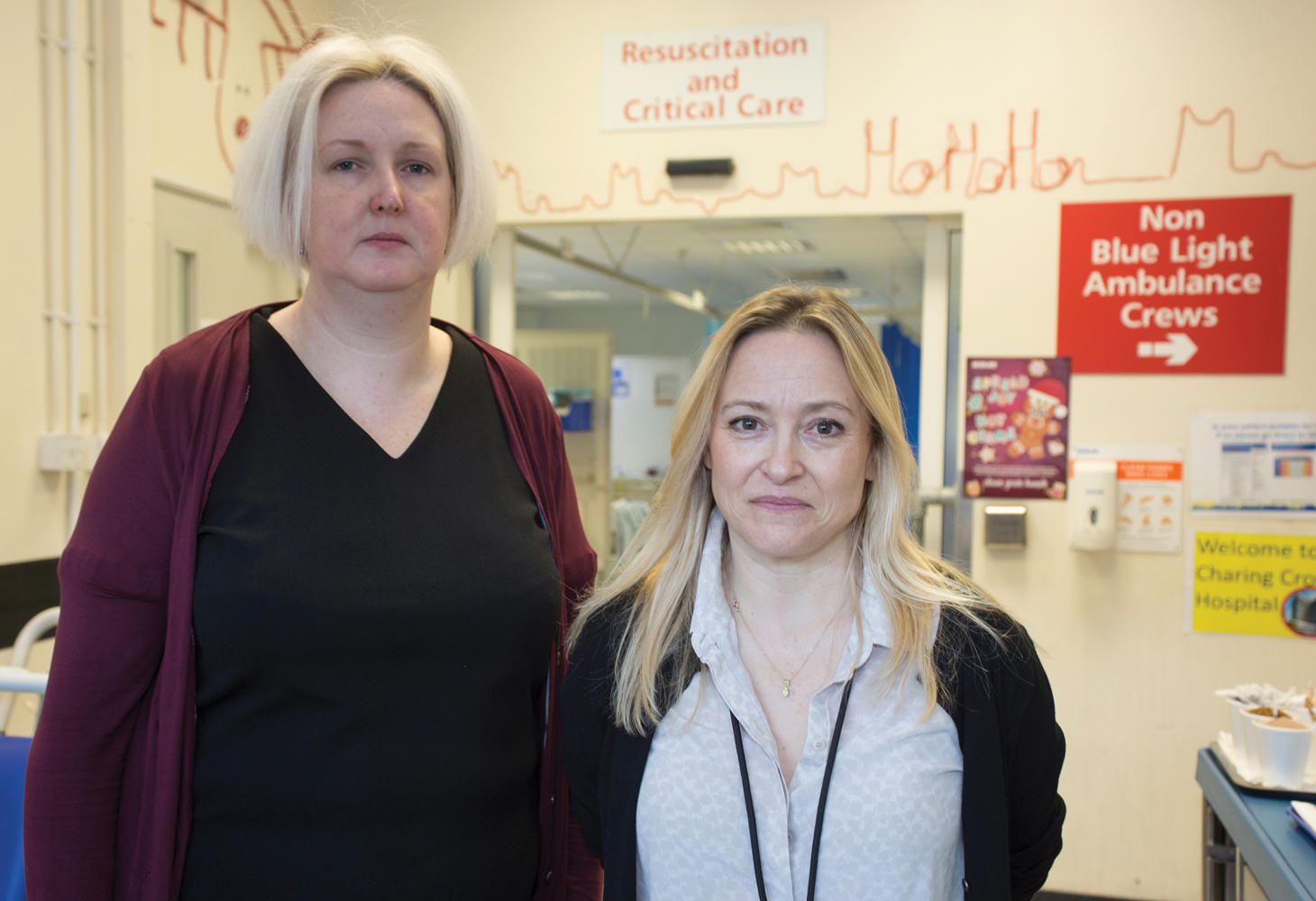 Dr Schofield has trialled taking patients on walks with her own two dogs. She has escorted patients to clinics until they attend on their own. Ms Harper sorts housing and benefits out. They've trailed around London together, searching for patients at addresses they find are fake. Much of their work is 'constant prodding' until bottlenecks in other public services unstop.
But how's it a doctor's job to go dog walking?
'All of these patients, if you look at their back history, they've all had really difficult childhoods,' Dr Schofield says in response.
'You can't even get to some of their childhoods; they've had such challenging lives. People who do not attend the emergency department frequently are relieved when informed their chest pains are not life threatening, they don't want to come to the emergency department in the first place and are happy to have their conditions managed in the community.
'You take the medication, see your GP. You know what it's like to be cared for. A lot of patients we work with have never had anybody care for them. Coming to the emergency department provides them with a form of care and it is open 24/7, every day of the year. It may not be the care that you or I would want but for these patients it is often all they have.'
Ms Harper says the 'best thing' to help patients in her work is to go to their home, something she does often. 'Unless you take the time, you'll never find out what's going on or gain their trust. An hour in the emergency department is not going to teach you or let them share anything with you.'
She is doughty gold dust with a casual calm, a can-doer. After more than a decade in Hammersmith and Fulham, she knows how to get things done.
'I know all the services. I can access the relevant people in housing. I'm plugged into social workers and services people are supposed to be offering,' Ms Harper adds.
Limiting inappropriate interventions
Dr Schofield's main role is to draw up care plans, working with the liaison psychiatrist if need be, for each frequent attender. The plans guide staff on how best to treat patients and limit inappropriate interventions.
'People recurrently presenting with "chest pain" several times a week don't need blood tests and X-rays every time,' Dr Schofield says. They might want the attention, the atmosphere, a break from an otherwise lonely life. 'But is this appropriate care? Putting in cannulas? Irradiating them? No. We're not making them better.'
Care plans might advise that a known regular attender, arriving by ambulance and presenting with chest pain, can be placed in a chair or the waiting area to wait to see the doctor if their heart trace checks out and their observations are normal.
They do not necessarily need to have a hospital trolley and be connected to a monitor. The plans aim to ease 'doctor anxiety' too, if they trust them. Not all of them do straight away. 'Some people love it, and say, yay! Some medical staff are more, ooh, I'm not sure,' says Dr Schofield. 'But then they slowly come around to it.'
Patients' reactions to them also vary. They've seen attendance spike when medical attention is curbed. They miss it. They miss the staff. There's plenty of emergency-room reality shows, reminding them what it was like.
'When they're here, they're important for 30 minutes to an hour, and that is very comforting,' Dr Schofield adds. It can take six months to a year for behaviour to change.
However, the team's stats and graphs show that spikes are followed by drops in the number of tests and attendances, as care plans take effect. They can't stop patients calling and coming in by ambulance but they can and are influencing what happens once they're through the front door.
Imperial, as with all trusts in England, tracks efforts to reduce frequent attenders for an NHS England 'quality and innovation' temporary target. This expects a 20 per cent annual reduction in 'presentations'. It's to improve care for people with mental ill health, who scholars claim have 3.6 times more preventable emergency admissions than those without.
Last year, Charing Cross reduced its attendances by 21 per cent for a dozen patients (it has 200 on its books, trust-wide). We asked NHS England and trusts with the 20 busiest emergency departments for similar figures. NHS England declined and just four trusts responded.
Lewisham and Greenwich NHS Trust, south London, last year reduced attendances for 31 patients by 19 per cent in emergency departments at University Hospital Lewisham, and Queen Elizabeth Hospital. It's seen further reductions this year, working with more patients.
'There is a culture of frequent attendance at both our hospitals,' the trust says.
'Patients feel safe in the emergency department and may have nowhere else to go,' it adds. It's setting up a 'mental health crisis café' in the emergency department for people with no 'safe spaces' to go to.
Joined-up care
University Hospitals of Leicester NHS Trust has reduced attendances by 55 per cent last year for 12 patients and is working with 42 this year.
Back at Imperial, Dr Schofield reflects that stopping people attending the emergency department should not be considered a 'win' if you haven't improved their lives and care somehow.
And in a (relatively) quieter moment, a week later, Dr Cleaver says the trust has learned much from its years of helping frequent attenders. It's thrown up issues which doctors, the NHS and politicians might mull over.
Its efforts have been frustrated by curbs on data sharing and poor IT links between public sector players, including those in the NHS.
'We can't see what the GP is writing or what the mental health team is writing or what the London Ambulance Service is doing,' Dr Cleaver says.
Our IT systems make things very difficult. There are massively important concerns about data protection, but they don't half make things difficult.

Dr Barbara Cleaver, emergency medicine consultant and mental health lead
Lewisham and Greenwich faced similar barriers. It means emergency departments across London can't share how they treat patients, so they can just jump from one to another, where access to medical attention is less restricted.
Dr Cleaver says the frequent attenders work also raises some moral questions for the NHS.
'Do we need someone to say that this isn't an acceptable use of national health services? We are going to hold you to account. You are an adult, you have mental capacity.'
Some health professionals, such as ambulance crews, have become too wary of taking clinical risks.
'When did we stop letting patients take responsibility?' Dr Cleaver asks. 'Someone comes in over and over again for years and years, saying they have chest pain. What do we do? It's worth having a debate about. The lack of ability to take clinical risk is paralysing our front door.'