For all the cheers and camaraderie at the BMA rally in Oxford, none of the junior doctors taking part wanted to be there. Yet, three months in to their industrial action, they feel they have no choice but to press on.
On the first day of their latest 72-hour strike on 14 June, the message from the doctors and placards assembled in Bonn Square was clear: We have no option but to strike. Things cannot go on like this.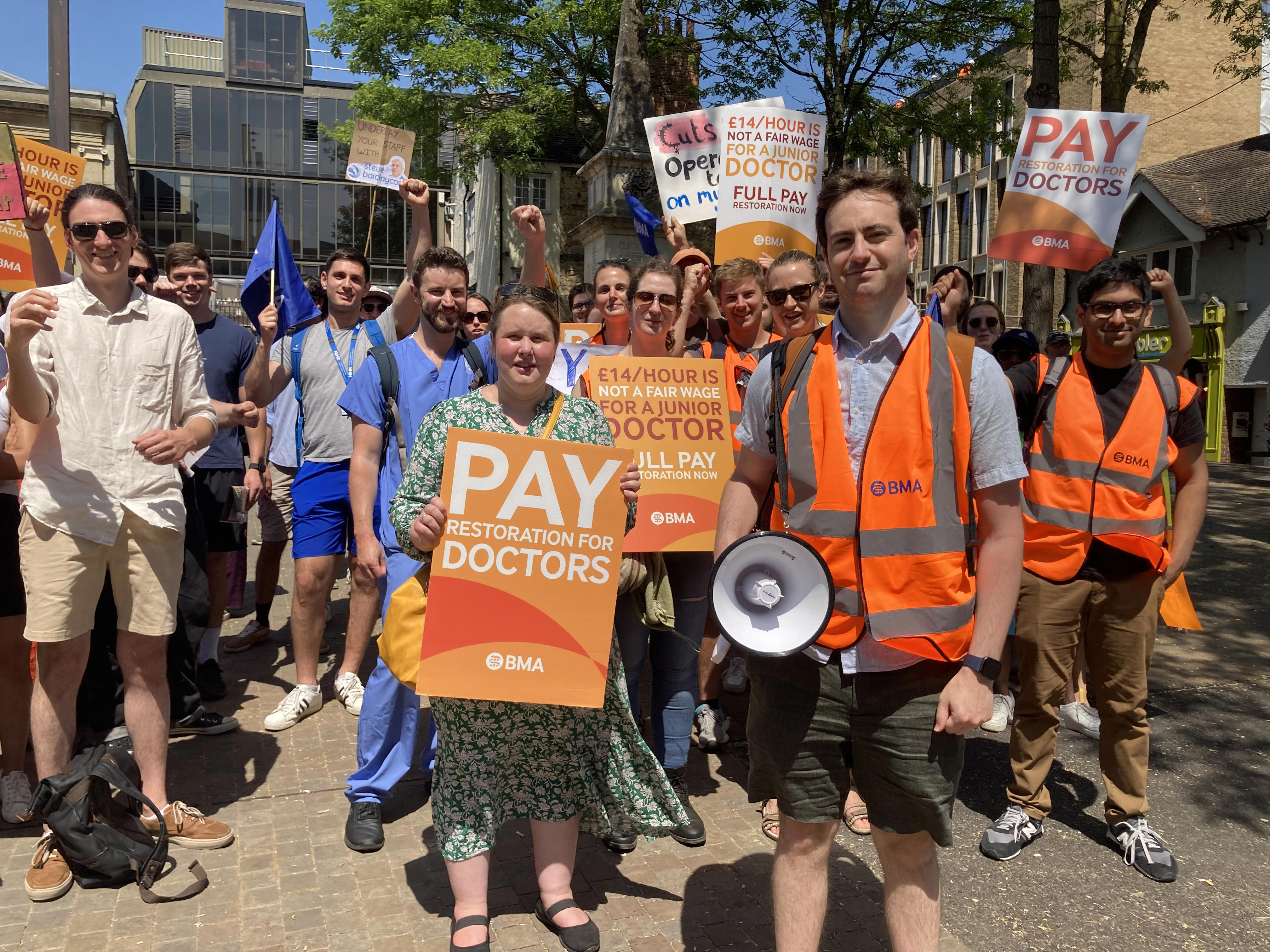 'Going on strike is an absolute last resort,' said event organiser Matt Bilton, a locum doctor working in emergency medicine. 'But morale is at rock bottom: it couldn't be any worse. And it has been this way for a long time. We have reached the point where, if we do nothing, then nothing changes.'
So far, the Government has made only a 5 per cent pay offer in response to the BMA's demand for full pay restoration. But junior doctors' resolve is not wavering.
In Oxford, on Wednesday, there was no sign public support for them was wavering either: buses and cars honked their support; a busker used his microphone to urge the Government to pay doctors more; an older passer-by hijacked the mic to demand the same.
But there is a price to pay for strike action, and not just in lost earnings.
Heavy burden
Laura Wilkins, a foundation year 1 doctor in the Thames Valley deanery, is one of the juniors paid £14 an hour for a 48-hour-plus week. Staff shortages – including frequent planned rota gaps – mean she can be left carrying the crash bleep on a night shift, responsible for all medical emergencies in the hospital. She is committed to striking – but wishes she didn't have to.
'This is the last cry for help to try and rescue our profession,' she said. '[Striking] is horrible: it's not a thing anyone does lightly.
'But it's so demoralising as a doctor not to be able to provide safe and effective care for patients, day in, day out. It's awful. I care about my patients and I want them to be safe. I want them to get the world-class care we can provide if there's enough of us.'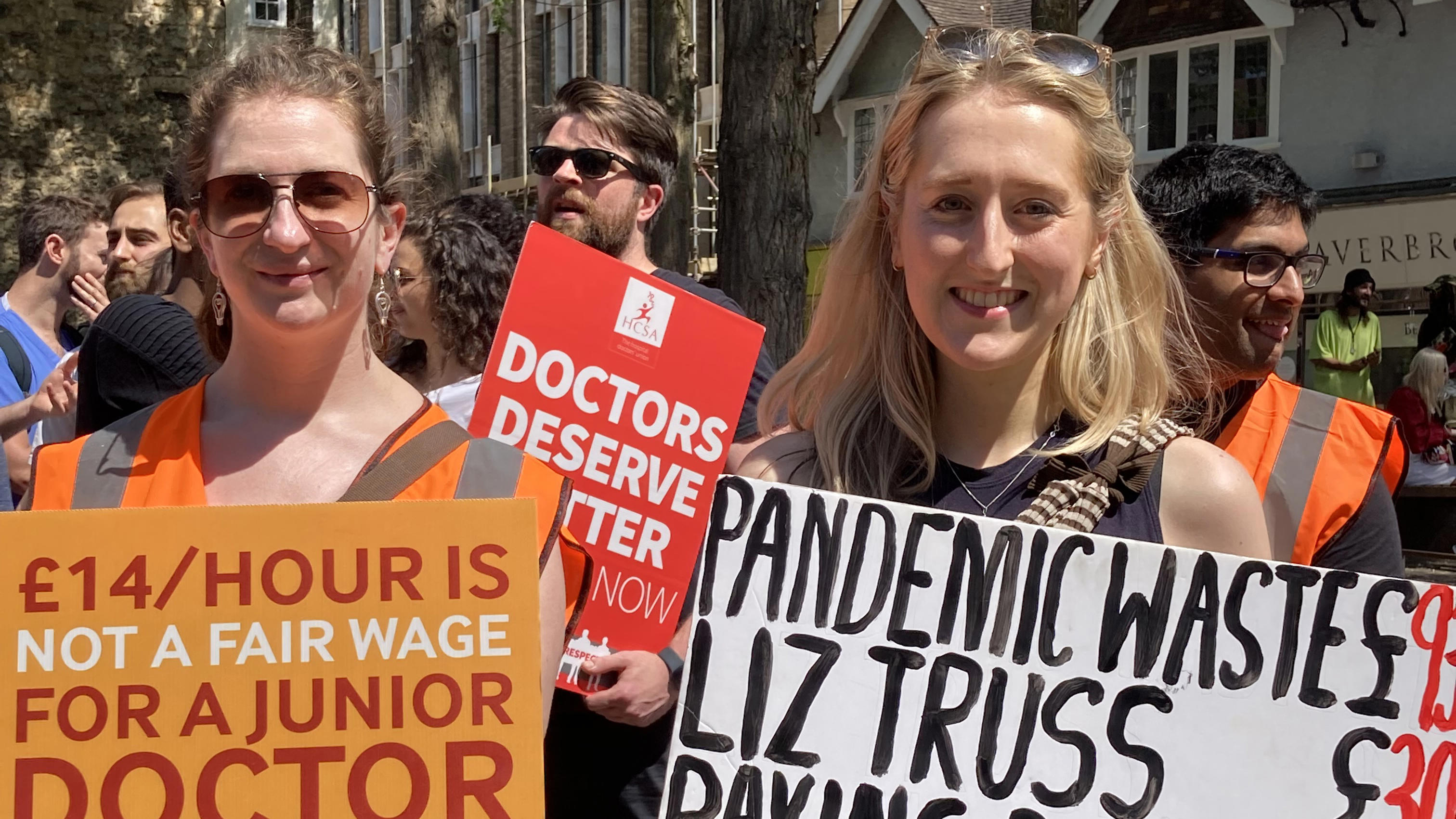 Fellow striker Richard Shoulder, a core trainee 1, spoke of feeling 'guilt' about joining the stoppage – but insists that change is non-negotiable.
'I hated leaving work yesterday knowing that we're leaving colleagues to pick up the slack,' said Dr Shoulder.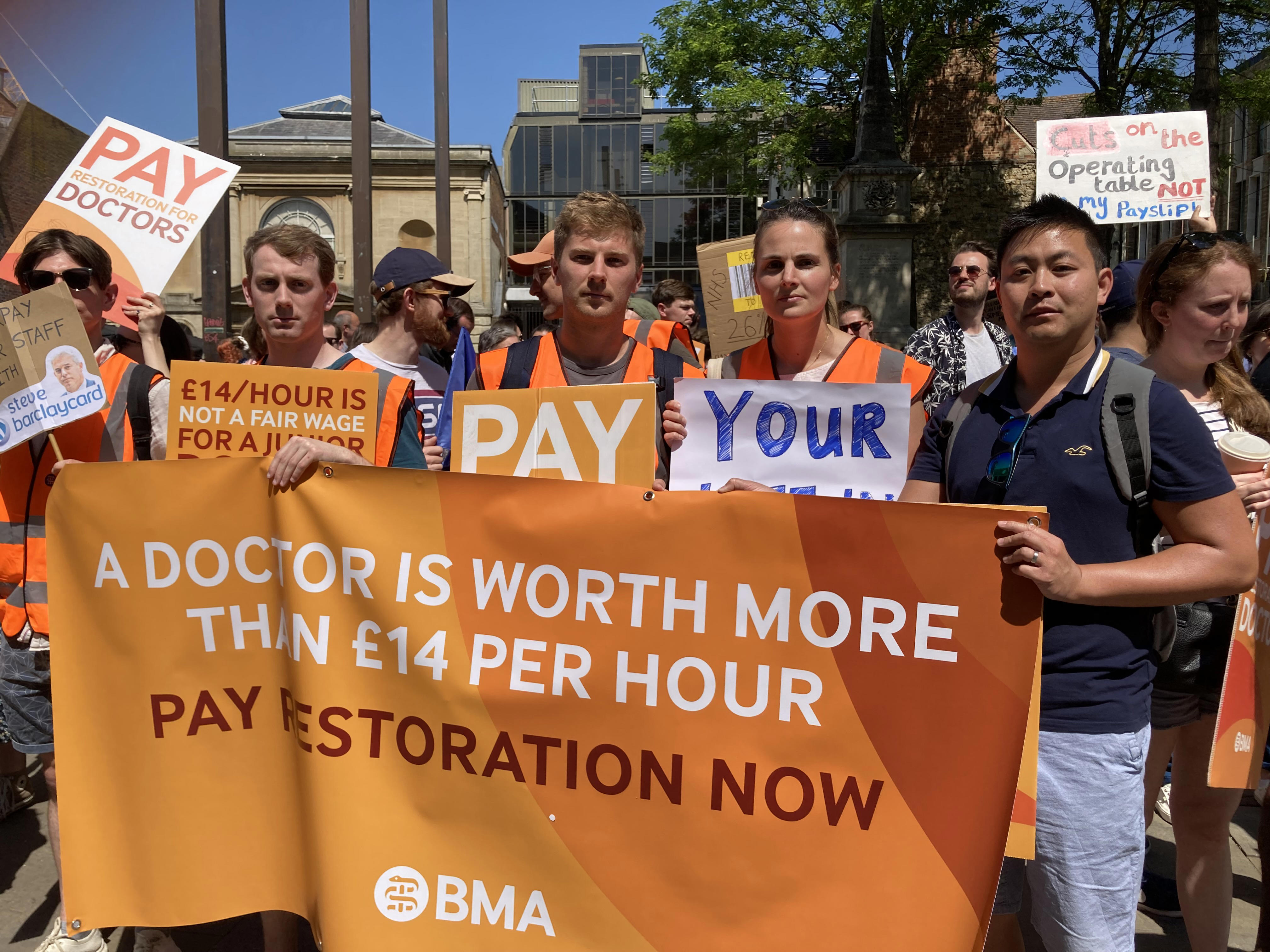 'Everyone striking here today probably has relatives and friends on waiting lists. We all feel conflicted. But we have tried to make ourselves heard, and people aren't listening. Until we feel we're listened to properly, and something's going to change, I think the resolve within junior doctors is very strong.'
Undervalued
Wednesday's rally coincided with the publication of a BMA survey of junior doctors in England which found the Government's inadequate response had left 89 per cent of respondents 'feeling less valued than they were before the dispute started'.
'The Government, either on purpose or not, seem to be thinking that this issue is not something they need to deal with or take seriously,' said Dr Wilkins. 'Five per cent is an insult and they know it's an insult when inflation is over 5 per cent.'
In his speech to the rally, Dr Bilton, chair of the BMA Thames Valley regional junior doctors committee, voiced his frustration with politicians on all sides.
'It is an outrage that we feel we have no choice other than to be here today in the city centre, rather than at work,' said Dr Bilton.
'Rishi Sunak puts his hands in his pockets, has a rummage around, and offers 5 per cent, pocket change. Meanwhile, Keir Starmer calls for more medical students, missing the point entirely. Fix the leaky bucket by pouring more water in? Good one.
'Do any of us really think patients are really going to receive better care with cuts in doctors' pay every year like clockwork? That record numbers of patients attending the emergency department will be seen within four hours, that we will be able to keep them all safe, that we will avoid making mistakes, that we will be able to give them the care that they deserve?
'We all know that the status quo cannot continue. We must hold out for a pay deal that will retain doctors in the UK and the NHS.'
Sunnier climes
The problem of staff retention in the NHS is a recurrent theme among strikers, as junior doctors increasingly consider their options overseas.
Dr Shoulder, who spent 18 months working as a junior doctor in Australia, had experienced 'substantially better pay' there, with fewer hours, 'much better administration' and greater support for doctors' work-life balance. Nonetheless, he wants to stay in the NHS.
'We're at a crisis point in terms of numbers,' he said. 'This idea that we can just increase medical school numbers or start training doctors on wards, it's just laughable. There's not even the capacity to do our normal day-to-day job at the moment, let alone provide the sort of training that we're given at medical school.
'You have to stop people leaving: you can't magic up these skilled professionals, people who want to do this job and who bring the right characteristics to do the job well.'
Continuing support
As a former graduate student with many friends in other careers, F1 Molly Winter is frustrated by constant reminders of how little junior doctors are paid compared with their peers in other sectors.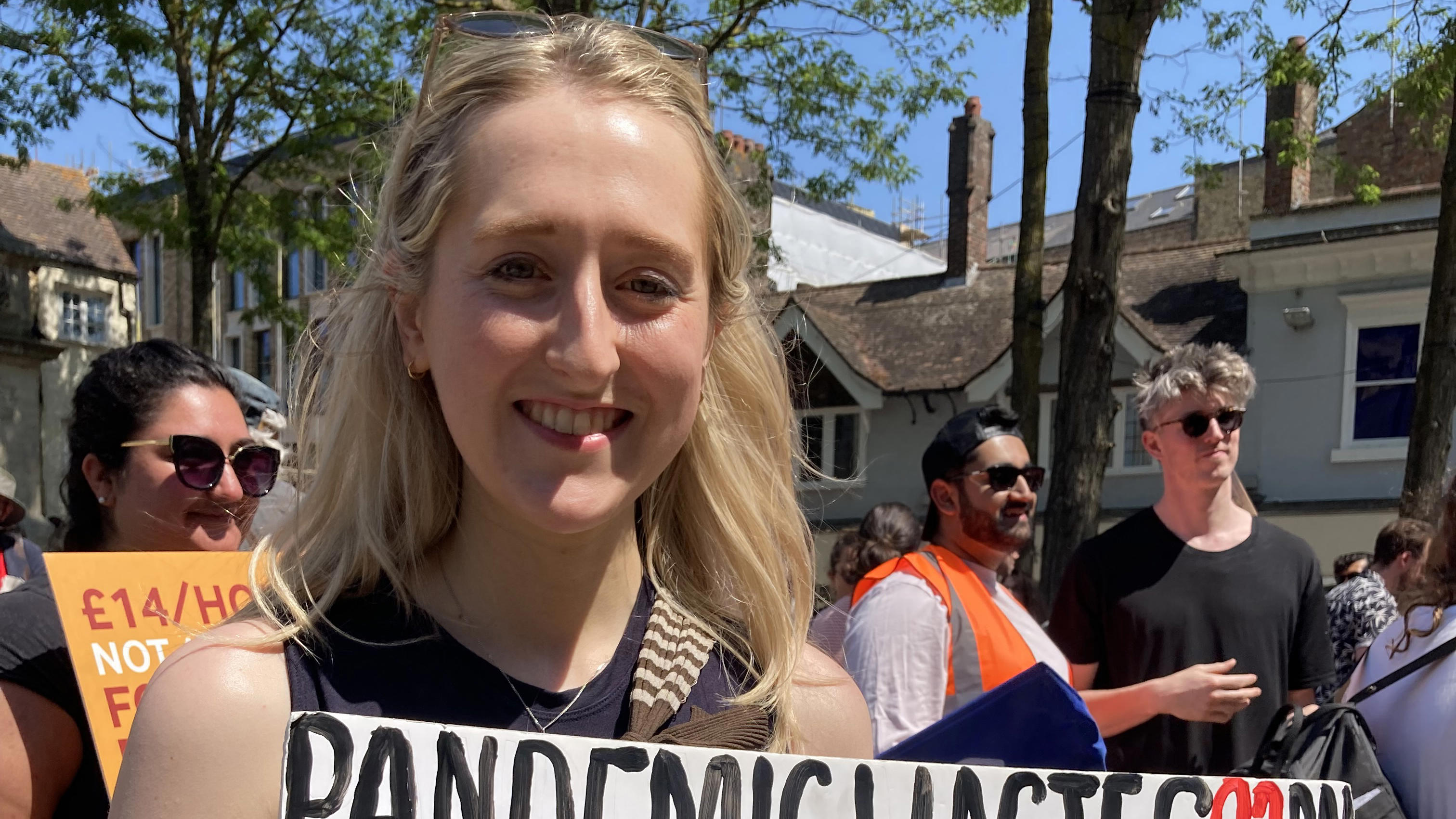 'Yesterday I sat on a stepladder at work because there aren't even enough chairs,' she said. 'I'm someone who came into medicine because I care. I'm not going to follow the money and go somewhere else. This is about pay restoration, good working conditions and ultimately it's for the patients. I want to be in the NHS, I want to fight for the NHS. That's really important to me.'
Dr Winter insists the Government can afford a better pay offer. Her placard refers to £93bn of 'pandemic waste', including £4bn of unusable personal protective equipment, and to the £30bn cost of former prime minister Liz Truss's disastrous 'mini-budget'.
'Money is produced for the projects the Government cares about, and they should care about this,' she said.
All the juniors whom The Doctor spoke to at the Oxford rally feel confident they still have the support of colleagues and patients.
'And I think management probably also sees that pay restoration is important towards solving other problems in the hospital, such as staff shortages,' said anaesthetist registrar George Gladstone. 'I suspect they're sympathetic but aren't allowed to say so.'
Junior doctors will be re-balloted about continuing industrial action from 19 June.
'We're not just standing up for ourselves: we're standing up for the future of the profession in this country,' said Dr Bilton. 'Let's tell them again. Let's keep on telling them until they hear us.'
(Photo credit: Seren Boyd)
System.NullReferenceException: Object reference not set to an instance of an object.
   at Umbraco.Cms.Core.Models.PublishedContent.PublishedContentType..ctor(IContentTypeComposition contentType, IPublishedContentTypeFactory factory)
   at Our.Umbraco.DocTypeGridEditor.Helpers.DocTypeGridEditorHelper.<>c__DisplayClass15_0.<GetContentTypesByAlias>b__0()
   at Umbraco.Extensions.AppCacheExtensions.<>c__DisplayClass5_0`1.<GetCacheItem>b__0()
   at Umbraco.Cms.Core.Cache.SafeLazy.<>c__DisplayClass1_0.<GetSafeLazy>b__0()
--- End of stack trace from previous location ---
   at Umbraco.Cms.Core.Cache.ObjectCacheAppCache.Get(String key, Func`1 factory, Nullable`1 timeout, Boolean isSliding, String[] dependentFiles)
   at Umbraco.Cms.Core.Cache.ObjectCacheAppCache.Get(String key, Func`1 factory)
   at Umbraco.Cms.Core.Cache.DeepCloneAppCache.Get(String key, Func`1 factory)
   at Umbraco.Extensions.AppCacheExtensions.GetCacheItem[T](IAppCache provider, String cacheKey, Func`1 getCacheItem)
   at Our.Umbraco.DocTypeGridEditor.Helpers.DocTypeGridEditorHelper.GetContentTypesByAlias(String contentTypeAlias)
   at Our.Umbraco.DocTypeGridEditor.Helpers.DocTypeGridEditorHelper.ConvertValue(String id, String contentTypeAlias, String dataJson)
   at Our.Umbraco.DocTypeGridEditor.Helpers.DocTypeGridEditorHelper.RenderDocTypeGridEditorItem(IViewComponentHelper helper, IHtmlHelper htmlHelper, Object model)
   at AspNetCoreGeneratedDocument.App_Plugins_DocTypeGridEditor_Render_DocTypeGridEditor.ExecuteAsync()
   at Microsoft.AspNetCore.Mvc.Razor.RazorView.RenderPageCoreAsync(IRazorPage page, ViewContext context)
   at Microsoft.AspNetCore.Mvc.Razor.RazorView.RenderPageAsync(IRazorPage page, ViewContext context, Boolean invokeViewStarts)
   at Microsoft.AspNetCore.Mvc.Razor.RazorView.RenderAsync(ViewContext context)
   at Microsoft.AspNetCore.Mvc.ViewFeatures.HtmlHelper.RenderPartialCoreAsync(String partialViewName, Object model, ViewDataDictionary viewData, TextWriter writer)
   at Microsoft.AspNetCore.Mvc.ViewFeatures.HtmlHelper.PartialAsync(String partialViewName, Object model, ViewDataDictionary viewData)
   at AspNetCore.Views_Partials_grid_editors_base.ExecuteAsync() in C:\home\site\wwwroot\Views\Partials\grid\editors\base.cshtml:line 11