Doctors have said the Government's long-overdue long-term workforce plan is like 'trying to fill a leaking bucket'.
A vast majority of doctors at the BMA annual representative meeting backed a motion today expressing deep concern at the worsening NHS workforce crisis and condemning the failure of workforce planning by successive governments.
The Government announced its 15-year workforce plan on Friday, acknowledging the huge shortage of staff across the NHS. It set out to double medical school places to 15,000 by 2031.
But despite a 'renewed focus on retention' noted in the plan, it made no mention of pay restoration – with junior doctors and consultants in England set to take industrial action this month in a bid to secure pay restoration to 2008 levels.
Shropshire GP Antony Lempert asked: 'Why has it taken until we are in crisis for there to be a plan? Is it a workforce solution or is it another vacuous distorted promise?
'It recognises the need for a huge increase in doctor numbers, but unless the current disputes are resolved satisfactorily the students and newly qualified will be fortunate to gain any experience from the remaining doctors who will be running a daily marathon because many more colleagues will have left.
'Without pay restoration it is like trying to fill a leaking bucket because new doctors will feel equally undervalued and leave. It's time to fix the leak, not ignore it.'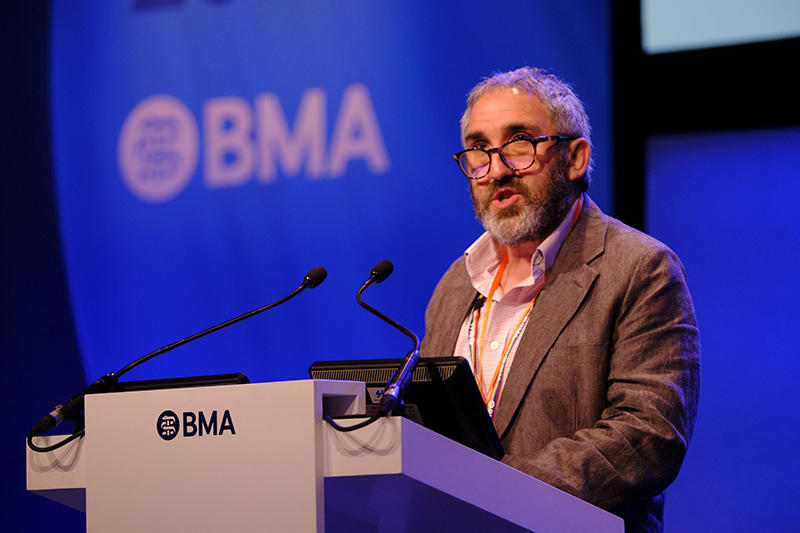 He was supported by Kent GP Reshma Syed, who said: 'When will the Government realise there is no point in training new doctors if they are subjected to conditions that are untenable?
'You need a skilled and fully qualified workforce who are paid exactly what they're worth – and that's not what is happening today.'
Dr Syed warned GP partners are also 'fighting for our very existence' and 'may join in and take a stand' in the future.
'The lack of appropriate pay and conditions is the sole cause of the exodus of doctors out of the profession,' she added. 'Overworked, underpaid, burnt-out doctors impacts on the deliverance of safe patient care.'
She added: 'It is time the Government realises we are not the problem, we are the solution. But only at the right price. Only if we are valued will we serve our NHS.'
Strike debate
Calls to stand in solidarity with doctors who have voted to take industrial action, and for appropriate and urgent pay restoration, were also debated.
David Randall, a consultant from London, said '35 per cent pay restoration is the wrong goal and strike is the wrong approach', urging his colleagues instead to press for a lower pay rise.
But the motion was carried with more than 90 per cent of votes in favour, after BMA deputy council chair Emma Runswick noted that between 1,600 and 1,700 doctors had relied on the support of the BMA's strike fund to take industrial action.