A new cohort of foundation year doctors has brought fresh impetus to the continuing junior doctors dispute with the Government in England.
The fifth round of industrial action in England began on Friday 11 August, with thousands of doctors walking out for four days with continued determination as they seek a more credible offer than the 6 per cent and lump sum of £1,250 imposed by prime minister Rishi Sunak last month.
The pay award equates to roughly a 10 per cent increase – which is below inflation and follows years of pay erosion that has seen real-terms pay reduce by more than 26 per cent since 2008.
There was renewed energy on the picket line at St Thomas' Hospital in central London, in the shadow of Parliament, on the first day of the walkout.
Foundation year 1 Jessica Chan (pictured above centre) said it had been 'nerve-wracking' and 'demoralising' coming into the profession at a time of industrial dispute having starting as a fully qualified doctor last month.
Absent rewards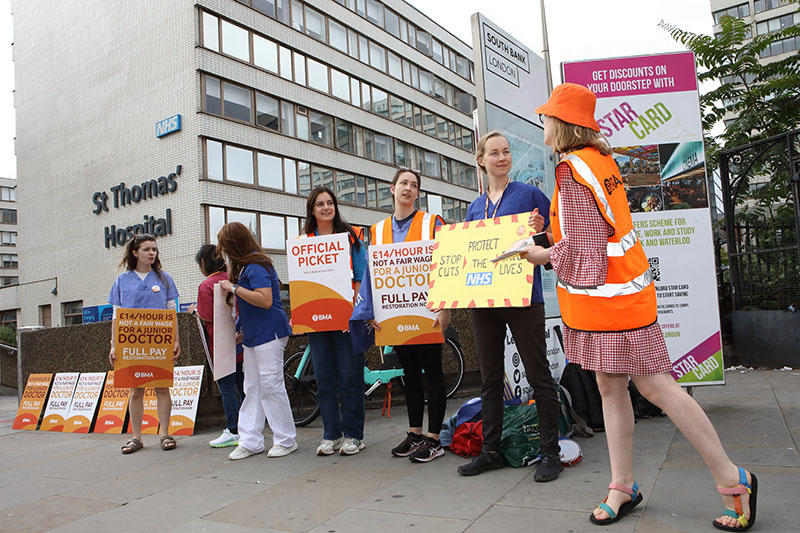 Fellow F1 Georgina Knapman told The Doctor: 'Being on placement for the last few years we have seen how hard everyone works and how they struggled through COVID and haven't been rewarded.'
Pay has eroded against inflation significantly in the five-six years most new F1s spent studying in medical school. The average 8.8% pay award given to junior doctors in  England in 2023/24 does not re-dress their real-terms (RPI) fall over the past five years of 14.5%, even before considering continuing high inflation during 23/24. 
Dr Chan said two registrars she works with told her they were leaving, and some consultants had told her during medical school that she was making a mistake entering the medical profession in the UK.
The GMC's 2022 workforce report notes 'a marked increase in those leaving UK practice'. Doctors say retention issues have left huge rota gaps and under-staffed wards.
Dr Chan is down to work 69 contracted hours, before factoring unpaid overtime, in her third week as an F1 next week.
She compares her graduate experience to university friends in other professions, who typically work nine-to-five shifts and get paid more than her.
'Seeing patients is what I signed up for, I love it, but I feel like I'm not being rewarded for it,' she said.
Eye on the door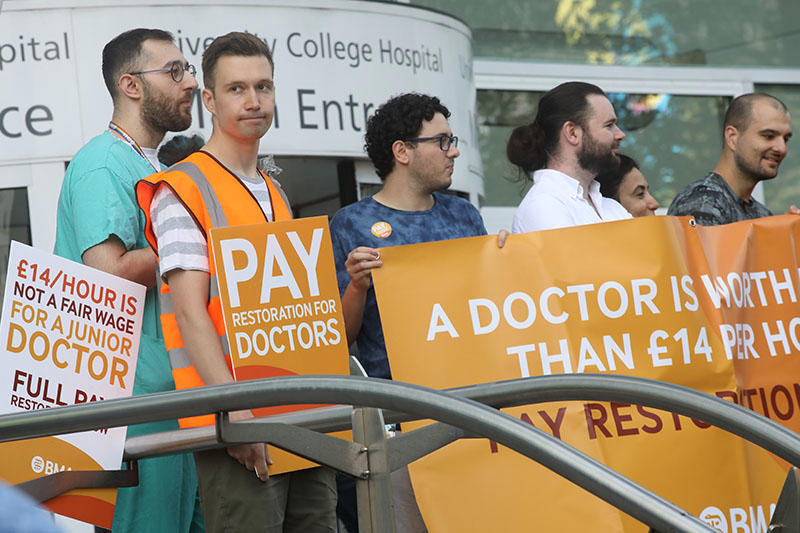 Dr Chan and Dr Knapman reported instances of colleagues and former medical school friends already planning to leave the NHS after their F1 years because of the dire working conditions and pay they have witnessed during medical school placements.
But they are hoping continued strike action will help doctors win a fair pay award that can convince more colleagues to stay in the NHS and make staffing levels safe for patients.
Noting how the Government's pay offer has shifted over time for doctors as well as for other professions, Dr Knapman said 'we have seen a shift already'.
Adam Daneshmend, a specity trainee 5 at St Thomas' Hospital, said new F1s joining the strike action had given 'fresh impetus' to the pay restoration campaign.
'They are the doctors who are most affected,' he said. 'They have the highest levels of student loans, and they have the worst real-terms pay of any doctors in the last 15 years. They are the ones that this matters to the most. They are fresh into their careers and they need to make it work.'
Better offer
Arjan Singh, a member of the BMA junior doctor committee at St Thomas' on Friday morning, said the new intake of F1s are expected to boost votes in favour of extending the BMA's industrial action mandate through the re-ballot of members.
'Doctors are aware that this is our last chance to salvage our profession and that this is likely to take a long time,' he said.
'Ultimately, all we want is a credible offer, where F1 doctors are paid £20 an hour for their life-saving work, and sacrificing their friendships and relationships by being moved around the country at the behest of the NHS. It's a perfectly reasonable ask.'
Dr Singh made the point that the estimated £1 billion cost so far to the NHS from the junior doctors' strikes is about the same amount as it would have cost to restore pay to 2008 levels.
'It's getting to the point now that the Government is actually in a deficit against what it would have cost to restore our pay, putting party politics above patient safety,' said Dr Singh. 'That money could have helped retain doctors and reduce waiting lists.'
Cost equivalent
Dr Daneshmend said spending the £1bn on restoring pay at the start of the dispute 'could have stopped the strikes altogether'.
Co-chairs of JDC Robert Laurenson and Vivek Trivedi noted how the Government has not engaged in talks with them for three months, despite repeating that their door has always been open.
In a statement, they said: 'We are now at the stage where a whole new cohort of junior doctors is entering the profession, only to be immediately given no choice by the Government but to go on strike for their future. The Government should be ashamed that this is the state of the profession they are presenting to our newest doctors. 
'If they want a health service that retains this talent for decades to come, they need to come to the table – not in weeks, not in months, but today. This dispute should never have gone on so long.'
The latest round of strikes are set to continue until 7am on Tuesday 15 August. The ongoing reballot is open until Thursday 31 August.