According to latest Home Office figures there were 75,492 asylum applications in year ending March 2023, a third higher than the previous year.
Amid sensationalised headlines and political arguments over how to meet the challenges posed by those seeking safety and shelter, perhaps most notably the passage of the Government's illegal migration bill through Parliament, many doctors are increasingly alarmed by the negative health and wellbeing outcomes being faced by many would be refugees.
Hundreds have found themselves forced into overcrowded and unhealthy accommodation including hotels and former army barracks.
Speaking at the ARM in Liverpool on 4 July, final year medical student and MSC co-chair Raymond Effah made his feelings about the Government's response crystal clear.
'Stop the boats. That is the three-word slogan bandied around by this government [that is] always seeking to inflame and dehumanise the struggles of migrants and immigrants.
'Just two days ago the Home Office admitted placing a nine-year-old child alone in a hotel, the same hotel where 220 vulnerable children went missing. Some may think it incompetence, I see it as evil.'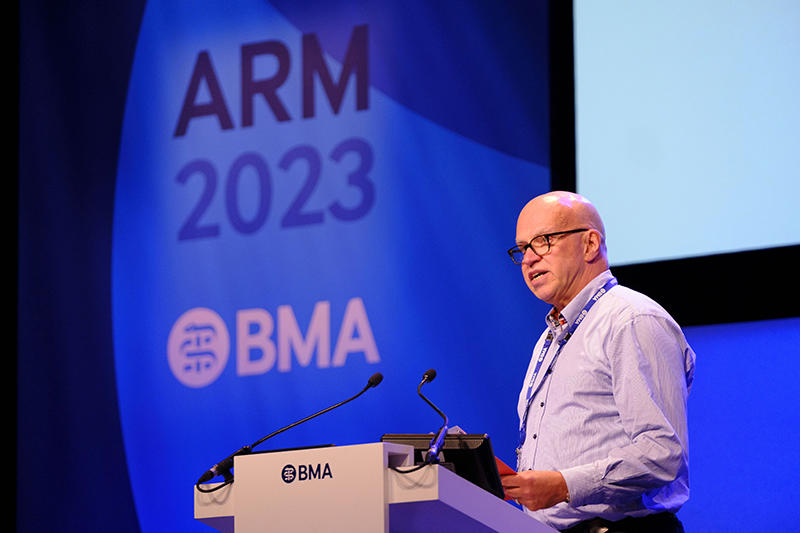 In 2021, the WHO adopted its Global Patient Safety Action Plan 2021–2030, which in part seeks to address the health concerns of displaced people seeking asylum by encouraging member states to incorporate migrant health needs into their own national health agendas.
Despite the UK being party to the plan's aims, Brighton GP Paul Rogers said that there were serious questions as to how the Government was meeting these obligations, both to asylum seekers and to public health.
'We must ask how is the UK Government and specifically the Home Office performing against these priorities?
'One of the concerns is the quality of detention settings in recent years, [where] there have been an increase in the number of deaths.
'When we look at the safeguarding of children further concerns arise. In January 2023, the minister for immigration responded to a question in Parliament, acknowledging that 220 vulnerable children had gone missing [from hotels housing refugees].
'Another situation of worry is the increase in cases of diphtheria in England as reported by the UK Health Security Agency [with] most of these cases, appear to originate from detention centres and immigrant housing.'
Against Rwanda policy
The BMA has expressed its strong opposition to the Government's illegal migration bill, its provisions to expand detention powers and forcibly expel asylum seekers to Rwanda, a proposal recently rejected by the Court of Appeal and likely to be argued in the Supreme Court.
For Exeter medical student Naabil Khan treating asylum seekers with compassion and providing them access to appropriate care was a matter both for ensuring health and wellbeing but also basic humanity.
'I was watching the news the other day, and I was horrified by the aims plastered behind our current Prime Minister during one of his speeches. The final point or aim that was mentioned was stop the boats,' Ms Khan told ARM.
'It may seem like three words of little importance a harmless phrase in the background of another news shot, But what it meant was this hostile reception of migrants by our government, with this level of anti-migrant and asylum seekers sentiment, the concerns behind the lack of health care provisions and organisation for migrants are valid and prevalent.
'Public health holds an incredibly important role in ensuring migrants who reached the UK are treated and in part accepted by this new environment, they enter. With more children going missing the COVID-19 exacerbating the inequalities and healthcare security felt by migrants, it is time we stand up and speak out against the lack of organisation, support and reflections carried out by our government.'