The invasion of Ukraine in March this year has inflicted the kind of horror and destruction of armed conflict that many hoped had been confined to the dark history of Europe's 20th century.
The ongoing war has already seen thousands of deaths and casualties among both militaries and of Ukrainian civilians, with millions of people having been internally displaced or having fled the country for safety altogether.
The BMA condemned Russia's invasion at the outset while simultaneously voicing its solidarity with Ukraine and its people and extended support to Ukrainian doctors based in the UK.
The ongoing and intensifying fighting however, particularly the apparently deliberate targeting of healthcare professionals, hospitals and other medical facilities, along with a growing humanitarian crisis of refugees, saw doctors speak out at this year's BMA annual representative meeting to demand greater action.
Medical targets
GP Samuel Parker (pictured above) told the conference that attacks against medical facilities were criminal acts which threatened to exacerbate a health crisis in Ukraine and beyond.
Calling for an immediate peaceful end to the conflict, Dr Parker condemned the targeting of medical facilities and civilians and urged the BMA to lobby the Government to provide greater assistance to refugees and training for Ukrainian healthcare staff.
'The WHO has verified attacks on healthcare in 11 countries and territories this year, however the weaponization of healthcare destruction in Ukraine is unprecedented,' he says.
'Medical staff and ambulances have been targeted and hospitals converted into military strong-holds, half of Ukraine's pharmacies are closed [and] at least 169 Ukrainian medical facilities have sustained significant damage mostly from heavy weaponry.
'The devastation inflicted on health infrastructure and medical supply chains further hinders treatment of patients with war-related trauma as well as those with chronic conditions.'
Disease threat
Dr Parker further warned that the damage being wrought on Ukraine's health services along with the displacement of millions of people was increasing the risk of infectious diseases such as measles and polio.
The impact of the war on Ukraine's grain harvest also posed a serious risk to global food supplies and raised the possibility of shortages and famine particularly in developing countries in the Middle East and Africa.
A UN report published in May found that the were more than seven million Ukrainians internally displaced, while almost three million Ukrainian refugees recorded as having taken refuge in countries immediately neighbouring their own with hundreds of thousands more have sought safety in other European countries.
As of 28 June, the UK has received 168,000 visa applications from Ukrainians, with 142,500 having been granted and just 86,600 Ukrainians now in the UK.
The application process has come under criticism for being overly complex and slow to navigate.
Turned back
Emphasising the difficulty faced by many trying to seek asylum, GP Gillian Shirley Beck read out a text message from a Ukrainian GP who advised that they were giving up their attempt to claim asylum in the UK.
In the message, the doctor said she had been left exhausted by the difficulties of navigating the visa application and had taken the difficult decision to return to Ukraine in order to reunite with her husband.
Citing both the inadequate response to the humanitarian crisis in Ukraine, as well as the recent policy to relocate asylum seekers arriving 'illegally' in the UK to Rwanda, Buckinghamshire GP James Murphy labelled the Government's asylum policy as 'an affront to our country's values'.
Calling for an end to visa requirements for refugees and for a new asylum application system in line with those used by most European countries, Dr Murphy said that the BMA had a duty on health and humanitarian grounds to lobby for change.
'In the words of the joint council for the welfare of immigrants the reason [many] people seek to enter the UK by irregular routes is because there are simply no safe or legal routes of entry to the UK.
'Those that do manage to make it to Britain face punishing delays for application decisions while forced to exist on a pittance with inevitable consequences for physical and mental health.
'Proof of the Government's inhuman approach to asylum are legion, from the devasting Windrush scandal to the barriers to visas to Ukrainians fleeing war and now the whole disgusting Rwanda policy.'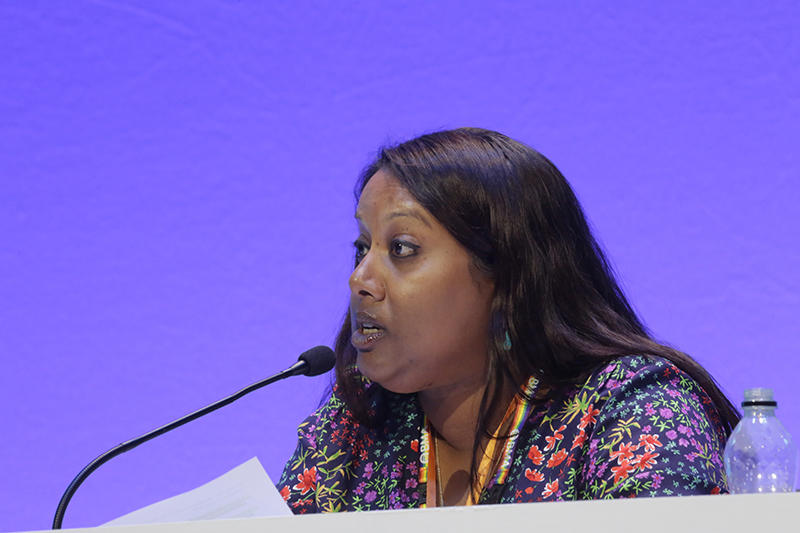 Addressing both motions, BMA International committee chair Kitty Mohan said she and the association would continue to speak out against the Nationalities and Borders Act as well as work with ministers, medical schools and the GMC to monitor and find new ways of providing assistance.
'Doctors stand together today united on the principle of treating all those in need without fear or favour,' she says.
'The BMA has already called for medical neutrality to be respected even as hundreds of attacks on healthcare workers are documented. We have donated to and promoted the British Red Cross Appeal; called for Ukrainians newly arrived in the UK to receive better information about their entitlement to healthcare and advised on immigration concessions.
'The BMA supports the development of a single, fair, humane and effective refugee system in keeping with our obligations under existing humanitarian human rights law, including the right to necessary and appropriate healthcare irrespective of an individual's route to the UK.'