'We are here today to stand up for our pay. For too long we have been undervalued, we have reached the end of our tether, the government has pushed us to our limits.'
Vivek Trivedi, co-chair of the BMA junior doctors committee energised the crowd at Trafalgar Square on the afternoon of 11 April as thousands of doctors descended on the capital in the first day of the second round of industrial action over pay restoration.
A good-natured atmosphere saw thousands of doctors engage in chants of 'claps don't pay the bills' and dance to the song used in a social media crab video used to show strength in numbers. The sea of people was peppered with orange from the BMA beanies many were wearing.
Junior doctors want the Government to restore their pay to the same level as 2008, accounting for inflation. This week's four-day walkout is the second round of industrial action, following three days of strikes in March.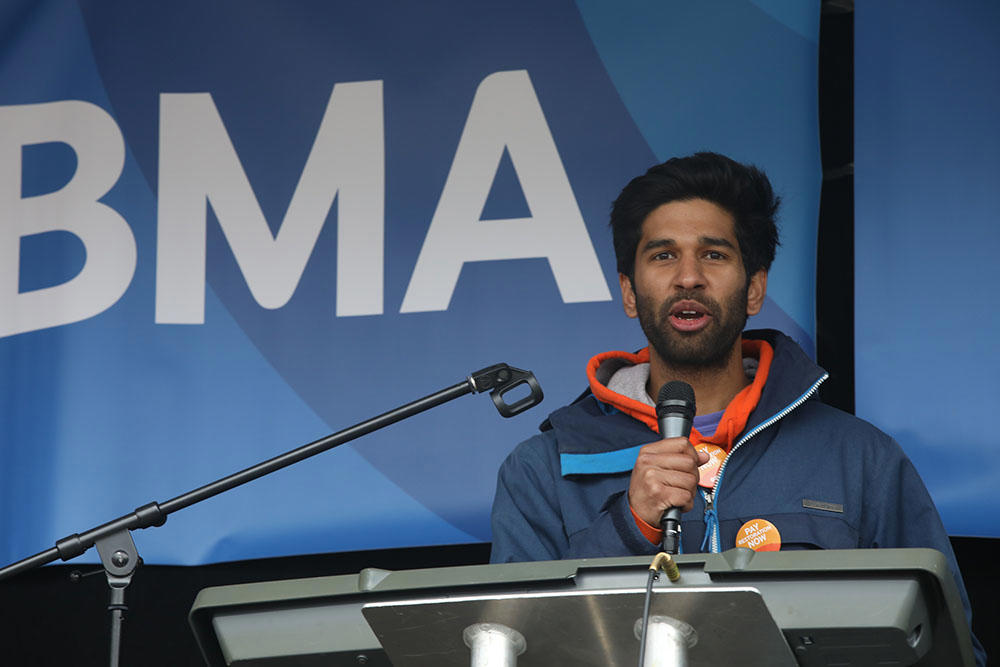 'We have watched our profession degrade,' said Dr Trivedi. 'But we are no longer standing by.'
He told doctors if they 'stick together' and 'strike together' they will 'win together' and warned them of the Government's 'divide and conquer' strategy, highlighting instances of newspaper 'hit jobs' on members of the JDC so far in the dispute.
'It will not be easy, and it won't be quick,' Dr Trivedi told the crowd. 'It will be a test of our resolve, but we will hold true – not just for ourselves and our future selves but for those yet to come.'
Noting the years of real-terms pay cuts with inflation soaring past any rises in salary, he said: 'It's clear now that no one else will fight for us. We as doctors have to take back our power.
'This is the start of building back the value of our profession. A union that can win pay restoration is a union that can win anything.'
No choice
Junior doctor Arjan Singh told those in attendance at Trafalgar Square: 'None of us want to be here. We have been forced into this. But today is a day of hope.'
He recalled how doctors risked their lives during the pandemic, while 'sharing face masks and wearing bin bags for PPE' only to face 'pay cut after pay cut after pay cut'.
Dr Singh noted how doctors were leaving the NHS in their droves and resulting staffing levels meant the health service was operating at about 500 excess deaths a week.
'We can't perpetually run an NHS on goodwill, the goodwill runs dry,' he added. 'Stick with us. This opportunity will not arise again, and we will win.'
Shoulder to shoulder
Consultant members of the BMA are in 'solidarity' with junior doctors, said BMA London regional council chair Kevin O'Kane.
Addressing the crowd, he said 50,000 doctors sticking to their collective action together would be 'invincible' and promised consultants would provide cover for juniors 'for as long as it takes to get pay restoration'.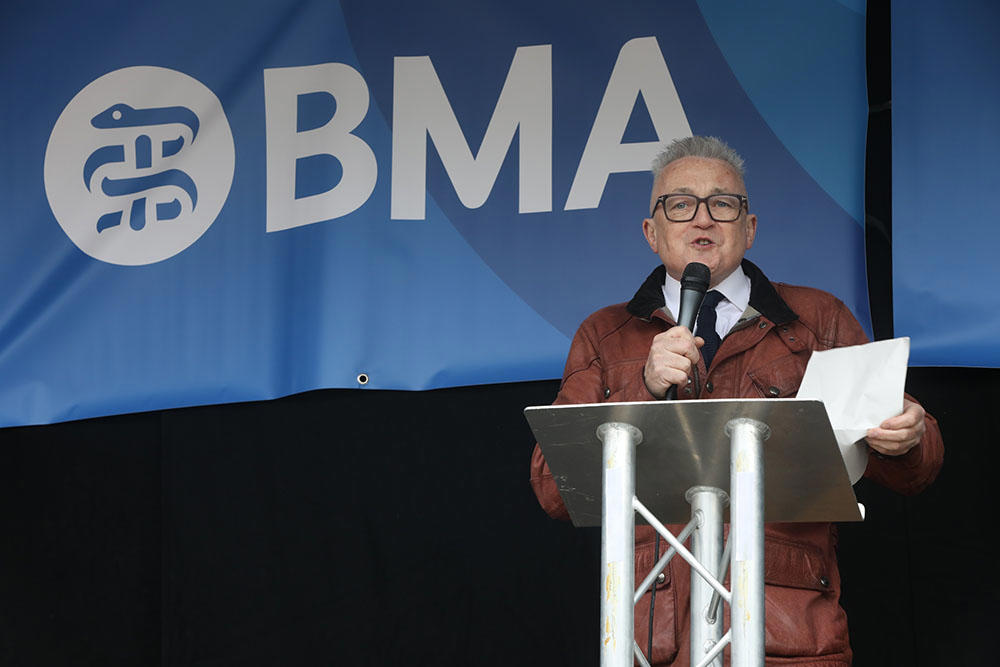 'Consultants are learning from your example,' he said, noting how consultants are due to go to their own ballot next month. 'It's time to extend the fight to fair pay for all doctors. Stay strong, stay united and keep going.'
After the rally, doctors made their way to Downing Street where protests and chanting continued.
The industrial action is scheduled to continue throughout this week, with picket lines outside hospitals and rallies in Birmingham, Leeds and Newcastle.