The BMA in Scotland is seeking an urgent meeting with the health secretary to demand action on the growing medical workforce crisis – and has warned that doctors are prepared to take industrial action.
Lewis Morrison (pictured above), outgoing chair of Scottish council, said doctors felt devalued, disillusioned and angry – and said they would no longer accept the 'status quo' of repeated poor pay awards.
All options – including industrial action – were on the table, he said.
A survey of more than 3,100 doctors in Scotland has revealed unhappiness with the Scottish Government's offer of a 4.5 per cent pay award – a real-terms cut. This is lower than the level offered to other healthcare workers, which their unions have rejected.
Almost nine in 10 respondents to the BMA survey said the offer was too low, with three quarters saying it had further decreased morale. Worryingly, almost six in 10 (58 per cent) said the pay uplift made them more likely to leave the NHS, while 78 per cent said they would be willing to take industrial action.
Situation unacceptable
'The level of dissatisfaction, disillusionment and indeed outright anger amongst many doctors that this survey shows is clear,' Dr Morrison said.
'It puts the Scottish Government on warning that the status quo for doctors in Scotland is no longer acceptable and in truth hasn't been for some time.'
He said doctors had suffered years of pay erosion and were bearing the brunt of trying to care for patients in an NHS collapsing around them. 'And that's after more than two years of heroic efforts on the front line of the pandemic,' he added.
He said the Scottish Government must 'wake up' to the crisis in the medical workforce and take serious action, starting with better pay awards. He also called for action on punitive pension taxation, which is driving doctors to retire early, and on other issues – large and small – to make the NHS a better place to work.
'Without all of this, we risk losing more and more doctors, vacancies becoming even worse, and therefore making any kind of recovery of our NHS from its current parlous state impossible,' Dr Morrison added.
Next steps
Along with the chairs of all the branch-of-practice committees, Dr Morrison and his successor, Iain Kennedy, who takes over as chair of Scottish council at the end of this month, has written to Humza Yousaf, the cabinet secretary for health and social care, seeking an urgent meeting.
Meanwhile, individual branch-of-practice committees will consider implications for their own members and their own next steps.
'While it will ultimately be up to each committee on how to proceed, I would expect all options, including different types of industrial action and leaving the DDRB process will be on the table,' Dr Morrison said.
'Of course, no one would ever take industrial action lightly and it would only be a last resort when other avenues have been exhausted. But it is clear from our survey that this is a live option, and members are willing to consider taking a variety of types of industrial action, up to and including strike action if required as a last resort.'
Chair incoming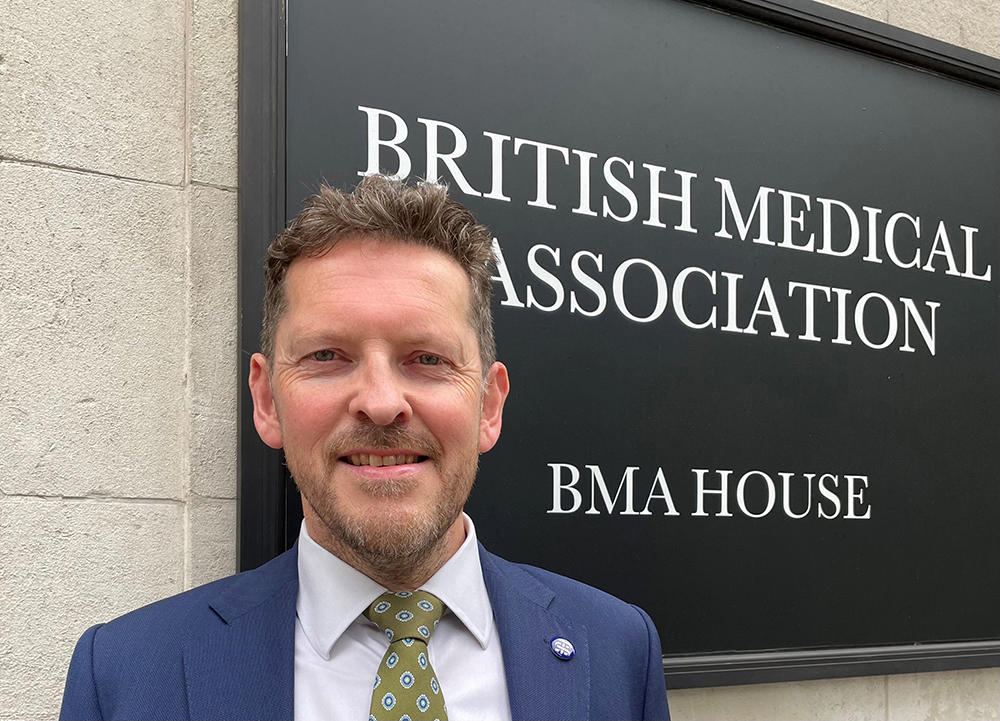 Iain Kennedy, a GP in Inverness, has been elected as the new chair of BMA Scottish council, and will take up post on 30 August.
Dr Kennedy is the executive partner of Riverside Highland Medical Group and has worked as a GP for 25 years. He has been an elected member of BMA Scotland for almost 14 years sitting across a number of committees and was the lead whistleblower on bullying culture which led to the Sturrock Review of NHS Highland.
He said he was proud to have been chosen by his peers. 'Anyone with experience of working in the health service right now will be under no illusion of the precarious state the health and care system is in and the impact this is having on doctors and the care we can provide for patients on a daily basis,' he said.
'Healthcare workers are exhausted, facing burn-out and are looking for a brighter future. Colleagues are telling me they feel undervalued and unsupported by the health service: there is much to be done, and this will require teamwork. My team and I will aim to engage rapidly with government, politicians and key stakeholders to make the health service in Scotland far better for the workforce and patients.'
Dr Kennedy also paid tribute to outgoing chair Dr Morrison, saying he had been a fantastic leader, steering the ship during the worst of the pandemic.