It was 6pm in the operating theatre and Anjali* had been due to finish work at five.
She knew she had to pick up her son from the childminder before 6.30pm – but, because of her training rotation, she was a 45-minute drive away. She spoke to her consultant and asked if she could go – an hour later than she was supposed to. His response wasn't encouraging.
'He said to me that this simply wasn't compatible with a career in surgery,' she says. 'My husband was on-call, there was nobody else to collect my child. I had already stayed an hour after I was supposed to be staying, and I knew I'd be rushing in any case. What was I to do?'
Anjali isn't alone. How to balance work and family life is a conundrum that faces many doctors – male as well as female – and there is some evidence that specialties such as surgery make it even tougher.
We found that hospitals simply didn't appreciate that you have childcare issues

Anjali
According to Mend the Gap, the independent review into gender pay gaps in England, surgery is 'deeply segregated' as a specialty, with women found in lower proportions, and those who are there being on the whole younger and more junior.
It also quotes survey data that suggests that surgical specialties are less supportive of less than full-time working – just 10 per cent of surgeons reported ever having worked LTFT compared with almost half (47.7 per cent) of GPs, for example.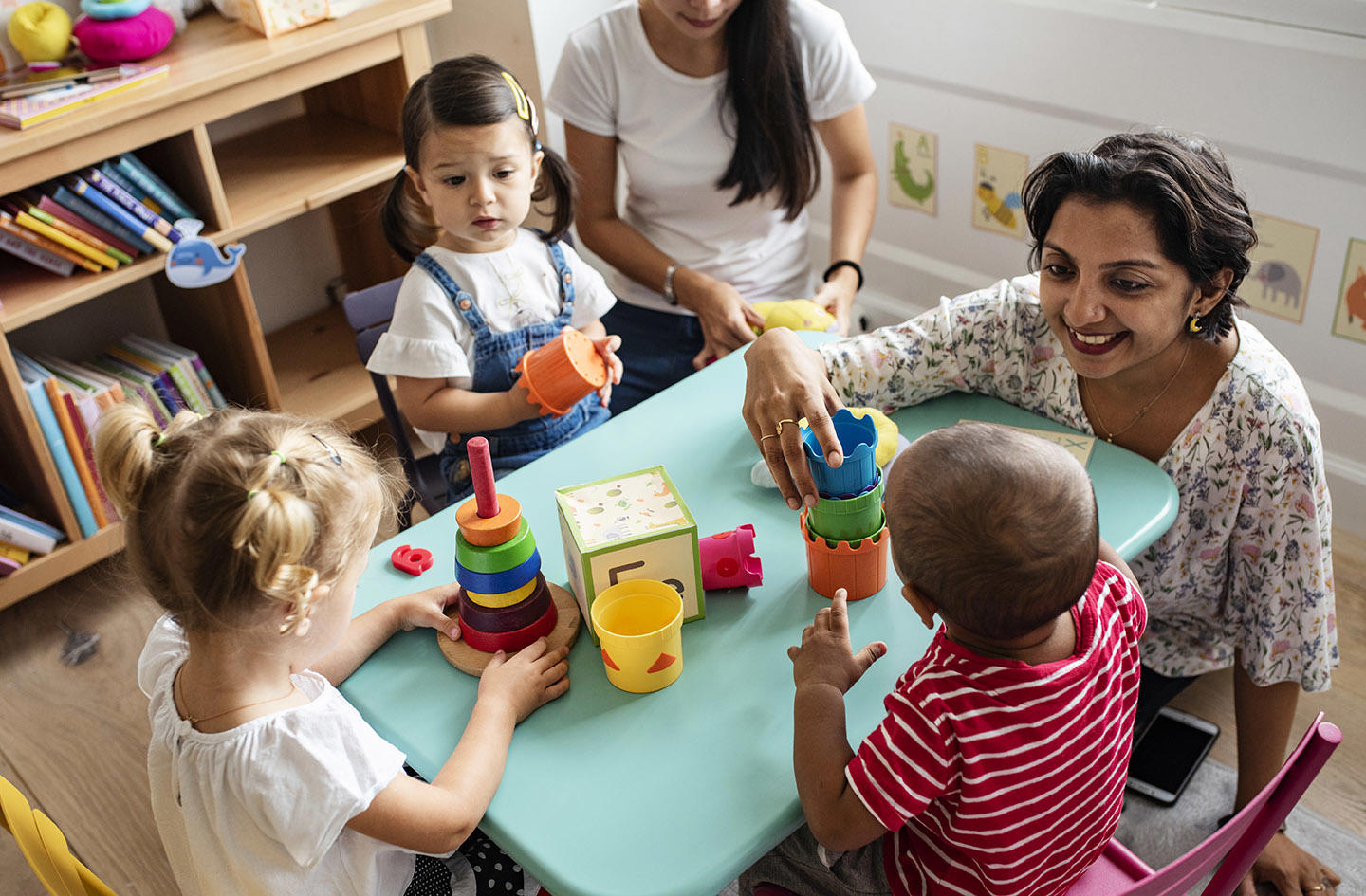 One disturbing finding outlined in the review was that 29 per cent of women doctors said their partner's career was a barrier to their own career progression, in comparison to 15 per cent of men.
Possible reasons for one career taking precedence include the wide geographical spread of some training posts, but childcare is also a factor, and the reason why in so many cases it's the woman's career that takes the back seat.
Lack of support
This is not the case with Anjali, whose husband was also training to be a surgeon but decided instead to switch specialty.
'We had so many problems with childcare that he decided to quit surgery and retrain as a GP so that our child would reliably have a parent to hand, because we were finding it very difficult to do wraparound care,' she says.
'We found that hospitals – whether it was in a training or other post – simply didn't appreciate that you have childcare issues. We're both from different countries, and we have no social support in the UK, so all childcare issues come down to him and me.
'And when he was working in hospital, they were calling him before he was due to be in asking him where he was, and he couldn't leave on time to pick our child up from nursery.'
Childcare isn't just a female issue, it's an issue for everyone

Anjali
He was the one who made the decision to change specialty, she stresses. 'At first I told him I'd prefer he didn't do it, and he still misses operating to this day. So it was a sacrifice, but it was one he was prepared to make for our family.
'I think that in modern terms childcare isn't just a female issue, it's an issue for everyone. I don't think I'd be able to do my career if I didn't have a really supportive husband who was able to or willing to change track.'
There have been repeated initiatives to try to encourage more women to take up surgical specialties, not least the Royal College of Surgeons Women in Surgery initiative.
But given that this project marks its 30th birthday this September, and the ratio of male to female consultants remains at eight to one (although the number of female consultants has risen by 10 per cent in that time) it's fair to say that more needs to be done.
Financial basis
According to Helena McKeown, chair of the BMA's representative body, who helped set up the BMA's network of elected women, childcare remains a vexed issue for doctors who are parents, particularly those in mixed-sex medical couples.
Steps such as enhanced shared parental leave (available to junior and SAS doctors and some GPs but not to consultants) help, but as it is, women's careers are still often bearing the brunt.
'If you're a couple working out how to maximise your income and have the best lifestyle for your family, you might well prioritise the career that's bringing in most money,' she says.
'It's still the case that women will often marry a man who is two or three years older, so he'll be further ahead in his career, and then – because nature dictates it that way – women will have some time having a baby and then on maternity leave, so they may become even more behind.So when you're making that decision as a couple for the benefit of your family, you're going to prioritise the higher income.'
You might well prioritise the career that's bringing in the most money

Dr McKeown
Of course, it isn't all about the money – and some couples, even those where both partners are surgeons, have opted to take a financial hit so that they can keep both their careers on track.
Although he is a consultant and therefore isn't entitled to an extended period of paid parental leave, urological surgeon Euan Green (pictured, top) opted to stay at home with baby Dilan for three months.
'My wife is a surgeon as well, and we decided to split it, so she had nine months leave and I had three with some overlap.
'My wife suggested it and the more we looked at it, it made sense – after all, my job's not more important than hers, and he's my son as well.'
Mutual understanding
His colleagues were mostly supportive, he says, but in money terms it wasn't a straightforward decision. 'I think I got one week of statutory paternity pay [for the three months] which is peanuts in terms of what my salary is and the cost of a mortgage and raising a child. For me to take that time off needed some fairly serious financial planning.'
Now that both are back to work, there remains a pay gap between Mr Green and his wife, Sandhir Kandola, who is an ST8 in vascular surgery at Manchester Royal Infirmary and about to take up her first consultant post.
The pay gap is due to a number of factors, including seniority because Miss Kandola took time out to do a PhD and also switched specialty during training which meant she took longer to reach consultant level.
For me to take that time off needed some fairly serious financial planning

Mr Green
But it is also down to working hours – she will be at 80 per cent on 10 PAs, while he will remain full time at 12. This is his preferred option from a financial point of view, but also for other reasons, he says.
'I've thought about it, but it's a question financially of how things stack up because I've outgoings that necessitate money coming in. But the other thing is that if I cut down the number of sessions I work, inevitably it will be a lot of the non-clinical work that goes, and that's something I'm really interested in. It would be difficult to fit that in.'
Few women
Although she is working fewer hours and earning less, Miss Kandola is adamant that she is making no compromises with her career. Having chosen vascular surgery, she is aware that in terms of unpredictability and high on-call demands it's one of the toughest of sub-specialties, and it's still one where there are relatively few women.
'I'm the 12th consultant appointed to this department, and the other 11 are all men,' she says. 'A few of them have children and we all have to run our childcare to the wire. It's going to be tough when I'm on-call – but it's the same for all of us.'
Although some things such as childcare might be easier with a partner from another specialty, there are advantages to being part of a surgical couple, she says.
'We have a mutual understanding of our jobs that I think some non-surgeons would struggle with,' she says.
She believes that she and her husband learned a lot when he was on parental leave and she was back at work.
'It taught me what it was like to be the one who comes home, tired from a long day at work, and then relieving the person who's also had a long day with our baby,' she says.
Miss Kandola clearly has an eye to the future – her department is going through a period of change and she can see a lot of potential for her skills. But she doesn't believe it needs to be right away.
'I'm happy to wait until the right time. My mum had to stay at home with me and my brother because we moved to Italy and the EU didn't recognise her qualifications (she was a pharmacist).
'When we came back to the UK, I was 12 and she would have been approaching 40. She bought a pharmacy shop to own and run, and then bought some more, and ended up with a small chain. Eventually my dad gave up his job for a large company and worked for her instead.
'The years she spent at home with my brother and me didn't hurt her ambition, and didn't hurt her career in the end. She still achieved what she wanted to do.' 
* 'Anjali' is a pseudonym