'Some people are born with a silver spoon and some have to struggle, and I was one of the latter.'
Arun Baksi's philosophical assessment of the challenges he faced during his long medical career, is suitably in keeping with the modesty with which he regards his many achievements.
These include being the founder editor of a leading medical journal Practical Diabetes and, following his years of service as a consultant, receiving the honour of having a centre for diabetes and endocrinology named after him on the Isle of Wight.
His other notable and continuing contributions to healthcare include being a tireless advocate for patients and their right to be involved in their own healthcare and highlighting and challenging inequality both in the medical profession and wider society.
Destiny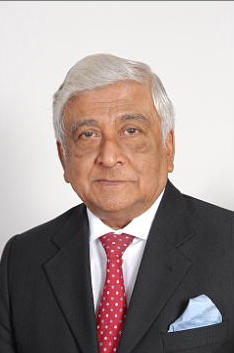 Born in India shortly before the outbreak of the Second World War, Dr Baksi says he knew from an early age that he was destined to pursue a career in medicine.
'My maternal grandfather was a doctor and though I never met him, I heard about his work and how he had helped people from a very early age,' he says.
'I can remember when I was five or six-years-old playing as a doctor and there was no doubt in my mind that that was what I was going to be.'
After completing his education at a Jesuit boarding school in Darjeeling followed by medical school in Calcutta, the newly qualified Dr Baksi immediately set his sights on the next stage of his career.
In 1961 he decided to journey to the UK where he hoped to gain further training and experience.
After struggling to find a job he eventually secured a post in a district hospital in Merseyside.  
In those days discrimination was both rampant and respectable

Dr Baksi
After reaching the position of senior registrar in general medicine, Dr Baksi sought to progress to consultancy yet found himself constantly being passed over for promotion.
'In those days discrimination was both rampant and respectable,' he says.
'You had to apply many times and get used to seeing people far more junior than you getting these jobs.
'One day I got a letter from the Liverpool-area health authority to say that we consider you fit to be a consultant, that my training was complete and that my contract as a senior registrar would not be renewed.'
Taken all the way
Unable to become a consultant and now stripped of his role as a registrar, Dr Baksi sued the health authority for unfair dismissal, with his case making national headlines following coverage in the Times newspaper and World Medicine.
He even met on several occasions with his local MP and then Prime Minister Harold Wilson, to discuss his case, with the Labour leader apparently surprised at Dr Baksi's determination to continue his legal challenge.
'I said [to Wilson] that it was my duty to do this to show the injustice and I need to bring it to the notice of people,' Dr Baksi explains.
Over the months that followed Dr Baksi submitted 66 applications for consultant posts across the UK attending 33 interviews.
It wasn't until he was called for an interview at a hospital on the Isle of Wight that Dr Baksi was finally offered his first job as a consultant.
After accepting the role, the Isle of Wight became Dr Baksi's home and the place where he forged the rest of his career right up until his full-time retirement 2020.
I'm saddened to see what has happened to society and I am sad to see what has happened to the NHS

Dr Baksi
He is also a member of Our NHS Our Concern think tank which, grounded in the founding principles of the NHS, aims to identify long-term solutions to promote the efficient, effective, equitable delivery of healthcare in the health service.
As part of this role, Dr Baksi has written and submitted numerous papers including to the House of Lords, the most recent of which sets out proposals for the establishment of a National Care Service as a means of addressing the current crisis in health and social care.
While he believes that there are still many people willing to fight for the NHS' future, he admits that the stakes could not be higher following what he sees as decades of erosion in NHS investment.
'The pandemic has brought to stark attention the deficiencies that have been affecting the care service for decades,' he says.
'I'm saddened to see what has happened to society and I am sad to see what has happened to the NHS. I don't belong to any political party, but I think that the Health [and Social Care] Bill that is before Parliament is just a disaster. If this bill were to be passed then I think we would find out just how dreadful this government is.'
Fight the good fight
Likening his struggle to become a consultant as a defining event in his career and life, Dr Baksi says that his personal struggle made him realise the importance of fighting for his convictions, a lesson that has stayed with him.
He is also a long-standing member of British International Doctors Association who he says helped him enormously during his legal battle.
'I'm a very lucky man to have achieved a lot,' he says.
'I considered myself to be a citizen of this country, but I also recognised that I had responsibilities towards this country, one of which was to fight for fairness.
'If you fight for fairness for all, whether it's fairness for black people or brown people, it is equal and that's the reason I fought.'