Doctors have sent the strongest warning yet to the Government that they intend to continue striking up to the next general election as the fight for fair pay intensifies.
Thousands of doctors gathered in Manchester as the Conservative Party conference took place in the city this month, with consultants and junior doctors travelling from all corners of England on buses provided by the BMA.
Health secretary Steve Barclay made no mention of plans to resolve the strikes in his speech to his party's conference on the same day and has not met with either consultants or junior doctors for months.
BMA consultants committee chair Vish Sharma wrote to prime minister Rishi Sunak to say no new strike dates would be announced for four weeks from the latest three-day joint action, which took place from 2 to 5 October, because the Government has refused talks as long as strike dates have been called. Dr Sharma also urged the involvement of arbitration service ACAS.


'Scapegoats'
Doctors remain defiant despite the Government digging in on its 'final' pay offer of a 6 per cent uplift for consultants, and 6 per cent plus a lump sum of £1,250 for junior doctors in England.
And as the action being taken by junior doctors and consultants progresses, SAS (specialist, associate specialist and specialty) doctors and colleagues in Wales and Northern Ireland are taking steps towards their own industrial action.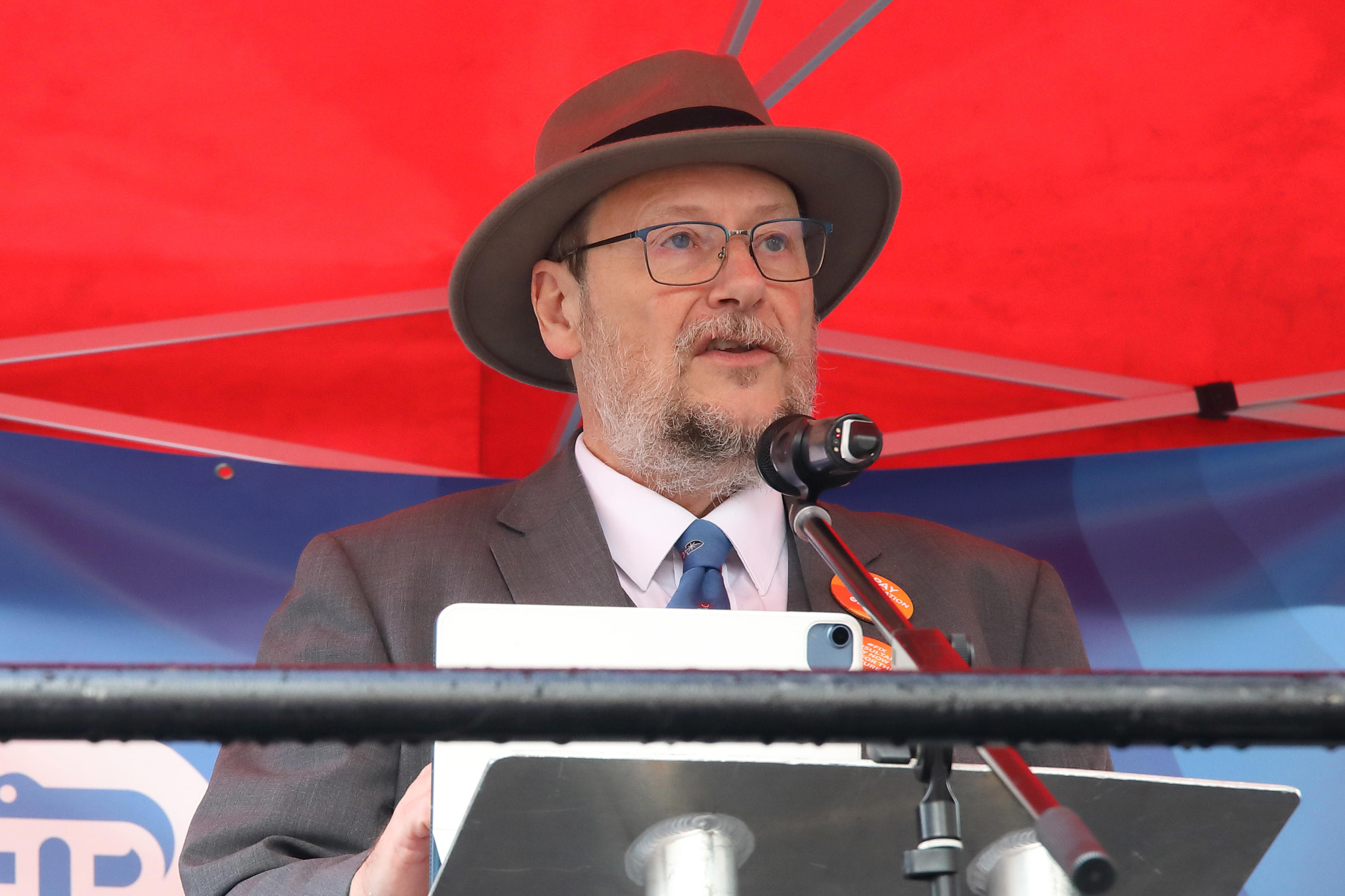 Speaking at the lively Manchester rally, BMA council chair Phil Banfield said: 'We will strike until the next general election and beyond if that is what it takes.
'But our patients need the PM to meet with us now; restore the value of pay, now; make a credible offer, now; end these disputes, now.'
He said the dispute was: 'For our future, for our patients, and the future and health of the people of this country.'
Junior doctors have been striking since March, and consultants since July. Prof Banfield praised BMA members for being 'unflinching in the face of a Government scandalously trying to scapegoat doctors for 13 years of their failures'.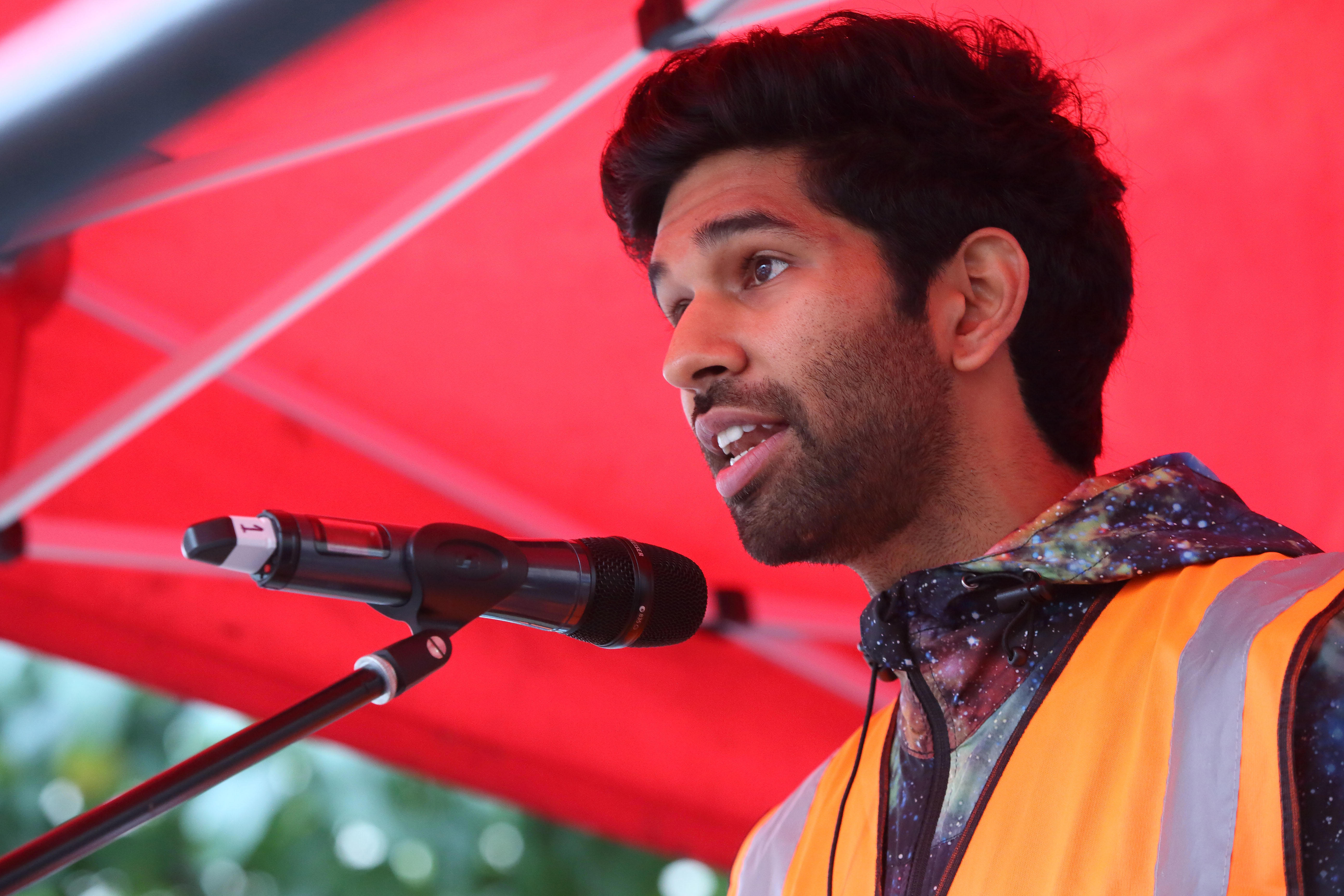 Vivek Trivedi, co-chair of the BMA junior doctors committee, reflected this sentiment in his speech, reiterating that – until a credible offer is made – doctors 'are not going anywhere' because 'we deserve fair pay'.
'The Government is fighting for its survival, and we have the public on our side,' he said.
Results of a September survey of 1,765 adults in England confirm that 42 per cent of the public blame the Government for record waiting lists, while only 15 per cent blame striking doctors.
Mr Barclay used his conference speech to lay out plans to update the NHS constitution, to ban trans patients from being seen in female-only or male-only wards – and announce funding for technology.


'Cruel' approach
Prof Banfield said Mr Barclay's speech was 'a distraction from serious NHS problems', adding: 'Mr Barclay claims to be focused on outcomes all while refusing to speak with those who deliver care.'
BMA consultants committee deputy chair Mike Henley told the rally: 'The Government may tell itself that avoiding compromise shows strength. But it is clear to the eight million voters awaiting care that this is no more than cruelty and abandonment.'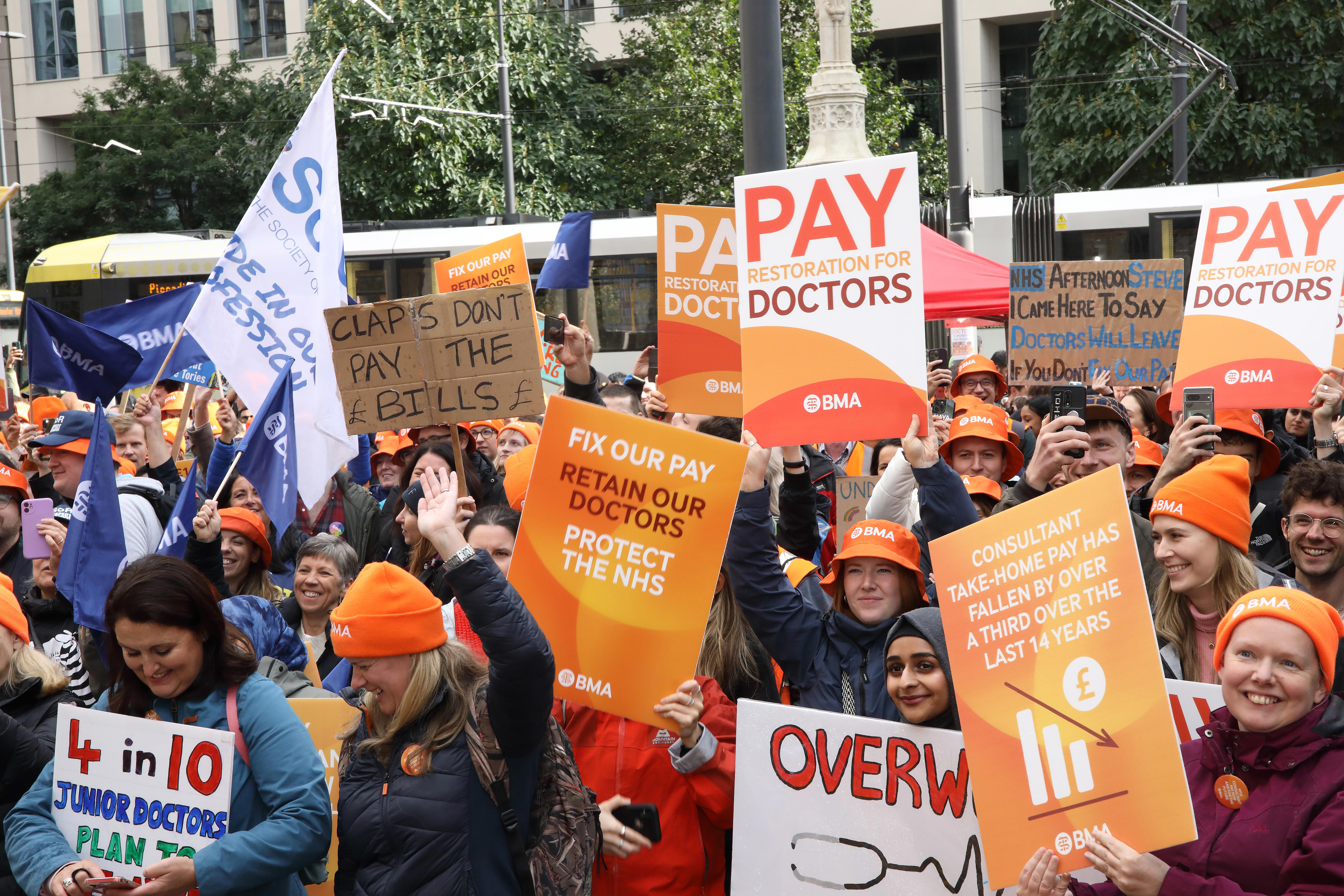 Doctors descended on Manchester from all over England to attend the rally.
The Doctor joined a group on a coach departing BMA House in London. Leeds foundation year 4 Rachel Southern-Thomas criticised the Government's 'convenient amnesia', contrasting its attitude towards striking doctors now and healthcare professionals at the peak of the pandemic – adding that workload pressures have not eased.
London foundation year 2 Robert Gittings agreed, saying: 'It's as if we've gone from heroes to enemies of the state. It's really hypocritical.'
London consultant anaesthetist Rachel Freedman said the sheer number of doctors travelling to Manchester showed how serious the profession was about securing the NHS's future.
'This is not a minority of doctors, as government spin might suggest,' she said. 'We are a large group of cohesive doctors who have said enough is enough.'


DDRB reform call
Dr Freedman reiterated the importance of reform of the Review Body on Doctors' and Dentists' Remuneration, which a Conservative back-bencher has said is 'basically rigged'. She insisted it must be fully independent to help restore trust among doctors who are leaving the NHS in increasing numbers.
As many consultants do, she also sees the strike as a battle for the future of the NHS as a free-at-the-point-of-care service.
'It won't be sustainable with continual under-funding and staff who aren't remunerated properly,' said Dr Freedman.
This is not a minority of doctors
Gloucestershire psychiatry trainee Amir Palermo feared the UK's healthcare system could fall into a 'two-tier service' comparable with that in his home country Malaysia if the pay issue was not resolved.
Having consultants join industrial action in recent weeks has created a greater sense of 'camaraderie', he added.


'We'd rather work'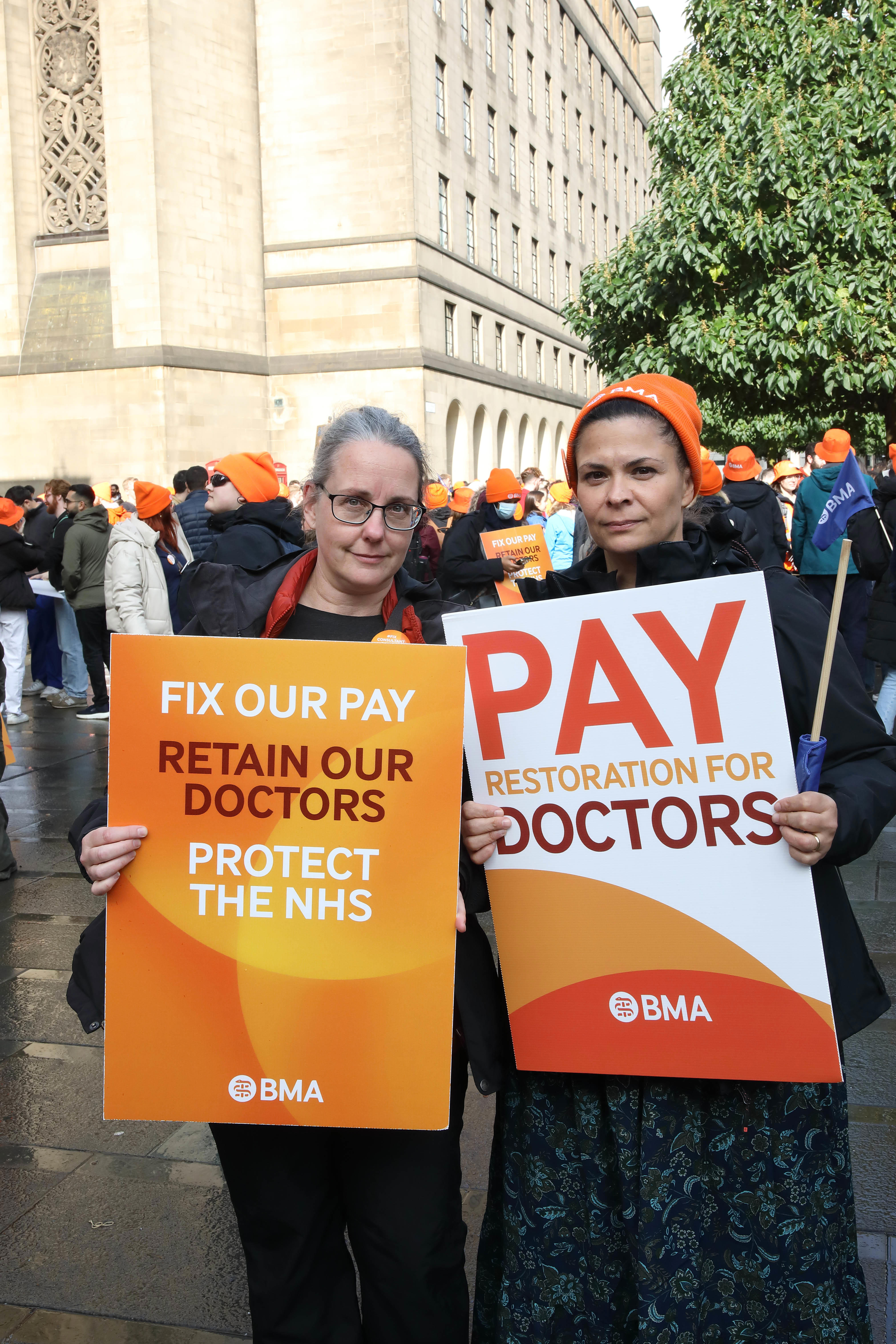 That camaraderie was also clear from picket lines in London during the September strikes, the first joint consultant and junior doctor strikes in NHS history.
Emergency medicine consultant Simon Walsh, BMA consultants committee deputy chair, was picketing outside the Royal London.
He said: 'We'd all rather be at work. If the Government hadn't entrenched themselves in a ludicrous position where they won't talk to us, perhaps we wouldn't be here.'
Margarita Kousteni, a specialty trainee 2 in psychiatry at Maudsley Hospital in London, said it was reassuring to picket alongside consultants.
'It's encouraging that doctors who have gone through what we've gone through and reached the grades we're aspiring to, are supporting us,' she said.
'They know the hardship we go through and have seen better days in the NHS so can recognise how things are getting worse.'


More ballots
SAS doctors in England have run an indicative ballot, which closed on 16 October.
Committee chair Ujjwala Mohite said: 'All we want to do is care for our patients, but that's put at risk when doctors feel undervalued and end up wondering whether they even want to stay in the NHS.'
Consultants in Northern Ireland are to ballot for industrial action, after the Department of Health – which has essentially been left to run the health service since the collapse of devolution in February 2022 – said it would not offer any pay uplift for doctors, despite DDRB recommendations.
Of consultants polled in Northern Ireland, 77 per cent said they were willing to take industrial action.
Doctors end up wondering whether they want to stay in the NHS
Junior doctors in Northern Ireland are also preparing to ballot. Respondents to a recent survey reported how workload pressures meant they are unable to continue with training, and that low pay meant they are now more likely to leave.
In Wales, junior doctors are to be balloted for industrial action from 6 November to 18 December. Consultants and SAS doctors in Wales will also be balloted. All groups of doctors were offered a pay uplift of 5 per cent, not just below inflation but below that offered to colleagues in England.
It is only in Scotland where there has been any resolution. Junior doctors in Scotland accepted a 17.5 per cent pay uplift over two years, which included a 'key' commitment from the Scottish Government to work towards full pay restoration in the future.
BMA Scotland, however, continues to warn that the devolved Government must take 'real action' to stem low morale among consultants who were handed the same 6 per cent offer as in England, and have not ruled out balloting for industrial action.
With various different groups of doctors coming together in a collective fight for fair pay, there is a sense that doctors are growing in confidence that they are on the right side of the dispute and will find a way through.
The message from the BMA, as speakers at the Manchester rally reiterated, is: 'Stick together, strike together, win together.'