Applications are open
The BMA Information Fund is now open for applications from 12 December 2022.

The window to apply will remain open until 13 February 2023, or until a cap of 100 applications is reached.

Who can apply?
The following organisations could apply:
healthcare institutions
medical schools
libraries
health-focused non-governmental organisations and similar
human rights and community development organisations involved in local capacity-building.
All donations are subject to the conditions and requirements in the application form and its instructions.
How to apply
Download the application form and *book list below, and return both forms to [email protected] (we are not able to accept postal applications at this time).
Please ensure you read the guidance notes included with the application form before you apply.
*Please note: some titles under review
What is the BMA Information Fund?
Operating since 2000, the BMA Information Fund has provided over 355 donations of books and other information materials to health organisations in 72 countries worldwide. Our donations span the globe, focusing on low-income countries in Africa and Asia as well as island states, which face significant health challenges.
The fund is run in association with Health Books International (operated by Practical Action Publishing, the publishing arm of the charity Practical Action). HBI sources, produces and distributes practical and accessible health information and educational materials designed for use in low-resource settings.
The materials provided by the fund are clearly written, illustrated and relevant to the many health workers worldwide who operate with limited access to electricity and reliable internet connections, sophisticated equipment or medicines.
Applications are welcomed from a wide range of not-for-profit organisations as well as new initiatives. Successful applicants will show that the requested resources are tailored to their users' needs, will be used by a significant number of people, will have a sustained and meaningful impact, and will support the achievement of one or more of the UN Sustainable Development Goal targets.
We continue to add weight to requests that support mitigation and recovery from the COVID-19 pandemic, whether through direct action to combat the virus or restoring other services disrupted as a result of the pandemic.
The world is changing faster than ever before. It is of the utmost importance that healthcare professionals worldwide have the latest information to tackle the challenges we are now facing, and those that lie ahead.

Kitty Mohan, BMA international committee chair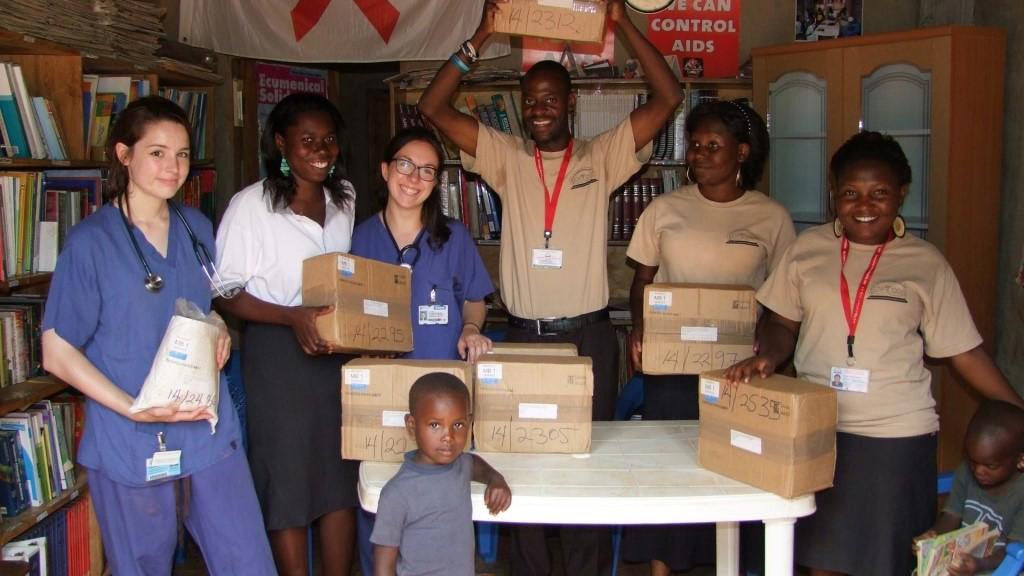 Projects from previous years
Learn about some of the projects we have supported and the impact they have made locally.
Yangon Children's Hospital, Myanmar Society of Haematology (2021)
The healthcare challenges facing Myanmar are huge, with the COVID-19 pandemic and political instability reportedly overwhelming the fractured healthcare system and the workforce alike. Medical education has also been immensely disrupted as a result, with only sporadic online medical training programmes available. This has posed a challenge because Internet connections are not well established, particularly in rural parts of the country. Reports have also suggested that the political turmoil has also meant that there is little central budget to purchase up- to- date and relevant medical literature.
The BMA received an application from Yangon Children's Hospital and the Myanmar Society of Haematology with the support from the Royal College of Pathologists (UK), to provide healthcare workers with the latest medical pathology texts to strengthen clinical haematological diagnosis and practice.
The distribution of hard copy textbooks was a purportedly a huge resource for the clinicians and allied health care professionals in rural areas of the country. The BMA was pleased to offer these texts and support this cohort of healthcare workers to continue to provide care and develop professionally in the most challenging of circumstances.
AMREF Health Africa in South Sudan (2020)
Healthcare services in South Sudan are critically understaffed, and health outcomes, including maternal health, are among the worst globally. South Sudan has been gripped by protracted civil wars and humanitarian crises for decades – it was during one of these civil wars, in 1998, that AMREF opened its training school for healthcare professionals.
The school trains nurses, midwives and clinical officers, who provide the majority of care in areas with few doctors, and fully funds their tuition and subsistence costs. This model has been a massive success and AMREF has trained over 80% of the healthcare workers in these cadres currently working in South Sudan.
However, this approach leaves them with little budget for medical texts, and when they approached the BMA they had few up-to-date books, with a particular shortage of materials on midwifery. The BMA was pleased to offer them a comprehensive and-up-to date collection of medical texts.
Watch the video to hear from AMREF about how the BMA's donation is supporting its vital work.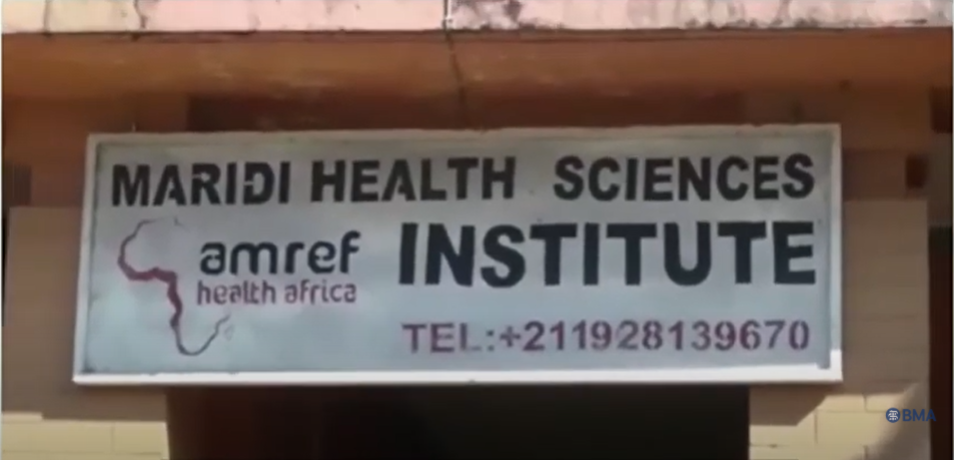 Five years supporting African Hospital Libraries, Sierra Leone (2018)
Oxford GPs Claire and Alex Blacklock founded the charity AHL (African Hospital Libraries) in 2012 after volunteering as doctors in Sierra Leone. Working alongside local clinicians in the Makeni Government Hospital, they found that staff had very limited access to health information, contributing to variations in the quality of clinical care delivered to patients.
AHL's vision is to facilitate access to clear, relevant, up-to-date, life-saving health information for all clinicians, regardless of geographical location, reliable electricity supply, or technology. Today, AHL has established three libraries in Sierra Leone, which operate as a network across different cultural areas, in cities with different levels of infrastructure development.
The first AHL library opened in Sierra Leone in 2013 at Makeni Government Hospital. Before the library opened, access to reliable, relevant and up-to-date health information for the 230 healthcare workers and students on rotation was not available.
Claire Blacklock applied to the BMA Information Fund in 2013 for donations to establish a second library at Bo Government Hospital.
All the references we are making now would not be possible without the library…  I think it goes a long way in improving our knowledge and also patient care.

Nurse anaesthetist, Makeni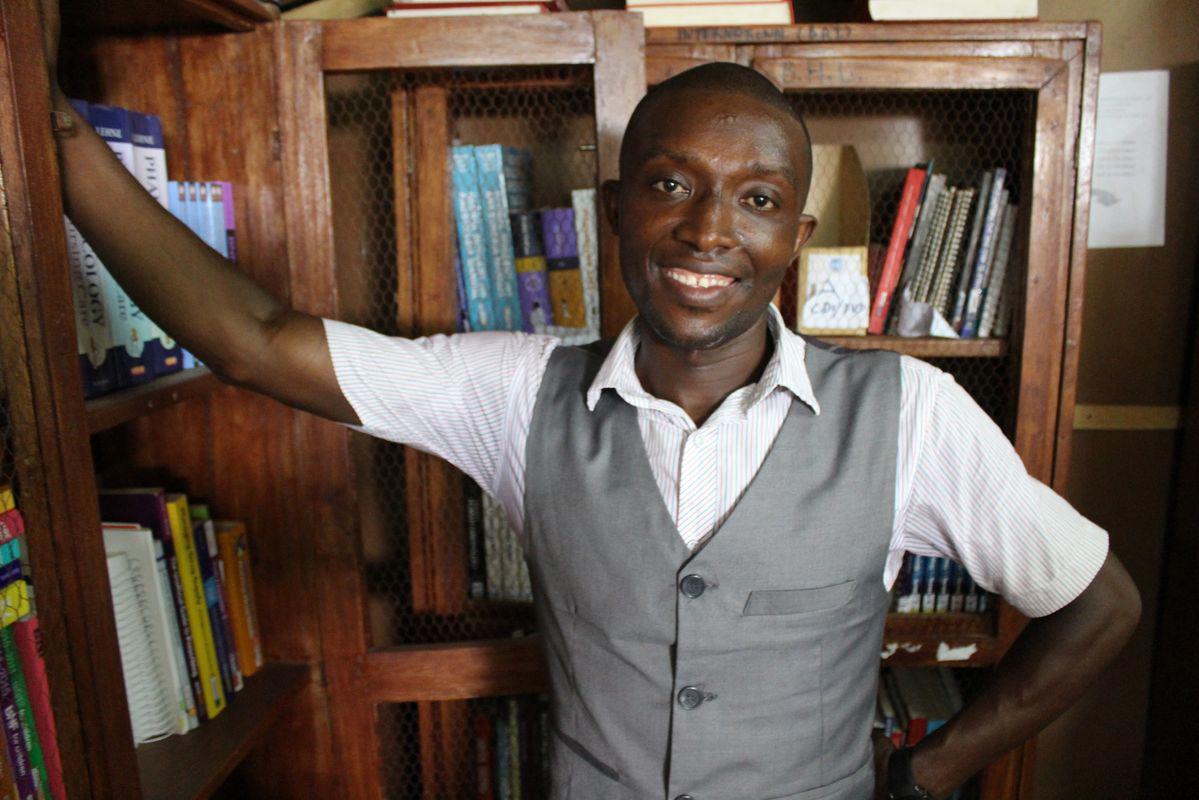 In 2015, the BMA Information Fund donated books and other educational materials to an affiliated library at the Makeni School of Clinical Sciences and, in 2016, updated the collection at Bo. In 2017, the fund provided core texts for a new library at Kenema Government Hospital, the Eastern provincial referral hospital with 360 beds and 700 staff, plus clinical students on rotation. The new Kenema Hospital Library was opened in July 2018 and is already making an impact.
The AHL libraries are a source of pride for the hospitals and borrowing data shows that library resources are well used by staff and healthcare students. Case studies and feedback from a recent evaluation also indicate there has been a positive impact on patient care.
Sustainable local healthcare, Zimbabwe (2016)
Books provided by the 2016 Information Fund were used to develop course outlines and content for postgraduate training in family medicine in Zimbabwe.
The College of Primary Health Care Physicians in Zimbabwe (CPHCPZ), the nation's professional association for primary care doctors, applied to the Information Fund requesting texts needed to set up the programme, which started training its first students in August 2017. Students on the training programme will use the books as their core course material.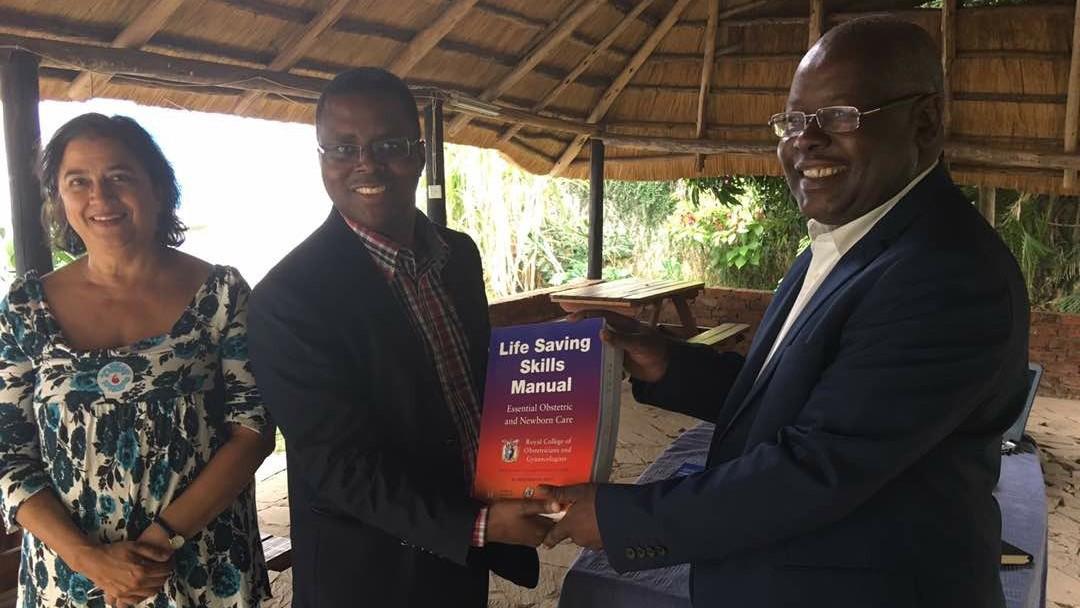 Zimbabwe has a large rural population and most healthcare is delivered in district hospitals. The majority of medical staff have only two years of post-qualification experience (equivalent to the foundation years in the UK).
The Family Medicine training programme will be based at district hospitals, where there are very few learning resources.
Professor Sunanda Ray said: "The materials provided by the Information Fund will be crucial for self-directed learning, allowing students and trainees to look things up during their clinical work and while doing practical procedures."
CDs and DVDs will be a particularly helpful resource once the programme is underway because the material can easily be accessed remotely.
Where there is no doctor, Uganda (2016)
Dr Pauline Hutchinson applied to the BMA Information Fund in 2016 to source materials for the Wellspring Children's Medical Centre, a paediatric healthcare facility in rural South West Uganda.
The medical centre is staffed by a small interdisciplinary team of nurses, midwives, physiotherapists, social workers and support staff – no doctors are employed. Medical support comes from senior doctors in the region and volunteer groups organised by Dr Hutchinson.
Wellspring provides health and social care to over 15,000 sick, vulnerable and deprived children in the region each year.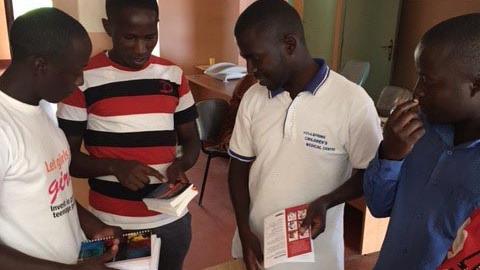 Dr Hutchinson said: "The staff were thrilled with the books and amazed at the quality and variety provided. You can imagine they are always very busy, but I have found that they are never too busy to learn.
"The staff conduct monthly educational seminars to promote medical education and shared learning, and use of the books is encouraged during all CPD courses and seminars."
Funding for the centre comes solely from charitable contributions provided through the UK-based charity Medcare. In 2014, the medical centre was refurbished and significantly increased in size, but due to funding limitations no books had been added since 2010.
Before applying to the Information Fund, the centre had around 30 books, some dating back to the 1980s.
"Internet access is very limited and so books, DVDs and CDs are invaluable to the health care staff to aid learning," Dr Hutchinson said.
Our privacy policy
In line with GDPR (General Data Protection Regulations), our privacy notice includes:
clarity on what data we have, how we use it, why we need it and who has access to it
updates to the choices you have over how we use your data
details of who to contact if you have any concerns.