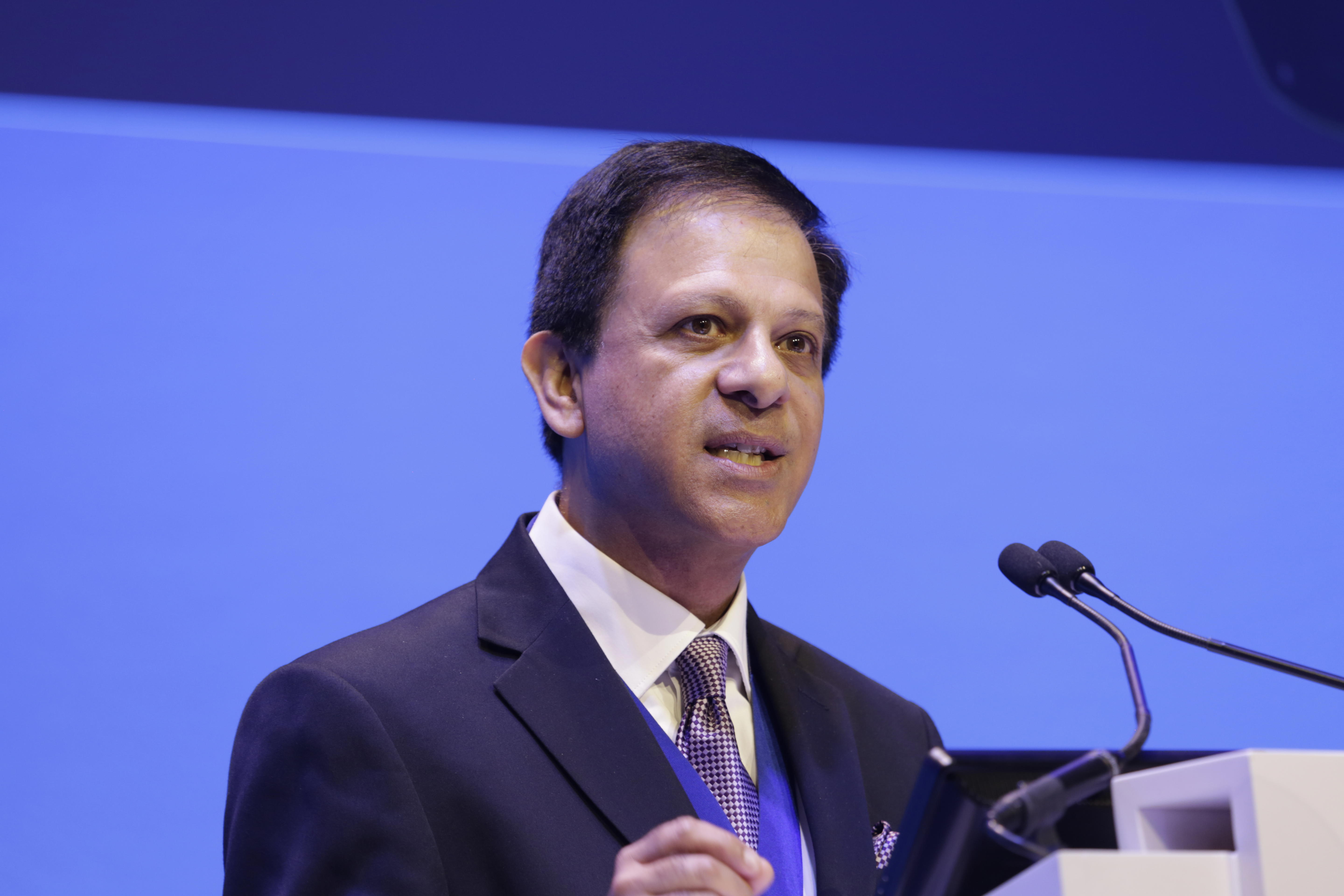 Chair, RB
We're meeting today in a hybrid ARM with many attending face-to-face for the very first time in three years. It reflects how the pandemic has turned upside down our basic ability to interact normally. And whilst we may be over the worst, it would be utterly callous to overlook the scale of suffering over nearly 2 & 1/2 years.
Since COVID-19 first hit our shores, over 190,000 people have died of the virus. With an even greater number falling seriously ill and over 2 million currently experiencing prolonged symptoms disrupting their daily lives.
Doctors and healthcare workers been more exposed to the virus, suffering higher levels of illness and long COVID than the general population, with several hundred losing their lives and 95% of doctors who died in the first wave being of ethnic minority. A memorial sculpture now stands in the BMA courtyard that permanently embodies our shared grief and respect for the selfless efforts of our colleagues.
RB, it's a graphic reminder that a tragedy of this scale must never be repeated. We knew we couldn't wait for a public inquiry in years to come. So – we - the BMA - took matters in our own hands with our lessons learnt review. We've published the most comprehensive account of the lived experience of tens of thousands of doctors. It unequivocally concludes that the UK Government failed in its duty to protect its workforce. The lessons from our review demand action today - not sometime in the future - given that a new surge, variant or virus could strike at any moment.
So, we demand guarantees that doctors will never again be forced to risk their lives because of failed pandemic planning, inadequate risk assessments that failed to protect the most vulnerable doctors, and sub-standard infection-control measures.
Guarantees that the government will reverse its brutal £800m pre-pandemic cuts to our public health services, which left us fighting covid blindfolded without testing capacity in the first wave, flouting the WHO edict of "test test test" and leading to the UK having one of the highest infection levels internationally.
Guarantees there'll be no repeat of the shameful squandering of billions on a disgraced private test and trace service, which failed by contact tracing only 60% of people, compared to the 97% by local public health teams, resulting in the unfettered spread of disease.
Guarantees the government will address the glaring truth that the NHS simply cannot run with one third fewer doctors than countries like Germany, which resulted in White Elephant Nightingale hospitals standing empty because we didn't have the staff to fill them.
Guarantees to reverse our drastic deficit in hospital beds - half that of comparative European nations - forcing last minute cancellation of operations each time there's a surge in demand.
RB, amidst all these adversities, I'm proud to have represented a profession that despite the government failing in their duty to care for us, we have unstintingly fulfilled our duty of care for our patients with integrity and professionalism.
RB, the BMA has at all times said what needed to be said without fear or favour.
Last September we condemned the rising abuse and violence against doctors and demanded action to protect healthcare workers, such as the horrific attacks on staff in a GP practice in Manchester, which left some hospitalised. We called out ministers and NHS Leaders for irresponsibly fuelling the media's onslaught on GPs undermining their commitment to patients. When the reality showed that dedicated GPs and their teams were offering over 3 million more appointments per month compared to pre-pandemic levels, despite having 1600 fewer GPs than in 2015.
RB, it beggars belief that the government has no idea how many doctors are needed to serve the nation today and in the future. It was the BMA who spelt out we had 50,000 fewer doctors in England compared to OECD averages. We demanded an independent workforce assessment strategy in England's Health and Care Bill, to hold the government to account to plug this gap. Despite over 100 organisations supporting our call the government chose to reject it and instead buried its head in the sand.
And last December when Omicron swept the nation, we knew that it would lead to escalating staff absence, and we warned the government to take action to limit spread. Yet again, we were sadly proved right, with up to 40,000 staff off work daily due to COVID in the week before New Year contributing to over 17,000 cancelled operations that quarter.
With the shameful spectacle of Partygate, we challenged head-on in the media the outrageous statements from MPs like Michael Fabricant, seeking to justify and deflect from the flagrant law-breaking antics in Downing Street by accusing doctors on the frontline of partying after hours. It's an absolute insult to the dedication of doctors that as we topped up IV fluids to sick patients, they merrily topped up their glasses in defiance of the rules they themselves set.
RB, having experienced a once in a generation public health crisis, we're now experiencing another once in a generation backlog crisis of unimaginable proportions. With record waiting lists in England of 6.5 million people - 300,000 waiting more than a year, and nearly 17,000 over 2 years. Not to mention a parallel hidden backlog of potentially tens of millions waiting for medical, mental health and chronic disease care who don't feature in any government statistics.
This at a time when doctors are utterly exhausted. Their well-being rock bottom, and half reporting their mental health being affected. With one hundred thousand NHS vacancies unfilled, we're at serious risk of haemorrhaging more doctors with 50% more likely to take early retirement and 7 in 10 likely to work fewer hours.
Government needs to wake up, open its eyes and realise that we can't afford to lose a single doctor if patients aren't to suffer more. It needs to grasp that the NHS has survived to this point solely thanks to the goodwill of staff.
Goodwill which has been shamefully cast aside by reintroducing car parking charges in England, replacing claps with clamps – with hospitals income generating from doctors paying for the privilege of coming to work. Or expecting doctors to carry on being denied the basics of hot food and left at the mercy of an empty sandwich carousel at 2 a.m. in a hospital corridor.
Goodwill taken for granted with doctors routinely working unpaid overtime to safeguard patient care in a woefully understaffed NHS.
Goodwill answered by derisory pay awards and expecting goodwill to plug the gap between the Government's pay recommendation and a surging rate of inflation four times higher.
But today I warn ministers that you cannot run an NHS perpetually by exploiting a well of goodwill which has totally run dry. Doctors will and are walking away.
And what value does this show to those embarking on a career in medicine, where the extra University years as a medical student results in eyewatering debt as high as £94,000 on qualifying as a junior doctor. And then earning £15 per hour and struggling to afford basic living and accommodation expenses – and that too a pay rate eroded in real terms by nearly a quarter since 2008.
RB, we ask not for largesse but something very simple – fairness - fairness for the frontline.
Neither should we forget the elephant in the Number 10 cabinet room - pensions. The tax trap that's a trap door through which thousands of doctors are leaving our NHS. It's the height of irresponsibility that the government is wilfully shrinking the workforce and harming patient care, when we've given them solutions on a plate that will result in an overall positive balance for the Treasury, while retaining doctors at a time when the NHS desperately needs each of us.
As I reflect on my career, what's always made me proud of our NHS is its founding principle of treating all patients equally whoever they are. It's therefore so painful to see this principle not applied to our own NHS workforce, where inequality and discrimination runs rife.
We simply must not accept a health service where a black doctor is six times less likely than a white colleague to be offered a job in London. Where bullying, harassment and disciplinary referrals continue at twice the rate for doctors from ethnic minorities, with differential attainment of postgraduate exams, poorer career progression and an ethnicity pay gap.
We should not be able to sleep at night knowing that ethnic minority doctors told us they were three times more likely to feel pressured to see patients without adequate PPE , with some who may have lost their lives because they were too afraid to speak out fearing recrimination.
We've rejected the conclusions of the UK government's race disparity reports that failed to even acknowledge the word racism in medicine and audaciously hailed the NHS as a race equality success story.
I'm proud that the BMA has spoken out in support of our ethnically diverse workforce in our landmark Delivering Race Equality in Medicine report. We openly warned that racism is not only wrecking doctors' lives, but it's damaging patient care and threatening services with a third of doctors having left or considering leaving their job, and 16% off work with sickness due to racist experiences. We're holding the government to account to eradicate racism as a national priority embedded in every tier of our health service.
RB, the nation owes an immeasurable debt of gratitude to our international medical workforce who're literally the migrant architects of our NHS, part and parcel of its very beginnings since 1948. From my earliest memories of being a medical student I was deeply inspired by the dedication, talent, and knowledge of doctors coming from all corners of the globe. Over the years, they've taken on jobs with punishing rotas in hospitals that no one else would accept. GPs who worked in derelict, rundown premises serving their communities for decades and building those modest beginnings into the modern bespoke medical centres of today.
I salute them, and its why I've always felt a deep sense of duty to support our international medical graduates. I'm proud that as council chair I set up the BMA's Forum for Race and Ethnic Equality, supported by thriving local networks that are now engaging and giving voice to thousands more ethnic minority members. We now have IMG champions in each branch of practice, and are about to launch an affiliate BMA overseas membership offer, providing IMGs with tailored support so that they're on the front foot with BMA support even before coming to the UK.
I also want to be clear we must unequivocally stand for equality across every diversity strand – whether disability, gender, sexual orientation or any other characteristic. I'm pleased we've recently launched a Disability, Long-term Conditions and Neurodiversity Network to support affected members and we're lobbying employers to make reasonable adjustments.
My wife, sister and now my daughter are all doctors. I've seen their reality of the additional hurdles and discrimination women face in our health service. Our 'Sexism in Medicine' report has demanded action to end women in medicine being held back from achieving their best, to end inequalities in pay, and the indignity of being treated unfairly.
And this must apply within the BMA too. The 2019 Romney Review was a wake-up call. We have made changes, but we are manifestly not where we need to be with 38% of women elected to BMA council - barely an increase from four years ago. And it should not have been the case that no woman stood for the forthcoming chair of council election. We must grasp the nettle and properly see through lasting changes to extinguish sexism and indeed any other ism. We must make the BMA a beacon where we reflect our membership, where any woman, indeed any person is supported to flourish, because – like the health service – we know that organisations that are driven by fairness and inclusivity are more productive, happier and deliver better outcomes.
RB, we also need radical cultural change in our NHS. The caring supportive collaborative project I led showed that nine in 10 doctors fear making medical errors daily due to lack of resources or workforce capacity. That half of doctors don't feel confident to speak out about patient safety concerns, fearing they'll instead be blamed for systemic failings. Creating a vicious cycle whereby a lack of openness prevents learning and continues to perpetuate avoidable harm.
These are the hallmarks that led to the tragedy in Mid Staffs. Where international patient safety expert Don Berwick pointed not to NHS staff as being culpable, but that the problem lay with systemic constraints, targets, and a toxic culture of fear and blame. 10 years on it's shameful that nothing has changed, with the very same headlines of staff terrified to speak out in Shrewsbury echoing through the Ockenden report.
This demands an end to doctors working in a system that sets them up to fail, with too few doctors trying to do the impossible of being in two places at once. And an end to politicians fuelling wholly unrealistic populist expectations totally ignoring the harsh realities we face on the ground.
We need a culture where blame is replaced by learning and improvement and you're thanked for raising a concern, rather than be pilloried for being a whistle-blower. Taking a leaf from the aviation industry, which introduced a no blame culture, dramatically reducing fatalities by 75% while passenger numbers surged.
We also require radical reform of medical regulation, a system designed to protect patients but is itself undermining patient safety by hunting down and putting individual doctors in the dock, while often leaving wider systemic failings completely off the hook, without accountability nor improvement. This was of course epitomised by the case of Dr Hadiza Bawa Garba and it was a great moment to see her qualify as a consultant last year. But can any of us hand on heart say that should another doctor find themselves in similar circumstances today, that anything has changed?
We must insist that whenever there are failings in care, any GMC investigation must always judge the system not the individual in isolation. It must hold accountable the systemic root causes that compromise patient safety including the government's lack of resources for our health service in the first place.
But we also need a complete overhaul of the entire GMC referral pathway. A system that's structurally biased, lacks timeliness, and is manifestly unjust. A system that can suspend a doctor on the basis of a single word about being promised a work laptop. A system found by a landmark tribunal ruling to not only have racially discriminated against Mr Omer Karim - now an elected BMA council member - but also that its own processes are racially biased. A system under which 29 doctors have tragically taken their own lives while being under investigation and in the case of the late Dr Suresh within hours of receiving a GMC notification.
RB, it's no wonder those three letters GMC instil terror in doctors, fearing that the system is inherently stacked up against them. That's why we're demanding a comprehensive independent root and branch review and reform of GMC processes, and to safeguard doctors immediately with independent scrutiny panels at the point of referral.
RB, as I look back at attending my first ARM as a newly qualified GP 30 years ago, I recall being overcome with stage fright walking onto this podium, I was fresh to medical politics with no prior active BMA involvement. It was beyond my wildest dreams to think that one day I would be at the helm of this Association.
I want to thank those who, in those initial years, encouraged me to stand to be elected onto the GPs committee in 1996, which set off my path within the BMA. Like so many organisations then, the BMA lacked diversity such that I had to break many glass ceilings. I was the first non-white member of the GPC executive, the first person of colour to be GPC chair, and similarly the first ever non-white BMA council chair in its 190-year history.
Through the decades I've seen a real growth in diversity in the Association including those holding senior committee positions, and now a newly elected Council where 35% of members are from ethnic minorities - a far cry from my first council meeting 15 years ago.
My job description as Council Chair never warned me I'd preside over a pandemic that would shake our health service and profession in unimaginable ways. I've done my utmost to fulfil my duty to represent each and every doctor through the most gruelling experience of our professional lives, to speak out in the media and challenge those in power in parliamentary select committees through to the National Audit Office. I hope I've met your expectations.
And despite being a GP, I've at all times tried to view the world through the lens of every sector of our profession. From medical students to doctors working in secondary and primary care, occupational health, academics to public health doctors and everything in between.
This helicopter insight has reinforced with stunning clarity that we are one interconnected profession. That you can't sort out any one part of the system without sorting out the whole. That workload pressures in general practice cannot be solved without addressing hospital pressures, and you will sort out neither without a strong public health infrastructure.
I've also seen first-hand the strength of the BMA as a professional association and trade union. We must end the false dichotomy between the two functions, noting they're two sides of the same coin. For example Covid underlined the importance of medical ethics guiding us on mandatory vaccinations, our board of science informed us about the science of the virus and its impact on our members, and the international committee being instrumental to our calls for fairness for IMGs.
As I conclude my tenure, I'm of course thankful to so many. First and foremost, my Council colleagues for entrusting me to be their chair for a full five-year tenure. For their wisdom, support and camaraderie. I've not taken a single day for granted. And a special thanks to the one council member who has painfully departed but to whom I'll forever be indebted - my dearest friend and guiding spirit Kailash Chand.
I thank my equivalent council chairs in the Devolved Nations - David Bailey from Wales, Lewis Morrison from Scotland, who both conclude their tenure this session, and Tom Black from Northern Ireland. They've been alongside me throughout, fiercely supporting their members in their respective countries.
My fellow chief officers, who've always provided solid support and friendship - deputy chair David Wrigley, RB chair Latifa Patel and Treasurer Trevor Pickersgill.
I thank the regions and divisions, many of whom have invited me to speak and meet their constituents, and who do so much to make the BMA a local living reality.
Thanks also to the chairs of all our committees, for ensuring that every doctor is fully represented and supported.
And not to forget a huge thanks to all staff at the BMA without whom we simply couldn't function, with special mention to past chief executive Tom Grinyer and our new co-chief executives Neeta Major and Rachel Podolak.
And finally my thanks to our incredible UK medical profession I've had the privilege to represent for the past 5 years – doctors who go above and beyond transforming the lives of patients every minute, every hour, every day, and who have been such a source of inspiration for me to do to right by the profession.
RB, after my tenure ends, I'll be rolling up my sleeves to do more frontline work in my practice adding to much needed GP workforce capacity. I hand over the baton to my successor and a new council to continue to fight for a health service where each of us is given the time, tools, facilities, support, and compassion to be the doctors we were trained to be and do the good we all want to do for our patients.
Where we're treated as humans who can err and are supported to learn and improve rather than work in a system that closes ranks to target and blame you.
Where our well-being is seen as an investment not an expense.
I long to see the day when we stop squabbling about whether a GP or hospital doctor prescribes an expensive drug when it costs the same to the taxpayer, where we stop workload shifting between sectors driven by organisational interests and polarised budgets. .
I long to return to the one medical community we belonged to when I first started out as a medical student. When we will not just be one profession when we gather at events like this, but as one profession when we go to work daily, on the same side as one team collectively serving the nation's health.
That is the caring supportive collaborative vision I dreamt about, and whilst not made a reality in my tenure, I sincerely hope I've planted a seed which will grow and bear fruit.
RB, there is only one organisation that can stake its claim to making this happen.
The only organisation that uniquely spans every sector of our health service and represents every type of doctor and medical student.
That is the British Medical Association and being chair of its council has quite truly been the greatest privilege and the proudest moment of my professional life. Thank you.