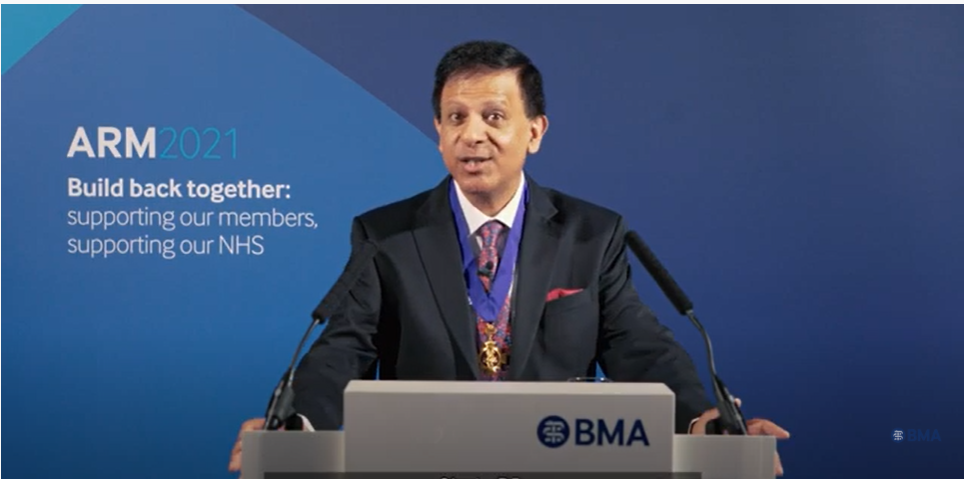 12 months on we meet virtually once again, reflecting the resilience of this dreadful virus, with its new variants increasing the longevity of this pandemic, paralysing our society and afflicting the health and lives of so many.
During this time the one constant has been the medical profession, selflessly serving the nation often at great cost to ourselves and our families. Doctors have worked day in-day-out - through lockdowns and restrictions - risking their own health and lives as they exposed themselves to this deadly infection, often without adequate rest or leave. We have ploughed on, without hesitation, to protect the health of the nation.
Throughout, the BMA has spoken out for the medical profession without fear or favour. Spoken out for what's right for the public's health and spoken out to safeguard our health services.
We've been the medical association at the forefront, on prime-time national TV, broadsheets and regional media. We've led the agenda and political debate, giving evidence to parliamentary committees and in direct dialogue with governments across all four nations.
When others may have feared to do so, it's the BMA that has spoken out.
That's why just after last year's ARM when the government ignored Sage's recommendation for a circuit breaker, we gave leadership where the UK government's was lacking, publishing a national preventative strategy to address the triple whammy of a second spike, winter pressures, and the non-covid care backlog.
We were the first medical body to call for mandatory mask wearing by the public and insisted this must apply in all indoor settings including workplaces.
We called out the unaffordability of self-isolation for many, highlighting the urgent need to financially support people to stay at home in order to protect the public's health.
In our submission to the Public Accounts Committee last October, we called out the failings of the disgraced test and trace system and the shameful farce of people travelling 100 miles for a test and waiting over a week for a result. We challenged the scandalous waste of billions of taxpayers' money as privately run services reached only 60% of contacts, whereas local public health teams reached 97%.
We, the BMA, have championed the safety of our profession. In November, in my evidence to the National Audit Office and later to the Public Accounts Committee, I highlighted how doctors had been left at perilous risk through woefully inadequate stockpiles of PPE during the first wave.
We published specific recommendations for covid-secure healthcare settings to reduce infection risk to healthcare staff.
We campaigned for FFP3 masks in any setting when doctors see covid patients, reflecting clear evidence that the infection is airborne, and I wrote to every NHS trust CEO in England advising them of their obligation to give doctors the right protective equipment.
RB, we have consistently called out the chaos in government thinking.
Last December we called on the government to reverse its dangerous proposal to allow five days of mixing during Christmas amidst rocketing infection rates and regional lockdowns. Far from the virus magically ceasing to be contagious during this period, it risked the lives of the elderly and vulnerable.
True to form, the Prime Minister announced a U-turn just days before Christmas, causing last-minute disruption to the plans of millions of families, followed by a lockdown in the New Year.
Last December also marked a breakthrough in medical science with Covid vaccines being developed anew in 10 months in what normally takes 10 years. We are proud the UK was the first nation to approve the Pfizer and AstraZeneca vaccines, bringing hope that this pandemic could finally be controlled. We challenged the government for failing to give healthcare workers highest vaccination priority, risking frontline staff falling ill and unable to care for patients, and we successfully lobbied for doctors to be vaccinated within the first few weeks.
But no vaccination programme can operate without the workforce to administer it. Our profession has stepped up magnificently – from hospital doctors doing vaccine shifts on top of a full working week, to retired doctors returning to work. And of course, the GP-led vaccination programme negotiated by the BMA - has quickly become the most successful in our history, delivering over 90 million vaccines to the population.
And what a contrast RB, between the disaster that is Test & Trace, which wasted billions on the private sector and failed to deliver, compared to the vaccine roll-out, funded on a shoestring and delivered by the NHS, by extraordinarily dedicated NHS staff who've been central to its success.
GPs and primary care teams have worked incessantly 7 days a week in vaccination centres while practices at the same time continued to provide essential services to their patients. GPs have spent hours each week reaching out and persuading vulnerable and high-risk patients to be vaccinated.
Practices have become telephone helplines flooded with vaccine queries – from questioning government messaging, issues about bookings, eligibility and supplies.
It's therefore soul destroying for GPs to be publicly vilified for not being able to operate normally. Our media rarely lends the hand of support when it can point a finger of blame. But what a failure of leadership by the NHS not to defend GPs. What we needed was for ministers and NHS leaders to visibly congratulate and thank GPs and primary care teams for their heroic efforts in saving tens-of-thousands of lives. They should have told the public that this simply could not coexist with business as usual. And that GPs have been following NHS England's own instructions to remotely assess patients to prevent transmission and serious illness in crowded waiting rooms with elderly and clinically vulnerable patients.
RB, without this vaccination programme, made possible through the sheer hard work of frontline staff, the UK government simply could not have proposed its roadmap out of lockdown.
Yet once again we faced confused and contradictory messaging of 'data not dates', whilst ministers gazed into a crystal ball and prophetically plucked a date of 21st June out of the air as 'Freedom Day' for England. How could they possibly have known what the data would be like four months later?
RB, the Westminster government has been consistent only in its inconsistency - while the BMA has been consistent in speaking up for the science and the public's health.
When cases soared in June the Prime Minister announced there was quote "nothing in the data to delay ending all restrictions - only to U-turn days later based on the exact same data.
And while "Freedom Day" was delayed by an arbitrary month because of over 8,000 new daily Covid cases in June, we then saw ministers content to gamble with the nation's health by ending all legal restrictions on the basis of over 34,000 new cases on 19th July - the only nation in the world to do so amidst spiralling infections - an approach the WHO called "epidemiological stupidity". It sent completely the wrong message to the public as if the threat of the virus was behind us. It would be like removing the requirement to wear seat belts at a time of increasing road traffic accidents.
We challenged that calling infection control measures a "personal choice" was a fallacy– totally missing the point that individuals don't have any control over the choice of others- you can't "choose" not to become infected if surrounded by people without masks breathing onto you inches away in a packed train.
We called out the false narrative that this was about protecting the economy, warning that large numbers of the population infected would be devastating for businesses. That's exactly what happened with staff absences causing parts of the economy to nearly grind to a halt such that food couldn't even be put on some supermarket shelves. A 'pingdemic' which the Government named an 'inconvenience' belied the harsh reality of spiralling cases with the virus being allowed to let rip.
The mantra that we've broken the link with hospitalisation ignores the reality that the UK still has one of the highest hospitalisation rates in the world, with ministers accepting over 1000 people today fighting for their lives on ventilators compared to 92 this same day last year. It further airbrushes the burden of illness on millions who have and will suffer long covid symptoms.
RB, since 19 July alone 37,000 people have been admitted to hospital with COVID and 4,000 have died. Ministers call this living with Covid but for far too many they are suffering or dying with covid.
The sad truth is that many of these infections could undoubtedly have been prevented through simple mandatory measures and would not affect reopening society one jot. Wearing a mask does not stop you buying a pint of milk or getting on a train.
Hairdressers wearing masks in ventilated salons would not stop them cutting customers hair. but it would reduce transmission, illness and deaths. That's why the BMA has been clear that it never was a false choice of whether to end restrictions, but a question of how to do so safely.
RB, the pandemic has reminded us of some profound truths.
That we are one global health community, and that no one is safe until everyone is safe, with new variants leaping from one continent to another. I'm proud that through BMA Giving, we and our members donated tens of thousands of pounds in support of the heart wrenching covid crisis in India, providing much-needed equipment, oxygen and workforce support. We further donated a total of £350,000 to bolster a range of charities providing support to doctors affected by the pandemic.
The pandemic also widened the fault lines of health inequalities that pervade our society. You're twice as likely to die from Covid if you're from a deprived background. Ethnic minority people account for more than a quarter of those admitted to critical care and continue to suffer higher death rates. Our own BMA surveys show that ethnic minority doctors are more likely to feel pressured to see patients without adequate PPE, less likely to receive adequate risk assessments, and less likely to speak out due to fear of recrimination or it affecting their careers. This is on top of pre-existing inequalities where ethnic minority doctors are twice as likely to be referred for disciplinary processes, experience higher levels of bullying, poorer career progression and face an ethnicity pay gap. We were therefore stunned when the Government's commission for race and ethnic disparities report in March pronounced that structural racism did not exist in the NHS. Again, the BMA spoke out, standing together with doctors of all backgrounds. I rebutted the report head-on in my piece in the BMJ, highlighting that it didn't even mention that 85% of all doctors who died from covid came from ethnic minorities, and we published our own critique of the report entitled 'a missed opportunity'.
Our message is clear. In order to tackle racism, you must first openly acknowledge it exists, and then act decisively to eradicate it.
RB, we all live in fear of receiving any communication with the letters GMC. But for ethnic minority doctors, a GMC investigation can trigger a career-ending fear that their fate is sealed without the natural justice of a fair assessment. Who can blame them given the recent landmark ruling by an employment tribunal which found that the GMC racially discriminated against Dr Omer Karim. In his own words he described how at that moment his 'life fell apart'. Instead of hearing our call to commission a wholly independent review of its processes, the GMC is instead appealing the tribunal finding. RB, I am proud that we -the BMA - are supporting Dr Karim in his legal fight for justice.
And too often a GMC investigation results in the tragedy of a doctor suicide- something which should be a never-event- and why its' right that the BMA is also supporting the widow of Dr Suresh, who tragically took his own life hours after receiving a letter from the GMC.
I'm proud too that we've launched a national BAME forum earlier this year, underpinned by thriving regional networks which have now engaged several thousands of grassroots ethnic minority doctors - giving them a new voice, visibility and strength.
The BMA is absolutely committed to supporting our international doctors, who suffer so many additional hurdles, discrimination and an utterly inadequate induction to the NHS. During the pandemic we successfully fought to end the health surcharge, secured indefinite leave to remain for dependents of doctors who sadly died and the continuation of automatic visa extensions.
RB, overseas doctors helped build the NHS out of the rubble of the second world war and served our communities in the decades that followed. We owe them a debt of gratitude and they must never be considered an add-on - rather our NHS is proudly defined by our ethnically diverse workforce.
We're also working hard for gender equality. Within the BMA, we've seen significant progress following the Romney review. We have an independent complaints process, a Freedom to Speak Up Guardian, EDI training for all members, so that no one should feel deterred from calling out discriminatory behaviour.
We've launched a hugely successful network for elected women which is going from strength to strength - championing female leadership within our association. We've increased female representation in our committees, and just published our 'Sexism in Medicine' report to fight for fairness in the workplace. We've continued to lobby employers to make reasonable adjustments so that disabled doctors and medical students can work safely. In the same vein, the BMA remains committed to improving the experiences of LGBTQ colleagues in the NHS – doing everything in our power to push for cultural transformation which makes everyone of all characteristics feel fairly treated, valued and accepted.
RB as we look ahead, we are a battle-weary, exhausted workforce. facing the biggest backlog of care in the NHS's history. Even the health secretary has projected a waiting list of 13 million, compared to 4 million prior to the pandemic. There are almost 300,000 patients waiting more than 12 months for operations, compared to 1,600 pre-pandemic.
This scale of challenge is hard to grasp. Our BMA tracker surveys with feedback from tens of thousands of members show that doctors fear that there's no end in sight. One third say they intend to retire early, half wish to reduce their hours and a fifth say they're going to leave the NHS altogether.
And as I told the health select committee inquiry on clinician burnout last November, 51% of doctors in our survey said they were experiencing poor mental health. Calls to the BMA's counselling helpline are at an all-time high.
And after everything doctors have been through and done for the nation, we've been given a pay award lower than the projected rate of inflation, against a backdrop of gross pay erosion, and disgraceful and punitive pension changes. This is further driving senior doctors to leave the profession early.
To add insult to injury, while claiming to have honoured the DDRB award, the government has blatantly ignored the DDRB's explicit call for those junior doctors and GP contractors in England and SAS doctors on multi-year pay deals to be equally recognised when they've given just as much of themselves.
RB, the NHS cannot afford to lose a single doctor. We're nearly 50,000 doctors short compared to EU averages, and any further reduction in workforce will be catastrophic for the nation's health. It is squarely in the government's hands to actively value its doctors by investing in them properly and fairly.
And in the midst of this backlog crisis, with the pandemic far from over, we inexplicably face wholesale reform of the NHS in England. The Health and Care Bill promises to reduce privatisation by ending competitive tendering yet allows private providers to sit on commissioning boards. It promises local and clinical leadership but gives the Health Secretary unprecedented powers to interfere in local matters. And despite the workforce crisis in the NHS, the Bill does nothing to tangibly address staff shortages.
The Bill notably fails to mention the absolute need for a truly independent, public health service-and doesn't even give public health specialists a reserved seat on ICS boards. Citizens deserve public health policies they can trust, uncontaminated by political motives and concerned only with their welfare.
RB, after the failure of the 2012 Health and Social Care Act, does the government really want history to repeat itself with another rushed disoriented reorganisation?
As I told the parliamentary Bill committee only last Thursday: This is the wrong bill at the wrong time.
RB in the past year I'm proud that the BMA has loudly said what needed to be said at each step of the way. We refused to be silenced, and we did this together as one BMA family across the UK.
I want to say a special thanks to my fellow council chairs in Scotland, Wales and Northern Ireland, Lewis Morrison, David Bailey and Tom Black. They've been tireless advocates for members and patients in their nations over this year.
Thanks to my amazing and supportive team of fellow Chief Officers - my trusted deputy chair David Wrigley, our acting chair of RB Latifa Patel who has stepped into the breach magnificently, our dependable treasurer Trevor Pickersgill, our wise President for the past year Sir Harry Burns and capable chief executive Tom Grinyer.
I'm sincerely grateful to my council members for all your support, wisdom and the trust that you have placed in me to be your Chair for the past 4 years.
One council member I'll forever be grateful to is Kailash Chand, whose recent, untimely death leaves such a painful void. Kailash was a true friend, a guiding spirit and a voice of conscience to me for over 20 years. An immigrant doctor from India, who was told he had no chance of a career in the UK but who stayed because the principles which founded the NHS were, to him, worthy of fighting for.
To regional councils and local divisions – thank you for all you do in local representation and media work that contributes so much to the BMA as a whole.
Thanks also to the chairs of our branches of practice, for ensuring that every doctor is fully represented, and to our professional committees, whose work has been invaluable. And not to forget a huge thanks to all staff at the BMA without whom we simply couldn't function.
RB, we cannot escape the painful truth that the UK has endured more than 130,000 people dying from Covid – amongst the highest compared to many similar nations, not to forget 12,000 excess non-covid deaths last year. Their families and the nation deserve answers.
A year ago, I called for a rapid inquiry so that we could learn the lessons to prevent a second spike, save lives and protect the NHS. That was dismissed by ministers, and instead we must now wait for a public inquiry sometime next year. The BMA is therefore taking matters into our own hands by launching our own inquiry imminently- to assess the impact of the pandemic on doctors, and importantly consider what needs to change to better support the medical profession and protect the nation.
As doctors we've been at the centre of delivering care throughout the pandemic. Our experiences must be heard, and our demands must be met. Because we cannot afford not to learn the lessons.
We cannot afford another disaster like the one we've suffered these past 18 months.
RB, the BMA has long called for major investment to resuscitate an NHS on its knees from chronic neglect. The Government's new funding announcement is a welcome step forward. But the prospect of this much needed new investment being stripped away after 2025 is of deep concern and can only lead to short-termism in how these resources are used. We need political honesty from the government - the NHS needs long term sustained investment not the constant uncertainty of a looming cliff edge.
But I want to make one thing clear. We will not accept a return to the old pre-pandemic days of an NHS in perpetual crisis. Which was so patently under-staffed, under-resourced such that 9 in 10 doctors say they're afraid of medical errors daily.
We will not accept an NHS running at unsafe bed occupancy and without spare capacity such that the pandemic surge meant we had to shut down services for non-covid care for months We will not accept an NHS in crisis every summer, let alone every winter.
We will not accept government pandemic planning that fails to provide adequate PPE stockpiles to protect frontline staff from illness and death as they serve the nation.
We will not accept a nation bereft of public health staff and facilities with ministers then paying billions to private companies without the expertise to deliver.
And we will not accept an NHS in which doctors are the scapegoats for the failings of ministers.
RB I led the BMA's caring supportive collaborative vision, drawing on everyday members experiences to describe an NHS that doctors want to work in.
In the final year of my tenure, I so want to see this reality begin to bear fruit.
For we demand an NHS with the staff, the facilities and the capacity, so that doctors have the time, tools and space to do their job safely.
An NHS where everyone -regardless of background or characteristic - has an equal chance to be their best, progress and be fairly rewarded.
An NHS which learns and doesn't blame. Which thanks and doesn't punish staff who raise concerns.
An NHS bolstered by technology but is still fuelled by humanity.
An NHS that finally breaks down the totally unnecessary divisive barriers between primary and secondary care., allowing all of us as doctors to be on the same team caring often for the same patients as one profession.
An NHS free of fragmented market-driven ideology. A single caring, supportive, collaborative NHS that we and our patients deserve.
RB, we've never faced a crisis like this before. We hope we never will again. But we can show that there's a chance to make a better NHS. We will settle for nothing less as we build back together as one profession.
Thank you.