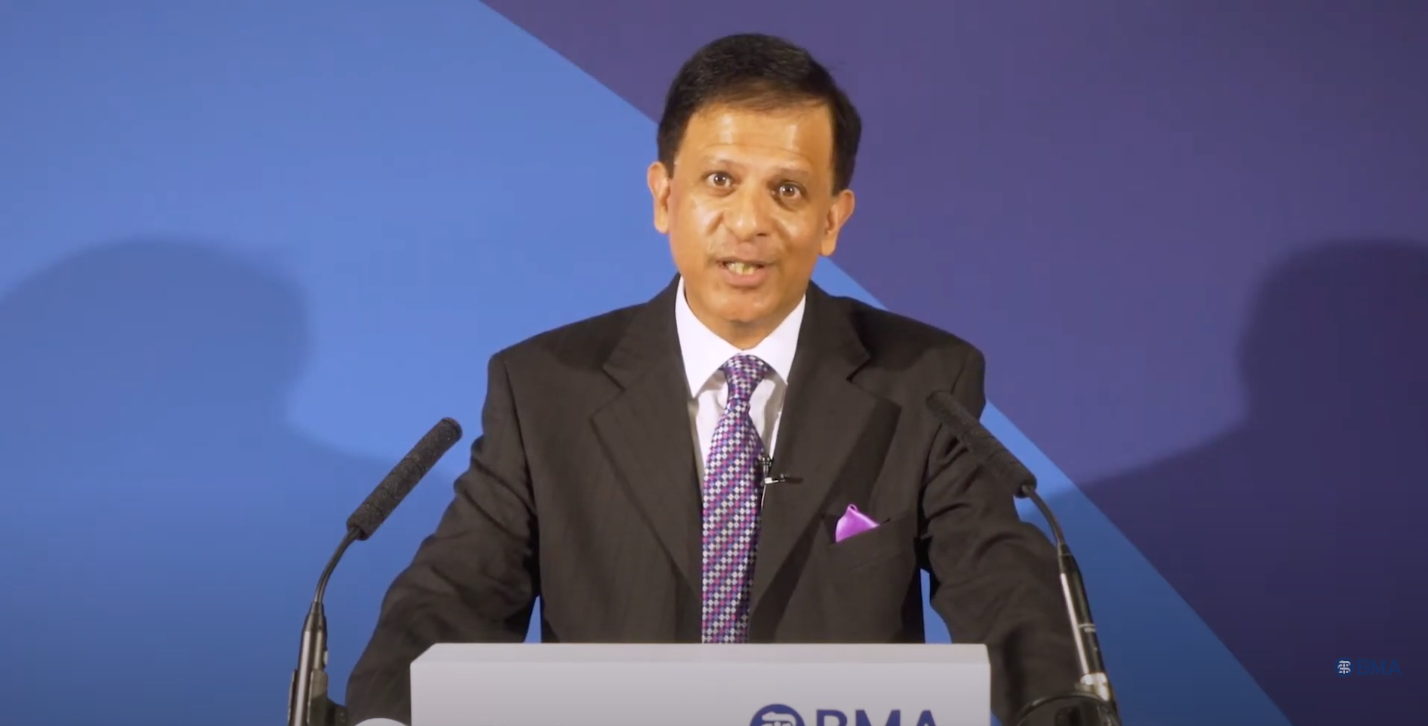 Chair, RB.
It's surreal to speak to you, not from a crowded conference hall, but from an empty room.
But what matters is that we're still coming together, like we do every year as the voice of the UK's doctors. Today we'll debate and make policy at a time that our health service faces its greatest challenge since its inception.
The pandemic was a shock to the world, but as coronavirus reached our shores, our overstretched NHS already had record waits for operations, cancer treatments and GP appointments. We had 10,000 unfilled doctor vacancies, and only a quarter of Germany's critical care beds.
Our infrastructure was lacking, so we were forced to adapt by putting a blanket hold on routine services and redirect NHS facilities and staff to accommodate the COVID surge.
As a profession, we put the health of the nation and our patients first. Medical students willingly stepped up to work on the frontline whilst retired doctors in their thousands came forward offering to play their part.
Doctors showed leadership, flexibility and courage. We accepted wholesale overnight change to our lives working outside contractual arrangements. Many moved from their usual specialty to learn new skills and work in critical care. Others left their families to work in new hospitals. Our emotional resilience was tested as doctors held smartphones to patients fighting for their lives so they could see loved ones who were forbidden from visiting them. We did our duty in serving the nation.
The BMA has been there for doctors from the outset. We have spoken out, we have challenged those in power, and we have been heard.
We stepped up our member services so that BMA staff were available 24/7 for any member facing difficulties. Our wellbeing support, available round the clock to doctors and medical students, was extended to family members, recognising the knock-on stress on our loved ones
We reached out to our members like never before, running no fewer than nine COVID tracker surveys, with up to 16,000 doctors responding within 48 hours so that we could be led by our members' reality.
Our priority has always been the safety and protection of doctors working in an environment of a highly infectious and deadly virus. That's why we've been uncompromising that doctors deserved proper personal protective equipment.
As early as March, in my evidence to the Health and Social Care Select Committee we challenged the government to bring its PPE guidance in line with international standards, since UK doctors were for example denied eye protection or masks in some settings. A week later we secured revised guidance from PHE to better reflect that of the World Health Organisation.
We publicly called out the scandalous shortages of PPE which were putting doctors in harm's way. Our first COVID tracker survey found that only 12 per cent of doctors said they felt fully protected from the virus.
We provided doctors with ethics guidance and advocacy to help them challenge their employers when they came under pressure to put their own health and lives at risk without adequate PPE.
And the BMA didn't just point out problems – we also put forward practical solutions.
My own GP practice like others received donations of visors manufactured by local schools and businesses who'd ceased operating during the lockdown. It prompted me to write an open letter to the Secretary of State urging him to unlock our domestic manufacturing capacity and produce the PPE which doctors desperately needed. We even sent his office details of over 70 organisations who had contacted the BMA offering to manufacture or supply PPE to the NHS, many of whom said they'd been ignored when they reached out to official government channels. It was only weeks after that the government commissioned Lord Deighton to lead this task.
In meeting after meeting, letter after letter and interview after interview, we have delivered one simple message: We have the nation's back, but the government must have ours or we will all fall down.
Tragically, significant numbers of our colleagues were not adequately protected. At least 34 have paid the ultimate sacrifice and succumbed to the infection.
We owe each doctor who has laid down their life our gratitude, and their loved ones our profound sorrow. Never ever again should doctors and healthcare workers fail to be adequately protected in the course of their duty.
In April when it emerged that the first 10 doctors who had died of COVID were all from a BAME background and that alarmingly high numbers of critically ill patients were of ethnic minority origin, the BMA spoke out. I publicly called for an urgent investigation which resulted in the government days later commissioning Public Health England to conduct an inquiry. To date over 90% of doctors who've died have come from a BAME background. Most trained abroad and came to work in our NHS to save the lives of others, only to tragically lose their own.
Our tracker surveys showed that BAME doctors were up to three times as likely as white colleagues to report feeling pressured to see patients without adequate PPE. We called for immediate action to ensure all doctors had risk assessments and to redeploy those at high risk to safe working environments. We even took matters into our own hands by developing the BMA's own best practice risk assessment tool. The BMA repeatedly lobbied NHS leaders until NHS England finally issued a directive that these assessments be carried out.
We were appalled when the government delayed the full publication of the PHE report on COVID and the BAME community given that we desperately needed action to prevent further ill health and deaths.
The PHE report depicted unambiguously just how starkly unequal our society is driven by longstanding structural and racial discrimination.
The BMA's voice was heard across the political spectrum. Throughout the pandemic I and national council chairs have met with the Ministers and officials at the highest levels of government. On behalf of the BMA I gave evidence at the Women and Equalities select committee and the All-Party Parliamentary Group on Coronavirus and partook in roundtables on race inequalities led by opposition leader Sir Keir Starmer and London Mayor Sadiq Khan. The BMA hosted a meeting with Baroness Doreen Lawrence, who is leading Labour's review of COVID's impact on BAME communities.
The pandemic also laid bare just how much our nation depends on our migrant workforce. Over the past two years more than 50% of new GMC registrants were doctors from overseas – the NHS would literally collapse without them. The government owes our international doctors a debt of gratitude, and we must welcome them, not present them with hostile barriers.
That's why in April I openly called on the Home Secretary to exempt all doctors and healthcare workers from paying the absurd immigration health surcharge – ending the perversity of doctors being charged to access services they themselves provided. We also successfully called for indefinite leave to remain for the dependents of any healthcare worker who died from COVID.
The brutal death of George Floyd at the hands of a police officer in America has shown racism and discrimination still scar black people's lives across the world.
Racism breeds health inequalities impacting on our patients, it adversely affects our colleagues and at its worst it kills. The BMA made clear in our statement calling for action – that black lives must matter deeply to all of us.
For our members, we're about to launch a national BMA forum to give BAME doctors a greater voice and advocacy.
We must however not be unequal in our commitment to equality. Unfairness affecting any characteristic matters equally.
We've fought hard for gender equality this past year. We highlighted the greater problems faced by women doctors in finding proper fit-tested masks. We called for greater childcare support, since our tracker survey showed nearly 15% of doctors were unable to work due to lack of provision.
Our pioneering menopause survey was a call for action to support women whose symptoms significantly impacted on their working lives but who were too afraid to speak out.
We partnered with the Medical Women's Federation for our hugely successful first ever joint conference on tackling gender inequality in the NHS.
Our large-scale survey into disability revealed that nearly half of doctors aren't receiving the adjustments they need and three quarters say they're worried about being treated unfavourably if they disclosed a disability or long-term health condition.
Within the BMA itself we've set up a culture and inclusion group overseeing equality for elected members. We're taking forward the recommendations of the Romney report on sexism and have introduced a Freedom to Speak Up Guardian, an independent complaints service, launched a national elected women's network and we're looking at mechanisms for more equal representation on our committees. We're about to provide bespoke EDI training for all our elected members.
Our equality diversity and inclusion group includes grassroots doctors from a range of characteristics and faiths – and together with our equality matters programme demonstrates the BMA's absolute commitment to equality throughout our NHS.
RB, throughout the pandemic, the BMA led the call for robust and effective public health measures to combat the virus.
The BMA spoke out in March when the government took the wrong-headed decision to abandon community testing in favour of self-isolation. We knew that flouting the WHO's edict of 'Test, Test, Test' would lead to the virus proliferating through our communities unchecked, which is exactly what happened.
We vigorously challenged the lack of testing of healthcare workers during the peak, which resulted in swathes of doctors needlessly self-isolating, rather than returning to work in the NHS's hour of greatest need.
We've consistently argued for proper resourcing of public health teams, yet the government went headlong into producing a promised world beating app which failed to track but instead sank without trace in June, taking millions of pounds of public money with it.
We even offered the government the clarity it has so patently lacked with the BMA's 10 clear principles on the easing of lockdown contrasting with the mushy incoherence of Westminster's 'stay alert' slogan. We spoke out about dangerously packed beaches, when the government failed to act, and we produced guidance for the public on safely taking a holiday in the UK.
The government's messaging has been utterly inconsistent and confusing – It's no wonder that the public haven't adhered to infection control measures.
The BMA called for the public to wear face coverings in April, yet the Westminster government rejected the need – despite this being policy in most comparable European nations. Two months later it changed its mind but only for public transport despite the virus patently being just as infectious in a shop as on a bus. In July the rules changed yet again now to include shops but not cinemas or museums yet in August it U-turned once more to include those.
On the eve of schools reopening, in the morning Ministers insisted there was no need whatsoever for secondary school children to wear masks. By the evening they were advocating their use.
The unambiguous two-metre rule has been watered down to 'one metre plus', with few able to work out what the 'plus' means. In some local lockdown areas two households could not meet in their garden, yet they were allowed to meet in a crowded pub.
In early March when the infection was rampant in Italy and Spain but yet to take hold on our shores, ministers felt no need to restrict travel into the UK or even check passengers on arrival, yet after the first peak passed new and inconsistent quarantine rules are imposed daily.
The government is now shooting for the moon promising to deliver mass continuous testing with a test that doesn't yet exist at a cost nearly as much as the total NHS budget.
Down here on planet earth, we need a fit for purpose test and trace system in the here and now with capacity, agility and accessibility that doesn't require 100-mile journeys that disadvantage some of the most vulnerable.
RB, the public need coherence and adherence – not the continued flip-flopping of decisions, which make a mockery of ministers claims of being led by the science, which clearly doesn't change from hour to hour.
Can there be any doubt that the newly announced National Institute for Health Protection in England must be truly independent, accountable to the public and not to political masters. The government must also redress its shameful disinvestment in public health medicine with PHE's budget now at £400 million, compared to the £10 billion allocated for NHS test and trace.
RB, the pandemic has vindicated so many BMA policies we've campaigned on for decades.
How long have we warned that the NHS was so bereft of staff, beds and community facilities that we just couldn't cope with standard pressures, let alone a pandemic?
This lack of capacity forced the NHS to halt so many services during the pandemic, resulting in collateral damage to millions of neglected patients. More than 10 million fewer patients attended hospital for operations or clinic appointments between April and June compared to recent years. In March alone 50% fewer patients were treated in A&E for heart attacks. Indeed, for over three months we didn't have a National Health Service but primarily a national COVID service.
The BMA blew the cover on this hidden impact of the pandemic which in part explains the tragic levels of excess mortality in the UK with an estimated 12,000 of these deaths being attributed to non-COVID causes.
These thousands who died weren't reported in daily government media briefings nor mourned on the front pages of national newspapers. But the loss of their lives was just as painful and tragic for their loved ones.
The triple whammy of the non-covid backlog, the ongoing risk of a second spike, and winter pressures makes it imperative that the chancellor Rishi Sunak belatedly fulfils the promise of his words and gives the NHS "whatever it needs". The citizens of this nation must no longer be punished from a failure to properly resource our health service.
RB, for nearly three decades the BMA has warned about the dangers of privatisation in our NHS, and the scandalous waste of public money fuelling private profit and fragmented care.
The private sector mushroomed during the pandemic. At every stage, the government has turned to the private sector, flouting the basic norms of tendering, with hundreds of millions handed out to companies with no prior experience of procuring PPE or testing and who failed to deliver without accountability.
Is this not evidence enough to demand the government now decisively ends the barefaced squandering of the public purse and ensures that the NHS is a publicly funded and publicly provided service for the public's sake?
It shouldn't have taken a pandemic to show that stopping tick box regulation gives doctors the time to care. I shouldn't have needed to write an open letter calling on the CQC's chief executive to do the right thing and cease his inspections during the pandemic.
Nearly 8 in 10 doctors tell us that CQC inspections divert time and resources away from patient care – only 25% believe it fairly measures quality. No other UK nation or country internationally adopts such a counterproductive bureaucratic system and many still manage to regulate for safety at a fraction of the cost. We should now liberate the hundreds of millions spent on current clipboard inspections in favour of proportionate regulation delivering safety through learning and support, not crude league tables of naming and shaming without context.
Neither did the sky fall down when appraisals and revalidation were suspended earlier this year – we must not go back to the past where doctors were judged on spending days tediously completing online evidence sheets, and instead adopt a true learning process with professionalism at its heart.
The pandemic demonstrated our interdependence as doctors, pulling together whether working in general practice, hospitals, public health through to academia.
We must now finally break down the damaging iron curtain between primary and secondary care, ending the perverse drivers resulting in barriers and shifting of cost and work across sectors, which 60% of doctors say is harming patient care. We didn't need an internal market during the pandemic, and we must not return to one. We demand a system where patients experience us as one profession, drawing on each other's strengths. The BMA will lead this charge from our unique position of representing the entirety of the nations' doctors.
The pandemic showed how political will can result in transformative change. Thousands of ventilators were built from scratch in record time, new hospitals erected in less than two weeks. GP practices like my own received a dozen new NHS secure laptops in four weeks for staff to work remotely – which no amount of pleading could have achieved in the four years prior.
We must not return to an NHS still widely using obsolete Windows 7 PCs wasting hundreds of hours daily booting up and crashing.
We demand fit for purpose modern IT, interoperable between GPs and hospitals so that patients' care is visible in real time rather than archaically waiting for letters, and which enables hospital doctors to electronically prescribe drugs for patients to collect from their local pharmacy and request investigations in the community with a keystroke.
The NHS must invest in and look after its staff fairly. After everything doctors have been through – the thousands of hours of unpaid work, the toll on wellbeing with a third of doctors reporting worsening stress, depression or burnout – the same politicians who clapped us from their doorsteps later shamefully refused to even acknowledge the work we did during the pandemic in July's pay award. It's a further insult to English GPs and junior doctors to receive less than all their colleagues with whom they've worked shoulder to shoulder through the crisis.
And it's an affront to hardworking GPs in England to imply they've shirked their responsibility to offer face-to-face appointments, when NHS England itself clearly directed GPs in April to provide online, telephone and video consultations and avoid face-to-face appointments unless absolutely necessary. This also flies in the face of the Secretary of State's own pronouncement on the July of 30th that GP appointments should be remote by default.
GPs like hospital doctors have worked flat out providing millions of appointments, including face-to-face, throughout the pandemic. They've responsibly followed instructions to prevent the spread of a deadly virus by limiting unnecessary contact between vulnerable patients and those who may be infectious mixing in the confined space of a waiting room.
RB, we must also avoid yet another crisis at the end of the year as the UK leaves the EU. The government must protect the nation's health by ensuring we have a deal that continues mutual recognition of qualifications which allows EU doctors to work in the UK, cross-border healthcare arrangements in Northern Ireland, and Europe-wide cooperation on research and disease surveillance.
The BMA has undoubtedly been centre stage in recent months as the voice of the UK's doctors, with unparalleled media visibility on primetime television, broadsheet front pages through to influencing at the highest levels in Government. We have fought to protect, support and deliver for doctors.
This has been possible thanks to the commitment of our staff who, from kitchen tables and bedrooms, have shown that the BMA is not a set of buildings but the people who work for it and champion its values.
I'm grateful to my team of senior officers – my trusted deputy chair David Wrigley, chair of RB Helena McKeown and treasurer Trevor Pickersgill, our president for the past year Raanan Gillon and also our new chief executive Tom Grinyer.
I want to thank especially my fellow council chairs in Northern Ireland, Wales and Scotland Tom Black, David Bailey and Lewis Morrison. They've each responded nimbly to the different approaches that their nations have taken, while playing a full part in our combined UK strategy.
I'd like to thank BMA council members for their support and collective wisdom and the regional councils for their local eyes, ears and input.
Thanks also to the chairs of our branches of practice, for ensuring that every doctor is fully represented, and of our professional committees, whose work has been invaluable.
Finally, we all owe gratitude to the grassroots doctors that we represent who've been the lifeblood of our nation's response to the pandemic. More than ever before, I feel truly honoured and humbled to lead our worthy profession.
RB, I'm sure you've found yourself asking if things will ever get back to normal.
This pandemic has been a window into a different world which demands a different NHS. We can't simply go back to a National Health Service which was so patently under-staffed, under-resourced and totally under-prepared for a difficult winter, never mind a pandemic. A country so plagued by inequality. A profession set up to fail.
Our vision is of an NHS which is resourced to give us the time, tools and facilities to care, where doctors feel valued and rewarded for serving the nation in a caring, supportive culture of equal opportunity.
It was from the ruins of the second world war that our health service was born. From the ruins of today's national health emergency, we must seize the chance to rebuild the NHS anew on its founding principles of being there for all at times of need
That, colleagues, should be the new normal. And that is what the BMA will be fighting for.