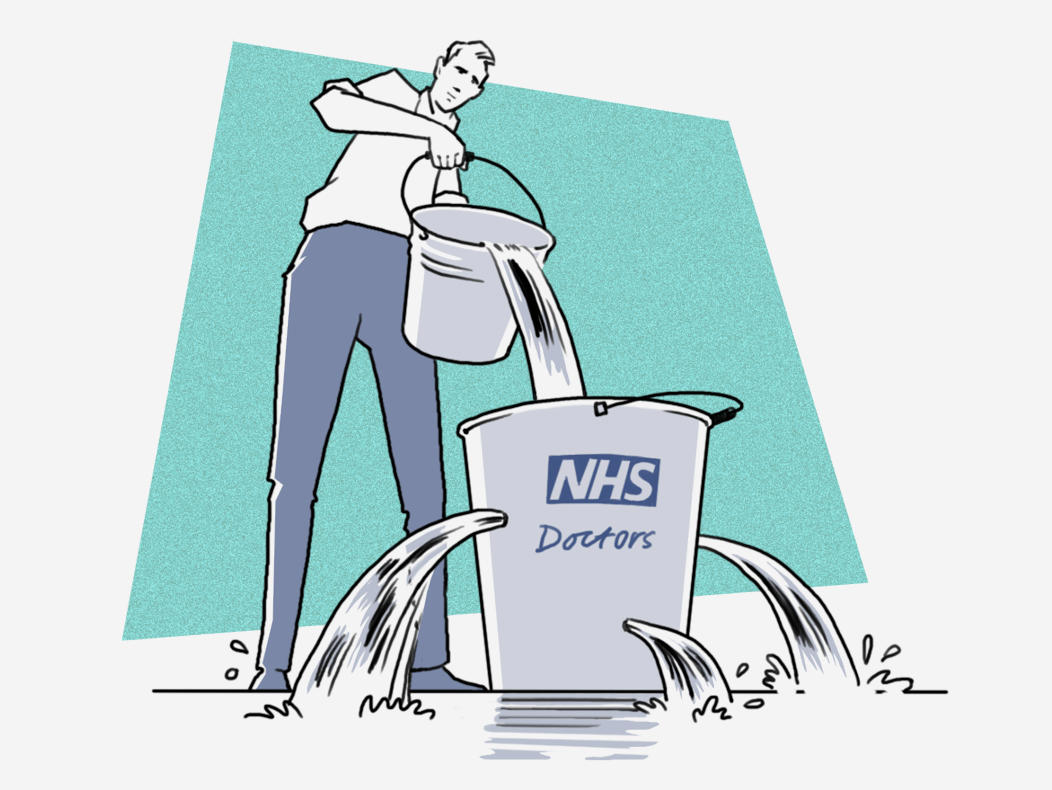 With the huge gap between doctor supply and patient need widening every year, necessary investment in the medical workforce can no longer be justifiably put off by our politicians.
This report focuses on what this supply gap looks like and solutions to narrowing it.
Clearly, as well as more doctors, healthcare services also need other clinical professionals too. As those responsible for leading the multidisciplinary team and overall patient care, however, this is not an either or - we need more doctors as much as we need other staff.
This report:
illustrates just how severe medical workforce shortages in England have become
demonstrates how the situation will worsen based on anticipated population growth and demographic changes without significant and swift intervention from Government
analyses trends in the medical workforce up to 2021
highlights the value of the doctor to the health of patients.
This is a shorter version summarising our recommendations and headline findings. You can find more information by downloading the full report.
What the BMA is asking for
Primary staffing legislation mandating regular healthcare workforce assessment in the Health and Care Bill
A duty on the secretary of state for health and social care to ensure regular, detailed and publicly available health and care workforce assessments take place. These should include modelling of current and future workforce supply and population and patient need.
Increased Treasury investment in the medical workforce
This should include:
sufficient medical school, foundation programme and specialty training places
expansion of teaching spaces and student clinical placement options
rapid expansion of the medical educator and researcher, public health consultant and specialist occupational health physician workforce
a relaxation of pension tax rules, so doctors are not forced to consider early retirement, and introduction of flexible working options for all staff
retention initiatives across all grades of doctor as set out in our Rest, restore, recover (2021) and Consultant workforce shortages and solutions: now and in the future (2020) reports.
Workforce supply options
Ethical international recruitment has always been and will remain an important pipeline for medical staffing.
'Retire and return' arrangements for former NHS and public health doctors, medical educators and researchers and specialist occupational health physicians have helped to keep the NHS afloat throughout the pandemic and will be essential to helping tackle the growing backlog of care.
A shortage of doctors
While the medical workforce is growing, it simply isn't growing fast enough.
Across primary and secondary care, there are currently 2.8 doctors per 1000 people in England, while the average in comparable OECD EU countries is 3.7. If the rate of medical workforce growth remains the same, it will take until 2046 before the NHS has the number of practicing doctors needed to match that average. That puts us 25 years behind where we should be today.​

Overworked doctors
Using the OECD EU nation average doctor to population ratio, we estimate a shortage of around 49,000 FTE (full-time equivalent) doctors and doctors in training in England across primary and secondary care.
Due to these workforce shortages, on average, each FTE doctor in the NHS currently does 1.3 FTE roles.
That is an additional 11-12 hours extra per week per FTE doctor. This is one to two hours above the working time regulations cap for average weekly hours.
Mounting evidence suggests that when doctors are working under conditions of chronic stress, and suffering with fatigue and burnout, mistakes are more likely to happen and moral injury and distress occurs.
When asked what factors contribute to moral distress, a 2021 BMA survey found 'insufficient staff to suitably treat all patients' was the most common response (52.5%).
Expanding medical school places
Without significant intervention to the rate of growth, we estimate the future medical workforce shortage by 2043 to be between 26,889 and 83,779 FTE doctors.
The difference between England's current doctor-to-population ratio and the average of comparable OECD EU countries must be filled via swift expansion of medical school places.
This will require a clear strategy and investment to ensure there is enough teaching space, educators, support for students and clinical placements.
All future medical graduates will need a two-year foundation programme place too. A sizeable number of those doctors will also go on to specialty (GP or consultant) training after.
The medical workforce in 2021 by type of doctor
GPs
We have 1,307 (4.4%) fewer fully qualified FTE GPs than we did in September 2015.
The number of patients per GP practice is 22% higher than it was in 2015, but the GP workforce has not expanded with this rise in patient need. As a result of this, there are now just 0.46 fully qualified GPs per 1,000 patients in England - down from 0.52 in 2015.
Routinely having to handle 120 new calls a day in the practice. Unable to afford locums. Very difficult to recruit partners as the pay is so much lower than it used to be. Salaried staff need protecting, so cannot respond to times of high workload.

Feedback from a GP partner BMA member
Trends
A career in general practice is increasingly popular among young doctors.
There is an urgent retention issue with GP partners.
Based on the data trends, fully qualified GPs generally want to better control their workload and work-life balance.
There is a clear trend towards salaried and sessional GP roles and more portfolio and LTFT (less than full-time) working. This will be the case for GP trainees too.
3:1 – we needed nearly three salaried and sessional GPs to replace the hours of one GP partner between March 2020 to March 2021.
From the Government's 2020 commitment of an additional 6000 doctors in general practice by 2024, we only anticipate getting around 3,380 additional fully qualified FTE GPs. This does not factor in any existing GPs reducing their hours or leaving the profession in that time.
Secondary care doctors
Since 2010, activity in NHS hospital and community services has increased by over 25%.
The number of doctors in secondary care has only risen by an average of 2.34% per year over the same period.
Due to the lack of publicly available and transparent workforce assessments, we have no way of telling whether the steady average annual growth rate over the last five years is keeping pace with patient need. We do not believe it is.
Insufficient medical staff to run a 1 in 4 on call rota safely without me plugging gaps. This extra work is not in my job plan. It is not in my contract. It is unresourced. I have just had three months off with stress.

Feedback from a consultant BMA member
Medical academics, public health doctors and specialist occupational physicians
We have had no official, transparent way of telling whether we have sufficient medical academics, public health doctors or specialist occupational physicians since the 2012 Health and Social Care Act removed workforce planning infrastructure and specific legal duties on ministers and NHS bodies.
The pandemic has also highlighted the vital role that doctors play as medical researchers in protecting the population from future health threats and improving the quality of care and life expectancy across the full range of conditions.
Evidence indicates that we do not have enough of any of these doctors.
Other factors affecting medical supply in England
Regional distribution of doctors
Not a single region in the country meets the comparison OECD EU nation average of 3.7 doctors per 1,000 people.
Regions of the country other than London with a large population do not have a proportionate number of doctors. 3.5 million more people live in the Midlands than the North West, but they have 4,000 fewer doctors to treat them.
There are twice the number of doctors specialising in geriatric medicine in London than in any other NHS region, despite the lowest proportion of over-65s living in London.
Age profile of doctors
13% of secondary care doctors and 18% of GPs will be reaching minimum retirement age in the next one to 10 years. This could mean a loss of 25,494 doctors.
With the number of doctors now considering early retirement more than doubling over the past year, the NHS potentially faces a worst-case exodus scenario of 31,820 FTE doctors.
Vacancies
The current estimated number of FTE medical vacancies in the NHS is 6,634 doctors (4.8% of all medical posts).
If all vacant posts were filled tomorrow, we would still need 42,528 more FTE NHS doctors and doctors in training to meet the comparison OECD EU nation average of 3.7 doctors per 1000 citizens in England.
To improve workforce planning, the NHS also needs a consistent definition of a vacancy for every type of staff group and specialty.
International supply of doctors
One in every three secondary care doctors in England alone are international medical graduates, while nearly one in every four GPs gained their primary medical qualification outside the UK.
The UK has one of the highest levels of overseas doctors in the OECD, employing nearly twice the OECD average of foreign-trained doctors.
International recruitment has been, and will remain, an essential pipeline for medical staffing in the NHS.
In non-pandemic times, ethical recruitment of doctors from overseas enables us to partially address shortfalls in homegrown doctors, critical for the delivery of safe patient care.
International recruitment must not, however, come at the expense of developing countries, especially during global health crises.
The BMA therefore supports the Government's ethical recruitment framework that promotes transparency, fairness and sustainable health systems in terms of how we recruit doctors from overseas.
Impact of independent sector medical staffing on the NHS
Given they currently draw largely on the same pool of doctors, workforce planning assessments must acknowledge the fact that many of the doctors working in private hospitals are also NHS doctors.
The chronic undersupply of doctors and long waiting lists have also resulted in the purchase of capacity and services from IHPs (independent healthcare providers) by the NHS.
Without greater investment in NHS capacity, the Government will continue to look to IHPs to deliver services for NHS patients. This will inevitably expand the private hospital medical labour market, which draws on NHS-trained doctors.
Why we must have enough medical expertise
Clinical practice is becoming increasingly multi-disciplinary, with a range of skills and professionals involved in patient care.
The NHS needs more of all of these different skills, from nurses to healthcare assistants to doctors, to deliver high quality care to the population and manage growing patient need.
This section considers the unique skills and attributes that define the doctor to fully understand what is lost when there are not enough.
Taking ultimate responsibility
Leadership is central to the role of the doctor along with their ability to apply skills and expertise in the context of an increasingly multidisciplinary, team-based approach to health care.
Doctors' capacity to assume ultimate responsibility for a patient's care is fundamental to their role.
A doctor's training, the breadth and depth of their expertise, their ability to deal with uncertainty and manage risk, and the bond of trust central to the patient-doctor relationship, makes them uniquely equipped to take this on. This is at the heart of what it is to be a doctor.
Diagnosis and prognosis
Medical school teaches doctors a complexity of knowledge in the clinical and basic sciences, as well as elements of the behavioural and social sciences, and establishes them as experts in their understanding and application.
Doctors' capacity to interrogate and employ the scientific evidence base distinguishes them as sources of authoritative insight.
It is the application of this expertise which provides for what is commonly recognised as the hallmark of medical practice: diagnosis.
Responsibility for this, which involves responding to the initial presentation of illness, prioritising and synthesising information and making a clinical assessment, largely differentiates doctors from other health professionals.
Dealing with uncertainty and managing complexity
Alongside the capacity to make a diagnosis and determine an effective intervention is doctors' ability to operate in uncertain circumstances. In their everyday roles, doctors must manage complexity and risk.
Research and academic medicine
Doctors also play a crucial role in ensuring the health service moves with the times through research and academic medicine.
The products of medical research are new ideas and treatments, best evidence and advanced technologies which bring about improved patient care and reductions in the cost of healthcare.
Medical research includes:
clinical trials
experimental medicine
translational research
epidemiological studies and public health,
basic scientific laboratory research aimed at understanding the underlying mechanisms of disease.
Of particular importance is the role of those doctors undertaking academic medicine who work to combine service delivery with research, teaching and administration.
Clinical academics are uniquely placed to use their expertise to make connections between clinical research and clinical practice.
Improvements in the quality of healthcare that stem from these roles bring about not only innovation in the delivery of care but also long-term efficiencies for healthcare systems.
Leadership, management and service innovation
Medical leadership is across the spectrum of practice:
GPs lead improvements in the delivery of primary care, increasing access and shaping local services
public health doctors lead programmes focused on the health of communities
specialist occupational physicians lead occupational health teams
junior doctors and their senior colleagues lead developments in training both locally and at a national level
consultants, in their everyday posts, as well as in a range of more specific roles, including medical managers and medical directors, take the lead in developing policies and making management decisions within their own departments and hospitals
It is because of their longevity in post and their deep understanding of the needs of their local community, workplace and patients, that doctors offer the knowledge and continuity required to improve services.
It is therefore crucial that we train more doctors now to ensure we have that expertise to draw on as population need grows.
Join the BMA
We're here to stand up for your rights, support you in the workplace and champion the medical profession. 
Join us