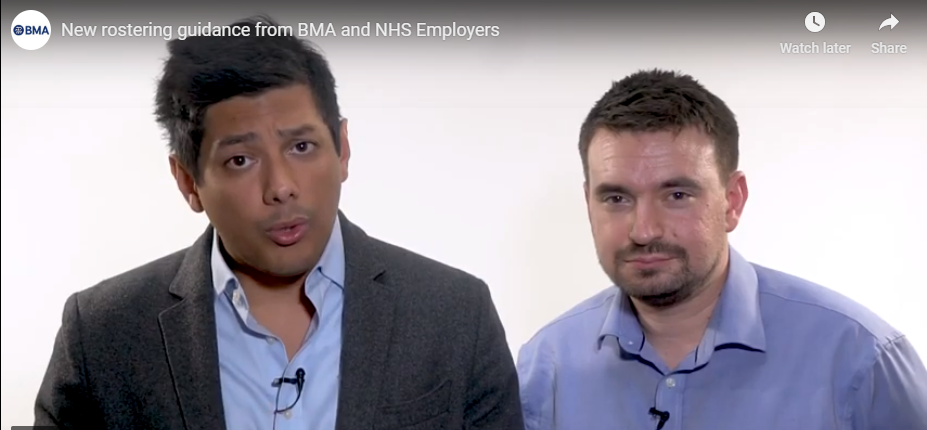 In negotiations on a new junior doctor contract in 2016, a comprehensive set of new working hour limits and rest requirements were introduced at the request of the BMA. These rules incorporate the statutory requirements of the Working Time Regulations into the contract and go beyond these in some cases.
It was acknowledged that these new rules would require many existing rotas and working patterns to change to make them compliant, and that it was important the new rules were understood correctly by employers and doctors so that new rotas took on board both the spirit and the letter of the new requirements.
In light of this it was written into the contract, and the ACAS agreement published when negotiations concluded, that the BMA and NHS Employers would jointly develop guidance on good rostering practices.
Overview
The guidance has now been finalised and published on NHS Employers' website, and they will be promoting its use to individual employers.
It is a comprehensive explanation of how the new contractual rules can be used most effectively to ensure rotas are designed and managed in a way that allows doctors to meet their training needs, avoid fatigue and overwork and maintain work-life balance, while allowing employers to deliver the service.
The guidance has many elements that are specific to the requirements of the new 2016 contract for trainee doctors currently in use in England, but there are many underlying principles throughout that would apply helpfully when rostering all types of doctor.
We've developed it in consultation with our junior doctors committee (JDC) and our various specialty groups to ensure the guidance provides practical and workable solutions that we hope will have a positive impact.
Key highlights
Clear instruction that rotas should be designed in a way that considers the negative implications of fatigue for both doctors and patients.
Requirement that any significant changes to a live roster should be done with 6 weeks' notice to the doctors affected and that existing approved leave requests should be honoured.
Clarification that the contractual rule that no doctor should work more than 72 hours in any 7 day period should not be measured across 7 calendar days, midnight to midnight, but across any 168 hour period (the number of hours in 7 days).
Dedicated guidance on how to best design and manage LTFT rotas, with a requirement that every effort should be made to provide set working day patterns for LTFT trainees who request them and that any proposed changes to set working days take into account the notice period required to change care provider arrangements.
Requirement that rotas should be designed and managed collaboratively between employers and doctors working the rota, and that doctors responsible for this should be allocated sufficient time to do so.
Clarification that a doctor can only be required to undertake additional duties in the event of unforeseen staff sickness if the employer has had less than 48 hours' notice of the issue.
Requirement that approved study leave for courses that take place on non-working days should be compensated by time off in lieu.
Rostering checklist
Once you've received your rota, refer to our checklist to ensure it is following the guidelines.
Did you receive this with sufficient notice as defined by the Code of Practice (8 weeks for the rota template and 6 weeks for the duty roster)
Have you been given a copy of your employer's policy or equivalent document stating the requirements of the roster manager and doctors working under the roster that has been agreed by the LNC?
Run it through the BMA's rota checker tool - is it compliant with the rules?
Were you consulted on the design of this rota? If not do you know which doctors were involved, and how to contact them with any questions?
If this is a change to an existing rota, have you been given 6 weeks' notice?
If you're LTFT, has this rota taken into account any set working days you have?
Is the rota as a whole balanced, with different types of shifts (on-calls, nights, long shifts) evenly distributed?
Is there enough time for handover and admin work in the shifts you're rostered for?
If there is non-resident on-call in the rota, does the pattern accurately reflect the intensity of work you'd expect, and is NROC definitely appropriate here rather than a full shift?
Is it possible for you to take annual leave when you need to rather than leave being fixed in the rota?
Are all your training needs able to be met in this rota as it currently stands?
Is there a straightforward process for swapping shifts if you need to?
If the answer to any of these questions is 'no' contact your educational supervisor and refer them to the jointly agreed rostering guidance.
BMA members - contact our employment advisers if you have any problems.
Need help?
For 24/7 emergency COVID advice please call us. For all other non-emergency enquiries normal opening times apply.