We start the New Year with a sense of déjà vu. This time last year we had soaring infection rates of the then Kent (Alpha) variant, which necessitated the need for national restrictions to be reintroduced.
Similarly, we begin 2022 with the emergence of Omicron but, owing to the unprecedented achievements of medical science in developing effective COVID-19 vaccines, we are in a significantly better place in terms of mortality and serious illness.
Indeed 2021 could be marked as the year of the most successful vaccination programme delivered in the history of the NHS. Thanks to the leadership and herculean effort of NHS staff - and in particular the leadership of GPs and primary care teams in the community - over 132 million doses have been administered across the UK.
However, 2021 also taught us of the resilience of this virus to mutate and proliferate – from the Delta variant flooding the world just as we thought we had begun controlling the virus - to Omicron fuelling the rapid rollout of the booster programme and society having to endure continued infection control measures. Sadly the pandemic is far from over and the fight against COVID will continue to dominate our efforts in 2022.
As your professional association and trade union, we have been there for you throughout. Putting your interests at the forefront of all our work. Leading the conversation as the most visible medical voice at every twist and turn. Calling for doctors to be supported and protected on the frontline. Holding the government to account for measures to control the spread of the virus, and their plans to address the overwhelming pressures on the NHS.
An exhausted workforce and overstretched NHS
We enter 2022 with the NHS facing unprecedented demand and a record backlog of nearly 6 million patients waiting for hospital treatment, of whom 312,000 have waited for more than 12 months. Staggeringly this is 237 times more people waiting over one year than in October 2019 (1,321).
Added to which millions more patients are still waiting for outpatient appointments, with over 20 million fewer outpatient attendances throughout the pandemic so far. We have seen ambulance response targets for calls classified as life-threatening consistently missed and at their worst since records began, amidst soaring pressures on general practice, with 3.1 million more patient contacts in October 2021 than in October 2019.
It is therefore wholly erroneous to talk about the risk of the NHS becoming overwhelmed - we enter this new year with an NHS already overwhelmed, in a parlous state, and with patient care suffering.
This has taken an inevitable strain on doctors who have worked flat out over 21 months of the pandemic and are exhausted. 51% have reported experiencing poor mental health and, unsurprisingly, nearly half wish to reduce their working hours to cope, while one in ten plans to leave the NHS altogether. This is against a backdrop of an NHS that has 50,000 fewer doctors than EU OECD averages, adjusted for population size. A key priority for the Government this year must be to properly invest in doctors' wellbeing, recognising that the NHS cannot afford to lose any more its workforce without dangerously jeopardising patient care.
In Rest, recover restore: Getting UK health services back on track we called for proper rest and recuperation, allowing for a safe working environment with employers providing sufficient breaks and access to timely occupational health assessments.
Standing up for you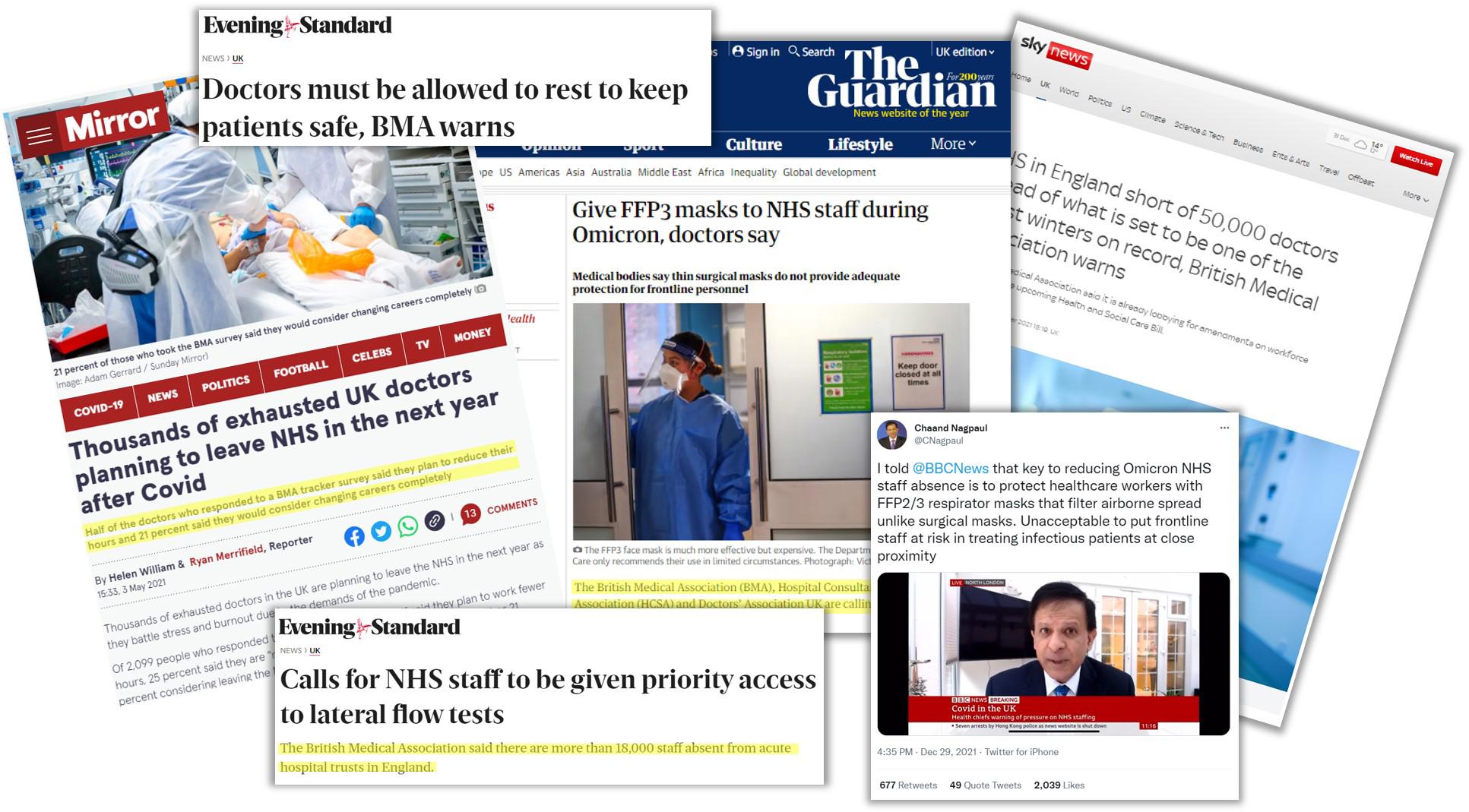 The BMA has at all times put the needs and welfare of doctors first throughout the pandemic.
Almost a year ago I called for enhanced PPE in a letter to Public Health England demanding that doctors are properly protected in the face of COVID and campaigning for FFP3/respirator masks in any setting when doctors see patients with suspected or confirmed covid. In July I wrote to every NHS trust CEO in England advising them of their obligation to give doctors the right protective equipment.
With the emergence of Omicron, I have just written to Trust CEOs, again reinforcing their obligation to provide healthcare workers with RPE and to undertake proper risk assessments, as well as to Amanda Pritchard, NHSEI CEO, calling on her to ensure that general practice is not be exposed and is equally provided access to respiratory protective equipment as well as COVID secure environments.
We've defended members when clapping on the streets turned to the profession being slapped down, resulting in unacceptable abuse being levelled at doctors. It has been soul destroying for GPs to be publicly vilified for not being able to operate normally as they led the delivery of the vaccination programme, at the same time as following NHS England's own instructions to assess patients remotely to prevent transmission and serious illness of elderly and clinically vulnerable patients in crowded waiting rooms.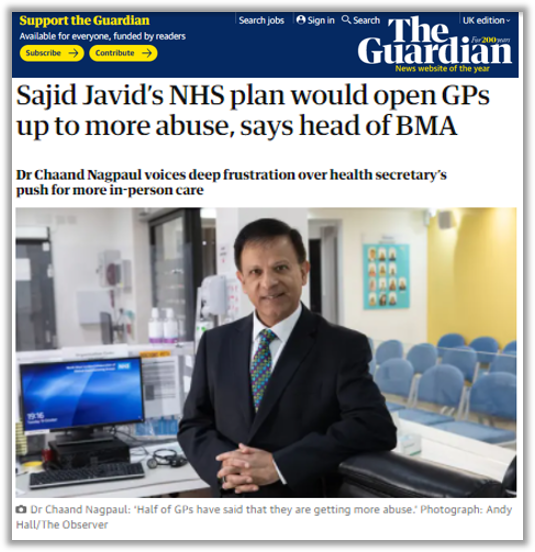 We put a stop to demeaning Winter plans in England which sought to name and shame GP practices for not meeting arbitrary targets for face-to-face appointments. These flawed proposals showed no regard for individual practice pressures like staff shortages, the limitations of operating within safe infection control measures, while failing to acknowledge that GPs have been delivering more appointments than ever before.
At a time when the NHS is facing its greatest challenge since its inception, it is totally counterproductive, wrong and damaging to disincentivise doctors with punitive pensions rules that force them to work less or stop work altogether. Just last month we wrote to the Secretary of State with practical suggestions to mitigate any financial detriment as doctors keep the NHS afloat.
After all doctors have given throughout the pandemic, we were dismayed at the insufficient 3% pay award – against year-on-year cuts to real terms pay – and the decision not to provide an equivalent uplift for SAS doctors, junior doctors and GPs on multi-year pay deals in England.
In response we launched the Fairness on the Frontline campaign to ensure all doctors are given fair recognition and reward for their untiring service to the NHS. We know the Government can afford to do so given the billions it is prepared to spend on politically driven priorities, such as outsourcing on Test & Trace.
Protecting the public's health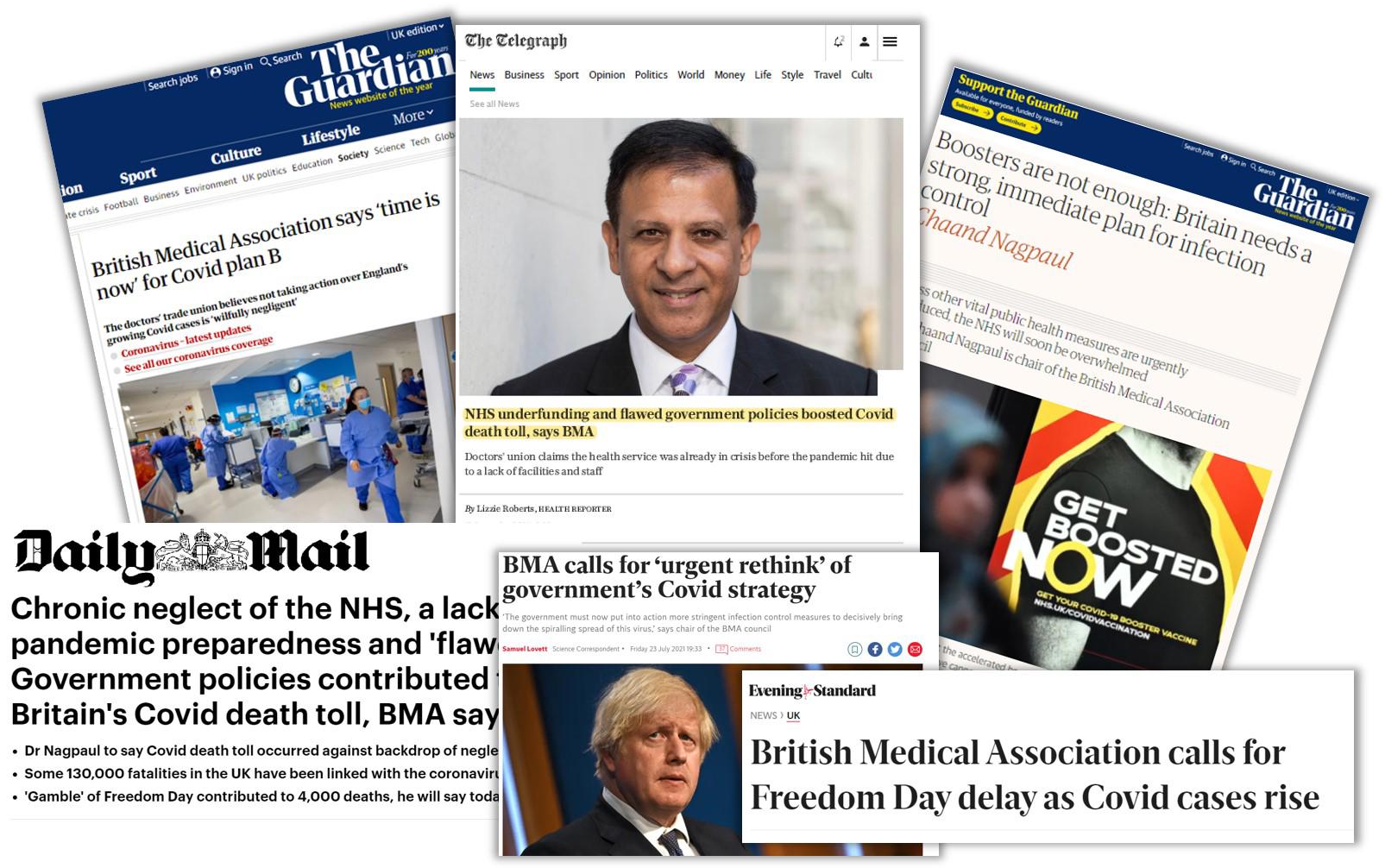 As doctors it is incumbent on us to fulfil the GMC's Duties of a Doctor to "Protect and promote the health of patients and the public." We have honoured this duty by consistently speaking up at every step, being prepared to put our heads above the parapet to challenge incoherent and damaging government policies in order to safeguard the public's health.
Last January we warned the UK Government that greater restrictions were necessary, with the virus spiralling out of control and doctors likening their workplaces to warzones.
In February, we published 'Taking a cautious approach to easing restrictions' to demand a roadmap led by metric trigger points set against new cases of infection, mortality, hospital capacity and vaccination coverage.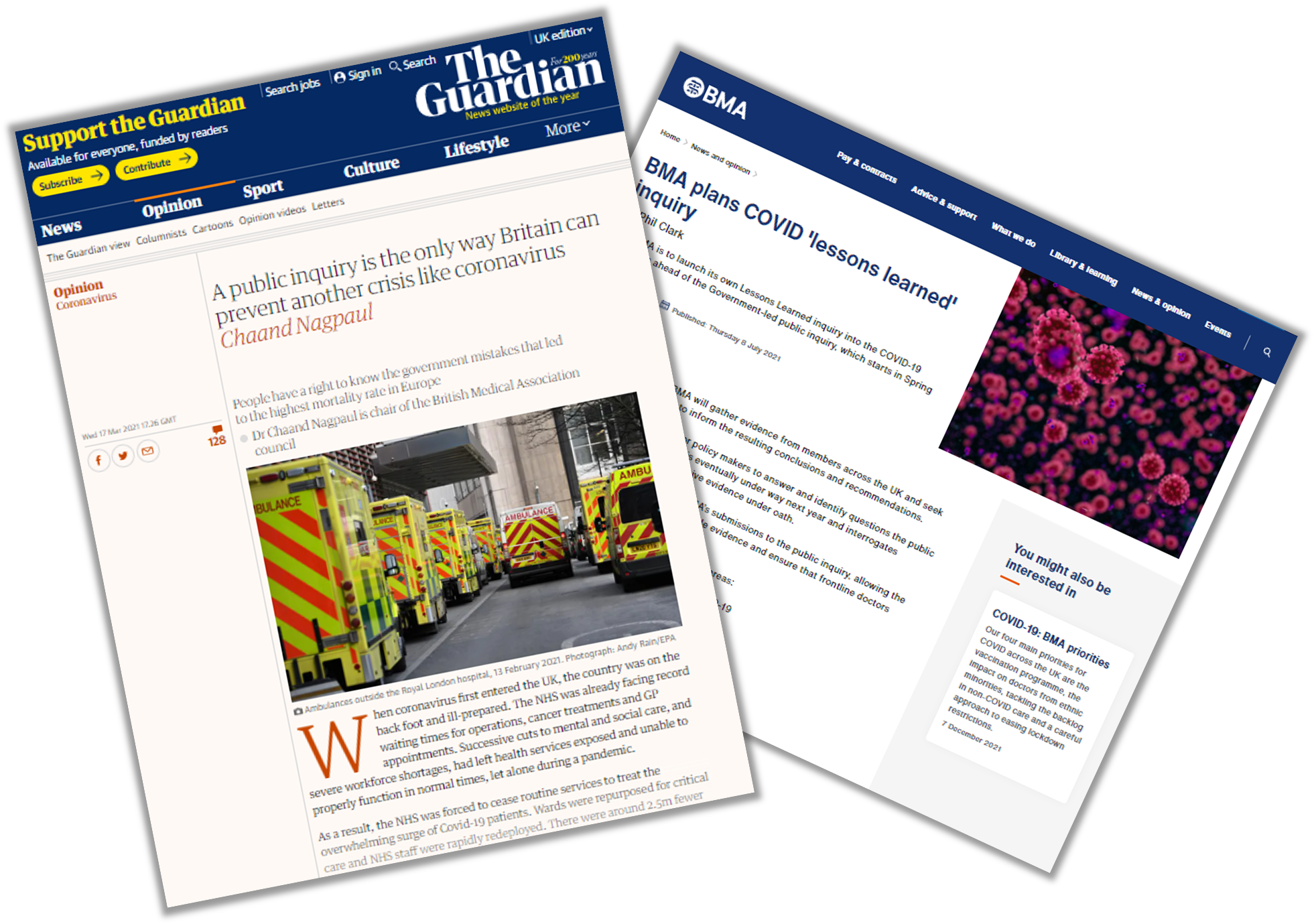 In April I called for an urgent public inquiry to learn from the Government's response to the pandemic to take action to deal with the continued challenges facing the health service – from too few doctors and too few beds to a crumbling estate and outdated IT systems – and be better prepared to respond to crises in the future. We can't afford to wait for the delayed government public inquiry to start in the coming spring, so we have launched our own BMA lessons learned review to learn and act on those immediate lessons while they are still fresh in our memories, so that the NHS can be best supported from hereon.
I gave evidence to the Health and Social Care Committee's inquiry on burnout in the NHS whose report in June concluded that physical and mental exhaustion and distress presents "an extraordinarily dangerous risk to the future functioning of services."
In the summer we called out the confused and contradictory messaging of 'data not dates'. Ministers raised hopes with a false narrative around 'Freedom Day' in England - originally set for 21 June but later pushed back to 19 July after we raised concerns about how the then dominant Delta variant was spreading uncontrollably.
I provided evidence to the National Audit Office report on NHS backlogs and waiting times which agreed with our assessment that the NHS went into the pandemic woefully underprepared, understaffed and with inadequate capacity – meaning services across the system were forced to suspend all but the most urgent work.
Our evidence to the Health and Social Care Select Committee was included in its damning report on the Government's handling of the pandemic which concluded that the initial pandemic response had been "one of the most important public health failures the United Kingdom has ever experienced."
As infection rates began to climb in October, we called for the Government to implement Plan B, and in November published Weathering the Storm, a plan to protect the NHS over the winter months.
Just last month I gave evidence to the All Party Parliamentary Group on Coronavirus on the new Omicron variant, urging that booster programme must be accompanied by public health interventions to control spread. I called out the UK Government's incoherent and contradictory measures and highlighted the BMA recommendations which included a range of public health policies including mandatory mask wearing in all indoor settings, an end to large scale events, social distancing and measures to reduce social mixing.
We were the first medical organisation which warned staff absences might paralyze the NHS and only last week we cautioned that unless these measures were introduced quickly up to 50,000 frontline doctors , nurses and other NHS staff could be off sick with COVID on Christmas Day. Sadly this has proven to be the case with a 50% increase in staff absence nationally in just a week and a doubling in London. 
Vaccines: the importance of global equity
We are one global health community, with new variants leaping from one continent to another, and the pandemic will not end until it ends everywhere. We also have a duty to look out for and support each other, and why last spring, through BMA Giving, we donated over £50,000 to support the heart-wrenching crisis of Delta afflicting India, to support provision of vital equipment, medicines as well as human resources.
On behalf of the BMA, I further proposed a unanimously supported emergency resolution at the World Medical Association Council last April calling on the international community and governments to urgently prioritise support and aid to the worst affected nations in the pandemic.
There remains a stark inequality in vaccination rates in different countries, with only 8% of people in low-income countries having received a vaccine dose, while the majority of the world's poorest and most vulnerable low- and middle-income nations will miss the WHO's target to vaccinate 40% of their populations.
In December I wrote to the Prime Minister calling for urgent action to address this problem through vaccine patent waivers to accelerate production, as well as priority vaccination shipments for those countries with the lowest vaccination rates. Just a few days ago we published a joint statement with other unions and royal colleges reiterating our calls for vaccine equity. I hope that 2022 will be a year when politicians begin to realise narrow national interest is no answer to a global pandemic.
Equality and fairness in healthcare
Here in the UK 2021 once again highlighted the shameful inequalities that affect our population, including those experienced by ethnic minority doctors.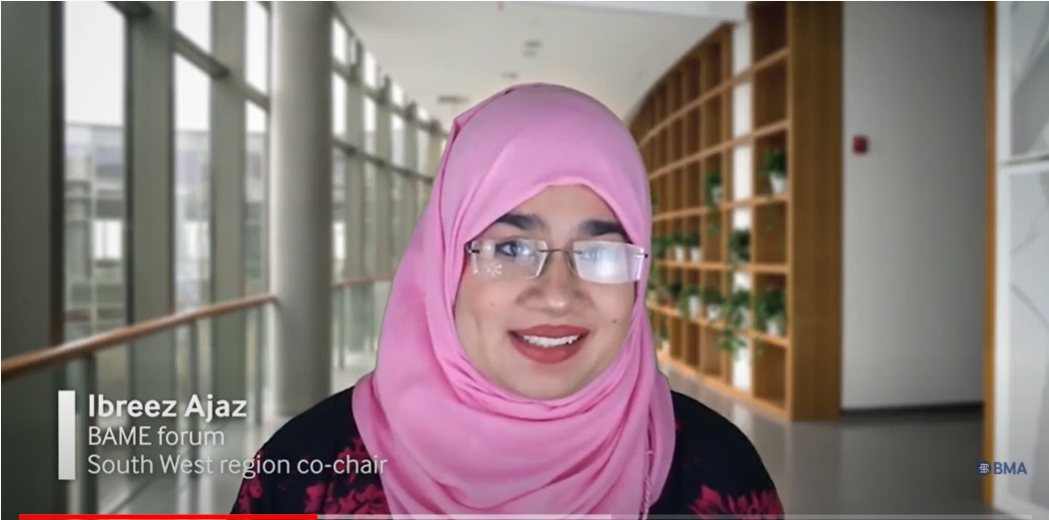 I'm proud that in January we launched our national BAME forum which is supported by regional networks throughout our four nations. This has given a voice, advocacy, camaraderie and support to thousands of ethnic minority doctors – many who had not engaged with the BMA previously.
We have collaborated with a team including Roger Kline, Doyin Atewologun and Vijaya Nath to undertake research into why there remain barriers to progression for ethnic minority doctors in the NHS, so we can put an end to a system which does not allow doctors to be their best. We also launched our first ever Racism in Medicine Survey which will not be 'just another survey', but will provide detail and solutions to enable long overdue positive change because we know racism in medicine exists and is an everyday experience for too many doctors.
I was therefore stunned when the UK Government dismissed the role of structural racism in the health service when it published the Commission on Race and Ethnic Disparities (CRED) Report in March. I immediately rebutted it in the BMJ and we followed this by publishing our own 'A missed opportunity' response, an evidence-based critique of the Government's report with our own recommendations for change.
We've launched a hugely successful Network of Elected Women which is going from strength to strength - championing female leadership within our association. We've increased female representation in our committees, and just published our 'Sexism in Medicine' report to fight for gender fairness in the workplace.
We've continued to press employers to make reasonable adjustments so that disabled doctors and medical students can work safely, establishing a new DLN (disabilities, long-term conditions, and neurodiversity) network to raise the profile of doctors and medical students who are disabled, neurodivergent or have long-term conditions.
In the same vein, the BMA remains committed to improving the experiences of LGBTQ colleagues in the NHS – doing everything in our power to push for cultural transformation which ensures everyone of all characteristics is fairly treated, valued, and accepted.
Fair regulation
As doctors we are all regulated by the General Medical Council. Yet any communication with those three letters – GMC – trigger fear and panic in us all.
Between 2005 and 2013, 28 doctors under the GMC's Fitness to Practice procedures took their own lives. Each instance should be a never event, and each clearly demonstrates a broken system. That's why we are supporting the case of Dr Suresh, who took his life just hours after receiving notification from the GMC. The litany of errors and miscommunication that led to such a desperately tragic outcome must not ever happen again.
For ethnic minority doctors, a GMC investigation can trigger a career-ending fear that their fate is sealed without the natural justice of a fair assessment. Who can blame them given the recent landmark ruling by an employment tribunal which found that the GMC racially discriminated against Dr Omer Karim. In his own words he described how at that moment his 'life fell apart'. It is unfortunate that the GMC has decided to appeal the ruling and the BMA is proud to support Dr Karim in his fight for justice.
We are therefore calling for an independent root-and-branch-review of the GMC's processes, including external scrutiny of all new referrals to Fitness-to-Practice procedures.
NHS reorganisation in England
To almost any reasonable person it seems incredulous that the government is considering wholesale health reforms in England, in the midst of a pandemic while the NHS faces its greatest ever challenges.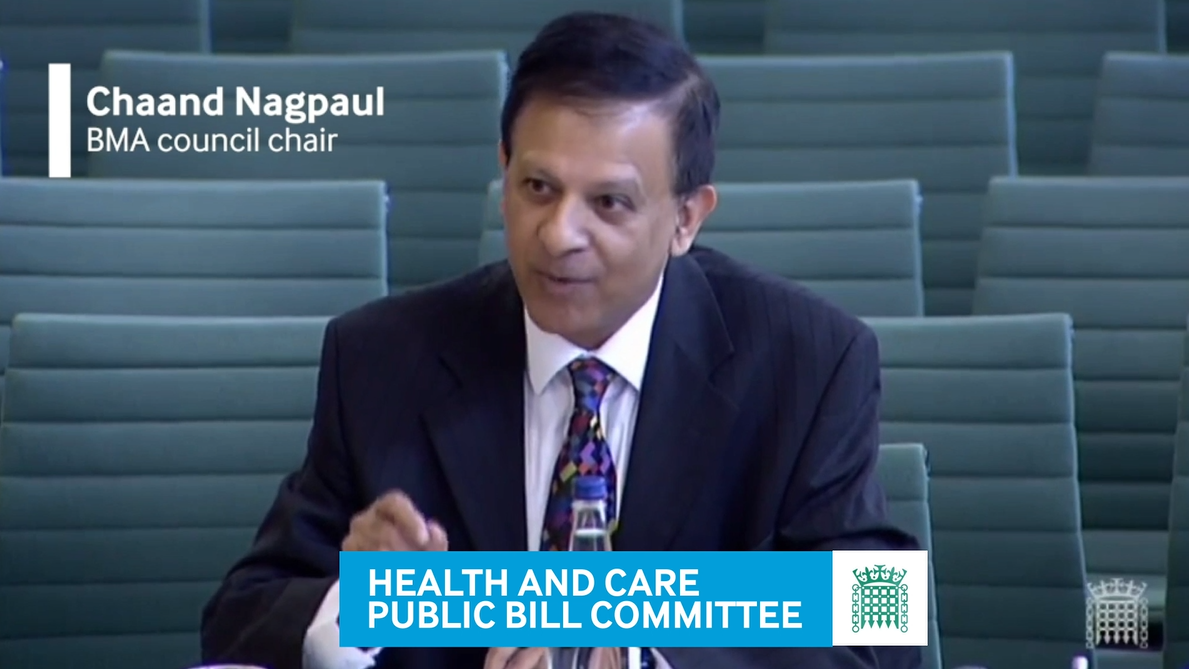 In September, I gave evidence to the Public Bill Committee, where I made clear that this is the wrong bill at the wrong time, imploring the Government to rethink its proposals.
Our views have been voiced in Parliament by MPs and myself and Deputy Chair of Council David Wrigley recently held a crucial briefing event with Peers before the Bill is scrutinised in the House of Lords. Working on a cross-party basis we are seeking amendments to the legislation which will:
Place a duty on the Secretary of State to publish routine and transparent staffing requirements now and in the future.
Embed representative clinical leadership at every level of the new Integrated Care Systems, including public health doctors as independent advocates of the health of local populations.
Prevent private companies sitting on new decision-making boards and place the NHS as the default option for new contracts.
Curtail the suggested new powers afforded to the Secretary of State which confer unnecessary political influence over clinical decision-making.
Find out more about our activity including accessing our activism toolkit to enable you to engage with your MP and local media, and more about our key calls.
2022 - the year of recovery?
Looking at the year ahead, incredible medical progress has been made over the past 12 months in understanding and managing Covid 19. We now have a range of effective vaccines that have significantly reduced levels of illness and death and we are better at managing Covid infections, with lower levels of hospitalisation, length of stay, ICU admissions and deaths relative to infection rates, and new antivirals have just been launched.
We also have the bitter experience of two years of the pandemic, having amassed much knowledge about past actions, mistakes and what could have been done differently. We are in a stronger position to draw upon the learning of the past and it is vital that the UK governments and health bodies make the right decisions to safeguard and provide stability for health services this coming year.
With collective determination, I very much hope that 2022 can be the year of recovery.
Key to recovery is bringing down soaring COVID infections. While COVID hospitalisation rates are much lower than this time last year, they are still significant, and rising, and resulting in soaring NHS staff absence. It's hard to grasp the scale of challenge of 6 million patients waiting for treatment, leave aside even greater numbers who have yet to receive clinic appointments. With a health service with bed occupancy already above safe limits in most NHS Trusts, and nearly 30,000 patients admitted to hospital with COVID between 27 November and 27 December alone, every COVID admission is displacing another patient who could be treated.
While the booster programme is all-important, we enter 2022 with about 11 million adults not yet eligible for a booster, and therefore will continue to both be susceptible, but can also spread the infection, especially given that large numbers are younger with greater levels of social mixing. It is vital that the government takes a twin track "vaccine plus" strategy with coherent measures to reduce infection rates in the community. You simply can't have one without the other, to get on the front foot with the virus.
But we also need 2022 to be the year in which the government grasps that the NHS is nothing without its workforce. That it opens its eyes and sees that we are doctors who are physically and mentally fatigued, with many likely to reduce their hours or leave the NHS altogether. The government must pull out all the stops to retain staff - investing in our wellbeing including providing a safe working environment with proper PPE to prevent us coming to harm at work.
It means ministers being honest with the public about the scale of the challenges ahead, with realistic timescales of clearing the backlog and an end to political soundbites and unachievable expectations. It is unacceptable for politicians and the media to scapegoat doctors for the state of the health service due to historic underinvestment. The government and NHS leaders need to visibly show they have our backs and defend the workforce in the face of unjustified media attack as was the case when GPs were vilified last year regarding access to face-to-face appointments.
This year also brings the prospect of significant new investment in the NHS from April, in the form the NHS Health and Social Care levy. It is vital that this extra public contribution, when people's finances are already strained, is used responsibly and effectively on the right priorities not squandered by ill-judged political motives. We call on government to engage with doctors and other healthcare workers, and make sure this money transparently supports us to be able to deliver the care that patients and the nation needs.
Looking forward, we must not accept a return to the 'old normal' of an NHS which was so patently understaffed and under-resourced, where 9 in 10 doctors are afraid of medical errors daily. We need a health service that is built to manage surges in demand so that in future pandemics we do not cease all routine services en masse resulting in collateral suffering to millions. A service that finally has the workforce, beds, and facilities that comparable nations take as a given. One that uses technology to its fullest to make more efficient use of our time and supports patient empowerment equitably. Such as having interoperable data between GP practices and hospitals and enabling electronic prescribing of prescriptions by specialists for patients to collect from their local pharmacy. The new normal should put an end to the totally false division between primary and secondary care, with its bureaucracy, silos and shifting of cost and workload, in which we can genuinely operate as one collective team looking after our patients within our communities.
And we need a compassionate health service. One that pats you on the back for doing your level best amidst inordinate and unfair pressures, rather than one that instils fear of blame when you get it wrong for factors outside your control. A service which treats its workforce according to its own values of fairness and equality as they apply to patients.
In 2022 we must build the foundations of a sustainable NHS, which has the capacity and resilience to accommodate the unexpected and put an end to the unpredictable, snakes and ladders world we've inhabited for far too long.
The question for our political masters, and those leaders responsible for running our health services, is whether they will fulfil their moral duty to build on past learning to end avoidable suffering and make 2022 the year of recovery.
Best wishes,
Dr Chaand Nagpaul
BMA UK council chair