We end a very long and difficult year with a health service buckling under the strain of more people in hospital with COVID than at any point in the pandemic.
I give my heartfelt thanks to those of you who provided vital services during the festive break, and to each and every one of you for your dedication and tireless work in playing your part to protect the health of the nation and our patients throughout the last year.
While all of us became doctors ready to take on the toughest of challenges in caring for patients, none of us could have anticipated working through a pandemic that has wreaked such havoc on our health service and society over the past year. Indeed 2020 will probably be remembered as the most physically and mentally taxing year in our professional lives.
As we turn to face the year ahead, we do so in the midst of a third wave fuelled by a new variant of the virus, with increasing reports of hospitals declaring major incidents, ICU beds reaching 100 percent capacity in parts of the country, and patients having to be transferred to other hospitals for care.
The rollout of the Pfizer and AstraZeneca vaccines offers hope that an end is in sight. It is testament to the remarkable achievements of medical science that vaccines against coronavirus have been developed in just 10 months - rather than 10 years. And it is a credit to the unstinting work of our health care staff in hospitals and GPs and teams in primary care, that we are ending the year with over half million of our most vulnerable patients having received the first dose of the vaccine.
However we are still months away from enough of the population being vaccinated to return to any semblance of normality. So the months ahead will be as challenging, if not more so, as when the virus first peaked in April. We know from our tracker surveys that over four in 10 doctors mental health has deteriorated during the pandemic, and with many exhausted form working flat out without taking adequate leave for over 10 months.
The BMA is here to continue to support you in 2021; to ensure that doctors alongside other frontline workers receive the covid vaccine as an immediate priority; that we are provided with adequate protective equipment so we can continue to care for patients, and to safeguard our wellbeing as we get through the third wave.
Looking back at 2020
We entered 2020 with the NHS already overstretched with record waits for operations, cancer treatments and GP appointments. We had 10,000 unfilled doctor vacancies, with fewer hospital beds and critical care capacity than our European neighbours. Our baseline infrastructure was not prepared for what was the unforeseen global calamity of coronavirus which hit our shores last January.
In spite of this, we have as a profession at all times stepped up to the plate. Doctors have shown remarkable leadership, adaptability and courage. We accepted wholesale overnight change to our lives and workload. Many moved from their usual specialty to learn new skills and work in critical care. Others left their families to work in new hospitals. GPs rapidly implemented demanding remote consultation systems to protect their staff and patients from infection. Medical students willingly stepped up to work on the frontline; retired doctors in their thousands came forward offering their services.
Our emotional resilience was tested as doctors witnessed surges of illness and deaths at unprecedented levels including having to treat and mourn the loss of their own colleagues. Many held smartphones to patients fighting for their lives so they could see loved ones who were forbidden from visiting them.
I indeed feel truly honoured and proud to be a part of our profession which has shown such selfless dedication in serving the nation at this time of crisis.
Representing you throughout
If ever there was a year to demonstrate the value of a trade union and professional association for doctors, 2020 has been that year. I am proud that the BMA has been there for our members from the outset. We have spoken out, we have challenged those in power, and we have secured real changes on your behalf.
Like many of you, I remember in February looking at what was happening around the world and feeling deeply fearful about what was about to hit us. Early in the pandemic we therefore stepped up our member services so that BMA staff were available 24/7 to provide support and advocacy for any member facing difficulties - whether worried about seeing patients without adequate PPE, through to issues regarding working outside their contract. Our wellbeing support - available round the clock to doctors and medical students - was extended to family members, recognising the knock-on stress on our loved ones
We reached out to our members like never before, running no fewer than 11 COVID tracker surveys, with tens of thousands responding so that we could be led by our members' reality on the frontline.
Our priority has always been the safety of doctors working in an environment of a highly infectious and deadly virus. As the scandalous shortages of PPE began to put doctors in harm's way - with only 12 per cent of doctors telling us last April they felt fully protected at work - we used every route open to exert pressure on the government to fulfil its duty to protect its healthcare workforce.
We raised this publicly in the media as well as repeatedly with Ministers including my evidence to the Health and Social Care Committee last March where I challenged the government to bring its PPE guidance in line with WHO standards. UK doctors were being left less protected and a week later we secured revised guidance from PHE accordingly. As the more transmissible variant of COVID takes hold we are once again standing up for doctors and calling on the government to make sure you are protected to safely care for patients with adequate PPE.
"We are flooded with anxieties and concerns by doctors. Masks have run out and doctors are told to buy them themselves", says BMA Chair @CNagpaul talking about the issues around the provision of PPE at our evidence session on preparations for #coronavirus. pic.twitter.com/p6zHXfUfM0

— Health and Social Care Committee (@CommonsHealth) March 27, 2020
Throughout the pandemic, the BMA has continually produced and updated guidance to support members in each branch of practice on the impact on your terms and conditions and working lives, which can be accessed through our COVID-19 hub. This includes issues such as annual leave, acting up, childcare, pay, and extended hours.
We also produced guidance on ethical issues addressing some of the main ethical challenges that doctors have encountered during the course of the pandemic – including prioritising treatment, triaging resources and maintaining essential services.
The deadly impact of coronavirus
Tragically, significant numbers of our colleagues were not adequately protected. Having dedicated their lives to helping others, at least 39 have paid the ultimate sacrifice by losing their own. We are one profession, one medical family and we owe them our gratitude, our respect and a pledge that we will remember them.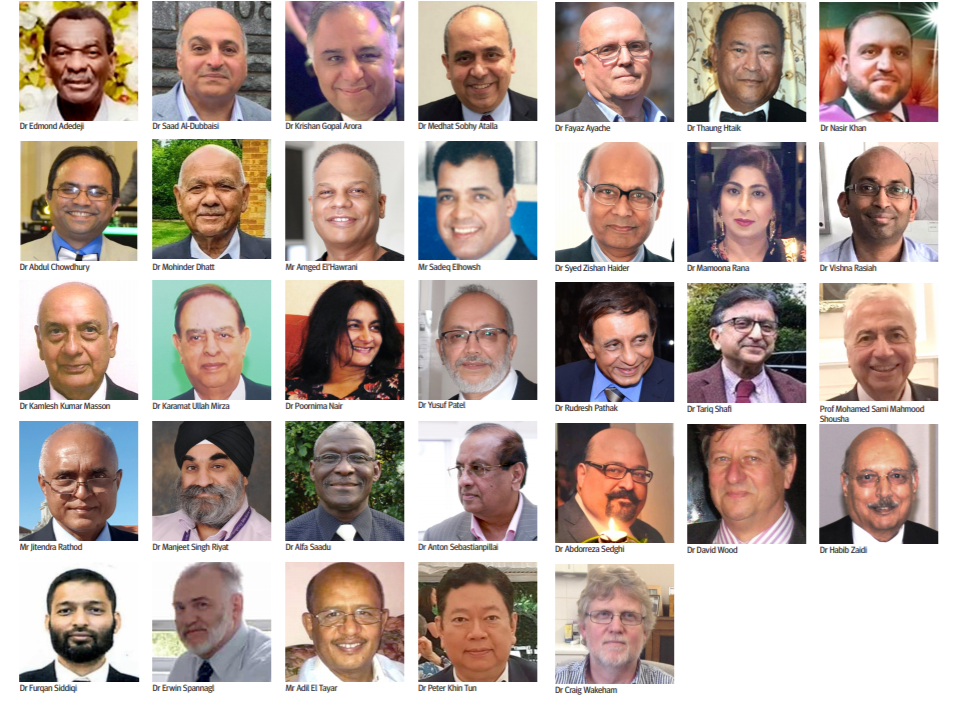 We demanded action to ensure all doctors had risk assessments and to redeploy those at high risk to safe working environments. We even took matters into our own hands by developing the BMA's own best practice COVID-19 risk assessment tool. The BMA repeatedly lobbied NHS leaders until NHS England finally issued a directive that these assessments be carried out.
Demanding equality for our workforce and communities
When last April it emerged that the first 10 doctors who had died of COVID were all from a BAME background, the BMA was the first organisation to publicly call on the government to act. Our call was heeded with the government commissioning Public Health England to conduct an inquiry days later.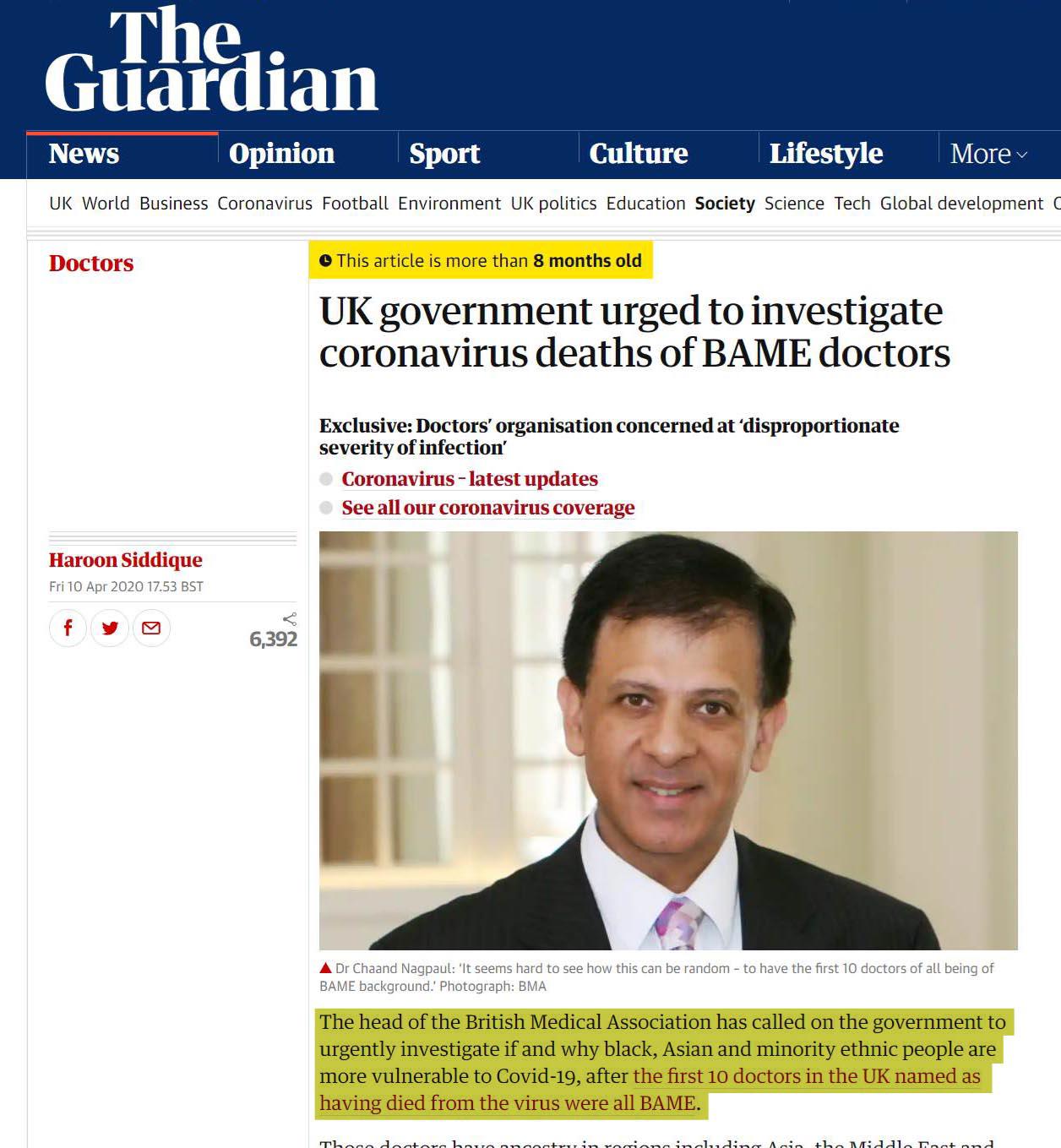 To date over around 90% of doctors who have died have come from a BAME background. The virus has laid bare the structural inequalities that have afflicted doctors from ethnic minorities for far too long in our health service. Our tracker surveys showed that BAME doctors were about two times more likely to report feeling pressured to see patients without adequate PPE and were less likely to speak out due fears of adverse impact on their career progression.
I gave evidence on the impact of COVID on the BAME community and healthcare workers to the Women and Equalities Select Committee, the London Assembly and the BMA organised a meeting with Baroness Doreen Lawrence to contribute to her review on behalf of the Labour Party.
The BMA has long advocated and actively campaigned for race equality in the NHS, and 2020 marks a pivotal moment - on the back of Black Lives Matter - that we can no longer accept or tolerate discrimination in our NHS. In the new year the BMA will launch a national BAME forum underpinned by democratic input of our BAME members across all regions and nations to demand that the NHS truly embraces and welcomes the immense contribution and diversity of our workforce.
Equally, the BMA is committed to equality covering all protected characteristics. To improve gender equality within the Association and in the NHS we recently formed a successful Network for Elected Women.
Additionally, the BMA was a key contributor to the just published Gender Pay Gap review, which must put right the wrong that women earn on average 19% less than men. Through our large-scale survey into disability we highlighted that half of doctors are not receiving the adjustments they need and we called for action to address this.
A fair deal for our overseas doctors
The NHS owes a debt of gratitude to the tens of thousands of international medical graduates (IMGs) who have come from all corners of the globe to work in the UK, and who have been invaluable to our health service's response to the pandemic. Following my letters to Home Secretary Priti Patel lobbying for vital changes for overseas doctors, we successfully secured indefinite leave to remain for the dependents of any doctor who died during the pandemic, the scrapping of the punitive health care surcharge and an extension to stay in the UK for those overseas doctors stranded here due to delays in sitting the PLAB examinations.
My letter to Home Secretary @patel4witham calling for international healthcare workers serving NHS in #COVID19:
- to be exempt from health surcharge,
- to switch sponsors automatically without applying for another visa.
- to obtain indefinite leave to remain automatically pic.twitter.com/kQmz4wb5zy

— Chaand Nagpaul (@CNagpaul) April 11, 2020
With over half of new registrants on the GMC register each year coming from overseas, the BMA is committed to our IMGs not just receiving a fair deal in the NHS, but also to be positively welcomed for the rich talent, experience and expertise they bring to our health service. We know that IMGs suffer greater hurdles in coming to work in our NHS, and for this reason we have set up a dedicated IMG programme, with input from members across each branch of practice to ensure our support is more effective and tailored to the needs of our overseas doctors.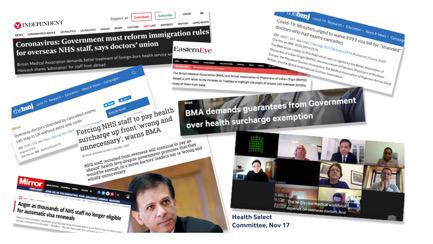 We put the health of the nation first
The BMA has not been afraid to speak out at every juncture to protect the public's health, informed by the expertise of our Association's public health doctors.

At all times we have focused on what is right, even when it is unpopular, because the public deserve honesty about how to protect lives. We spoke out in March when I told the Health Select Committee that the government took the wrong-headed decision to abandon community testing in favour of self-isolation and that flouting the WHO's edict of 'Test, Test, Test' would lead to the virus proliferating through our communities unchecked, which is sadly exactly what happened.

In April, we were the first medical organisation to openly call for facemasks to be worn in public settings given increasing evidence of its effectiveness in reducing transmission, while the government failed to act decisively to protect the public. Being first can lead to criticism from those who oppose you, but as doctors we cannot sit on the side-lines where human life is concerned.

We have consistently exposed the government's shambolic squandering of billions of taxpayers' money into the privately-run test and trace system with outsourced laboratories, that have failed over and again to deliver, rather than investing in our tried and tested local public health teams.
We even offered the UK government the clarity it has so patently lacked with the BMA's 10 clear principles on the easing of lockdown, contrasting with the mushy incoherence of their 'stay alert' slogan. We also challenged the government's easing of lockdown as being "too fast, too confusing and too risky" and were unfortunately vindicated in doing so after the rapid rise of infections over the summer, which led to the second wave.
We blew the lid off the hidden impact of COVID through original research quantifying millions of patients suffering with other conditions, who were unable to access our NHS, and which contributed to at least 12,000 excess deaths from non-Covid causes during the first wave.
Most recently in the run up to the festive period we, along with the chorus of scientific voices, spelt out to the UK government the dangerous impact that relaxing the rules at Christmas would have, and which since followed in another last-minute U-turn.
Your voice in the public debate and media
The BMA has been the leading visible medical voice representing the profession throughout the pandemic. We have featured regularly on national primetime television news and radio, in broadsheets through to local media – being on the front foot of political debate including giving evidence at Parliamentary committees and having influence at the highest levels of government across our four nations.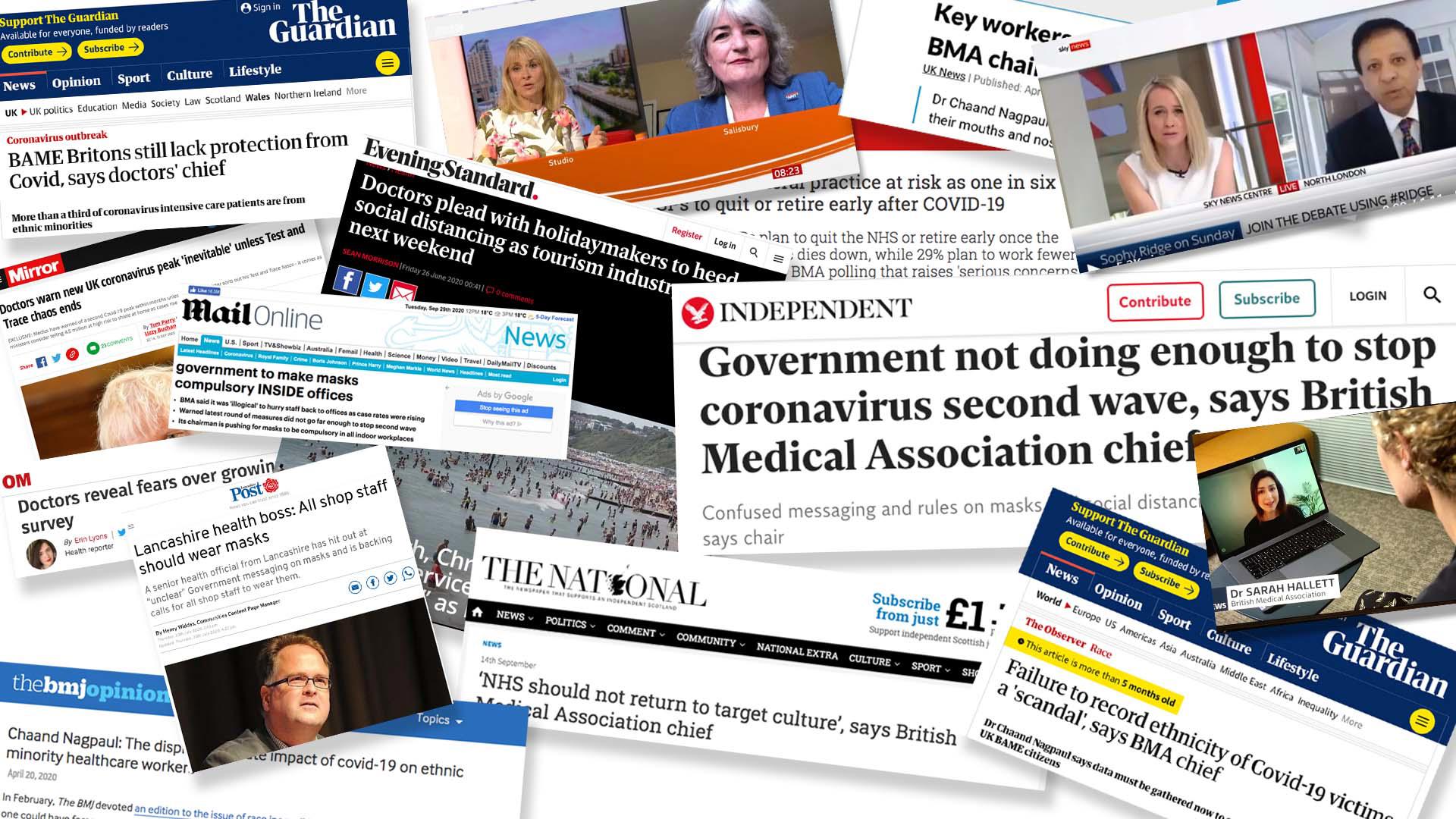 2021 - a year to rebuild
We enter the New Year with a deadly virus that remains out of control, continuing to claim the lives of thousands every week as well as overwhelming our health service
The absolute priority for government must be to bring down the spread of infection - that is key to reducing pressure on the NHS and giving us the capacity to care. Ministers need to follow the science - not political expedience; to act swiftly rather than to dither; to communicate clearly with the public - not obfuscate; to target efforts to protect our most vulnerable and to stop continually confusing citizens with flip-flopping and U-turns.
It's equally vital that the vaccination programme is delivered as fast as humanly possible., so that both health and care workers and as much of the population can be immunised to relieve our health service from the scourge of covid. This requires proper resourcing of staff, including GPs and primary care teams, who need to be given the space and time to vaccinate and protect the nation.
2020 highlighted just how bereft our NHS infrastructure has been, forcing us to stop routine services for months during the first wave to cope with COVID, resulting in a backlog of millions of patients left stranded and waiting to be treated.
2021 must be the year in which the UK government heeds the lessons from the pandemic.
We must not go back to an NHS which was so patently under-staffed, under-resourced and totally under-prepared for surges in demand let alone a pandemic. A country so plagued by inequality. A profession set up to fail.
This year the Chancellor Rishi Sunak must deliver on his promise to "give the NHS whatever it needs". We cannot accept continuing to be at the lower rungs of the European ladder as if our citizens deserve less. We also need fit for purpose technology, to scrap burdensome regulation and enhance the spirit of collaboration across interfaces. Ultimately, 2021 needs to be year where doctors feel valued and rewarded for serving the nation in a caring, supportive culture of equal opportunity.
It was from the ruins of the second world war that our health service was born. From the ruins of today's national health emergency, the UK government must seize the chance this year to rebuild the NHS anew on its founding principles of being there for all at times of need.
That is our New Year Message to UK ministers. And that is what the BMA will be fighting for in 2021 as we continue to protect, support and represent you.