GPC England has negotiated an update to the GP contract 2020/21. This contract will:
build on the PCNs (primary care networks) created in 2019 with additional funding and additional workforce
expand recruitment and retention initiatives for GPs, thus reducing workload
retain GP and partnership autonomy
ensure GPs have a leadership role at the centre of primary care.
The changes will significantly increase funding into the contract (both core and PCN), the details of which are set out below.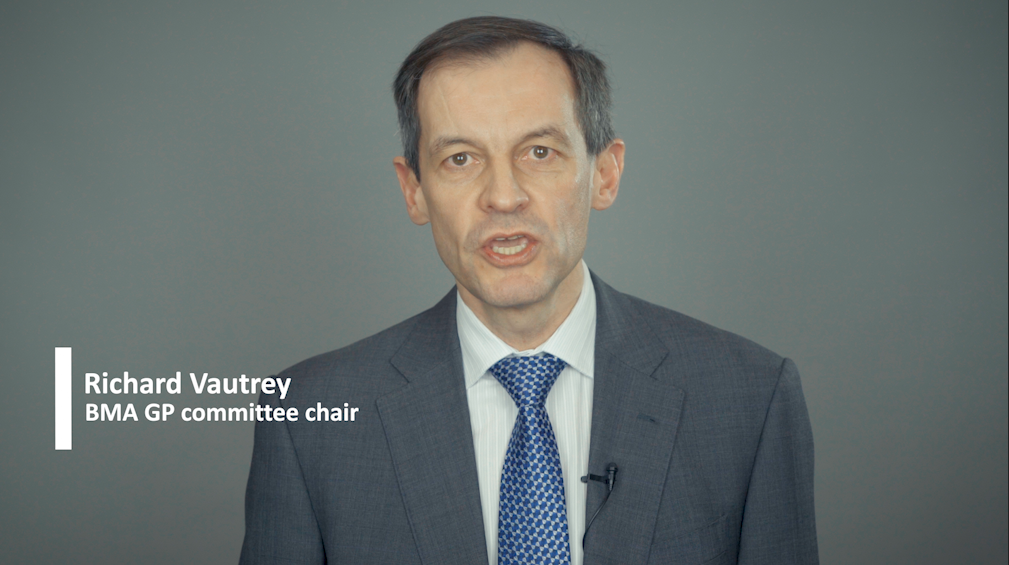 What practices need to do now
Read the below summary of the deal and the various attachments for each of the specific areas of contract change, which outlines immediate preparation, 2020 requirements and planning for future years.
GPC roadshows
We have unfortunately had to cancel our GP contract roadshows due to COVID-19.
The roadshow presentation is recorded below.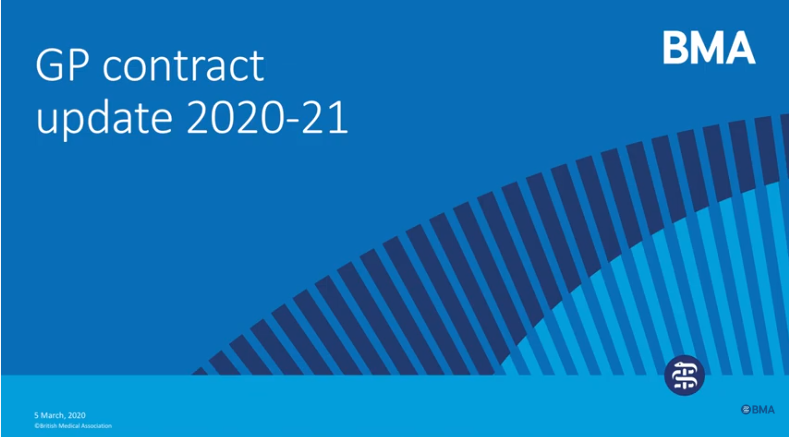 Top-line changes
The new value of global sum from 1st April will be £93.46.
The new value of a QOF point will be £194.83.
More roles added to the additional roles.
Reimbursement scheme.
Between 2020 and 2024, the scheme will expand to 26,000 additional roles.
All roles to be reimbursed at 100%, freeing up the existing £1.50/head to contribute to management support for PCNs.
Funding entitlements increase from £257m to £430m next year and, in 2023/24, from £891m to £1,412m.
Extra investment will fund new GP training recruitment and retention measures with £20,000 plus training support for every new partner.
Payment arrangements for vaccinations and immunisations to be reformed.
QOF to be updated.
PCN service specifications reduced and improved.
Investment and Impact Fund introduced worth £40.5m in 2020/21.
Taken together, more funding available at practice level.
The contract
Full details on all of the aspects of the deal are included in the contract agreement document, produced jointly between GPC England and NHS England.
PCNs
The contract agreement will have an impact on PCNs in several ways – the main changes are highlighted below. We've analysed actual scenarios from PCNs under the new contract agreement, including their income, workforce make-up, service specification delivery, and impact on practices and workload.
Additional Roles Reimbursement Scheme
Under this agreement, significant additional measures will now be introduced, in order to secure 26,000 extra staff under the Additional Roles Reimbursement Scheme. The scope of the scheme extends into five more roles, taking the total number for 2020/21 from four to nine, providing more choice and options for PCNs, but without any obligation:
pharmacy technicians
health and wellbeing coaches and care coordinators
occupational therapists
dietitians
podiatrists.
The agreement sees increases to the ARRS funding pot (in addition to the funding agreed last year) by £150m/£300m/£300m/£300m between 2020-2024. That funding will allow for the recruitment of over 26,000 rather than 20,000 staff.
In addition to the above funding, NHS England and NHS Improvement has added additional funding so that all of these staff will be reimbursed at 100% of actual salary plus defined on costs.
PCNs service specifications
There will now be a significantly revised approach following the publication of draft specifications. Final requirements for three of the service specifications for 2020/21 have been rewritten and are significantly shorter at 3 pages in total, in response to the concerns raised by GPC England and the profession.
It has been agreed that:
the volume of SMRs undertaken will be determined and limited by the clinical pharmacist capacity of the PCN
the proposed requirement for fortnightly face to face medical input to the care homes is replaced with a requirement for medical input to be 'appropriate and consistent' but with the frequency and form of this medical input to be based on local clinical judgement by the PCN
the new 'care home premium' will provide an additional and specific contribution of £120 per bed per year. This will be £60 in the first year as the requirement to deliver services to care homes will not start until October 2020
CCGs will be required to maintain the level of funding they provide for existing LES/LIS (especially in relation to care homes) to be recycled within primary medical care, with a strong recommendation for this to be for the same use as previously (e.g. a care homes LES funding would supplement the PCN care homes service spec). There will be a requirement for reinvestment proposals to be discussed with LMCs
it is explicitly written into the DES that PCNs cannot be contractually responsible for any failure by community service providers for non-delivery of their part of the service.
Investment and impact fund
The investment and impact fund (IIF) will be introduced as part of the network contract DES in 2020/21, and will operate in a similar way to QOF funding received should be used for investment in workforce or services and this can be at practice level.
Practices and GPs
The contract agreement will have an impact on practices and GPs in several ways – the main changes are highlighted below. Further guidance from GPCE and NHSE will be published in due course.
More doctors in general practice
NHS England and NHS Improvement's revenue budget will be increased by £94m/£117m/£114m/£103m for the four-year period 2020 - 2024. This is to support additional recruitment and retention schemes aimed at GPs, with the Government's pledge to see an extra 6,000 doctors in general practice.
This includes:
increases in the number of places on the TERS (targeted enhanced recruitment schemes)
a two-year fellowship programme for all newly qualified GPs and nurses
a 'new to partnership payment' of £20,000
training support
a locum support scheme
changes to the existing induction and refresher scheme to cover some childcare costs
a new national supporting mentors scheme.
Reducing bureaucracy
The Government will instigate a swift and full review of cross-government bureaucracy in general practice.
Reforming arrangements for vaccinations and immunisations
Vaccinations and immunisation will become an essential service rather than an additional service. All practices will be expected to offer all routine, pre and post-exposure vaccinations and NHS travel vaccinations currently covered by the previous additional service to their registered eligible population.
The element of global sum related to the additional service for immunisations and vaccinations that practices receive will be retained in full. This is worth £164.5m in 2020/21. It will continue to cover NHS travel vaccinations and pre/post prophylaxis vaccinations.
A new item of service fee of £10.06 will be introduced for the delivery of each dose of all routine and annual vaccines, starting with MMR in 2020/21 and to include all childhood vaccinations from 2021/22. Practices will need to achieve 80% coverage in order to receive the full item of service value. From 2021 the current 70% and 90% immunisation targets will be removed.
Updating QOF
Further improvements have been agreed to the quality and outcomes framework in 2020/21, in line with the findings of the 2018 QOF review. Indicator amendments have been agreed to bring the asthma, COPD and heart failure domains up to date with best clinical guidance.
QOF currently comprises 559 points. NHSE/I has agreed to recycle 97 points into 11 more clinically appropriate indicators.
There will also be additional funding of £10m to contribute to a new indicator to support annual blood tests for patient with non-diabetic hyperglycaemia. QOF total points will therefore increase to 567 from 2020/21.
Need help?
For questions about any aspect of your working life, our advisers are here to help you.
Opening times: 8am - 6pm Monday to Friday (excluding UK bank holidays)