Across the health service in England, trusts and GP practices are almost certain to endure the most pressurised winter on record.
Pressures in the NHS were worse over the summer than even the BMA's worst-case projections, meaning services have experienced no respite.
Lack of recovery from summer, combined with other factors means the NHS in England is facing a 'perfect storm' this winter.
Like the summer, the winter could be substantially worse than our worst-case projections.
The Government must act now to prevent an unprecedented NHS crisis.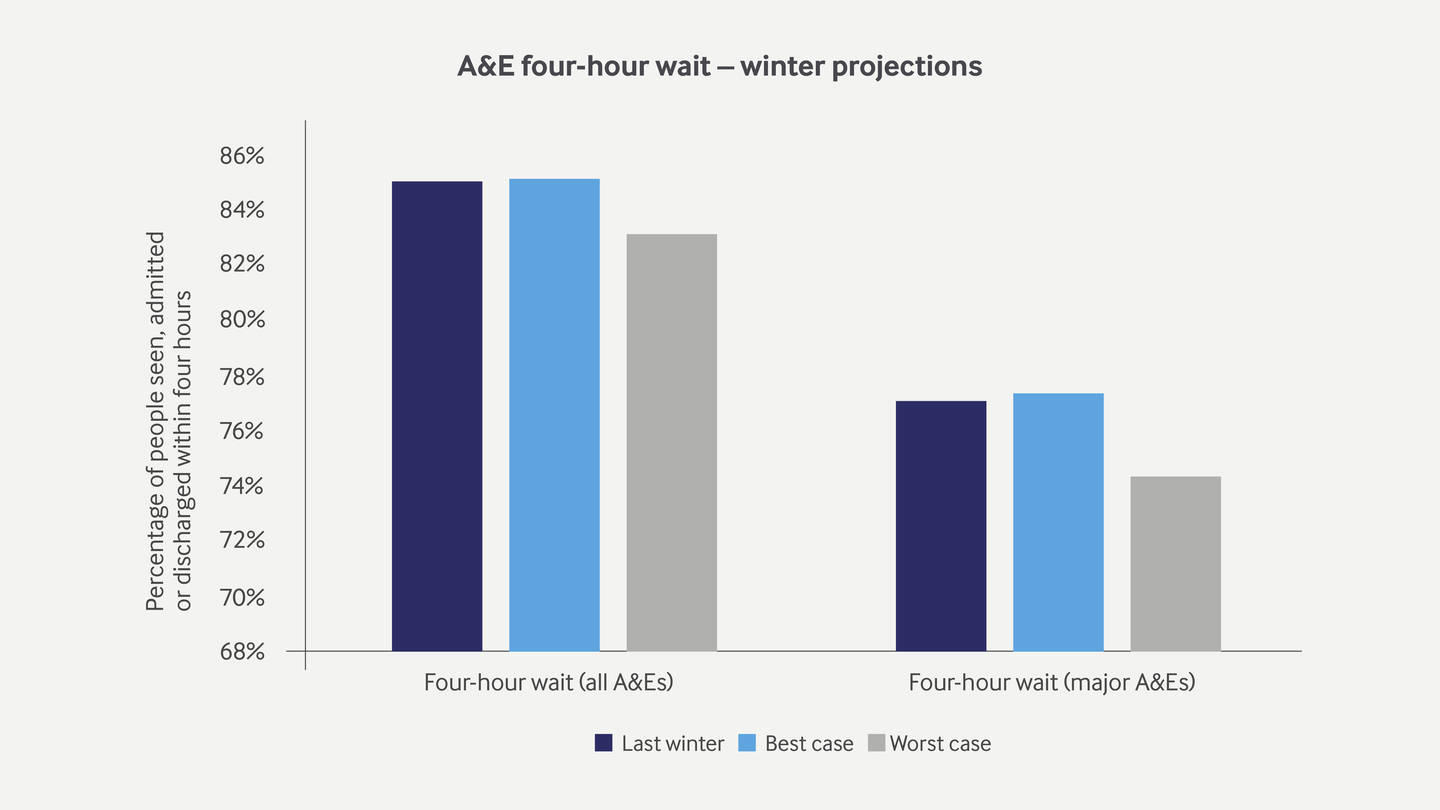 What winter 2019 could look like
| | | | |
| --- | --- | --- | --- |
| Best-case scenario | 85.2% | 77.4% | 205,378 |
| Worst-case scenario | 83.2% | 74.4% | 297,271 |
| Last winter | 85.1% | 77.1% | 213,877 |
Winter refers to the months of January, February and March.
These predictions assume that trends will continue. They do not take into account any ongoing or future interventions to reduce or better manage pressures and demands.
The two scenarios above represent different versions of what the winter of 2019/20 could look like.
The NHS in England looks extremely likely to experience another winter of long waits for patients in A&Es on trolleys in corridors.
Almost all trusts will endure a period of extremely high bed occupancy (reaching 100% in many cases) which will have serious implications throughout the system.
Why winter 2019 will be so bad
Winter is always a difficult time for the NHS in England. Cold weather brings an increase in demand in primary and secondary care. Flu season typically varies in severity, but small outbreaks can cause problems for local health systems.
Even when spikes in demand are anticipated and planned for, the level of available resourcing and staffing are often insufficient.
Winter is also likely to be complicated by the addition of several other factors. There is strong evidence emerging that doctors feel that they are unable to pick up additional shifts for fear of dramatically increasing their tax bill. Planning for Brexit is likely to divert trusts' focus at a time when they need to be focused on winter.
These issues will almost certainly overwhelm the NHS this winter to an unprecedented extent. Decisive action must be taken as soon as possible to avert a major crisis.
How we created our projections
In order to create a plausible range for the rest of the year's data, we created rates of growth using different time frames to project forward.
The different rates of growth are based on the rate of change between the same calendar month of consecutive years (eg January 2017 and January 2018). We then determined what emergency department performance would look like if that rate of change occurred during the same months of 2019 and 2020.
All data used in the projections is published by NHS England.
At present, there is a lack of data relating to primary care, so similar projections can't be made at this time.